The root cause of English disapproval with South Africa's Champions Cup entry
One of the major drawbacks to being a South African living in the UK is putting up with people's interpretations of your accent. No matter your mother tongue, no matter what city you hail from, no matter your education, socioeconomic background or time spent in your adopted land, the drawling, monotoned, heavy-handed modulation is the same.
"Is that really what we sound like?" You wonder. No Hollywood actor has ever nailed it, if indeed 'it' even exists with our 11 official languages spread across 470 658 square miles. No matter the intention of the person aping some reductive version of yourself to you, it's hard not to feel that the one variable they're taking aim at is your intelligence.
Maybe that's just me being a sensitive Saffa. With the country mired in political corruption, unchecked violence, decaying infrastructure and chasmic inequality, perhaps my armour is paper thin and any barb pertaining to my national heritage stings more than it should. Our standing on the global stage dwindles every year and though we hold to the notion that the world is an interconnected village, it can often feel like that bastardised version of our accent is a reminder of our bumpkin status.
Which is why the Springboks are such a beloved institution. This is why rugby matters. Those green giants leave our shores and return with glittering trophies and a list of vanquished foes. Nothing and no-one else makes South Africans feel like champions like they do.
There are other important threads to the story that inspire hope and offer a kindling of belief that societal change may come. Siya Kolisi, Makazole Mapimpi, Chester Williams and Nelson Mandela are key figures in this important branch of rugby's standing in the country. But their roles in this narrative would be less significant if the Springboks weren't such a dominant force.
What's more, they win ugly. This is not champagne rugby. This is rugby fuelled by eye-watering mampoer, a local moonshine that could turn the engine of a 3.0 litre Toyota Hilux. Springbok fans, much like the players, couldn't care less that the team's approach is brutal, that their sole ambition is to win, and that other nations might consider them boring. In fact, they revel in how disagreeable the Boks can be. What rankles is that the on-field persona is seen as an extension of the off-field culture that feeds it.
"In life, as in rugby, to ascribe a characteristic to a nation can be deemed at worst as racism, and at best a sweeping generalisation. So it may be harsh to say South Africa lacks leadership, that so often all the power and fury goes to waste because there is nobody to shape it."
The above was written by prominent journalist Stephen Jones, a man who has forgotten more about rugby than most people will learn in a lifetime, but who holds views rooted in a bygone age. He was pontificating about the apparent intelligence of the South African-born, but English speaking, Mike Catt who was seemingly primed to take advantage of the dimwitted Springboks. Compare his assertion that South Africans are incapable of creativity or leadership with a bewildering claim from Rider Haggard, author of King Solomon's Mines, who scribbled this before the Second Anglo-Boer War:
"Now, if there is any country dependent on England that requires the application to the conduct of its affairs of a firm, considered and consistent policy that country is South Africa. Boers and Natives are quite incapable of realising the political necessities of any of our parties, or of understanding why their true interests should be sacrificed in order to minister those necessities."
See the parallels? British troops killed an estimated 26,370 Afrikaans women and children along with 115,000 black Africans in open air prisons dubbed 'concentration camps'. Britain's insatiable appetite for more colonial territory brought untold misery to countless more. Trauma lingers, even across centuries. And though the yoke of oppression has been cast aside, and new horrors have since been meted out on the peoples of South Africa by their fellow countrymen, that pain has not fully subsided.
"The players like scoring points against England," so said then Springbok coach Jake White when asked why his team opted for a shot at goal, rather than kick for the corner, when awarded a late penalty in a 2007 World Cup match they'd go on to win 36-0. Victories over New Zealand and Australia bring their own joys, and keeping France, Ireland and Wales in their place is satisfactory, but nothing stitches a wicked smile across the face like besting the Poms.
Which brings us to the news that South African teams will compete in next season's Champions Cup and Challenge Cup tournaments. Note I didn't use the word 'European' because the introduction of the Stormers, Bulls, Sharks, Lions and Cheetahs means that this grand competition, filled with tradition and historic moments, is no longer defined by its fixed geographical location.
And what is 'Europe' anyway? We live in a world divided by borders that were arbitrarily drawn by moustachioed colonialists more than 130 years ago. In carving up Africa, Asia and the Americas, the fallen empires of the self-anointed 'Old World' set the table from which we must now eat. Why should a rugby competition founded 27 years ago be so sacrosanct that it is beyond reform?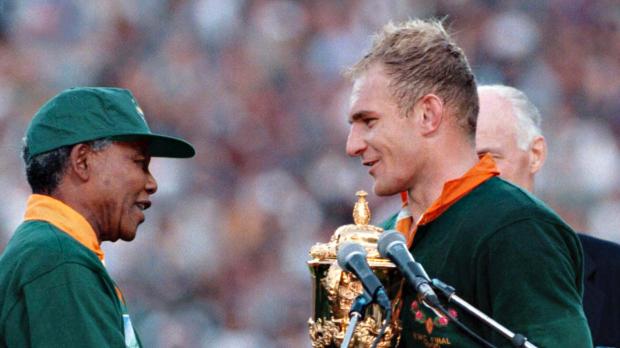 Those same critics who clutch their pearls at the thought of oafish South Africans knocking over the good china have no qualms about the country's top talent driving their own teams forward. A South African has featured in every Champions Cup final since 2010. Nine contested the 2014 showpiece with Craig Burden recognised as the player of the match in Toulon's 23-6 win over Saracens that also involved Bryan Habana, Juan Smith, Bakkies Botha and Schalk Brits. South African born players were included in five of the six squads in the men's Six Nations this year and the top teams in France and Japan are similarly littered with their compatriots.
The South African rand can't compete with the strength of the pound, euro or yen. Why shouldn't this union that has won three of the seven World Cups it entered – a better win percentage than the All Blacks – take control of its own destiny? A malignant power imbalance has consigned Fiji, Tonga and Samoa to second-class status despite those island nations notably contributing to the game's global talent pool. This is by design. South Africans understand that the world is not fair. Rather than lay prone in the current, South African rugby is creating its own waves.
SA Rugby, the sport's governing body, recognises the commercial appeal of its product. Like the bruising forwards that constitute its indomitable pack, it is unashamed by its heft. Granted, travelling fans may be non-existent when European based teams travel south, but there are more than 250 000 South Africans living in the UK. If even a fraction are interested in rugby there will be considerable support whenever their teams compete in matches dripping with fresh intrigue.
The Saffas have muscled their way to a table they've deemed worthy of their status. Those at the far end can harrumph into the brandy and mimic our accents as much as they like.
Hattip: I got a lot of my info from a Twitter thread from writer Wessel van Rensburg
Comments
Join free and tell us what you really think!
Join Free