The quick solution to improve the All Blacks backline chemistry
As the All Blacks prepare for a rematch with the Springboks at Ellis Park they are in desperate need of finding answers for a team that hasn't performed to expectations.
Whilst there were signs of improvement in Mbombela, the All Blacks still lack cohesion and chemistry as a unit to pull off the level of clinical execution required.
There were half-chances and half-breaks but they weren't able to capitalise on much, with a late try coming from Shannon Frizell after a Caleb Clarke burst.
If Ian Foster wants to improve the chemistry in his out-of-sync team, one simple solution is to make selections for the Ellis Park test based on key combinations that have already been formed, which is something the All Blacks have not done so far, particularly in the backs.
They played Beauden Barrett at first five-eighth with Quinn Tupaea and Rieko Ioane and in the midfield twice against Ireland, before swapping Tupaea for Crusader David Havili in the third test.
In the first test against Ireland Tupaea and Ioane played well together, having a few starring moments in attack. They combined well down the left hand side to free Leicester Fainga'anuku in the lead up to Jordie Barrett's opening try.
The Chiefs No 12 was then dropped for the third and final test after an off-night in Dunedin which then thrust Havili into the role cold, but that didn't improve things, and was in fact probably a worse performance than what Tupaea offered.
It is clear there is no chemistry between Havili and Ioane, with neither player showing a great understanding of each other's game. They had a handful of tests together in 2021 but don't play at club level and the lack of time together shows.
It doesn't help that neither player is established at this level in their respective positions, with Ioane attempting a transition from the left wing while converted fullback Havili is trying to find his feet at second five at test level.
Ioane has areas of his game as a centre that need to develop which has complicated matters for the backs.
His anticipatory support play in general play has been next to non-existent so far this year, always expecting early ball to have a carry rather than offering a support line for a playmaker.
When he does get the ball, he has tunnel vision too often and will almost never look to keep the ball alive late. His ability to draw contact and promote the ball is not there, starving his outsides of opportunity.
When he distributes, he plays early which isn't a problem but does not stall the defence from drifting.
It is a big part of his game that needs to come into fruition. Ioane would flourish with a No 12 who can put him into space and unlock the speedster's open field running, but his own support play needs to improve. Right now, Ioane's own talents are wasted.
However, if Barrett and Ioane are persisted with at 10 and 13, the ideal option at 12 is Roger Tuivasa-Sheck due to the fact they have played the entire season together at the Blues and they combined well at the back end of the season. There is a level of comfort and trust there that can be relied on to improve the situation.
The Rugby League-convert has sharp footwork and is no stranger to running it straight into physical defences from his time in the NRL, while if he was given a license to look for an offload he might give Ioane an opportunity he needs to break a game open.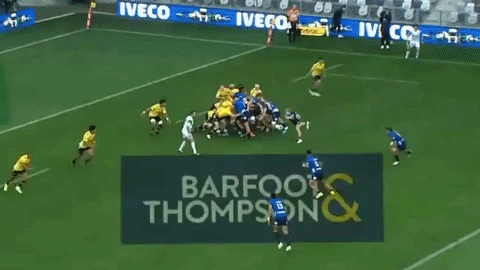 Tuivasa-Sheck is a rookie to international rugby but he is not an inexperienced athlete. The 29-year-old is a seasoned professional having played in high pressure games in the NRL including Grand Finals, and would handle the Ellis Park environment as well as anyone.
Whilst Aaron Smith and Barrett have formed their combination together for years with the All Blacks, Blues halfback Finlay Christie was the form No 9 of Super Rugby and showed at Mbombela some zip and energy that had been missing.
Adding Christie and keeping last week's left wing Caleb Clarke would form a majority Blues backline that would at least bring a level of understanding that is simply not there at the moment.
Even Stephen Perofeta at fullback should be considered. Whilst a left field pick, he would bring some much needed ball-playing into the 15 jersey that Jordie Barrett hasn't mastered.
Rieko Ioane and Jordie Barrett's chemistry out wide has also been clunky, Barrett has suffered from the same tunnel vision problems as Ioane, shutting off other options and looking for contact with no intention to pass late at the line.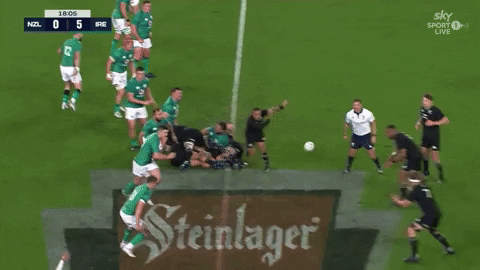 When Jordie Barrett has stepped up as a first receiver he has looked very good, it is when he is out on the edge, he hasn't been able to create for his wingers enough.
Late in the second Irish test he had a great play bouncing outside of Joey Cabery before putting Will Jordan over in the corner, but that playmaking has been a rarity.
The other option for the All Blacks coaches have is to rely on the Crusaders combinations, and connect Havili with the players he knows and trusts.
Havili is out of sorts playing with the Blues No 10 and 13 and needs Richie Mo'unga and Jack Goodhue to find some familiarity. Goodhue has been injured but his offloading and passing game has been sorely missed.
If Goodhue is fit and available it would alleviate some of the teething problems with Ioane at centre.
Mo'unga looked sharp in his brief stint off the bench and offered some confident play that has been missing from his tests against top tier international teams. With an injury cloud over Barrett, Mo'unga could have his chance to start again.
Will Jordan could be given a run at fullback with Sevu Reece coming back onto the right wing.
There are two ready-made backlines sitting there with better chemistry than the one currently being hobbled together.
The backs can in fact overcome shortcomings at the breakdown if they are good enough to strike early off set-piece and in broken play moments. Long phase counts typically aren't required to manufacture tries and breaks.
While the All Blacks will want to improve their ball retention, they don't need to play a dull game of carrying the ball off 9 all day in close quarters. First phase, second phase or third phase strikes can do the job.
If you look at where the Springboks have been opened up the most in the last 12 months, it has been out wide when the high pressure defence hasn't been quick enough, and up the seam at the tail of the lineout.
Two of their most important cogs on the edge that keep the high pressure defence together, Faf de Klerk and Cheslin Kolbe, are out injured. They are down to their third choice right wing, centre Jesse Kriel.
The Wallabies knew where to target last year, the British & Irish Lions in the third test finally figured it out, but the All Blacks haven't figured it out yet.
If they select a backline with some pre-made cohesion from either the Crusaders or Blues, they might be a chance to execute at the level they need to and get their attacking game going.
Comments
Join free and tell us what you really think!
Join Free