Back

By Ben Smith
Rieko Ioane and the art of fixing the defender
All Blacks centre Rieko Ioane started all three tests against Ireland but ended up having a rather quiet series after an impressive first test partnering with Chiefs second five-eighth Quinn Tupaea.
The All Blacks' attack got progressively worse as the series went on and Ioane never got the chance to run in open space, denying one of New Zealand's best strike weapons the chance to make an impact.
The conundrum for Ioane is getting enough time with the same players to build the required level of understanding of how to play together. He played two tests with Tupaea before being asked to partner with David Havili in the decider.
While Tupaea was below his best in Dunedin, the chopping and changing does no one any good, as Havili was equally out of sorts in Wellington having had no time to gel with the players around him.
This isn't just about highlighting Ioane's faults, but to illustrate a shared failure by the All Blacks to develop the potential of a player who should be one of the world's best.
If Ioane reaches his ceiling, the All Blacks' attack will ignite, so it should be a priority for the coaching staff to take Ioane's game to the next level.
As a speedster and open field threat, Ioane needs a 12 that can create for him, whilst as a 13, he needs to master the art of fixing a defender to free up his outside men. It is fair to say this hasn't been coming together for him enough.
There is clearly a lack of chemistry between Ioane at centre and the others around him, and these issues can be traced back to last year.
During the July test series against Fiji, when Ioane started his first extended run of games in the No 13 jersey, he was willing to promote the ball in the tackle or just before contact, which is exactly what you want to see.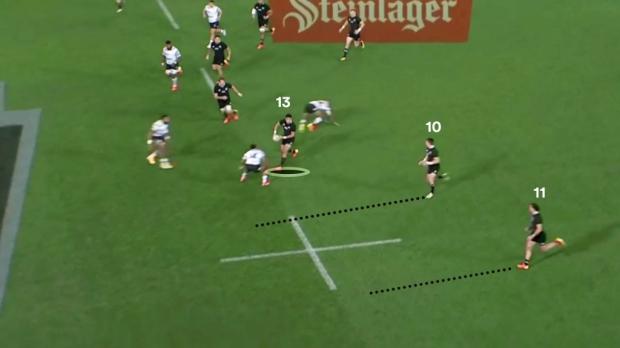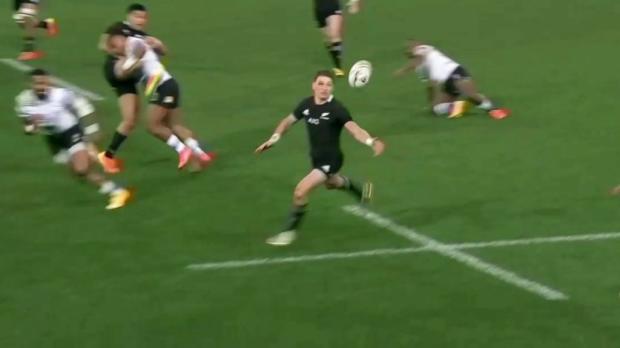 Ioane was actively trying to create and offer space for his outside players, but the support could never anticipate the timing of the pass and, as such, execution errors eventuated quite frequently.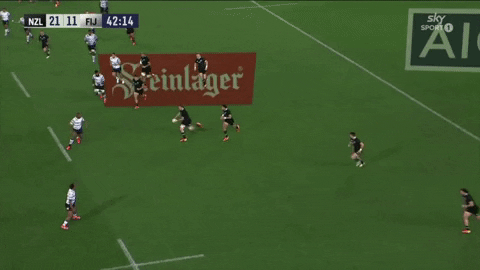 Beauden Barrett dropped a sure line break opportunity above, while Jordie Barrett wasn't in place to receive a pop pass below.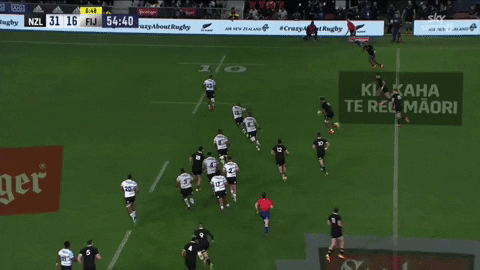 Ioane's game has since retreated in this aspect as a ball-playing centre who can play late at the line in an ad-lib fashion, instead opting for the safety of the carry and recycle.
The Blues centre has no issues drawing in multiple defenders, but a lack of anticipation around him can be a problem at times. Tupaea's support line below is not in a position to receive the ball.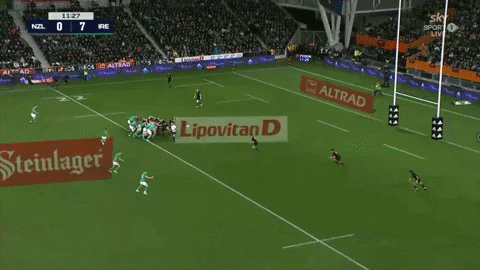 Tupaea had no other thought but to clean out, trailing Ioane directly behind him towards the developing tackle area instead of offering a supporting wrap around to keep the ball alive where only Mack Hansen is the final defender.
During another scrum play late in the second test, Ioane's early tuck-and-run failed to consider the option of Sevu Reece on the outside. Mack Hansen's hips eventually turn in and the left wing is free.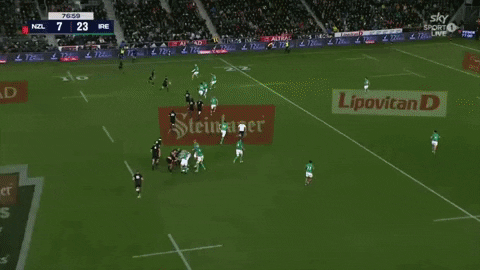 Whilst not guaranteed to result in a break, it's merely the process of looking to create late that has gone missing from Ioane.
When defenders are committed to contact at the last second, that is the magic window to exploit and promote the ball. It takes elite level skill, vision and foresight, but that is what world-class attacking playmakers have.
On this occasion it was simply a draw-and-pass that could have set Leicester Fainga'anuku away down the left side, but Ioane did not have the option open. The early tuck is a dead giveaway he will run, and he shows the defence his hand all the time.
The ability to pass late seems to be missing from most of the All Black backs right now, not just Ioane, which is why New Zealand's attack struggled in the second and third tests.
Early in the third test, during a wrap play going left Ioane shaped to pass before pulling it back and taking the two-man tackle of Henshaw and Hansen out on the edge.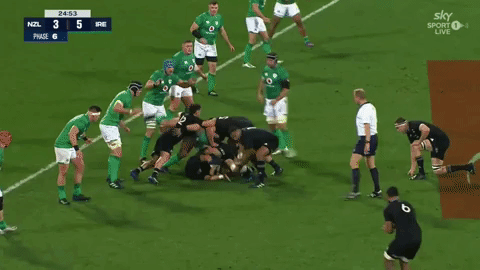 Again Hansen is turned in, while Will Jordan, Jordie Barrett and Sevu Reece are all flying free down a short corridor at pace. The ball simply had to be passed to Jordan once Hansen was fixed.
Even a late one-handed offload around the back was a possibility, but once he decided to tuck-and-run, the opportunity was missed.
During a fast break opportunity in Dunedin, Ioane took the last Irish edge defenders and managed to get outside and commit them both.
Although the space outside was narrow, Fainga'anuku was free down the left-hand touchline.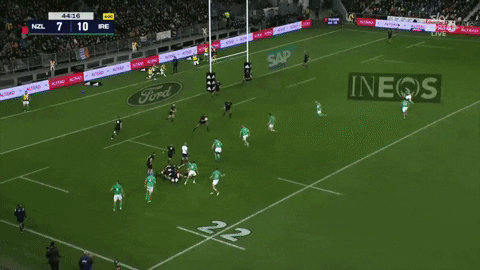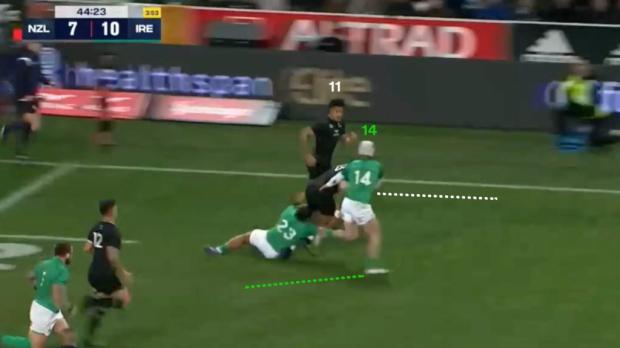 A late offload to Fainga'anuku would have seen the Crusader streak away down the touchline. Hansen would have to navigate the tackle area, giving Fainga'anuku a chance to break away.
It is a risk-reward calculation, and if it doesn't come off, the All Blacks are directly under pressure. Right now, though, they do not have the confidence to try promote the ball when there are opportunities.
Contrast the play above with the last time Ireland visited in 2012 and how Conrad Smith and Sonny Bill Williams time their passes very late after contact has been drawn and supporting players flock to the ball.
The 2012 All Blacks did not have a lot of space, but they opened up Ireland down a narrow corridor with short passing, direct running, great anticipation and support play. Multiple players could have finished the break.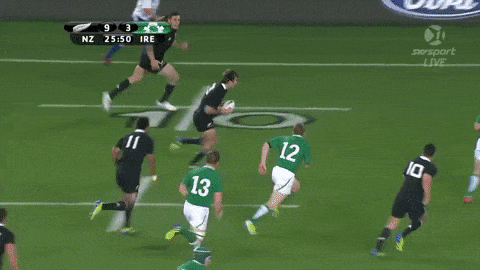 The game speed was slower back then, but the fundamentals are still the same. To create breaks and open up space for others, defenders have to be taken out of play.
The current crop of All Blacks know how to draw the defenders, but do not have the support play or vision to keep the ball alive often enough because they've already decided to carry and die with the ball.
As the pass is not offered frequently, the players have stopped expecting it and don't work to be in position for it. It's a self-fulfilling negative spiral for their attacking game.
When Ioane has pre-determined a pass as part of a set-piece play, he has shown deft touch on occasion to put his outside man into space.
He provided a brilliant short ball to Jordie Barrett during a pre-planned wrap play with Richie Mo'unga in the second test, which led to a line break that was only undone by an ankle tap, and showed nice hands earlier in the game off a strike play.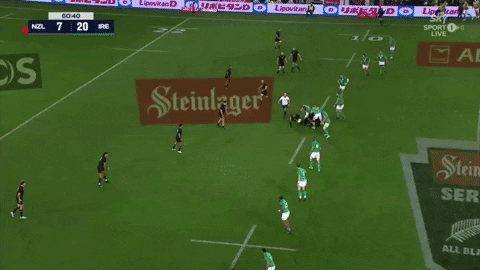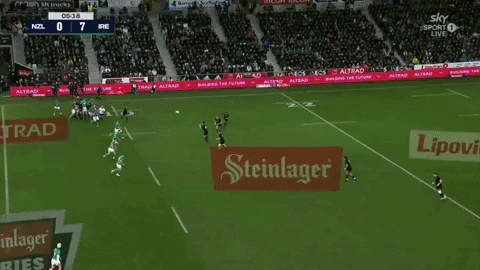 In the first test, he combined brilliantly with Tupaea during a set play that gave Fainga'anuku space down the left flank. He was tackled just short of the line and the All Blacks scored on the next phase through Jordie Barrett.
It is this kind of play Ioane needs to bring during phase play to develop as a creative centre and feed his outside men a lot more than he is currently.
He already has the ability to draw multiple players in, which means there is space around him for supporting running lanes.
Now Ioane needs to develop the ability to provide the late pass or offload while drawing contact, and expect his teammates to be there when it happens. His combinations with Tupaea, Barrett, Reece and Fainga'anuku need to be built on daily.
If he can provide for others and find a way to back up in support, he may also find that he gets the open space in the backfield he wants on the return ball.
If he gave himself a point for every time he was tackled or contacted without the ball and deducted one every time he was brought down with it, it would be an overall indication of his ability to create for others in a game.
If he scored below zero, there would likely be many missed opportunities out there. For the totality of the Ireland series, he would've been floating around -15, carrying all too frequently with tunnel vision.
The question is whether this is under instruction after some misfires in 2021 when looking to promote the ball. If so, Ioane needs to be given the license to explore again, as do others in the side.
It is the only way the All Blacks can get back what was their biggest competitive advantage: ball skills and natural flowing attacking movement. Right now, they don't have it at all.
As for Ioane, he has now been afforded the opportunity to play centre frequently, but is proving why he is seen by many, including head coach Ian Foster, as a winger.
If he can reach his potential as a creator, it will help fix a number of the issues with the All Blacks attack.