Ref Watch: All Blacks' scrum tricks go unpunished
Many watchers would have former Harlequins scrum half Karl Dickson as England's no.4 referee behind Wayne Barnes, Luke Pearce and Matthew Carley, but his appointment to New Zealand's clash with Ireland suggests World Rugby's refereeing department see him as a prominent contender for next year's World Cup.
My previous criticisms of Dickson have centred on his management style and communication skills – a vital refereeing area but one in which former professional players who come to officiating as a second career in their 30's usually need to make up ground.
However, Dickson controlled this high-profile test match very well, was easy for both sets of players to understand and most importantly he got the big decisions correct.
Joey Carbery 'No Try'
The ruling out of Carbery's try based on grounding was only half the story as the officials were also required to rule on a possible high tackle by last defender Rieko Ioane.
In real time it seemed inevitable that a penalty try would be awarded if the Irish replacement's grounding had failed, and this was certainly the line taken by stand-in captain Peter O'Mahony even after the video replay proved differently.
Law requires there to be no separation between hand and ball during the act of grounding, and once it was seen to have slipped slightly out of Carbery's control, TNO Marius van der Westhuizen advised Dickson: "I have a dangerous tackle by 13 black."
It was therefore an excellent piece of clear thinking by the man in charge to insist on a further 'slo-mo' which eventually clarified there was contact with the shoulder rather than the head or neck, on which basis play returned for an Ireland penalty based on the advantage being played.
It is interesting to note that the use of 'slo-mo' rather than a real-time replay is often cited as making incidents of collision-based foul play look worse than they actually are, whereas in this case most of us would have agreed with O'Mahony's assessment based on one look in real time.
Scrum Management
When he watches the match back, the scrum will be the area in which Dickson finds the most learning points ahead of his next outing.
Summariser Alan Quinlan was half right in his assessment that it was never steady prior to the ball being put in. In actual fact it was rock solid at most of the nine set-pieces fed by New Zealand – a fact which should have given Dickson a huge clue as to the cause of the lack of stability when the tourists fed.
Whereas Dickson set his stall out in the early stages of the lineout by telling the All Blacks not to prematurely close the gap then penalising them when they disregarded the advice, because he was unable to pick up this trend in the scrum he was never subsequently able to apply the same management approach.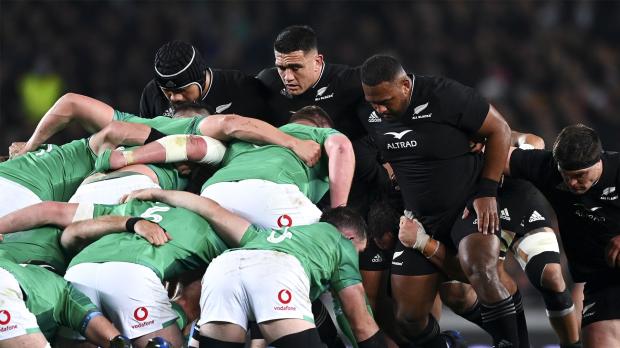 Interestingly, Dickson took an entirely different approach to the opening set-piece of the second half when he got the front rows up and told New Zealand not to complete their engagement on the bind call rather than waiting for him to deliver the final 'set' instruction. This suggests a discussion had taken place between the officiating team during the break to which the vastly experienced Wayne Barnes, who was running touch, doubtless made some input.
Deliberate Knock-Ons rarely are…
Sevu Reece was correctly penalised when his one-handed interception attempt resulted in a knock-on. While the law uses the phrase 'deliberate' and the New Zealand winger clearly had every intention of catching the ball and claiming a second intercept try so it was anything but, in the referee's judgement his one-handed lunge was unlikely to result in a clean catch.
However, I struggled to understand why a different logic then applied when Bundee Aki knocked the ball forward with his left hand while attempting a wrap-up tackle after which the Kiwis were awarded only a scrum. While law interpretation has many grey areas for me this was also a penalty.
Cynical or professional?
I was once told that in professional rugby very little happens by accident, and it is very clear that New Zealand's defence of their own line comes at almost any price. Their fourth-quarter penalty count eventually cost the slightly unfortunate Karl Tu'inukuafe a yellow card after Jamison Gibson-Park made sure he fell over the replacement when he was on the ground on the wrong side in midfield.
However, this didn't stem the flow of penalties in the home side's 'red zone' when Ireland pressed for a consolation try in the closing stages – to my eyes a second card must have been very close.
| | | | | |
| --- | --- | --- | --- | --- |
| | Quarter 1 | Quarter 2 | Quarter 3 | Quarter 4 |
| Pens against NZ | 1 | 1 | 5 | 7 |
| Pens against Ireland | 1 | 2 | 3 | 4 |
Ardie Savea Try
Savea's close-range try showcased two excellent pieces of officiating. Firstly, Dickson did extremely well not to immediately blow a kickable penalty on the ground against O'Mahony but instead allowed the hosts to develop an attack down the left while playing advantage.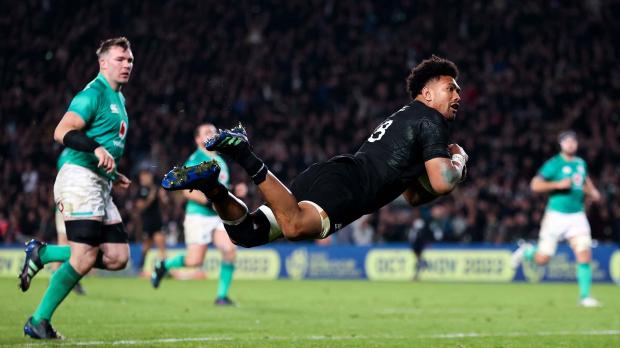 And some very good communication with the TMO then confirmed there had not been a knock-on by Aaron Smith in the build-up to the score – his touch went backwards after which the ball bounced forwards when hitting the ground which is irrelevant.
O'Mahony Penalty
Quinlan was unhappy with this penalty award before joking he would probably have committed the same offence. However, a law change in the recent past has removed the 'tackler's rights' which previously allowed the player who had made the initial contact to both stay on the 'wrong' side and to continue to play the ball when a ruck had subsequently formed providing he was on his feet.
Scott Barrett Clear-Out
Post-match social media attention has focused on Barrett's 74th-minute clear-out on Peter O'Mahoney.
As Ireland's stand-in skipper looked to pick and go from the base of a breakdown close to the home line Barrett drove his right shoulder forcibly into his neck area.
The Kiwi forward made no attempt to wrap with either arm, meaning it was a dangerous tackle.
Had the incident been picked up by the officials they would then have considered contact point, force and mitigation.
To my eyes force was present and contact was clearly made with the head however, since O'Mahony was almost bent double the incident would probably have merited a yellow card.
We await the citing commissioner's possible involvement…
Comments
Join free and tell us what you really think!
Join Free