Newly minted Glaswegian understands those that don't want him in a Scottish jersey
Kyle Steyn tells a story about unity, forgiveness and love, the tale of a white South African cop assigned to protect Nelson Mandela amid some of the most volatile days the nation had seen.
The subject of the yarn is Steyn's father, Rory, a former Johannesburg police officer raised in the days of apartheid and conditioned by division. In 1994, he was hired to lead the security team who watched over the newly-elected president during his five-year term – he knew little of what to expect or what kind of man he had been tasked with guarding.
As it transpired, Rory Steyn had court-side seats to the fusion of a people. He was at Ellis Park when Mandela was greeted by a rapturous frenzy three days after his inauguration.
He ran security for the All Blacks at the 1995 World Cup – and remains convinced they were poisoned the week of their final loss to the Springboks in the most poignant match in rugby history. He famously bundled Mandela and Prince Charles into the back of a Rolls Royce to escape a stampede of clamouring supporters in Brixton.
He saw these huge public events but he was also privy to moments of great spontaneous beauty. The intellect, the humility, the unwavering benevolence of Mandela, whether addressing a gnarled Afrikaner or a gawping child, captivated him. These were values he would impress upon his three boys.
(Continue reading below…)

"My dad worked for a special branch of the police, so he talks about how he was listening to bugged phone lines of people that worked for Mr Mandela, then four years later he was working for Mr Mandela," Steyn says.
"He learned that Mr Mandela had only taken him on because he'd been working for that branch – Mandela was trying to make an example of his own security team, about how he could get white bodyguards of the old apartheid regime and people who had looked after Mandela all the way through his time in jail to integrate and interact and be a perfectly functioning team.
"Dad openly admits when he was younger he voted for the pro-apartheid party. He said it was incredible to see all the perceptions of Mandela, the way he acted in front of people and behind closed doors were just 100% consistent. The way he treated people, no matter where he was, was just mind-blowing to my dad.
"So certainly growing up, we were under no illusions as to how to be inclusive of everybody and that's certainly something I'm most thankful to my dad for – having that open mind, I've got so many black and white team-mates that have all been great friends."
The roots of Steyn's blistering ascent through Scottish rugby were laid in Glasgow long ago. Douglas, his maternal grandfather, was an engineer from Bearsden, the plush city suburb a few miles from Scotstoun, where his grandson has thundered on to the scene as a potent member of the Warriors backline.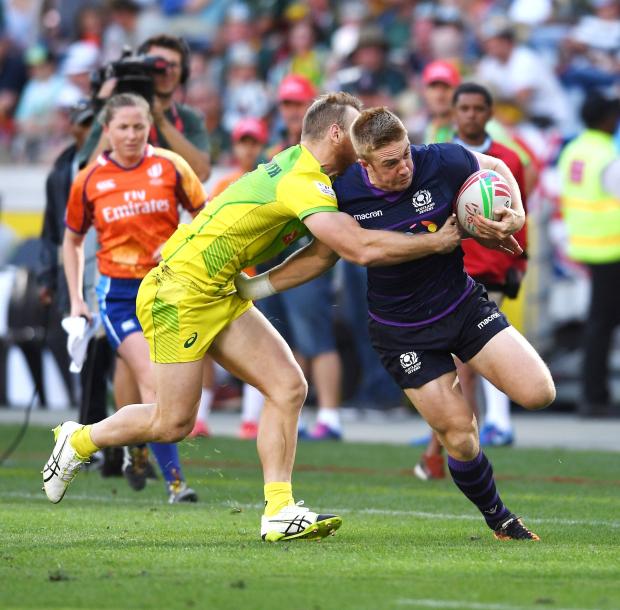 Steyn's mother and her three sisters were born here before Douglas found work in South Africa and emigrated with his brood. "My granddad's got two brothers, one stayed here in Bearsden and his family still lives here, so I've been up there to see him and they showed me the house where they actually grew up, which is cool," Steyn says.
"My mum's family is crazy about Flower of Scotland, so putting the TV on for the anthem was almost more of a thing than watching the actual game. The four girls and my gran were interested in the anthem and my granddad and I were interested in the rugby. They're not good singers at all.
"The Fiji game [in November] was the first game I watched at Murrayfield and hearing Flower of Scotland there was spine-chilling with no music and then the pipes go off…unbelievable."
Gregor Townsend stumbled across Steyn in almost comical fashion. He was in Bloemfontein to watch Glasgow play the Cheetahs and got chatting to the bloke handing out the sponsor's man of the match award. The man turned out to be a friend of Rory's, who said there was a handy young centre captaining the Griquas Currie Cup team and did Townsend know the lad happened to be Scottish-qualified?
Zander Fagerson, Callum Gibbins & Kyle Steyn have been added to our European squad ahead of this month's Heineken Champions Cup quarter-final against @Saracens, subject to EPCR confirmation. pic.twitter.com/4sQpLwq0tO

— Glasgow Warriors (@GlasgowWarriors) March 14, 2019
"Gregor passed it on to [Scottish Rugby's director of rugby] Scott Johnson and [Scotland Sevens coach] John Dalziel. I got a call from Scott Johnson asking if I saw Scotland as the future for me and I said yes from the word go," Steyn says.
"I got in contact with John and came over last February for a trial period with the sevens, did two weeks' training and managed to go away with the side to LA and Vancouver. John stayed in contact with me the whole way through the year and eventually I got a sevens contract."
The goal was always to get a XVs deal and now Steyn has made it happen. At 25, he will be a full-time Glasgow player next season but with Dave Rennie losing so much firepower to the Scotland and to the treatment table, he has started each of the Warriors' last four PRO14 matches and been among the most impressive performers in every outing. He was even called into the Scotland camp in the last week of the Six Nations amid a heinous spate of injuries.
There was a little anxiety about how his new team-mates would feel about a South African called Steyn fetching up and pulling on a blue jersey. There have been critics too of his rapid elevation to the national squad – not because he's a poor player or a bad guy, but because it is seen as a slap in the face to those who have learned their rugby in Scotland.
Goodbye message from our Tafel Lager Griqua Captain, Kyle Steyn:

"I have been very privileged to play for Griquas and become apart of its rich history over the last two years. I have learnt many valuable lessons and made special memories and great friends. ..
Read more on FB. pic.twitter.com/dSQdqXX3fJ

— Griquas Rugby (@GriquasRugby) October 12, 2018
"I'm here because I want to make a difference to the Warriors, to the sevens, to Scottish rugby as a whole. I understand where those people are coming from but I'm sure we've got the same goal – they just want what's best for Scottish rugby and so do I," Steyn says.
"My dad actually asked one of the sevens boys about that, in thanking him for the way they welcomed me, and he just said, 'We've got a really small pool of players, a couple of South Africans, a couple of New Zealanders – that's something we've got to adapt to, to help ourselves compete with these teams'."
By sheer good fortune, Steyn's parents were able to watch him crashing over for his first Glasgow try on Saturday – fittingly, against the Cheetahs – as they follow their youngest son on a high school rugby tour around Britain. Clan Steyn will descend on Allianz Park this weekend when Glasgow arrive aiming to inflict only Saracens' fifth home defeat in the Champions Cup for eight years and reach the semi-finals for the first time in the club's history.
The pair have already contested two ferociously brutal and immensely hot-tempered pool affairs this season. Saracens won both. In the first, at Scotstoun, there was as much collar-grabbing and shunting and off-the-ball verbals as there was rugby. Maro Itoje greeted a disallowed Glasgow try with sarcastic revelry. Rennie sent a clips reel featuring unspotted incidents, errors and reckless clear-outs to the tournament organisers after Mathieu Raynal's erratic performance with the whistle.
Chuck in the howitzer of a Calcutta Cup draw at Twickenham, in which 11 Saracens and Warriors featured, Ryan Wilson's antagonistic cameo on a rugby podcast, and Rennie's midweek assertion that his opponents attempt to compensate for their errors with "a lot of push-and-shove to maybe bring the referee in to change a decision", and the stage is set for another engrossing, angst-ridden duel.
"We need to put in a really physical performance but mainly it's just a belief thing, believing we can go down there and get the win," Steyn says.
"Making the ref aware of what they're up to and making sure they're not successful with it is probably the big one. They're trying to throw us off from achieving something we want to do, and our main focus has got to be that we still want to achieve that. The boys are certainly going to be fired up and nobody will step down."
Comments
Join free and tell us what you really think!
Join Free