'My heart is solely on England' - meet the 6 foot 5, 124kg Fijian born No.8 being touted as the next Vunipola
When your uncle has 65 caps for Fiji, your elder sister is an England international and your cousin is on the cusp of an England debut, with half the country talking him up as a Rugby World Cup bolter, there's a good chance you were always going to end up in rugby.
That impressive family tree belongs to Rus Tuima.
The nephew of Akapusi Qera, brother of Lagi Tuima and cousin of Joe Cokanasiga, there was always a bit of predestiny about the young Exeter Chiefs back rower.
Born in Suva, Tuima moved to England with his family when he was four and quickly began to make waves in the rugby world. A product of both the Ivybridge AASE program and Exeter College, Tuima shone at U18 level last season and is now in the midst of his first campaign as a professional rugby player.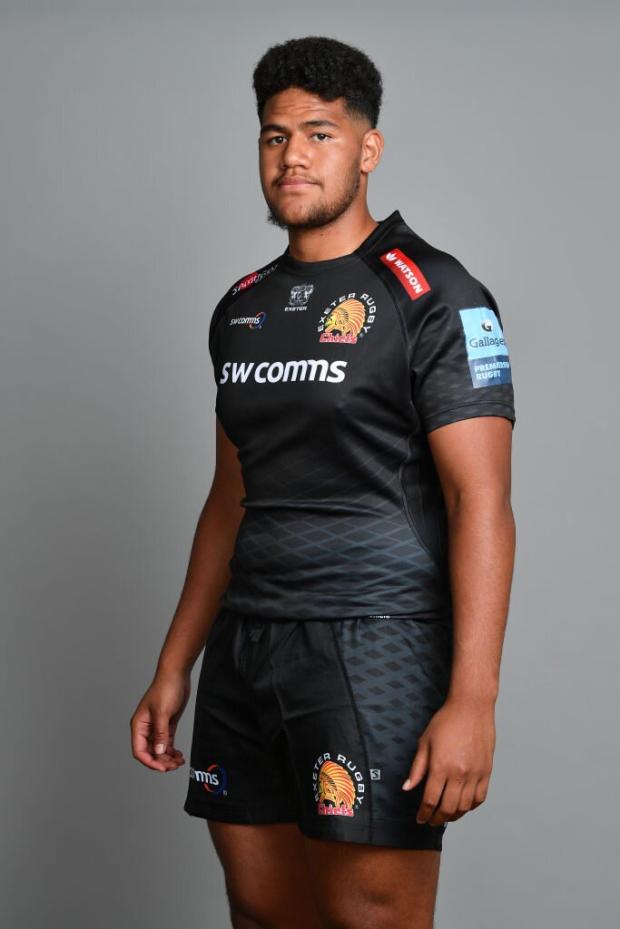 Even though he stands at 6'5" and tips the scales at just over 19 stone, that doesn't mean the transition from a junior to a senior player has been seamless for Tuima.
"It's been a wild one, coming straight from college rugby into men's rugby. I have found it quite a big step up, to be honest. For example, in the 18s, I could carry upright and happily make a few metres, but coming into this environment, you have to be really technical about what you do. If I carry high at this level, then it's more likely I'm going to be moving backwards rather than forwards!"
"So, it has been a big step up, but it's one that I prepared for. It's been really good coming into this environment, especially with people you would see on TV every now and then and wish you were in their position. To be training alongside them now is pretty cool."
"You do what you love every day and you get paid for it, so I really can't complain! It's a good life."
One of the ways Exeter have looked to ease Tuima's transition into the senior game is by dual-registering him with Plymouth Albion, in National One. The 18-year-old has become a mainstay in the Plymouth XV over the last few weeks, packing down on the blindside.
"It's quite similar to what I was saying earlier, with men's rugby I'm just getting used to it all and every game is a learning curve. I'm just trying to take it in my stride."
"It's really good down there [Plymouth] and it is an experience which is definitely developing me as a player."
In addition to the enviable size Tuima boasts, he has also had the support of a rugby-heavy family to help him through the transition, as well as put him on the path to where he is now, and former Gloucester stalwart Qera has been key in that regard.
"Just the way he carried himself, really. When I was younger, I'd go to his house and he'd teach me how to pass a rugby ball and little things like that. He'd just give me advice every now and then, such as telling me how to be good player, tips on reading the game well and little inputs like that."
"My sister came quite late to the game, but she's come up so quickly. Her drive and motivation sort of inspired me and we were there for each other. We'd back each other through everything."
"And with Joe, we used to play touch together in Plymouth when he was down. We just used to chuck a ball around and it's crazy now to see how well he has gone."
To have three professional rugby players in the family is more than most people can hope for, but that's not the end of the influences on Tuima's budding career, with more than a fair share of impressive back rowers to learn from at Exeter.
"Sam [Simmonds] and I are quite different. He's a lot quicker and probably a bit more mobile than I am, but his carrying ability is something I have tried to take from, just the way he brushes through contact. The same with Thomas [Waldrom], really. I didn't really get to meet Thomas on that level, but I did manage to meet him once and he helped me understand what my roles and responsibilities as a number eight are."
"Big Dave Ewers is up there in terms of someone I look up to, as well, especially the way he carries. I think we are quite similar players."
"Bob Crooks was a really good coach for me coming up, too, he built a lot of character in me throughout my time at Ivybridge. Sam Morton, at Exeter College, also, and then Rich Middleton, who is part of the S&C team. He kind of helped me get to where I wanted to be with my mechanics and in the gym."
"All of the staff, really, I'm just nit-picking. Everyone at the club has helped me."
"I wan to mention my parents, too. They have had a massive influence on my game coming up through the grassroots. My mum was always there, taking me to training and driving me up and down the country to watch games, whilst my dad played number eight in his playing days, so I tried to follow in his footsteps."
"They're the main reason I love the game."
Whilst the comparison in style to Ewers is clear to see for anyone who has watched the pair play, there are also, given Tuima's size and Pacific Island heritage, comparisons being made to Billy Vunipola. It's a heavy burden for a young player to carry, but Tuima, as he does with most things in his career, seems to be taking it in his sizeable stride.
"In my eyes, it's a massive compliment. Billy Vunipola is Billy Vunipola, isn't he? I mean we are different people but the way he plays the game is really good to watch for me as a young gun hoping to come through."
"He's a very good person to learn from, just by watching his game. We are different, but I see it as a compliment, more than anything."
Continue reading below…
Watch: Lawrence Dallaglio discusses Danny Cipriani's England omission and the back row option available to Eddie Jones.
With the Premiership Cup kicking off this weekend, it's an understandable time for young players to be excited and potentially get ahead of themselves, but Exeter have always been a club that take a patient approach to blooding youngsters.
For Tuima, this is part and parcel of the professional game and he is not getting himself worked up about when that opportunity to breakthrough is going to come.
"My focus is just to keep developing as I am. When my time comes, it will come. For the moment, I'm just happy to keep training as I am and hopefully develop into the best player I can be."
"I'm enjoying it and I think that's key for me, to be enjoying my rugby and just keep doing what I'm doing."
"England U20s is definitely one of my goals this season, though. I also want to be a consistent starter for Plymouth and go along that route so that I can continue to develop."
"Hopefully I'll get a few Prem Cup games or Shield games under my belt and that will top the season off for me. If a Prem debut comes from it, then great!"
We couldn't let Tuima go before asking him where his international allegiances reside, either, and the answer will be a relief to England rugby fans.
"Honestly, I have thought about it. My heart is solely on England, if the opportunity arises. I feel like I owe a lot to the country."
International calls are a long way off still for Tuima, who is at the bottom rung of the professional ladder at the moment, but if he continues to attack his development with the calmness and composure he has thus far, the future is certainly bright for the young number eight.
With an array of National One and Greene King IPA Championship playing opportunities in the south-west, two seasons of U20 eligibility to go and a contract with a club that has a penchant for dynamic ball-carrying back rowers, Tuima is certainly going to be one to watch over the next few seasons.
In other news: Rassie Erasmus discusses South Africa's upcoming European tour, which kicks off against England at Twickenham.
Comments
Join free and tell us what you really think!
Join Free