'Kick Italy out and bring in Georgia, that is just rubbish chat... very short-sighted'
Jake Polledri is fed up with the routine. Every time Italy take a bit of a battering in the Six Nations, the aftermath is always dominated by chatter that they don't merit their place in the tournament and should unceremoniously be chucked out on the scrapheap. 
It was the same old story last weekend. The Azzurri had 42 unanswered points put on them by Wales at the Principality and the fall-out was the now routine 'what the heck are they doing playing at this level' type of commentary. 
The naysayers have their damning statistics. To put Italy's current 23-game winless run in the Six Nations into perspective, Polledri was a mere 19-year-old whippersnapper getting hammered at Netherdale with his country's under-20s when there was last a W placed alongside Italy on the senior team table.
That was February 2015, five years ago, and some of the beatings suffered since have been excruciating. Three times they have been 'nilled' and the chasm that has existed is exemplified by how they have conceded 119 tries in the 23 games compared to scoring a mere 38. 
And yet Polledri, now all grown up and part of the scene since a 2018 Test debut at Stadio Olimpico versus the Scots, can't fathom why some people are calling for their heads, wanting to exclude them from a learning ground they are happy to have access to despite the one-sided nature of most of their results. 
(Continue reading below…)
The RugbyPod on the second weekend of the Guinness Six Nations 
"It's a massive challenge playing against world-class teams and we're definitely not the best team in the Six Nations but we are striving to be that," enthused the 24-year-old to RugbyPass from Paris during their week-long stay in the French capital ahead of Sunday's round two fixture. 
"The Six Nations is a chance to play against these best teams and takes lots of learnings from it. In terms of lots of talk of us coming out of the Six Nations and bringing in Georgia for us, that is just rubbish chat. We beat them quite comfortably (28-17 in November 2018).
"It's very short-sighted for someone to say, 'Oh, just kick them out because they're losing all the time'. For us to improve we need to play these games and in these venues. That is exactly what you need as an up-and-coming nation. It is very detrimental to Italy to say they should be kicked out.
"I can understand there's questions around it, it makes sense"

– @chrisjonespress reporting #WALvITA #SixNations ??https://t.co/dcCpowNsQ8

— RugbyPass (@RugbyPass) February 1, 2020
"It's a professional sport and you could do every single thing right and you will still have people moaning you're doing it all wrong. One win against one of these teams and people will be, 'They do deserve to be there'. 
"But if we lose everyone is jumping on the bandwagon and saying we should be leaving. It's no secret in professional sport that the fans are very up and down, but one win can change people's perspective of what we have in the Six Nations."
What Bristol-born Polledri had last weekend was a very special Six Nations moment in Cardiff, a sort of homecoming if you like playing at the Principality for the first time. His paternal grandmother Luisa emigrated from Italy as a teenager and it was at an ice-cream factory in Devon that she met her Abertillery-born husband, John.
? Congratulazioni Jake Polledri per il tuo primo cap #Italrugby#ITAvSCO pic.twitter.com/cY6YgnHNY0

— Italrugby (@Federugby) March 16, 2018
Now all these many years later in her 90s, she was watching on the TV with great pride as her grandson earned his 14th cap in the land of his grandfather. "She's 92, 93 now so she can't leave where she is. It would be unbelievable to get here (to a match) but she just watches on TV in terms of keeping her safe for herself. I don't think she is very fit to travel any more.
"She gets very emotional watching on TV. She is trying to understand the game. Obviously being 92, 93, she doesn't quite understand but she loves watching me in an Italian shirt… it was definitely special. I'm not saying I have much Welsh family that I know of but I do have some heritage, and it was a pretty special occasion. All the family were there and I can imagine they were pretty emotional as well.
"They have always come to the games… they even went to Chicago when I wasn't playing. They are a big rugby family and they love it, especially my father who played himself (Pete represented England under-23s and was one of Bristol's longest-serving players)."
Living the dream is something the Polledri clan haven't always been doing as it wasn't that long ago when Jake was told he wasn't wanted at the Bristol academy and his route to the pro ranks became juggling lower league rugby at Hartpury with working in the family business, The Soup & Sandwich Bar and four Subway franchises. That grounding existence steeled the now maurading back row to succeed when Gloucester came calling on 2017.   
"Hartpury was amazing, especially me coming from Bristol academy telling me I didn't have a contact and going straight to Hartpury when they were in National One. I think there is a stat where I played 58 out of 60 games in two seasons. 
"As a kid at 19, 20, that is unbelievable learning, getting game fitness. That is everything you need. When you are that age that is the perfect standard, that was what made my career. That's where you're playing your most minutes and learning the most to move on from there.
? | YOUNG PLAYER OF THE SEASON

You voted @JakePolledri as your Young Player of the Season!

A great breakthrough season! pic.twitter.com/46vh0YE3LJ

— Gloucester Rugby (@gloucesterrugby) April 28, 2018
"When I was working at the same time it was a slice of reality. It made me more determined to become a rugby player. When you getting up and you're working in a Subway, working weird hours, getting up early or closing up late, it's 'this is not for me and I want to become a rugby player'."
He is still partial to a Subway. "I see one and I'm allowed one, a steak and cheese, but the days eating what you what when you want are gone now, especially when we are here in camp where we get food put in front of us that is all nutritionist checked."
The Italian ways have certainly rubbed off. The family only visited the odd time when growing up as his nan has some flats over there, but it wasn't until the under-20s World Cup was hosted in Italy in 2015 that he got a proper insight into how their life works, something since copper-fastened by his senior team involvement.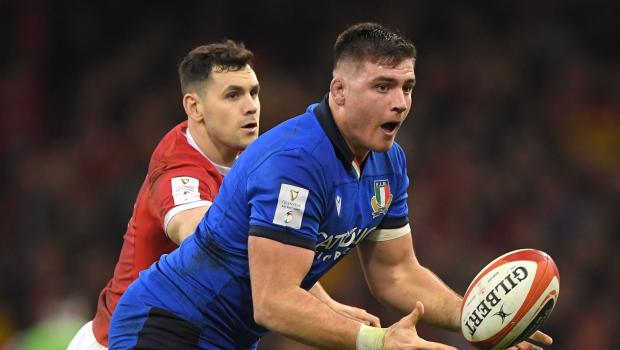 "The traditions do rub off on you being around the hotel and living to their schedule. They will have snacks at 5 o'clock and then dinner will be at eight, nine o'clock in the evening which, as a person brought up in England with an English tradition, it's kind of strange because we'd eat all our food at five or six in the evening and that would be it done. 
"Back at home I now cook food a lot later, especially coming back from the camps, and you still have your snack as well. Those little traditions with food and those schedules do rub off when I'm back at home," he explained, adding there is extra pressure now on how to finally become fluent in the language with Franco Smith having taken over the Azzurri from Conor O'Shea. 
"I'm definitely a lot better than when I started. I have definitely got a lot better understanding than speaking but with Franco coming in, he is very fluent in Italian and he has all the meetings in Italians so you have to learn it or you will be left behind. 
Jake Polledri.

Tackle breaking machine ????@Federugby ??#RWC2019 #ITAvCAN #RWCFukuoka pic.twitter.com/Il2iPryK5z

— Rugby World Cup (@rugbyworldcup) September 27, 2019
"It is definitely getting there. I'm in an Italian school in Bristol with my girlfriend so when I am not here learning, I'm at home learning. It's not the easiest thing for an English speaker to pick up another language. I have heard it is easier the other way around, so I'm slowly but surely getting there."
A bit like the team he is playing for now that they are adapting to an interim coach following O'Shea's exit six months before his contract was due to expire. "We have had Mike (Catt) and Conor leave and Franco has come in. There is going to be some transition time and although we didn't want it, that is what has happened.
"It's just a difference in the way we want to play. It's just a change. Each person that comes in has different ideas and different philosophies. It's just a fresh person at the top that wants different things. There is definitely a change in the way we want to play and in training as well.
Il XV in campo per #FRAvITA, seconda sfida degli Azzurri nel @sixnationsrugby 2020 ? https://t.co/PyfFNpYFk1

?Kick off domenica 9 febbraio alle 16, diretta @dmaxitalia
#insieme #rugbypassioneitaliana pic.twitter.com/sihra2T7Fr

— Italrugby (@Federugby) February 7, 2020
"At least now we have a game to look back on the way we want to play. From now on there are no real excuses apart from what we put out on the pitch. It's just recovering, looking back, how we can reduce the silly errors that we conceded. 
"You look at how many mistakes Wales made, it would be pretty much minimal whereas if you look at our mistakes and how many times we turned over the ball, it would be really up there. Also a couple of silly penalties – they kick it to the corner and we're under pressure. I can remember one of our props, (Leigh) Halfpenny kicks the ball and he has run through and they trip him up. That is just a stupid penalty. They even took the three points from that. 
"That is something you don't need and in Six Nations rugby, that kills you off. There were other examples. We must have knocked the ball on two or three times and then you don't get the ball back against teams like Wales. You just don't get it back for 20 phases and you're constantly under the pump."
That's been the story for years of Italy's Six Nations – under the pump and trying to somehow get better against the odds. Paris on Sunday will likely be another example. 
WATCH: RugbyPass takes a trek through Italian rugby in this episode of Rugby Explorer
Comments
Join free and tell us what you really think!
Join Free