Giant 132kg England prop tired of 'Championship player' tag
Harry Williams insists Exeter Chiefs can ill afford to dwell on the disappointment of defeat in May's Premiership Final against Saracens.
Instead, the 6'4, 132kg England international believes he and his team-mates must instead use that loss as 'fuel to the fire' as the Devon club look ahead to the new 2018/19 campaign.
The new season kicks-off in less than a month on September 1 against Leicester Tigers at Sandy Park and the 26-year-old is aiming to be part and parcel of Rob Baxter's mix as they look to wrestle back their title crown from the Londoners.
"Last season has been parked," said Williams. "Whenever you lose big games, especially finals, it's always going to hurt, both individually and collectively. That said, you can't dwell on the past, instead you've got to use it as fuel to the fire and push on and improve.
"We've talked in pre-season a lot about what we want to do and how we'll go about it, but now it's down to all of us to follow that through. Ultimately, we want to improve as individuals, but we also want to be a top team in England and in Europe."
Continue reading below…
Unlike many of his Exeter team-mates, Williams is a number of weeks behind in terms of pre-season preparations, having been part of Eddie Jones' England squad that toured South Africa.
The talented tight-head featured in all three Test matches, which the Springboks won 2-1, and was encouraged by how he performed having sat out the latter part of last season due to injury.
"Obviously we were disappointed to lose the tour, but personally I felt I went alright," he added. "Personally, I was happy to just get back out there and playing rugby again. There's always stuff to work on, but I did a few good actions and I felt I came back in good order."
Williams was joined on the tour by club-mates Henry Slade, Luke Cowan-Dickie, Sam Simmonds, Alec Hepburn and Jonny Hill, all of whom are also working their way up to full fitness ahead of the new season.
"We've all been eased in nicely over the last few weeks, but as the season gets closer I'm sure things will start to ramp up a fair bit as we get closer to the start of the league," said Williams.
However, watching on closely, the former Jersey prop says he's encouraged by what he has seen of his Chiefs team-mates so far this pre-season. Although the real action starts next week with pre-season fixtures against the Cornish Pirates and Cardiff Blues on successive days.
"I think if you went into any club, they'd all say things are going well and looking good at the moment," said Williams. "This is when everyone is training hard, getting themselves in good nick and generally getting ready for the new season.
"The real test, I believe, is when it's dark, cold and wet, that's when you have to dig in and put in a decent string of games. Right now, it's easy to be motivated, but that will only get you so far. It's that discipline and willingness to work that will carry you on further.
"Having been here a few years now, I know how hard the guys here are willing to work. Personally, I'm probably more motivated now than when I first arrived at the club, simply because I feel I can have a real positive effect on the team.
"At that time, it was all new to me, but over the last three years we've all improved, both as individuals and as a team, and has some great experiences along the way. As players you want to be playing at the top level and in the big games and the way to do that is by being consistent and focusing fully on your game."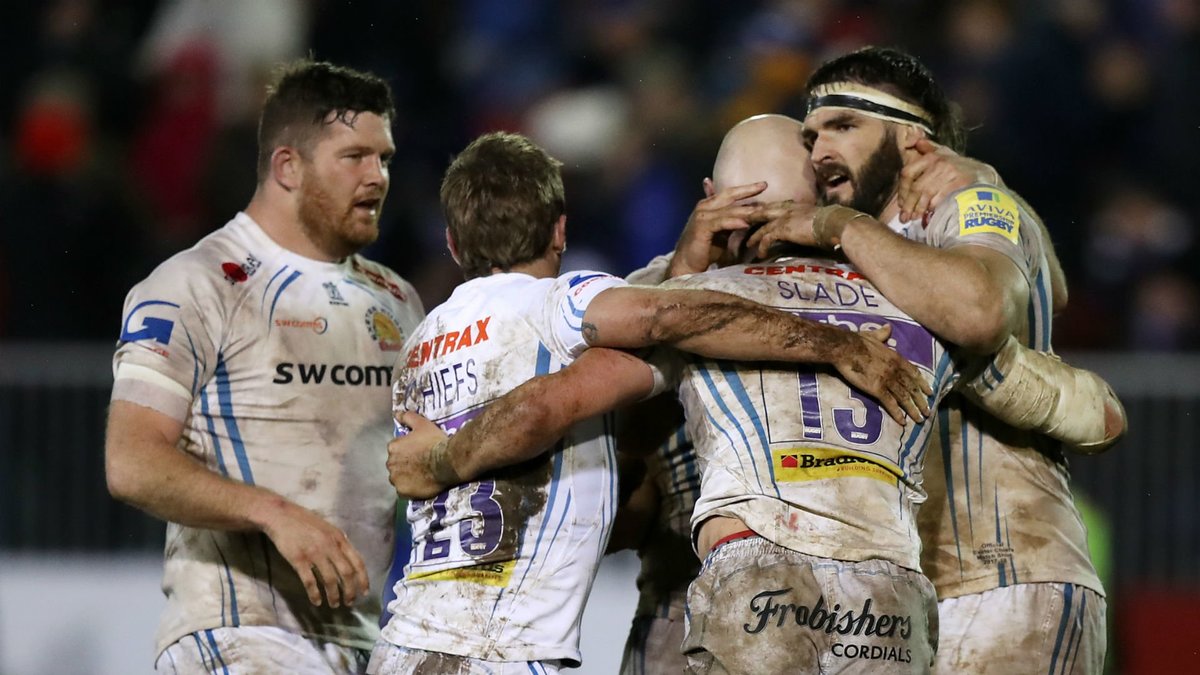 Indeed, it's been a remarkable rise for Williams, who arrived in the summer of 2015 having spent the season before with Championship side Jersey. In his three years in Devon, not only has he established himself as a key cog in Exeter's front-row, but his on-field displays have, quite rightly, seen him rewarded with international honours.
Having made his England debut on the summer tour to Argentina in 2017, he has seen gone on to win 10 Test caps.
Some observers, however, still feel Williams is a relative rookie on the big stage, a claim quickly dispelled by the likeable Londoner.
"I think I'll have to get a testimonial here before people stop referring to me as a Championship player," he said. "I've been here three years now and I think that's about time to say the apprenticeship is over.
"Yes, I'm proud to have said I've come up through the ranks of the Championship to playing international rugby – and it's definitely made me better as a player and a person. Now, I want to push on. I don't want it to be a cape I have to wear in my career.
"As I said, looking around the squad, everyone looks strong and you can see there is real competition amongst the guys. At the same time, I think we can go into this new season with a real, fresh approach and that you'll see a new and improved Exeter Chiefs, which is exactly what we want to do."
Source: Premiership Rugby
Mailing List
Sign up to our mailing list for a weekly digest from the wide world of rugby.
Sign Up Now