Excitement and expectation reign around Alfie Barbeary, but so should caution
The name Alfie Barbeary is a surprisingly well-known one in English rugby.
It's surprising because Barbeary is still just 18, currently attends Bloxham School in Oxfordshire and is not yet even a professional rugby player.
That's what a meteoric rise, highlights videos shared on social media platforms and a bag-full of talent and potential will get you.
He is a rarity, though, in that he's on so many people's radars at such a young age. Rugby isn't like football or a host of US sports, where players are scouted publicly in the media whilst still at school, and even when rugby players leave school and turn professional, they don't tend to turn any heads until they are entrenched in a senior squad, playing semi-regular Gallagher Premiership rugby.
What is it, then, that separates Barbeary from so many of his contemporaries?
The hooker arrived into the awareness of those who follow the age-grade game in 2017 when, as an U16, he displayed a remarkable level of comfort playing with and against players two years his senior. He consolidated that in 2018, taking on the mantle of captaincy with both Wasps and England U18s sides, before arriving in the public consciousness this season, having featured for Wasps' senior side in the Premiership Cup and Shield competitions, as well as making his England U20 debut against Scotland.
It's a remarkable achievement for any U18 player to be rubbing shoulders with the seniors and he's not the only one to do so this season, with Bath's Max Ojomoh, Leicester Tigers' Freddie Steward and Northampton Saints' Josh Gillespie among the others to have made that leap. The difference is, they're all backs. To be playing in the front row in the seniors whilst still at school, that's a different ball-game.
If you look at how and why he has made that leap, it reinforces why people are understandably getting excited about what the future may hold for the front rower.
The first box that is ticked is the physicality one. Just as he was comfortable as an U16 mixing it with U18s back in 2017, the physical side of his game has shown up well in the U20 and senior opportunities he has been given. He has speed that some hookers can only dream of and that combination of strength, speed and the ensuing power, mean that he has a playing style that can influence any kind of game. Whether it's picking and going around the fringes or stepping out into the back line, he is always looking to – and is capable of – making a positive impact in a variety of ways.
Technically, he is also adept across the board. He fulfils the core requirements at the scrum and the lineout well, carries incredibly proficiently and has footwork that allows him to break tackle after tackle. Once that tackle is broken or the collision is won, he has the awareness and ability to get offloads away, some that seem to defy the laws of physics, and he is not a retiring tight five forward in space, either, with a kicking game that matches up with plenty of back line players at his level. All of these areas can, and almost certainly will be improved, but as a foundation goes, it's a pretty strong and wide-ranging one.
As for the mental side of the game, he seems to have coped extremely well with the growing focus on him from fans, media and senior coaches. At his age, it would be easy for something like that to go to his head, but by all indications, he has his nose to the grindstone and is continuing to hone his craft. The improvements he has made over the last two years have been clear for anyone watching to see.
There is evidently a self-confidence there, too, and that's one of the biggest battles won when attempting to make that transition from juniors to seniors. A great example of that from this season would be Worcester Warriors' Ollie Lawrence, who has believed in himself and backed his ability to replicate his junior skill set at the senior level. There are times when these things will need to be tempered, but there is no point, as a junior player, going into the seniors and trying to be something you're not. It's being the player that you were at the junior levels that got you to where you are now. When young players start to second guess themselves, that's often when they get themselves into trouble on the pitch.
Broadly, without going into the intricacies of every technical aspect of his game, this is why Barbeary has been rewarded with the opportunities he has so far, and why people are legitimately excited.
For this many people, who don't follow the age-grade circus each season, to be talking about a player still at U18 level is almost unheard of. If you take the last seven or so years, no one in English rugby has received this kind of a spotlight at this age.
Maro Itoje was on radars at the U20 level but wasn't really a major topic of conversation until he had lifted the Junior World Championship in 2014, whilst Jack Walker, as a three-year starter in the front row at U20 level, was talked about by some media outlets and fans quite early, but neither to the extent that Barbeary already has been.
That's in part down to the acceleration of players going straight from school to senior rugby, as demonstrated by the likes of Ben and Tom Curry, Nick Isiekwe and Marcus Smith among others, but also that there is something special about Barbeary that sets him apart from a number of the players that have come before him.
To be as physical as he has been at the U18 level and not cruise or become reliant upon that, instead working hard to upskill technically, is a credit to him and the coaching staffs at Wasps, Bloxham School and Banbury Rugby Club. There are always well-rounded players at U18 level but there are also players who will lean too heavily on their physical abilities and perhaps don't pay due diligence to the other areas of their game that they should. This is often found out when that player then tries to make the leap to the seniors, struggles to win physically, and consequently they do not have that technical safety net in place to catch them.
In that regard, there are definitely shades of Itoje about the 18-year-old. The technical game backing up impressive physicality and athleticism, a clear comfort in a leadership role and the self-belief to take the increasingly more difficult steps up in quality of opponent, within his sizeable stride.
There should be an element of caution, though.
Many a promising career has been derailed by overexposure too early and Wasps will have to manage that mix of expectations, both internally and externally, carefully.
The club have struggled to bring through homegrown players in recent seasons and there has been a noticeable disconnect between the academy and the senior side, and whilst both do solid work in isolation, creating a more productive pathway between the two has to be a priority for the Coventry-based club. Barbeary could, understandably, be the spearhead of those efforts.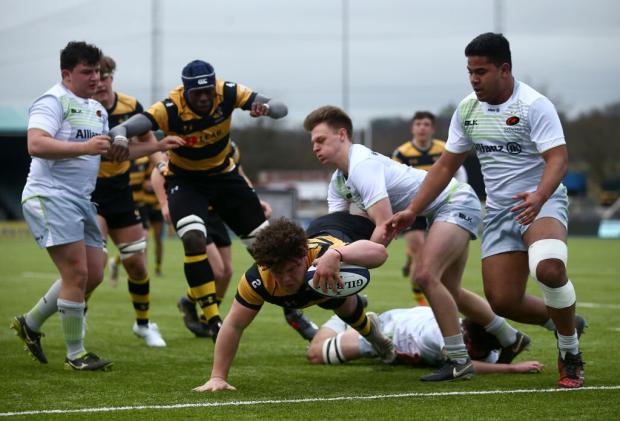 Jack Willis took his chance when it came calling, thanks to injuries to Sam Jones, James Haskell and Thomas Young at the time, but from the outside, it certainly looked opportunistic, rather than pre-planned. Will Stuart's emergence took longer than many expected, and he is now off to Bath at the end of the season, whilst the likes of Piers O'Conor, Ehize Ehizode, Tom Howe and Alec Hepburn are others to have left the club early in their careers. There are a multitude of factors involved in those decisions and not all of them are Wasps' fault, but the lack of a productive pathway has certainly hurt the club as they have tried, and failed, to keep pace with Saracens and Exeter Chiefs.
Barbeary is not going to singlehandedly change that overnight, but he can be a posterboy for what the pathway could be like at the club. Tom Cruse has re-signed, Tommy Taylor will still be in Coventry next season and Ashley Johnson is comfortable at hooker, so there shouldn't be a need to put too much, too early on Barbeary's shoulders, but equally, it feels as if there will be opportunities there if he proves himself ready in preseason and the Premiership Cup and Shield competitions.
The other variable to take into account is the challenge of transitioning to the seniors in the front row specifically. It is the most physically-demanding and brutally attritional position to do so on the rugby pitch and early success does not always correlate with long-term benefit. Christopher Tolofua was rushed through as an 18-year-old in France, before facing struggles of his own at Toulouse and Saracens, whilst Walker's career has thus far been blighted by injury, with his true potential still to be realised. Couple that with the regular challenges of turning professional, with rugby going from a hobby and a passion to being the daily grind of your job, and it's a tough task for even the most talented of players.
Wasps are in a rebuild, there's no other way to look at it, and Barbeary can be a foundation piece in that restructuring, but he is not, on his own, a cure for all of the club's ailments over recent seasons.
If you're a Wasps fan, be excited about this guy, because he is a very good rugby player and he represents what Wasps could build in the years to come with the right connected thinking across all departments, but also just because he is fun to watch. You will enjoy watching games with him in more than you will enjoy watching games without him. It's as simple as that.
Be optimistic, just don't put the burden of expecting miracles solely on his shoulders.
As for Barbeary himself, he finished up his commitments with the England U18 side on Sunday, helping them to a 33-12 victory over France at Cheshunt RFC, as the U18s now prepare for the Six Nations festival and turn their attentions to the U17s, who will make up the side that tour South Africa in the summer.
A World Rugby U20 Championship in Argentina looms on the horizon for Barbeary, who will be competing with Samson Ma'asi, Nic Dolly, Will Capon and Ben Atkins for one of probably just two hooker positions in the squad.
Then will come preseason with Wasps and the start of his professional career. It's one we will all watch with anticipation.
Watch: Eddie Jones is frustrated by England's mental lapses
Comments
Join free and tell us what you really think!
Join Free