'Everyone is quite obsessed with size back home, everyone wants to be bigger than the next person'
In September last year, Cheslin Kolbe was back in Kraaifontein, the Cape Town suburb where he was raised and where he fell in love with rugby, when he found himself peering through a window into his past.
On the street outside his childhood home, a little boy clutched a full-size rugby ball that looked like a giant marrow in his hands. The kid was fetching handfuls of dirt to tee up his ball and kick for the lampposts, practicing his skills over and over.
This was the same street where Kolbe and his pals had scampered around like maniacs after school, avoiding homework and housework at all costs. The same street where he, too, had spent hour upon hour with a ball in his hand or at his feet, but not the merest indication he would ever become a Springbok, let alone a Springbok who has beaten the All Blacks in New Zealand, who plays for one of the most storied clubs in the game and who is reckoned to be among the best attacking players in world rugby.
"It feels like yesterday that I was that little boy," said Kolbe to RugbyPass. "It brought back so many memories. I went up to the boy and told him, 'keep what you're doing and just have fun'. It was really amazing to see.
"At that age you just want to have fun with your friends, playing on the streets every afternoon. I always used to get in trouble with my parents – whenever I got in from school, I had to do my homework, but I would go outside for at least two hours playing. I always had to make sure I was back in the house when my dad came home, so the moment I saw my parents' car entering the road, I was running straight into the house."
(Continue reading below…)
WATCH: Rugby Explorer – Big Jim Hamilton visits South Africa

Kraaifontein may be part of Cape Town, but not the Cape Town of the glossy brochures, with incredible natural majesty, chic bars and a Brazilian model around every corner. In government figures released last year, Kraaifontein's police station handled the seventh-highest number of murder cases in the entire country across the previous 12 months. One source indicates only five precincts in all of South Africa had more reported crimes in 2018.
Kolbe watched some of his best friends succumb to the sordid influences that lurked in the neighbourhood, the violence, the drugs, the alcohol. Propelled by the colossal influence of his parents, he vowed to make something of himself.
"Growing up in Kraaifontein wasn't easy at all, because there are so many things happening around you," he explained. "I had a few good mates who took the wrong path, using drugs or stuff like that – seeing that made me a much better and stronger person. It's not what I wanted for myself, not the way my parents had brought me up.
"Looking back, and where I am in my life now, it's actually heartbreaking. There are so many talented rugby players there, but they just don't get the opportunity. They don't get the good foundation to build up that talent to its full capacity."
Kolbe uses his trips home to visit the local rugby clubs and encourage the young men of Kraaifontein to make the right decisions. It wasn't only a tough upbringing in his path to success, but an aversion to his stature too. A little back-three player, Kolbe was repeatedly told he was too small to make a living from the game.
The Toulouse website puts him at 1.71m and 74kg. There were queues of coaches back home lining up to declare that physique wouldn't cut it – not in South Africa, the land of monsters, not in an age where rugby has developed a dangerous fetish for size and an uneasy relationship with its consequences.
Great victory from the boys yesterday, against a good quality Claremont side.

80minutes of great effort and character shown from the @StadeToulousain brother's.

— cheslin kolbe (@Cheslin_Kolbe11) April 15, 2019
"Everyone is quite obsessed with size back home, everyone wants to be bigger than the next person. I don't believe that's the way forward," he said. "Why do you have to be 90kg, 100kg to make it? I believe this game has a place for each and every player if they have the right attitude and mindset."
This bizarre focus on his limitations rather than his rare and glorious talents fuelled Kolbe's determination. And how he clamped shut the traps of those who doubted him. On Sunday, Kolbe scored his 15th try for Toulouse in a blistering first-versus-second Top 14 contest with Clermont, an outrageous flourish in which he slipped on his backside before springing up and puncturing the line, flummoxing four players en route to the whitewash.
He has, in fact, beaten more defenders (45) than anyone else in this season's Champions Cup. He is intelligent enough defensively that his lack of beef seldom gets exposed and his broken-field running is so deadly it is virtually unique.
Kolbe has absurd pace and legs like slinkies, hauling players this way and that, their vast bodies lurching and toppling like drunks on an ice rink. He was voted the Top 14's foreign import of the season by the great French newspaper, Midi Olympique, in his debut campaign and has been ever better this year.
There are others like him beginning to penetrate the ranks of bruisers. Damian McKenzie, Darcy Graham, Robert Baloucoune – all little firecrackers in the modern game. Finn Russell, Danny Cipriani and Jordan Larmour are hardly massive, but you would pay good money to watch them unleashed.
"I had a lot of arguments about being too small for professional rugby. People told me I would never make it, and to me, that was just an opportunity, it just excited me to prove people wrong," said Kolbe. "I had a few people at school, some straight out of school… the moment I walked up to them, they told me, 'Listen, I don't think you're going to make it', or that I should move position to scrum-half.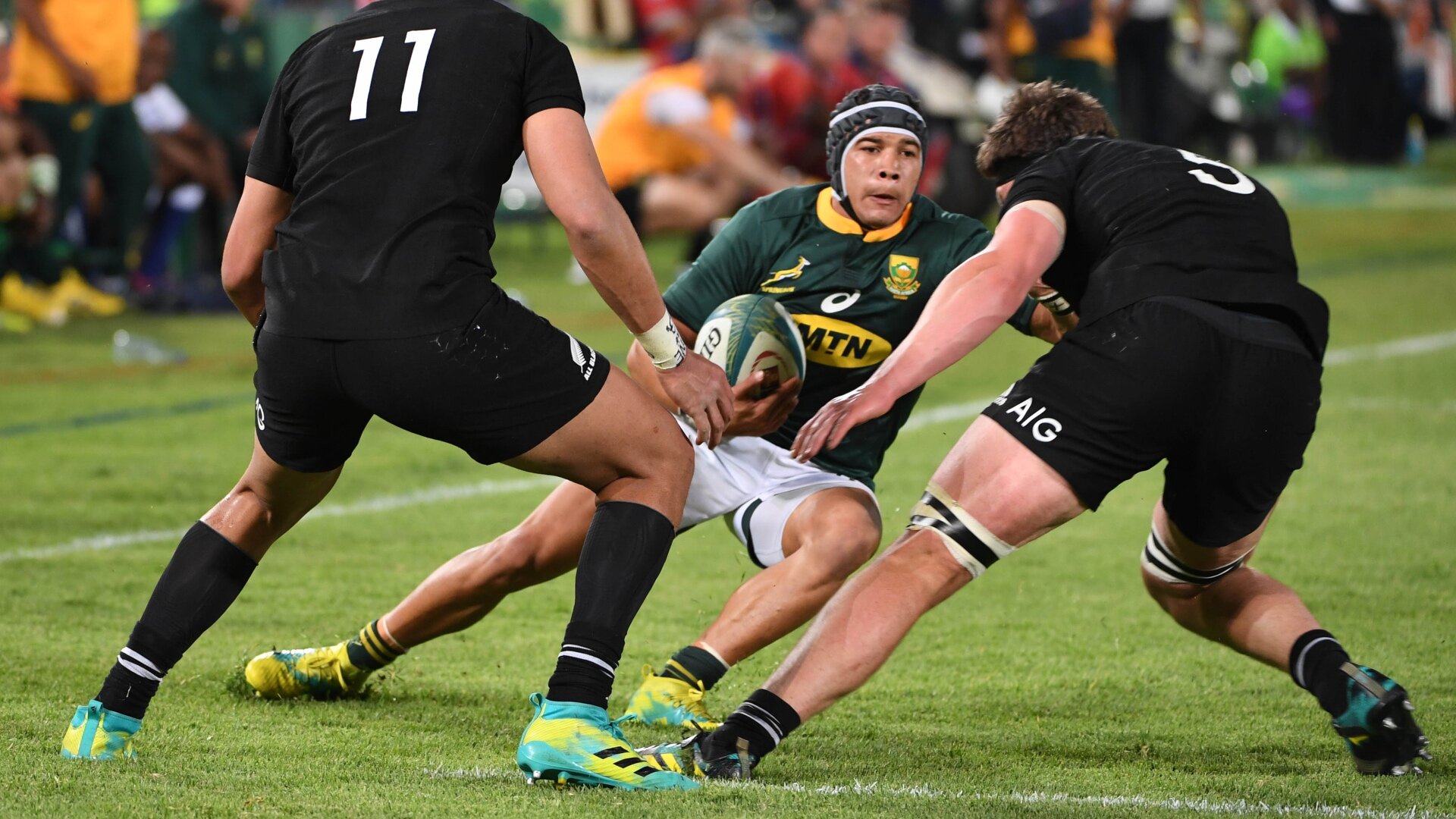 "At one point, it got quite annoying because wherever I went, I would just hear the same thing over and over. I just told myself, I'm not going to waste energy on all this negativity, I'd rather use it as motivation. I knew I had to work on my physicality and make sure I was up there with all the big boys in terms of my conditioning, my power, a good mental state as well. I played against guys week in, week out that were maybe twice as big as me, I just had to make sure that I was prepared really well and conditioned really well."
When he left Cape Town and the Stormers behind in 2017, Kolbe thought his international dream had waned, if it wasn't quite dead altogether, in part because of the fixation on his size. The South African policy of only selecting overseas-based players who had 30 caps or more was still in force and the Boks were floundering hideously under Allister Coetzee.
In came Rassie Erasmus. Out went the 30-cap rule. Still, Kolbe feared he was the victim of an elaborate prank when news of his call-up broke in the Toulouse camp seven months ago. "I walked into the meeting room in the morning and everyone looked at me, and (assistant coach) William Servat just shook his head and said, 'I hope you can bring me back some biltong'.
Last night was Epic.

Thank you to all our families for the support & the ?? supporters that came out in their numbers to support us in Paris.

Semi's in Dublin ?? pic.twitter.com/xgjfVJsD6O

— cheslin kolbe (@Cheslin_Kolbe11) April 1, 2019
"I was a bit confused, I said, 'My wife's going back to South Africa soon and I'm sure she can pick up some'. He just looked at me and sat down on his chair, and I thought, 'Did I do something wrong?' (Head coach) Ugo Mola came in and shook his head and I thought, 'What the hell did I do?' The meeting carried on, and Ugo called me in after and said, 'You've been selected to join up with the Springboks for the Rugby Championship'. "I said, 'Please, don't mess around with me like this'. But he was serious. I couldn't believe it. Is this really happening? Am I dreaming?"
The dream got very real very quickly. In his second Test, Kolbe scored a stunning interception try and chopped down the hulking Rieko Ioane as the Springboks beat the All Blacks in Wellington. He was taken on tour at the end of the year and now has seven caps to his name.
All the while, his influence at Toulouse has been imperious. After seven trophy-less years, this old juggernaut of French rugby has risen again, playing with beautiful abandon. They sit eight points clear at the Top 14 summit with a seismic Champions Cup semi-final against holders Leinster in Dublin to come on Sunday.
Lovely touch from @StadeToulousain – the French side will be wearing a special jersey to commemorate the tragic falling of Nore Dame ????#Heineken #ChampionsCup https://t.co/e1B41mqJ5S

— Heineken Champions Cup (@ChampionsCup) April 16, 2019
In many ways, it will be a clash of styles, Leinster's ruthless, patient, precision against the havoc-wreaking flair of Kolbe and his pals. "Leinster are a well-coached, very structured team, we know what we have to face – this is a team that can keep the ball for 10, 15 phases, and we have to make sure that we are in the right mood. We know there's going to be some big hits, long phases – it's going to be exciting.
"Whether I'm around the ruck, or in broken field, the coaches want me to get as much ball in my hands as I can, go and look for work and make something from nothing. It's great to know you have that freedom to play because sometimes you can be put into a box where you are told, 'Just do this, just do that'."
From the old lampposts of Kraaifontein to the towering Aviva Stadium, Kolbe has come rocketing out of his box. Leinster better have a hell of a plan to put him back in it.
You may also like: Sharks presser ahead of Reds Super Rugby showdown

Comments
Join RugbyPass+ now and be apart of the conversation with all-new commenting!
Join Now