ASX Sports Fantasy Rugby: Who to buy in round two
ASX Sports' fantasy rugby started with a bang at the weekend, as round one of the Guinness Six Nations delivered plenty of drama and excitement. If you played, it was quite a round, packed full of dividends across all three games. If you did not, do not worry, each match offers a new opportunity to play and win great cash prizes.
So we're here to look back on round one, who the best performers were and who were great buys, while looking ahead to round two and providing some tips on which players you should invest in. Remember, each contest is free to enter with a prize pool of $500 for the France versus Ireland match and $250 for the other two matches, so pick wisely.
Top 10 Players
It is no surprise that the top performers in the round were the players who scored tries, with the only hat-trick scorer, France's Gabin Villiere, comfortably finishing top of the list and Ireland's Andrew Conway finishing second thanks to his brace.
Ireland's Tadhg Beirne was sevent on the list despite failing to register a try or an assist, which is mightily impressive. His multiple turnovers, line breaks and defenders beaten helped him with his haul.
1. Gabin Villiere (France) 75 divs
2. Andrew Conway (Ireland) 46.3 divs
3. Taine Basham (Wales) 40.2 divs
4. Damian Penaud (France) 36.8 divs
5. Marcus Smith (England) 35.2 divs
6. Anthony Jelonch (France) 32.8 divs
7. Tadhg Beirne (Ireland) 31.9 divs
8. Bundee Aki (Ireland) 30.3 divs
9. Garry Ringrose (Ireland) 26.8 divs
10. Darcy Graham (Scotland) 25.1 divs
Top 10 Buys
While players like Villiere earned a lot of dividends in round one, they would have had a high price to begin with, meaning Users could not buy as many shares. However, there were some players that proved to be better value as they were cheaper buys. That means they earned the most dividends per $, creating the opportunity for a mega payout for any Users that invested heavily in them.
Finishing at $4.50, England's Kyle Sinckler proved to be the best buy of the round by far. In comparison, Villiere finished his match at $42.57.
1. Kyle Sinckler (England) 4.7 divs per $
2. Taine Basham (Wales) 2.9 divs per $
3. Tommaso Menocello (Italy) 2.3 divs per $
4. Pierre Schoeman (Scotland) 2.3 divs per $
5. Andrew Porter (Ireland) 2.3 divs per $
6. Bundee Aki (Ireland) 2.2 divs per $
7. Gabin Villiere (France) 1.8 divs per $
8. Andrew Conway (Ireland) 1.8 divs per $
9. Anthony Jelonch (France) 1.5 divs per $
10. Ben White (Scotland) 1.4 divs per $
Team of the Week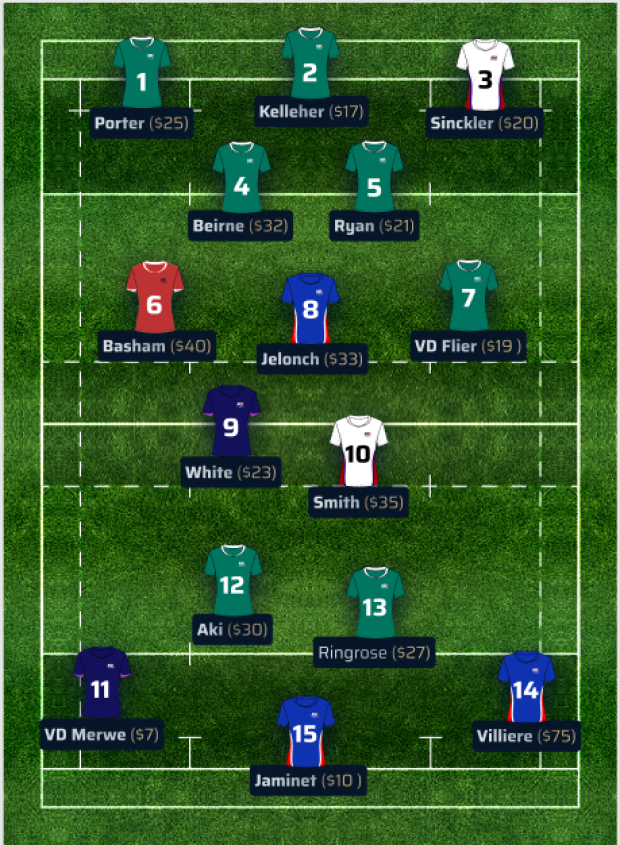 Wales versus Scotland 
There were plenty of standout performers from Scotland in their win over England in the Calcutta Cup, but in terms of all round performances Darcy Graham and Matt Fagerson could be great buys against Wales this weekend.
While on one wing Duhan van der Merwe made the most metres in the backs (91) across seven carries, Graham on the other wing was not far behind with 82 metres in six carries. But Graham came out on top in almost every other department. He made the joint most tackles in the backs, with seven, and secured the crucial turnover in the final play of the match, which earned him a place in the top ten performers. Most importantly, he got the try assist for Ben White's try and came within centimetres of scoring himself had it not been for Luke Cowan-Dickie's act of sabotage. With Ireland right wing Andrew Conway scoring two tries against Wales on Saturday, Graham could be good value.
Likewise in the forwards, player of the match Matt Fagerson had an extremely well rounded performance at No.8. He made the most carries and the most metres of all forwards, as well as making the second most tackles. With one turnover and two lineouts won, Fagerson could be a rich source of dividends in multiple areas of the match. Another player to look out for is loosehead Pierre Schoeman, who proved to be a very lucrative purchase after coming on from the bench given how cheap he was and the returns he provided with two turnovers. His 2.3 divs per $ made him the fourth best buy of the round.
Despite a resounding loss to Ireland at the Aviva Stadium, there were still players that caught the eye from Wales, none more so than Basham. As mentioned, the 22-year-old was the third best performer and was the second best buy. He finished the round with the most tackles (22) and the third most carries (15) and of course scored his side's only try of the game, meaning he was comfortably Wales' top dividends scorer. He is a nailed-on starter meaning he could be a wise investment.
France versus Ireland
Neither the French nor Irish players will have as many opportunities for dividends this Saturday as they did against Italy and Wales, respectively, in round one, but there are still plenty of players to look out for. Most players in France's backline offer potential dividends, with Villiere being the best performer thanks to his hat-trick, but fullback Melvyn Jaminet could be an alternative to the pricier Antoine Dupont and Damian Penaud. Being the goalkicker, Jaminet offers dividends in that department while also scoring in other departments such as carries and metres made.
From Ireland, Bundee Aki looks to be a standout option. The inside centre made significantly more carries than any of his teammates, and topped the tackle count in the Irish backline, subsequently proving to be one of the best value buys. While he may not necessarily register another try and assist like he did against Wales, he will still get through a tonne of work at the Stade de France.
In the pack, No.8 Gregory Alldritt could be a good buy given how industrious he is with ball in hand (making the most carries of round one with 22), as is hooker Julien Marchand. In terms of how well rounded he is, second row Cameron Woki could be a smart buy, particularly given how threatening he is at the lineout. Like Woki, Beirne offers a similar threat in green, and could equally be worth buying shares. The lock was the seventh best performer of the round, but will come at a price.
Italy versus England
There may be a bit of rotation in the England squad ahead of their trip to Rome this Sunday, but there are some players that seem guaranteed to start. Marcus Smith is one of those, and after his 17-point haul against Scotland it is hard to look past the England fly-half again. He was the fifth best performer of the entire round and goes into a match that offers great potential for dividends.
Bearing in mind that four of France's five tries against Italy were scored by wingers on Sunday, you can't really go wrong with England wingers either, though it is unknown who will fill the No.11 and No.14 shirts.
Up front, it is worth mentioning that England's maul looked quite dominant at times against Scotland with one try held up, so whoever starts at hooker could provide a glut of dividends. Kyle Sinckler also produced the most divs per $ as well, so it could be worth investing in the tighthead while he is on the pitch.
From Italy, their back row could be the best source of dividends, with blindside flanker Sebastian Negri and openside flanker Michele Lamaro having busy games against France. The former was productive with ball in hand while the latter was in defence.
ASX – the world's 1st fantasy rugby game with live in-game trading – Are you playing yet? Download Now on Android or Apple!
Comments
Join free and tell us what you really think!
Join Free