The explosive performance of 18-year-old Jordan Petaia has Reds fans drooling over the prospects of uncovering one of the most exciting young talents in Super Rugby.
His undoubted athleticism was on show with speed and power causing the Highlanders problems on Friday night. It's not fair to call him a one-trick pony at this early stage, but he is proving to be a run-first type centre – he ran 10 times and passed three times, with two of those being offloads in contact.
He showed a nice touch to hold Naholo and play a three-on-two down the left edge on the stroke of halftime but every other time took on the line and tried to break away, which was similar to what he demonstrated often in the NRC where he was able to beat inferior defenders.
Petaia's two big line-breaks ultimately resulted in zero points for the Reds. Both opportunities were shut down and turned over to the Highlanders either on that phase or a few thereafter.
The lack of converting on these runs wasn't all the centre's fault though, the Reds just don't seem to have the wings to match the speed that Petaia possesses.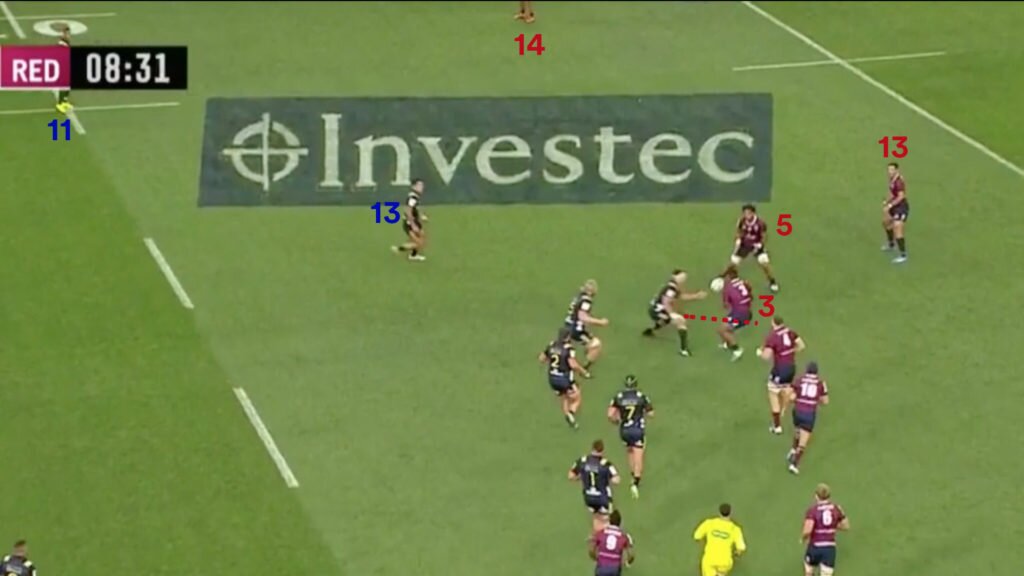 Some deft interplay from Taniela Tupou (3) and Lukhan Salakaia-Loto (5) gives Petaia a two-on-one on the edge.
With acres of space in front, he has plenty of time to sum up his options against a recovering edge defence.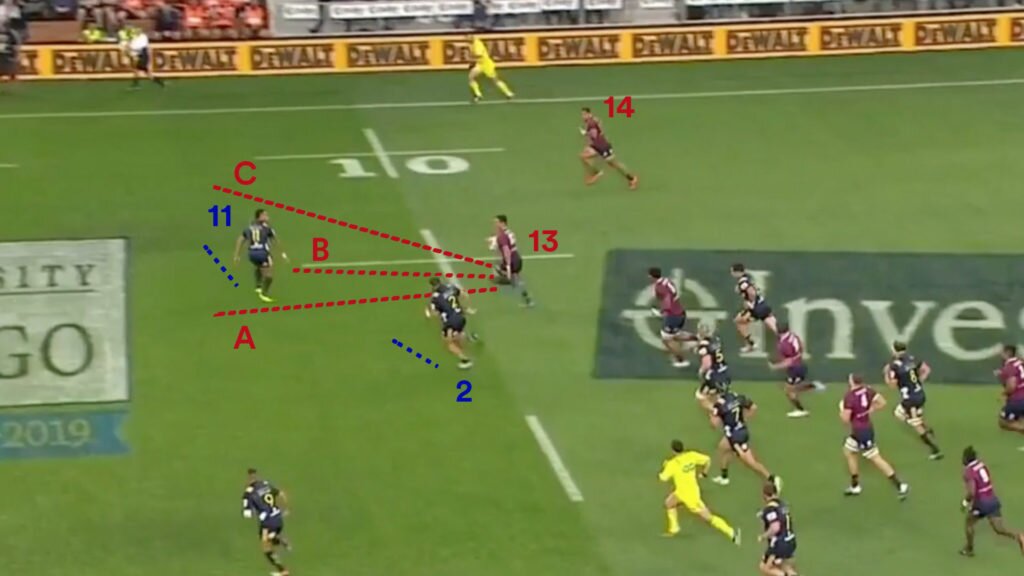 With Tevita Li (11) turned out, backtracking to buy time, Petaia has three running options, a) cut back and take on the trailing hooker on the inside, b) run at Li, draw and pass to free Chris Feauai-Sautia (14) on the edge or c) take Li on the outside himself.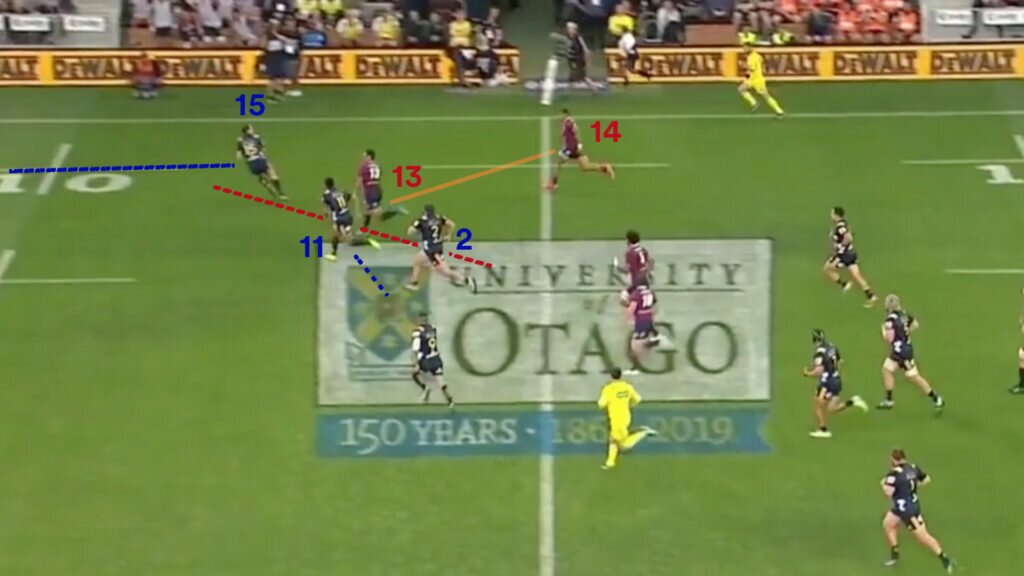 Petaia takes option C and has another sharp burst of acceleration to the outside. He does incredibly well to get around Li, but we see the disconnect forming between Feauai-Sautia, who doesn't have the speed to keep up with him, trailing at around 3-4 metres.
Ben Smith (15) is surprised and is caught having to turn and chase as he pushed up to cover the winger.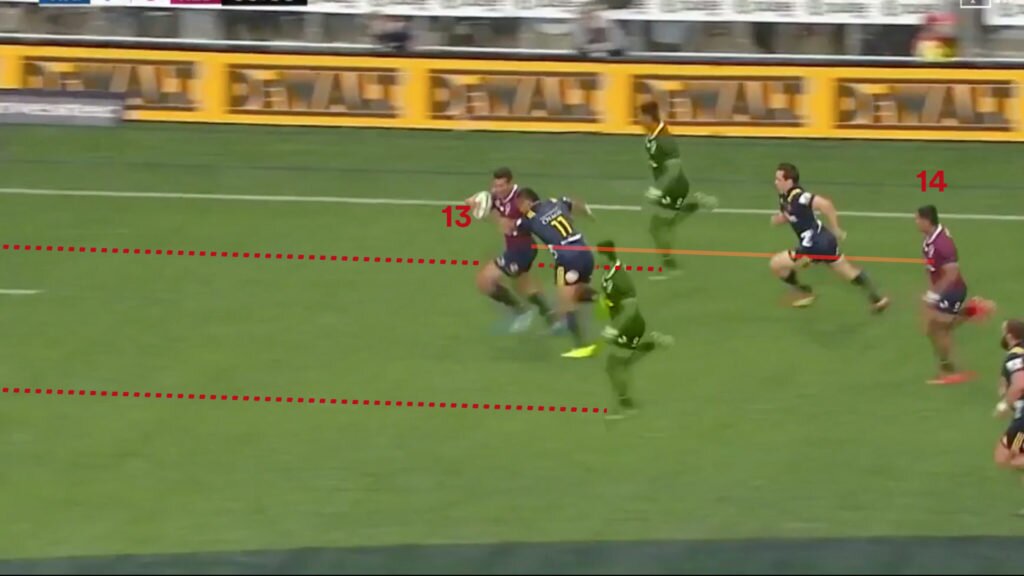 With Smith having to stop, turn and re-accelerate, a winger with pure speed would likely be able to bypass him and stay a metre or two in front and finish this opportunity off. As Li ultimately runs Petaia down, there are no flat options inside or outside that would result in a sure seven points with an offload.
This isn't to lay blame on Chris Feauai-Sautia – he has always been a midfielder with a strong power running game with footwork, not burning speed. He is playing a secondary position, highlighting the problems you can run into when you do so.
Feauai-Sautia brings other benefits to the wing that the Reds like, such as hard-hitting defence where he can make his presence felt in contact and in strong carries. However, this is the trade-off that is made – opportunities to capitalise immediately on line-breaks can go begging without a burner on the outside.
Petaia's combination of speed and power is going to attract plenty of attention this year, which is going to open up opportunities for others.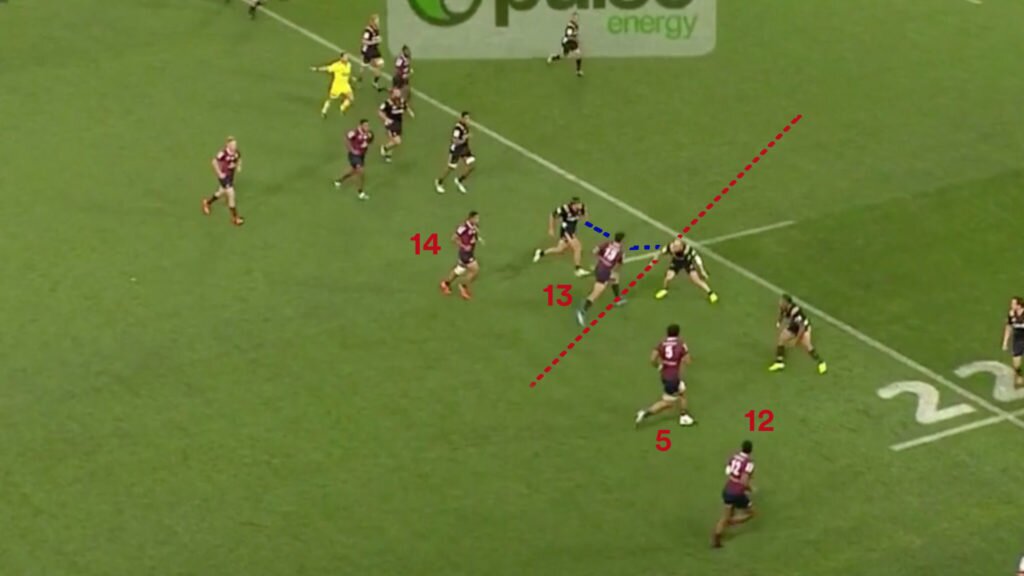 Out on the right edge, he straightens and takes on Matt Faddes, bursting through the arm tackle and punching through the line, keeping his upper body free.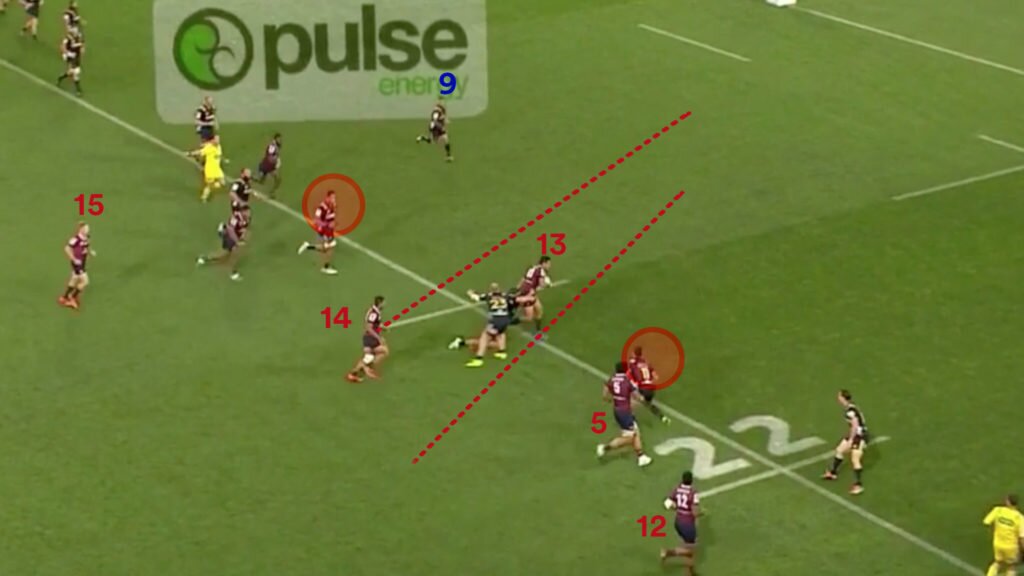 Again another opportunity for Feauai-Sautia exists to run off his hip and find the second level where only Aaron Smith remains in sweep coverage.
He doesn't run to the line with his centre in anticipation, and by the time he gets there to receive a pop pass from the ground the defence has closed in.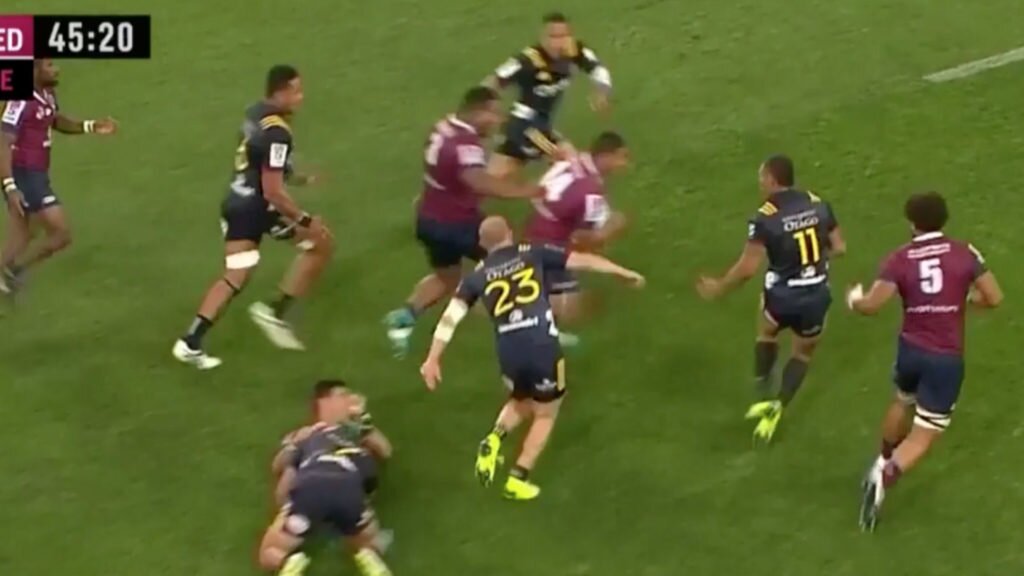 Given the game-breaking talent he has, it's not so much of an issue he likes to take on the line and test the defence frequently but at this level, it has to be the right decision. If overlaps on the outside begin to go begging frequently, it's something that he will need to rectify.
Against the South African franchises, they are all too happy to play the physical game and the opportunities to open things up with dominant running will be harder to do.
In the Australian and conference and against some of the New Zealand teams, however, there will be opportunities for others to benefit off his strong running but the outside backs have to keep up and anticipate the gaps forming on either side of him.
The promising Kerevi-Petaia combination
Petaia himself needs to develop the same anticipatory support skills because the Reds have another damaging wrecking-ball in captain Samu Kerevi (12) that plays inside him, offering a dynamic 1-2 punch.
This midfield partnership has the potential to open up many backlines this season once they build chemistry and Petaia can become the benefactor. On Kerevi's first carry off set-piece he slips the tackle of Dillon Hunt (7), defending at flyhalf, and begins to suck-in everyone else.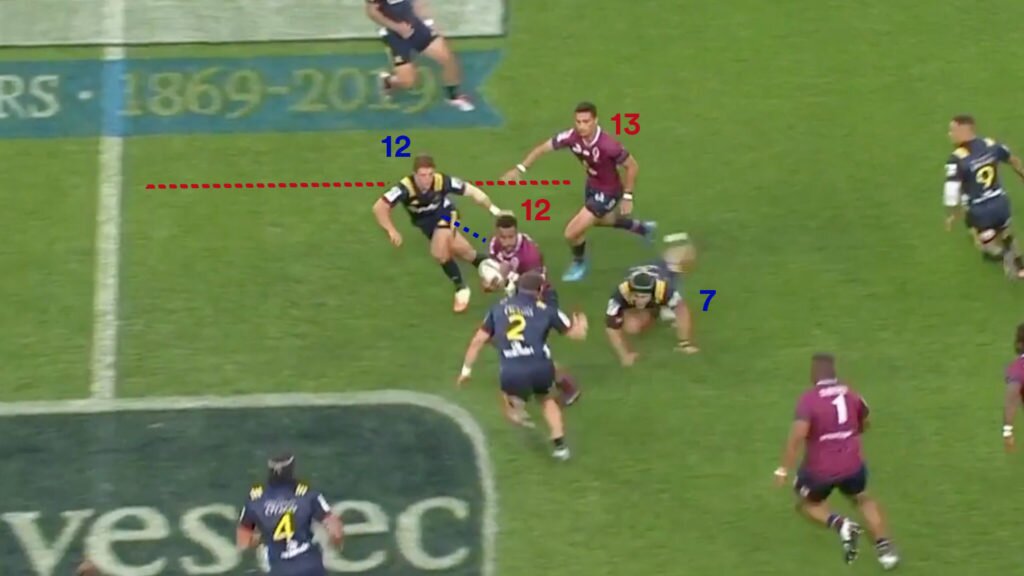 Tei Waldon (12) has to commit, taking himself away from his original assignment of Petaia.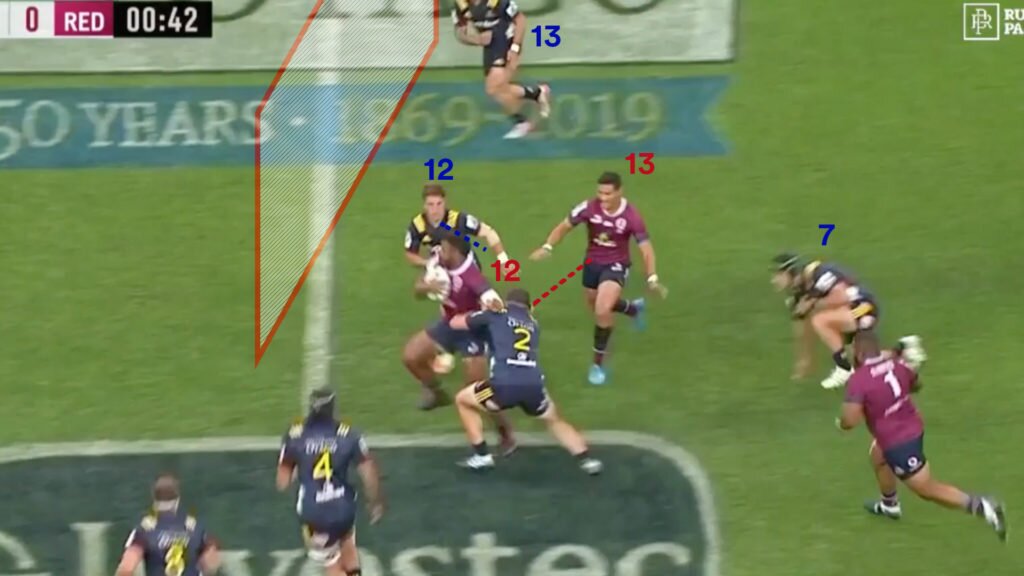 Petaia bails on the support line early to provide cleanout duties, just as the running lane developing for him turns into a freeway.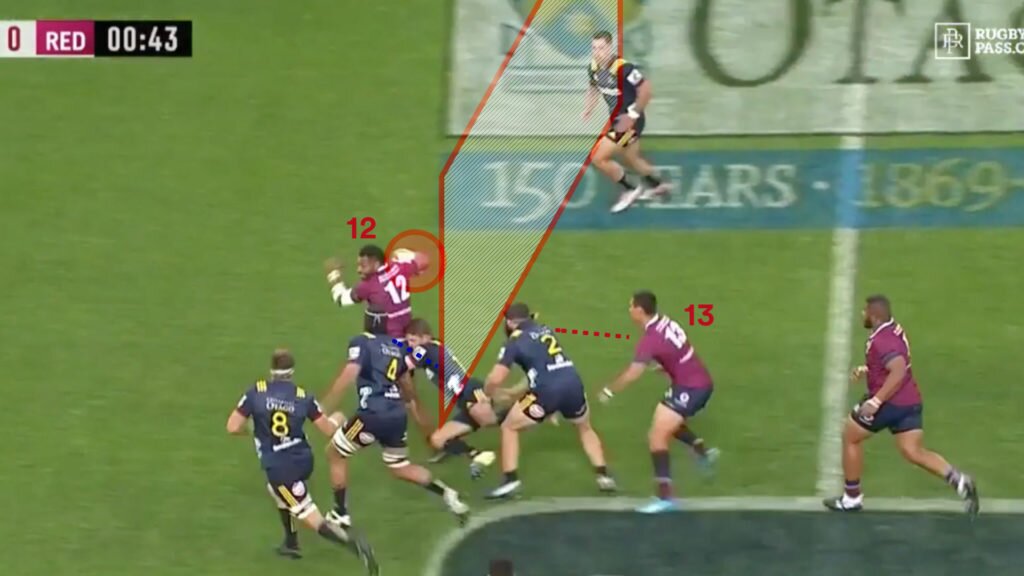 Kerevi has the ball-carrying arm free with Walden around his waist, in a perfect position to give Petaia an offload but he's not available, having made the decision to become a cleaner at the breakdown.
The youngster was only trying to do his job, but this ability to read the play unfolding and know when Kerevi can provide is an understanding they must build. The last thing teams want to see is Petaia being put away at speed into a gap, and Kerevi will be able to do that with his ability to make gain line carries and draw multiple defenders.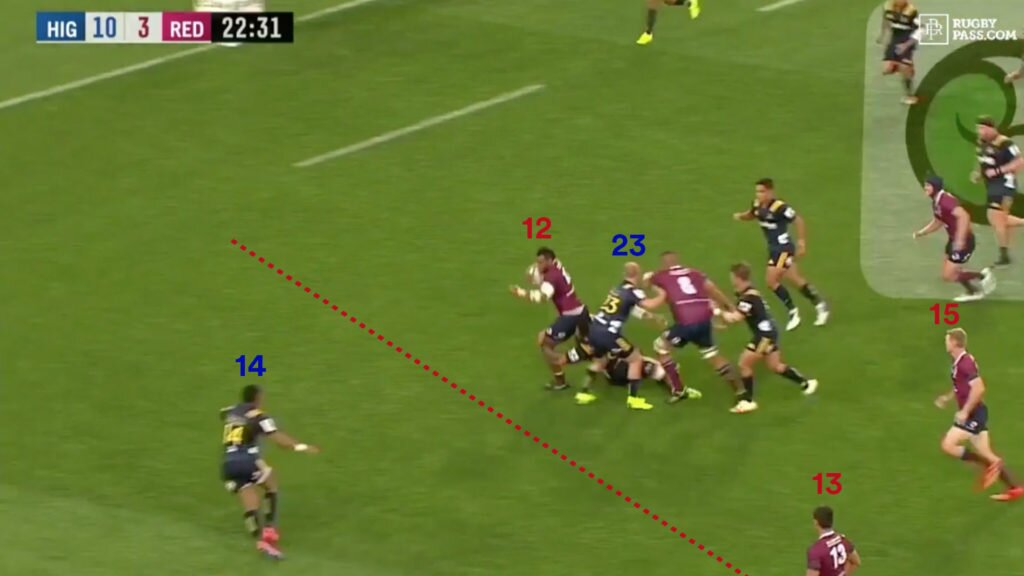 On this occasion, Petaia isn't playing directly outside him but the same opportunity exists.
Kerevi has punched through the initial defence on a first receiver carry and has his upper body free. Providing a support line to his outside will result in going over untouched for a try if he can get the offload away.
He senses the opportunity a little too late and now has to backtrack for the next phase.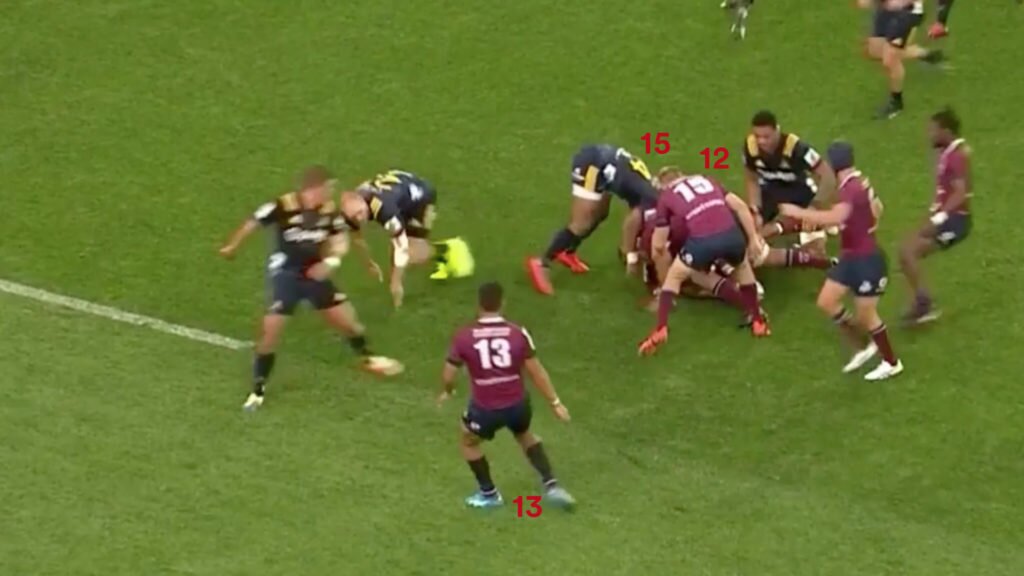 It's all well and good to get excited about running over Ben Smith, but if the side isn't scoring at a higher rate from these magnificent breaks there is something going wrong.
Relying on power alone won't be enough for an outside centre at international level, which is where Petaia is destined to land eventually, so he must continually work on his support play, line running and option-taking to master his attacking game. There isn't a centre in the top three sides in the world that is just a power runner – Jack Goodhue, Garry Ringrose, and Henry Slade are all well-rounded midfielders, which shows a diverse skill set is required.
Only a few years ago as a schoolboy 1st XV player, he was a winger before playing fullback in his final year so this is really the beginning of Petaia as a midfielder. At just 18-years-old Jordan Petaia's ceiling is so high, and if he continues to show growth, he can be something special.
It is worth noting that the Highlanders are built for speed across the park, which means they have smaller midfielders than most, with Tei Waldon, Rob Thompson, and Matt Faddes. The Reds probably didn't maximise their power advantage in the midfield as well as they could have – there were plenty of opportunities that went begging.
The Reds midfield will be tested against South African franchises and other big, physical line-ups like the Blues. This week's test against the Crusaders and All Blacks pair in Goodhue and Ryan Crotty presents another good opportunity to flourish. They will be a step above the Highlanders, but there is no reason why the Reds centres can't cause them problems at home in Brisbane.
Crusaders' assistant Ronan O'Gara ahead of Reds:
Mailing List
Sign up to our mailing list for a weekly digest from the wide world of rugby.
Sign Up Now