Analysis: The curious case of Jesse Kriel
On the surface, Jesse Kriel looks unstoppable.
His bulging, muscular frame is popping out of his skin yet at 95kg he is lean enough to retain top-level speed. The utility back looks like he has all of the physical tools to dominate.
However, after three seasons of Super Rugby and international rugby, the 24-year-old monster has yet to really reach the potential that seems within his ability.
Granted, the Bulls haven't been the team they once were. They have been inconsistent since he debuted and their indecisiveness over what position Kriel should settle on has hurt his ability to go to the next level – he started last season at fullback, was moved to the wing and finished the year at centre.
With the start of the 2018 season underway, are there any indications that he is about to breakthrough to become the kind of beast expected of him?
We dissected the Bulls upset 21-19 victory over the Hurricanes to find out if this is going to be the year for Jesse Kriel at outside centre.
Defence
In this match, he came up against two of the premier attacking midfielders in the competition last year in Ngani Laumape and Vince Aso.
He was more than adequate in shutting down his opposite Aso and played a big part in limiting Aso to just 21 running metres despite never tackling him.
Kriel aligned with Aso eight times during the match, pressuring him four times and forcing two poor passes and two errors. The Bulls made a notable effort to close space on Aso, generating decent line speed through the whole match to apply pressure. Kriel rushed 53 percent of the time on whoever carried opposite him, unsettling his opponent often creating 'static' ball and rushed decisions.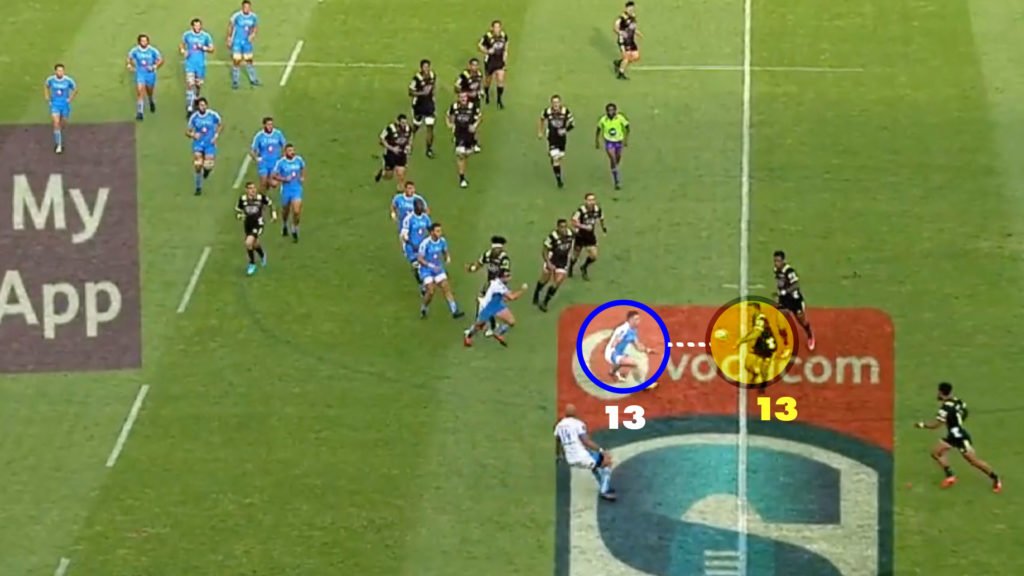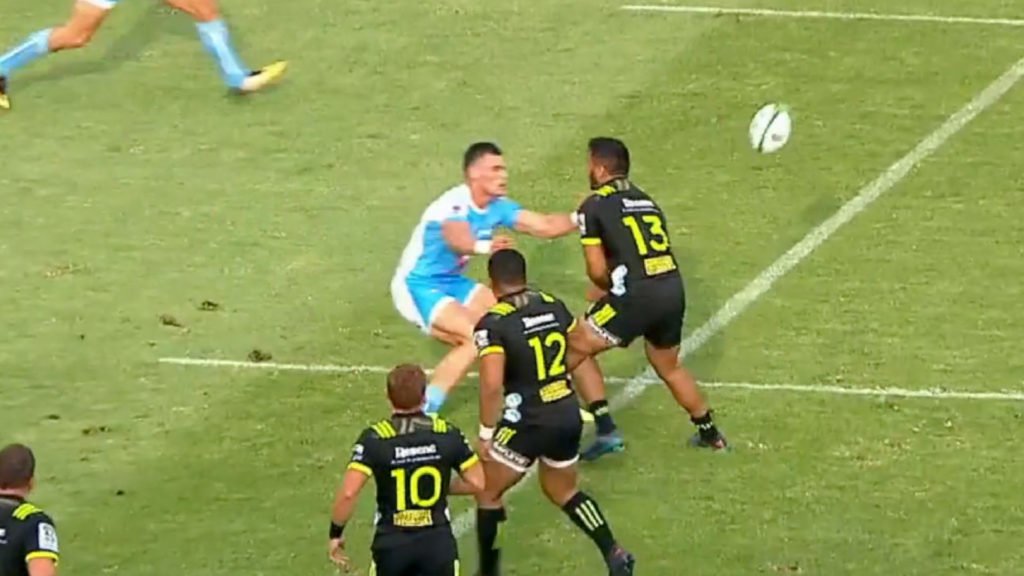 Kriel made fantastic defensive reads during the match, never losing his man or making a bad read once. He consistently predicted the back-door option and pressured accordingly.
His ability to stay connected with his inside defenders was also crucial in limiting the effectiveness of Aso and Laumape.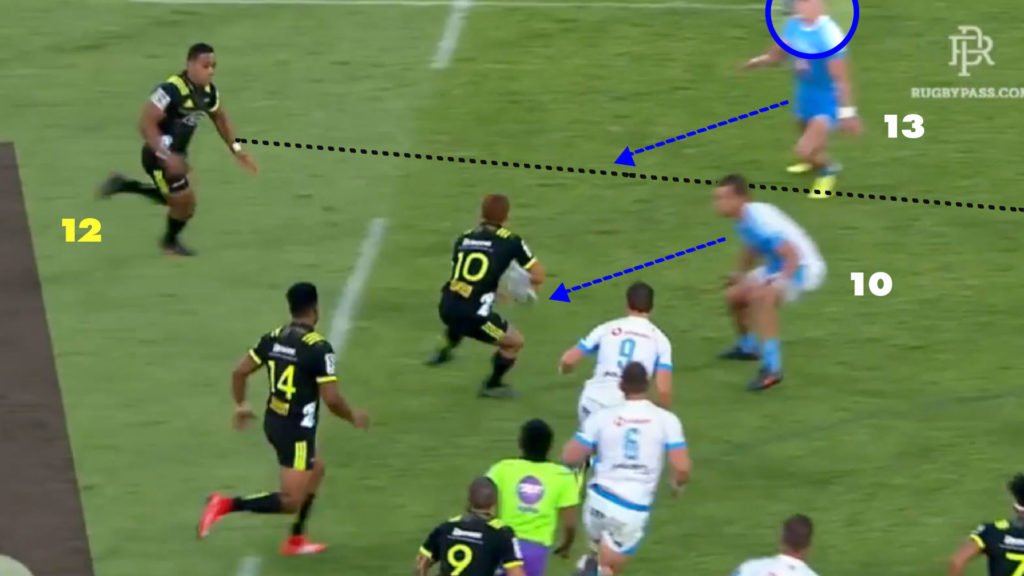 On this midfield scrum, Ihaia West does a successful job of getting outside the 9 and engaging Handre Pollard (10) into contact. The Bulls need to employ a slide defence to cover man-for-man all the Hurricanes players to that side. Pollard breaks ranks and engages with West – his original assignment is pushing out to cover Ngani Laumape (12).
Kriel is aware of Pollard's adjustment and makes the same decision, staying connected and sliding back to take Laumape. His awareness and quick decision making saved a big play.
(This is the same play the Hurricanes used last year to great effect to open up Beauden Barrett's running game we studied here).
At times, his wingers let him down by not staying in sync. Wes Goosen's 65-metre chip and chase try came after Kriel's line speed forced an awful pass that hit the ground and was put behind Goosen. Goosen wasn't pressured, he was able to recover and manufactured a brilliant individual try.
His only missed tackle of the match was when Aso hit the 12-13 channel on a nice short ball on phase play inside the five. He made the correct read but Aso burst through his inside shoulder.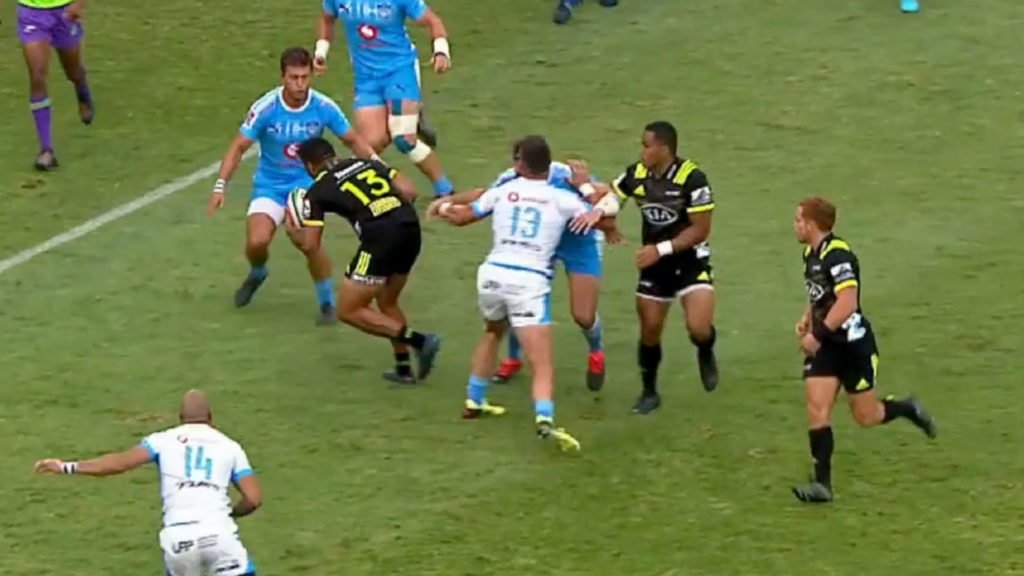 Other than that short lapse, our defensive analysis showed a solid defensive performance. He brought pressure on 53 percent of his alignments with the ball carrier and completed 86 percent of his tackles, of which 42 percent were dominant.
His consistent line speed forced three turnovers and his excellent kick chase and tackle of Ardie Savea was the catalyst for the Bulls' match-winning try.
Defensively, he gives the Bulls a reliable rock to hold down the backline in the midfield.
Attack
 On the other side of the ball is where the case of Jesse Kriel gets curious. His ability burst through early in this match but was left wanting in the second half.
His first touch in the game was a sublime one hand flick pass to free up his winger after getting to the outside of Julian Savea on a stutter step. Ihaia West was sucked in from the wing and Kriel created a 2-on-1 to craft a try out of nothing.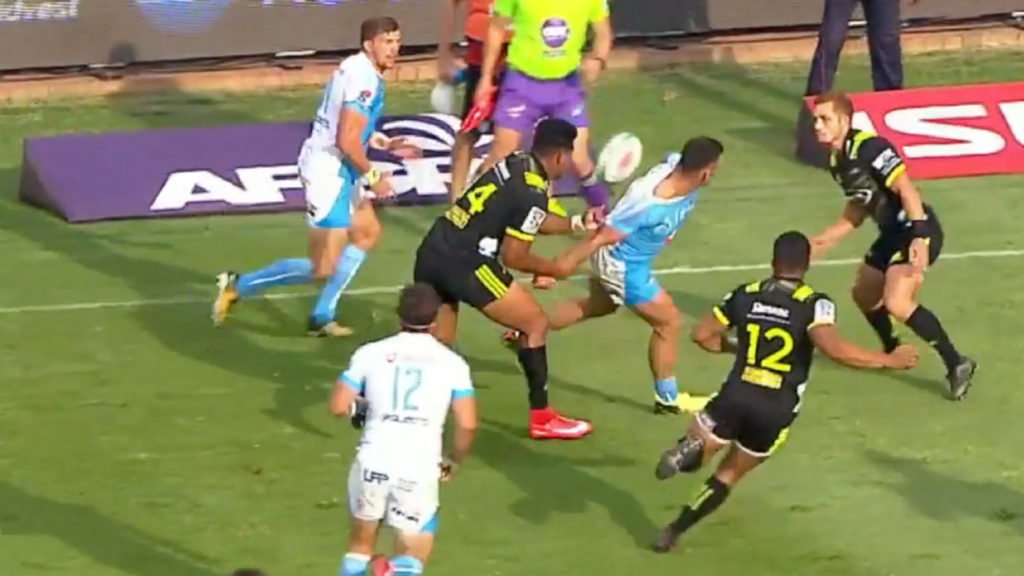 His second touch was a cutout ball to set his right-winger away before backing up inside on a support line.
Two touches. Two line break assists and one try assist.
His fifth touch was a line break off a scrum move and his sixth touch was another line break on counter-attack.
This was an explosion of attacking prowess in the first thirty minutes, with nearly every touch paying dividends. The problem is this would be all of it.
His second half was limited to two touches in phase play on the left wing cramped against the sideline, and one messy touch off a lineout on the back foot and the rest were spent securing loose possession.
There seems to be a distinct lack of enterprise by the Bulls when it comes to utilising Kriel as a weapon in attack. He was only used in any capacity on 30 percent of set-piece back plays, and 66 percent of these resulted in a line break for the team.
The vast majority (80 percent) of back plays used a crash runner targeting the 9-10 channel in close using John-Ben Kotze (11) or Burger Odendaal (12) as a blunt force runner. Often Kriel is tacked-on to the end of the play as a delayed option runner, never the primary focal point and rarely receives the ball.
The sole play used with Kriel as a flat option outside 12 resulted in Kriel getting a mismatch on the flyhalf West, shaking him off and making a clean break.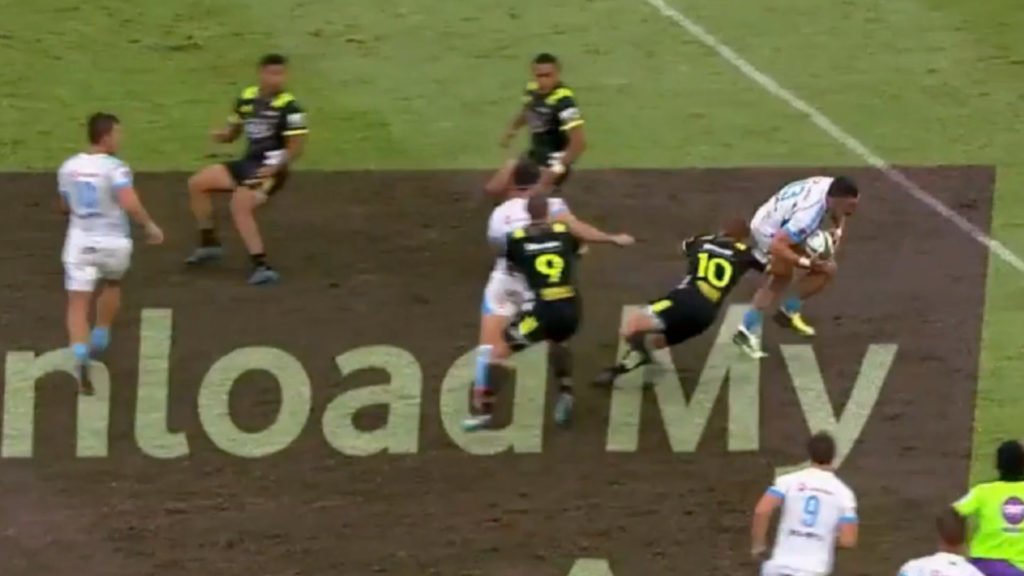 If Kriel is to become one of the best centres in Super Rugby the Bulls will need to find more ways to get the ball in his hands. From set-piece where the backs have much more space is a prime time to use Kriel's power running at the line. To run only one play with Kriel as the primary option is astounding.
That they did not find ways to use him more in a tight contest where he was showing flashes of dominance could have proved costly.
It is widely known that in order to beat the New Zealand sides you need to score bucket loads of points. Finding more ways to integrate Kriel into the gameplan will help the Bulls become more potent in attack, especially with young flyhalf Handre Pollard back from injury, the two could form a formidable combination for the side.
Comments
Join RugbyPass+ now and be apart of the conversation with all-new commenting!
Join Now