Why a shock underdog win could rock the Premiership semi-finals - despite the odds
There are plenty of sporting clichés that fall wide of the mark, but one that hits the nail on the head particularly well is that British sports fans love an underdog. With the Gallagher Premiership semi-finals just days away, could we be looking at another one?
From the euphoria of Leicester City winning the Premier League to rugby's own story of rags to riches in Exeter Chiefs, these are the journeys and moments that are celebrated by the vast majority of the sporting family, irrespective of people's own tribal loyalties.
It's a measure of the journey that Exeter have been on that they are no longer considered that plucky and championed underdog. They are instead now one of powerhouses of club rugby that are widely celebrated for their achievements, but not necessarily rooted for in the same fashion they once were before.
Instead, it's their opponents on Saturday, Northampton Saints, who may well have the neutral's support, with a sporting upset something which is always lusted after in these islands. Likewise, Gloucester will almost certainly have the support of the fans of the eight clubs not involved in the playoffs when they take on Saracens at Allianz Park, three hours before the contest at Sandy Park.
Wanting and getting a great underdog story are two very different things, though, and there is no escaping just how much the odds are stacked against Northampton and Gloucester this weekend.
Exeter and Saracens have dominated the Premiership in recent seasons and created a significant buffer between themselves and the chasing pack. Couple that with the home advantage that they will both enjoy on Saturday and bookmakers will be fairly confident of avoiding too many large payouts.
They are not without hope, though, and both sides will have seen elements from Exeter and Saracens this year that they will back themselves to exploit and subsequently book an unlikely spot in the Twickenham showpiece on June 1st.
Northampton have the advantage of having just played Exeter in the final round of the regular season and have a fresh understanding of exactly what it is that the Chiefs will bring to the party on Saturday.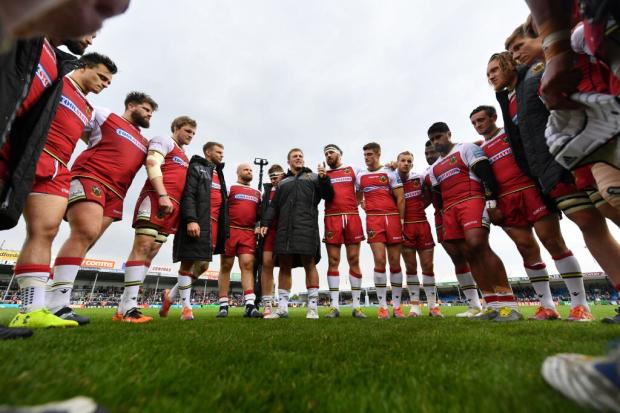 Saints troubled Exeter early on at Sandy Park, racing into 7-0 and 14-7 leads, before then tying the score back up at 21-21 just prior to the half time interval. At that point it was anyone's game and director of rugby Chris Boyd will be buoyed by what he saw in those 40 minutes. Had they been able to replicate that performance in the second half, the result may have ended rather differently than the 40-21 victory for Exeter that it turned out to be.
There has been a trend in rugby of teams beginning to win more frequently without the possession and territorial advantages that it used to be deemed necessary to win, but the former of these, in particular, is still a must-have in any game plan to take on the Chiefs.
Through a combination of ill-discipline, inability to disrupt the set-piece and coughing up turnovers, Northampton began to give Exeter more and more opportunities as the game went on, and with Exeter's ability to retain possession and string together phases arguably unmatched in English rugby, whilst remaining hard for defences to read, that is a difficult spot to put yourself in as an opposition team.
Saints have shown consistently this season that when they are able to hang on to the ball, they are a threat to any side. When Taqele Naiyaravoro is spearheading their attack, rather than having to drop deep and cover the back field, essentially keeping him moving forward in a straight line rather than asking him to turn, Saints have been ruthless as an attacking entity. Against no opponent is that as critical as it is against Exeter, whose agile and smaller wings will relish in trying to get in behind the big Australian international.
If Boyd's men can eradicate the handling errors and generate some quick ball, they are comfortable stretching teams in defence, too, which in turn creates space for player of the season candidate, Cobus Reinach, close to the ruck. The South African's ability to spot a gap has been unrivalled this season and Saints have supported his breaks as well as you would expect from a team coached by the former Hurricanes supremo.
In addition to doing away with those handling errors, Northampton will also have to be cleaner at the set-piece and the breakdown, not only to create their own platform, but also to deny Exeter any sort of cheap possession or territory, as once you give the ball back to them, there's a good chance you won't see it again for a while. Those things are not easy to fix in months, let alone the week that they have had since their last game, but as a rehearsal for the semi-final, you couldn't have asked for a better opponent than Exeter themselves.
Northampton haven't been the most patient of attacking teams this season, preferring instead to strike wide and fast, but it could pay to take a lesson or two from Exeter this weekend, where managing the clock and possession could be key to overturning one of the most forensic and detail-oriented sides in world rugby, who will happily wear down and exploit Northampton if they are given the ball enough times.
As for Gloucester, they may well be wishing they finished fourth rather than third, as that would have seen them take on Exeter, who they have beaten twice this season, including in a match at Sandy Park. They have beaten Saracens, too, although that game was at Kingsholm and there is a significant advantage to Saracens when they play on the plastic of their home pitch at Allianz Park.
The win also came during the Six Nations, when Saracens were missing the likes of Owen Farrell, Maro Itoje, George Kruis and Billy Vunipola among others, all of whom are likely to be involved on Saturday. That said, although the quality was diminished from Saracens on that Friday night game at Kingsholm, the Cherry and Whites did cope well with the defensive aggression and conditioning that is a staple of any Saracens team.
Crucially, the Gloucester midfield of Danny Cipriani, Mark Atkinson and Billy Twelvetrees was in place for that game and it is the balance of that unit that offers real hope for Johan Ackermann's side on Saturday.
Three competent ball-handlers who are all more than capable of taking the ball to the line, there felt like there was no preordained plan in that previous game, with each player given free rein to diagnose the scenario that the Saracens defence was presenting them with, and they were then able to deal with it accordingly. Loose passes weren't being intercepted because the message was to turn the corner on their high line-speed, dog legs in the defensive line were spotted and punished, and Cipriani allowed the game to come to him, rather than overplaying his hand in an attempt to make something happen.
The return of Farrell to the XV won't make that any easier for Gloucester to replicate, whilst the work of Ed Slater and Franco Mostert disrupting the lineout back in February was against a unit lacking Jamie George. With George, Itoje and Kruis all available, it's going to be a much tougher ask for Gloucester to impact the set-piece defensively and deny Saracens quick ball off the top or to prevent them establishing their driving maul.
Another area where they enjoyed success that night was at the breakdown and closer to the ruck. Again, admittedly, the return of Saracens' international contingent should make them sharper in those facets of their game, but the European champions' desire to keep players on their feet, keep their width, and deny opposition sides the opportunity to get around the edge with their outside backs, can create attackable areas.
If Gloucester can boss the breakdown, both delivering quick ball to their back line and turning over Saracens possession, they will create the opportunities they need, whilst quick ball coupled with pick and goes and incisive interplay close to the ruck could find Saracens outnumbered and quickly on their heels as they have to retreat.
Obviously, it is easier said than done when facing the physicality and aggression that the Londoners bring to every contest, but if Gloucester can successfully target the breakdown and the scrum, with Saracens missing a couple of front-line props, they can give themselves a puncher's chance.
At least with Northampton having had the perfect 'scouting' of Exeter through their game at the weekend and Gloucester hoping to catch Saracens cold, after they rested their stars following the Champions Cup victory, there are some solid straws to clutch at that we might see an upset or two this weekend.
With Saracens and Exeter having accounted for the last four titles in the competition, a change of pace at the top might be just what Premiership rugby needs to ignite interest in new fans.
Watch: World Rugby reveal their bold plans to revolutionise the women's game
Comments
Join free and tell us what you really think!
Join Free