15 for 10: Glasgow Warriors - an all-decade team
In a decade of unprecedented success for Glasgow Warriors, ten years where rugby found has a home in a city in thrall to football, a mountain of talent has been cultivated, flourished and left for bigger stages – some of it coming back for more. 
Glasgow won the PRO12 in 2015 – their first and only major honour – and featured in two more finals and four more semi-finals. They reached the European Champions Cup quarter-finals twice – further than they had ever gone before – and claimed the scalps of Leicester Tigers, Racing 92, Bath, Exeter Chiefs and others as they came of age in the most ruthless club competition of them all.
Gregor Townsend built on the excellent work of Sean Lineen and became Scotland coach. Warriors hired Dave Rennie, a two-time Super Rugby champion regarded as one of the smartest operators in the game, to replace him. 
At the start of the decade, they were an unglamorous upstart playing in a jaunty old football stadium with their training pitches, gym gear and offices in another part of the city. By the end of it, Glasgow had everything they needed at their Scotstoun home, they had become a PRO14 giant playing glorious rugby and selling out the ground so prolifically that expansion is a major priority.
Selecting the premier Warriors XV of the past ten years was a fiendishly tough task. There are players who emptied themselves for the jersey and earned little recognition outside of the dressing room who don't make this team. There are also those whose brilliance was stark but fleeting in the context of the decade.
(Continue reading below…)
The players ultimately chosen were picked not just for their ability, but for the influence of their contributions and the success they helped to deliver. Some are nailed-on starters, others more marginal choices. Plenty will disagree, but that's all part of the fun. Here goes…
15. Stuart Hogg
Little explanation needed. Hogg will go down as one of the greatest Glasgow and Scotland players of all time. Although Test duty and injuries meant Warriors were deprived of his services for swathes of recent seasons, he remained a hugely important figure.
Hogg's precious ability to stress teams, hoist Warriors off the ropes with a flash of brilliance, leadership and sheer bloody-mindedness made him an incredibly precious asset. His skill-set is world-class, but his streak of belligerence and refusal to be cowed are almost as telling. 
There was a time in 2014 where the full-back grew too big for his boots and almost left the club. Thankfully, he didn't. Instead, he stuck around, matured, became a PRO12 champion, and eventually earned a fabulous move to Exeter Chiefs. Glasgow came painfully close to sending him off last May with another league medal.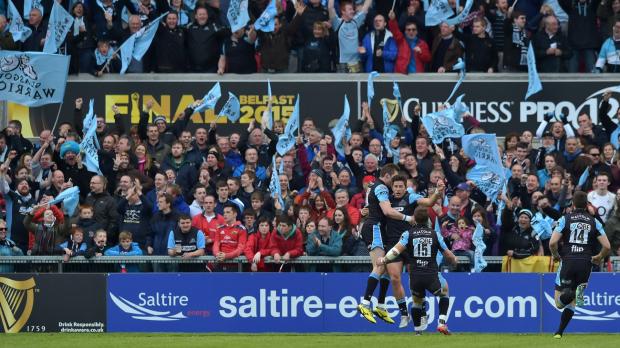 14. Tommy Seymour
Since joining Glasgow in 2011, Seymour's sustained contribution to the Warriors' rise has been massive. A terrific finisher, predatory interception specialist and magnificent aerial option, he has scored 45 tries in 139 appearances, famously barrelling over four times in a single match against Leinster in 2016. 
He has twice made the league's dream team and became part of the Hogg-Seymour-Sean Maitland back-three axis that dominated Scotland's backline under Vern Cotter and then Townsend, scoring a tour-best three tries for the British and Irish Lions in 2017.
The wing announced his Test retirement last month after an excellent 55-cap career. Glasgow will continue to benefit from his quality and nous.
13. Mark Bennett
Over the years, Glasgow have deployed an array of exceptional centres, making these two positions particularly hard to fill. At 13, Richie Vernon, having shifted from the back row, brought ballast and intelligence. The effervescent little Nick Grigg has been one of the most effective players of the Rennie era.
But Bennett deserves this slot for his exceptional ability on both sides of the ball. An Olympic silver medallist and star of the 2015 World Cup, he is quick, direct, agile, and starred for Glasgow during the years where they rose from plucky contenders to rampant champions.
"What am I doing wrong? Is there anything that's me? What do I need to change?"

– @JLyall93 talks to @alexdunbar13 on the pain of his last year at Glasgow, Huw Jones, Scotland goals & and his rejuvenating move to Brive. https://t.co/i6C5xSaHxI

— RugbyPass (@RugbyPass) December 2, 2019
12. Alex Dunbar
Graeme Morrison did a load of largely unheralded shovelling. Pete Horne deserves recognition as one of the hardest-working and most savagely lampooned players in Scottish rugby. Few have given as much to the Glasgow jersey. 
Sam Johnson should be firmly in the conversation too for his attacking panache and defensive brutality, but due to his luckless injury record, the Australian's emergence came a little too late in the decade for this XV.
Dunbar, as former defence coach Matt Taylor put it last week, was "like an extra flanker in the backline". At his best, the centre was a ball-carrying colossus, turnover machine and thunderous tackler. 
His summer exit after months of injuries, non-selection and a loan spell was sour for a player whose contribution was so weighty.
11. DTH van der Merwe
The explosive Canadian has a club-record 52 tries in 121 appearances and a knack of scoring in the biggest matches. In 23 top-tier European outings this decade, van der Merwe scored 10 tries. In ten 1872 Cup derbies against Edinburgh, he got four. On Glasgow's run to the 2015 title, he raced in for a late, match-levelling score against Ulster in the semi-final and bagged two more in the showpiece hammering of Munster.
Van der Merwe in full flight is desperately hard to put down. Even approaching 34, and in the twilight of his second stint at the club, he remains a potent presence. Maitland, Sean Lamont, Max Evans and Leo Sarto all deserve acknowledgement as well, though. 
(Continue readiung below…)
Finn Russell gives Jim Hamilton and RugbyPass a kicking masterclass at Racing 92's state of the art facility in Paris
10. Finn Russell
The finest Scottish fly-half since Townsend. An impish Stirlingshire stonemason who came roaring from relative obscurity to the No10 jersey in 2013/14.
Russell conjured a delicious array of kicks and outrageous passes, but the bravery to back his skills under extreme pressure and refusal to be cowed by errors stood out just as much. He had a hand in so many phenomenal Glasgow moments, not least the swooping parabola to van der Merwe for that 2015 semi-final try and touchline conversion to win the game at the death.
Sure, Russell could force things and reach for the miracle play rather than sticking to the system. But Glasgow didn't beat that out of him. As he developed, his game-management grew in spades. And at Racing 92, he has added dazzling clips to his showreel and cemented himself as one of the best – and arguably the most entertaining – pivots in world rugby.
Although seen as a less glamorous option, Duncan Weir was a canny, prolific alternative to Russell who has thrived at Worcester Warriors, while Ruaridh Jackson produced some fine rugby in both of his stints at the club.
9. Henry Pyrgos
This is a seriously tricky call. Chris Cusiter was a world-class operator. George Horne sniffs out line breaks and tries like a ravenous wild dog. Ali Price has overcome dips in form and attitude and twice been named player of the season. Niko Matawalu did some of his best – and most eye-catching – work in a Glasgow jersey at scrum-half.
Pyrgos had neither the spiky combativeness of Cusiter, nor the searing attack game of Horne or Matawalu or Price, but was an exceptionally clever operator. Townsend backed him to start many of the biggest games.
Across nearly 150 Warriors outings, his skill lay in choosing when to bring in the bruisers or when to unleash the show-stoppers outside him, when to go to the skies or when to have a dart at the fringes. A leader. 
Was walking the dog and the amount of rubbish at the side of the road is disgusting. Scotland is one of the most beautiful countries in the world and some dickheads are ruining it @NicolaSturgeon @southayrshire get your finger out pic.twitter.com/WLPl7lmvpa

— Gordon Reid (@GGreid87) December 24, 2019
1. Gordon Reid
A close-run thing between Reid, Scotland's honorary ambassador to Japan, and Ryan Grant, whose set-piece grunt and class around the paddock ought to have made him a Test Lion in 2013.
Reid pips him for his sustained graft at the heart of the Warriors pack that went on to lift the title and his rambunctious carrying in open prairie. He is probably the most entertaining bloke to pull on a Glasgow jersey in the past decade too – the way he handles press duties, interacts with supporters and generally provides uproariously funny material on his social media are rare.
His is an important tale as well – a working-class kid who pulled pints at an Ayrshire bar in one of the heartlands of Warriors country, an antidote to the posh-boy stereotype that still pervades Scottish rugby. The game needs stories like this. It also needs characters like Reid.
2. Fraser Brown
Brown combines an intense competitiveness, fantastic skill-set and exceptional rugby brain. He gives Glasgow an extremely potent extra option over ball, and the sort of belligerence needed in the intense throes of play-off rugby.
With his carrying, handling and dynamism, the Scotland hooker was particularly key in the run to the Champions Cup quarter-finals of 2017. Getting him tied to the club until 2023 – by which time he will have put in ten years with Warriors – earlier this season was a fine bit of business.
Dougie Hall and Pat MacArthur were also both tremendous servants.
'We need to have another 20, 30 players that are playing at a high level'
– @15GavinHastings tells @heagneyl what is needed to help @Scotlandteam, his pride in @adamhastings96 and @GlasgowWarriors, and his support for old pals @DoddieWeir5 and Tom Smithhttps://t.co/Z2bYF21t2M

— RugbyPass (@RugbyPass) December 14, 2019
3. Jon Welsh
Moray Low was a strong contender, while Zander Fagerson is fast becoming a totemic figure for Glasgow and may very well be Scotland's premier tighthead for the next two World Cups. 
But weighing up the scale of their contributions over the decade means Welsh shades it. A colossus in the Warriors front row, his incredible strength and scrummaging were pivotal to Glasgow's rise in the days of Lineen. 
Welsh once gave an opposition pack such a horsing that he was penalised for falling flat on his face, the rival loosehead reversing so quickly that he couldn't chase his feet fast enough to keep up. The big tighthead left on a wave of tears and glory in 2015. 
4. Al Kellock
Glasgow have had technically superior locks to Kellock. He was not the most athletic specimen, not the biggest ball-carrier or the most ferocious tackler, but his role in propelling the club on its rapid upward trajectory cannot be understated. 
'Big Al' was absolutely instrumental in the transformation of Warriors, instilling and driving a culture of togetherness that remains sewn into the fabric of the place. A leader of men, lineout guru and a PRO12-winning captain who still commands immense respect at Scotstoun. For that, he deserves his place.
Scotland lock Jonny Gray on why he is off to new pastures in England next season https://t.co/EWXAVIPHLh

— RugbyPass (@RugbyPass) January 3, 2020
5. Jonny Gray
Leaving out the elder Gray is a big call, especially given his blistering form in the early part of the decade. But Jonny Gray's outstanding service to Glasgow across nearly eight years in the first team makes him a shoo-in.
Gray is unremitting in his thirst for work, his eye-watering tackle statistics reaching positively freakish levels. Last season, he made 43 in a single match without missing any – a league record. The most recent data – courtesy of Warriors-minded boffin Kevin Millar – indicates that in the past three calendar years, he has missed only three tackles from 452 attempts on PRO14 duty. That's bonkers! 
The big lock is more than just a tackle machine, though. An excellent lineout operator and leader by actions rather than words, his brutality with the ball has grown too. You fancy he could still add layers of destructiveness in that department, and it will be fascinating to see what gains Rob Baxter can orchestrate when Gray joins Exeter Chiefs next season.
6. Leone Nakarawa
We have cheated a bit here by shifting Nakarawa into the back row to get Kellock, Gray and the Fijian in. But let's be honest, you could stick Nakarawa at inside centre and he would probably do you a turn.
There are precious few in the game who can do what he can. Chuck him a straightjacket, tie him in chains and lock him in a coffin, and you would still fancy Nakarawa to wriggle an arm free and deliver the most startling of offloads.
He brought ballast in the set-piece, athleticism in the lineout, and unique stardust in open prairie. Completely unplayable in the 2015 final, Glasgow's greatest day, his return to the club this month is a very timely boost.
People are genuinely concerned at where Glasgow Warriors are going

– @JLyall93 looks are what needs to be done to arrest the sad decline of a club whose success has been earned the hard the wayhttps://t.co/tqdM5YW8mU

— RugbyPass (@RugbyPass) January 2, 2020
7. Rob Harley
If you are playing Nakarawa at six, and fielding a big-carrying eight, you want a real mongrel to balance a back row heavy on attack but light on scrapping over ball. 
John Barclay, Chris Fusaro, Simone Favaro and Callum Gibbins have given Glasgow heaps in the scavenging department. Barclay is the most talented of the lot and has enjoyed the most successful career. Favaro was a cherished kamikaze destroyer but injuries felled him too often.
Warriors have had loose forwards with more star quality than Harley, but you can't leave him out. Not with his unmatched haul of 225 Glasgow appearances, each one as attritional and relentless as the last. 
An insatiable breakdown pugilist, he hits a frightening volume of rucks and takes an obscene degree of physical punishment. Detested by opponents; treasured by his team-mates.
8. Josh Strauss
Strauss had – and still has – his critics, chiefly for his transient presence in games, the perception that he fades out of the battle too often following a rousing carry with a long spell of relative anonymity.
At his best, the hulking South African brought a thunderous – and pivotal – dynamism to the Glasgow team. He could gobble up yards he had no right to make. That's a skill Warriors have struggled to replace since his departure in 2017.
It is hard to do without Johnnie Beattie's all-court brilliance, while Ryan Wilson's hostility, work-rate, leadership and inimitable character make him very tough to omit. Matt Fagerson is also the next big thing.
WATCH: Gavin Hastings, the former Scotland and British and Irish Lions player, surprises a lifelong Glasgow Warriors fan, taking him to the game and giving him a unique tour of Scotstoun
Comments
Join free and tell us what you really think!
Join Free