Weaponised maul has Gloucester fielding calls 'all over the world'
When it comes to the Gallagher Premiership, Opta provides a multitude of statistics that can take any rugby fan down a rabbit hole where hours will be happily spent mulling over the various numbers. Take mauling: League leaders Leicester top the charts for the most mauls (118) and most mauls won (100), but when it comes to effectiveness and end product, what George Skivington has achieved with his pack of Gloucester rolling maulers stands out as best in class.
Whereas Steve Borthwick's Tigers have gained 229 metres from their mauls and scored nine tries off that particular facet of play, they are eclipsed by Gloucester where the Skivington-coached pack has registered 374 metres gained and scored an absurd 14 tries from its success in winning 91 of its 99 mauls.
To put this in context, defending champions Harlequins haven't scored a single maul try all season in the Premiership. Instead of being hugely focused on their maul, their success in 59 of their 65 mauls has only secured them an 86-metre gain.
Harlequins, of course, have a swashbuckling reputation for strutting their stuff in other areas of the game, but the real surprise in the current statistics heading into round 14 of the Premiership this weekend is the numbers attributed to Exeter, a team whose pack have had a reputation over the years for its mauling.
Of their 52 mauls, just 40 have been won for a 63-metre gain and three tries. Eleven other teams have gained more metres off the maul than the Chiefs and seven other teams have scored more than them.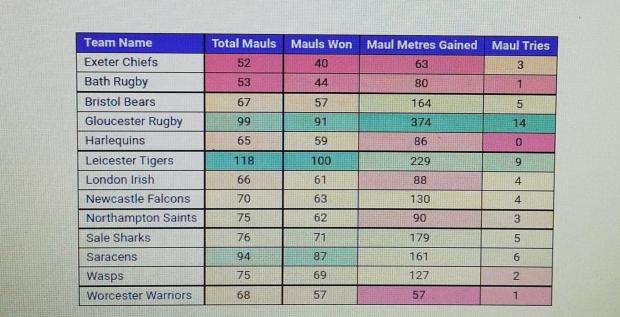 With Gloucester rising to fourth on the Premiership table and defeating Saracens in their most recent league match with a crucial 72nd-minute maul try from Lewis Ludlow, they have become of interest to the rugby world outside of England and Skivington has revealed he has been contacted by coaches from overseas in recent weeks that he has never spoken to before who are looking to learn the secret to his team's mauling success.
His answer? There is no magic, just a whole load of repetitive hard work. "That was one of my main targets when I came in, to create a maul that would be dominant or more effective in all honesty because there wasn't a maul culture at Gloucester, simple as that," explained Skivington, who was appointed Gloucester boss in June 2020 after learning the coaching ropes as an assistant at London Irish.
"Last year the boys did a huge amount of work on it and I drove them a little bit mad with the amount of repetition. Then this year we do a fair bit of work on it but it is not an insane amount. The difference this year is the boys fully understand it. They probably don't want to go back to last year doing the amount we did, that is probably why they are a bit sharper than they were.
"They are all pretty clear on what they have got to do but it's more about being sharp on it really than long, long training. But yeah, if you re-lived last year I don't know how many hours we would have done.
"Mauling is pretty simple, really," continued Skivington, who is midway through his second full season in charge at Gloucester. "Your set-up has got to be good. If you spoke to every single forwards coach they would all say the same thing – you have got to have a firm base, you have got to be nice and tight. You have got to be working hard, not allow people to slip through the seams and break binds, bits and pieces like that.
"I honestly believe player buy-in is the key to it. Maybe I beat them into submission last year and they decided this year we are not doing that as much as we did last year so we are going to be good at it. The penny just drops and everyone is clear on what they are doing. There is no real magic formula.
"I have had a lot of people calling me and zooming me from all over the world actually wanting to talk mauling in the last few weeks. Some very interesting people, some people in different leagues that I have never spoken to. It's great but there is nothing magic I can give them. It's a very simple process and I have just got a good group of lads who really buy into it. They sort of own it and run it now which is good for me because they are enjoying it."
What about the mechanics, though: does a player have a specific part to play or does he need to be adept at all aspects of a maul? "You have to be able to do every part of the mauling job because you have to keep teams guessing what you are going to do, what the lineout move is, where you are going to throw it.
"Otherwise inevitably it becomes not easy to stop but teams can set a plan around it so you have all got to be able to do the lifting role, get on the ball, fill the gaps, whatever names you put on all these things. Everyone has got to be able to do everything. It really does take one hundred per cent buy-in from all the players."
Comments
Join free and tell us what you really think!
Join Free