Tongan Bear revels in his extraordinary rags to riches story that has now earned him a Clermont extension
"Tongan Bear" Loni Uhila has revealed the extraordinary commitment he put into making a career as a professional rugby player.
The unlikely cult hero prop of the Hurricanes' 2016 Super Rugby title victory is these days making inroads on the French scene, recently agreeing a one-year contract extension with Clermont. 
However, what is most intriguing about the 29-year-old's rise to prominence is the hard yards he put in to make it as a rugby player in the first place.
But for a fortunate twist of fate, the journey that has taken him from Tonga to France via title success in Wellington might never have started but for the good word his friend Isileli Vakauta put in for him.
"I grew up in a very poor family, but in a very supportive environment," he said in Friday's edition of Midi Olympique, the by-weekly French rugby newspaper.  
"My luck is that one of my best friends, Isileli Vakauta, was offered a scholarship to study at Sacred Heart College in Auckland. But at the same time, he had finally decided to go to Japan. So there was still a place in Auckland, and Isileli appointed me to replace him. 
"It was very generous of him because he knew other very good players who had been in the under-16 and under 18 Tonga teams, when I had never been selected. Without him, nothing would have happened."
Good to catch up with my old coach Boydy after a tough game today. This guy and his staff at The Hurricanes believed in me and gave me the opportunity to play professional rugby. I'll always appreciate what they've done for me pic.twitter.com/buVfiaRE9x

— Loni Uhila (@LoniUhila) January 13, 2019
That breakthrough only got him to a certain level, though, and he was on the verge of quitting the sport when his career was fast-tracked out of the blue to fame and fortune through an unexpected call from Chris Boyd's Hurricanes, a giant step on the road that has since taken him to France.
"I'm very happy to stay in Clermont for another season. You know, until I was almost 26 years old, I had never managed to live rugby. In New Zealand, I played for Waikato in ITM Cup, but I was never called into Super Rugby.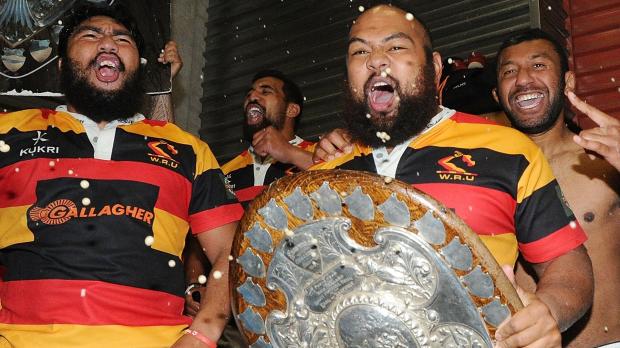 "To earn a living, I worked for seven years as a storekeeper for a New Zealand company, Pro-Life Food. From 8am to 5pm I emptied containers, while I trained between 6am and 7am and from 6pm to 9pm, practically every day. 
"My eldest daughter was asking me why she never saw me. It was hard… in 2015, I told my wife Amanda: if at the end of this season of ITM Cup I have no offer of contract, too bad, I stop rugby.
"And I finally received this call from the Hurricanes, who offered me a two-year contract! Better, for my first season in Super Rugby, in 2016, we literally won the title."
Sad day as I lost my belt to the Fijian Bear ??? pic.twitter.com/MGTjfXO94V

— Loni Uhila (@LoniUhila) January 14, 2019
It was Carl Hoeft, the former All Black prop who coached the Waikato forwartds, who baptised Uhila as the Tongan Bear, a nickname since reinforced as he used it when he twice fought David Letele in charity boxing bouts. 
That nickname is still what he is called today in France, but he needed a second opportunity at Clermont following a false start just his second game to demonstrate the robustness that has now led to a contract extension that will keep him at the club until June 2020. 
"For my second Top 14 match against Lyon, I took a red card for a dangerous tackle (on Lionel Beauxis). In the same action, I broke my arm at a place where I had already been operated in New Zealand. At the beginning, it was not so good."
Comments
Join free and tell us what you really think!
Join Free