'There were tears... it wasn't the way I wanted to leave Munster'
Five weeks after he cleared his locker at Munster, Ian Keatley gets a lump in his throat thinking about his sudden exit after nearly eight years with the Irish province.
The long-serving out-half wasn't supposed to say farewell until the end of the season. A two-year deal – starting next summer – was inked at Treviso last November, but out of the blue London Irish wanted him in England immediately to help fuel their promotion drive to the Premiership.
The unexpected invite meant the soon-to-be 32-year-old was out the door in Limerick far quicker than expected. Instead of months to properly say goodbye, he had minutes to voice a few emotional words following a difficult season where he tumbled from first-choice No10 to fifth in the pecking order.
"It all happened so quickly," he told RugbyPass, reflecting on January 25 when he packed up his things at the province's training centre. "I heard on Wednesday London Irish were interested. Thursday it was finalised and on the Friday I'd to go in. I did some weights and fitness in the morning, had a shower and then addressed the lads who were going to Dragons (for a Saturday match).
"I didn't get to say goodbye to the Ireland lads who were away in camp. I sent them a message later. It was tough cleaning out… there was tears because it means so much. I gave quarter of my life to Munster Rugby and just to leave so quickly. To leave at any time is sad, but it was tough to put a few words together.
"I eventually got it out but even those words probably wouldn't have done justice for what Munster Rugby has done for me and my family over the years. It wasn't the way I wanted to leave, but I knew it was the right thing to do and that's life."
Keatley scored a try just two minutes into his London Irish debut and was at it again this weekend versus London Scottish, making up for time lost watching Munster from the stands.
Four short runs off the bench was all he had this term, inactivity at odds with his previous busy seven seasons. Joey Carbery's arrival from Leinster turned his rugby career upside down, meaning Keatley's last Munster start was the best-forgotten Champions Cup semi-final loss to Racing in Bordeaux last April.
Munster Rugby can confirm that out-half Ian Keatley will depart the province for Italian Guinness PRO14 side @BenettonRugby at the end of the season.

Full details > > https://t.co/U7sdeJ3etf pic.twitter.com/TwbAyrXudm

— Munster Rugby (@Munsterrugby) January 16, 2019
"For that to be my last start with Munster is a little bit upsetting. That's professional sport, that's the way it goes sometimes. I thought I would have got more of a chance with Munster this year, but that's the way things go. I'd been in the Ireland squad, came on twice in November and was with them for the whole Six Nations. I played 26 times for Munster, starting 20 starting, and to go from that…"
He was never told straight out he was out of favour. Instead, he read between the lines and just got on with the disappointment like a seasoned pro. "I definitely would have talked to Johann (van Graan) and was told, 'Yeah, I would get a chance.' But Munster weren't where they are now, top of the league and through to the (European) quarter-final.
"It was up in the air coming into December how the season was going to go and Johann has to look after Munster first. That's his main thing. I said that to him, 'Listen, your job is Munster first, not Ian Keatley. You do what you have to do.' That's just the way it went. I tried my best, but he did say to me I would get a chance. Maybe the whole moving-to-Treviso thing had an impact, I don't know.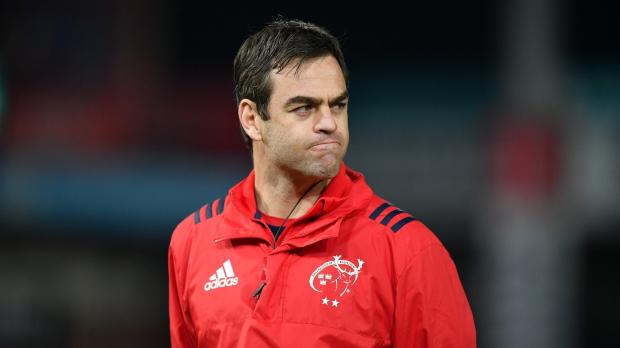 "If I was moving on at the end of the season he had to start thinking of his squad for next year and bringing through young players like Bill Johnston, a good young player. He probably felt, 'Ian Keatley is going next year, I need to try out Bill a bit more.' This is my 11th season in professional sport and I know how things go – I was more in a place to be able to accept it," said Keatley, whose agent James Downey, a former Munster teammate, was to the fore at Esportif in brokering his Italian job and his short stint in London.
"It's the good thing about sport, you see young players coming through. But the bad thing is when players have to be let go and there has to be a few tough conversations. It's not an easy thing to do, they are not easy decisions, but like any job you have look after yourself, have to look after your family as you're only in this career for a very short time.
"I had eight great years at Munster. That's what I am grateful for and that's what I will look back on more so than the last few months. I'll look at the eight great years and where I came from, coming there from Connacht and how my game developed. I played in a lot more great games for Munster, great days I will cherish, and I will learn from the days that didn't go well. That makes me a better person outside rugby. That's what I'm taking from it.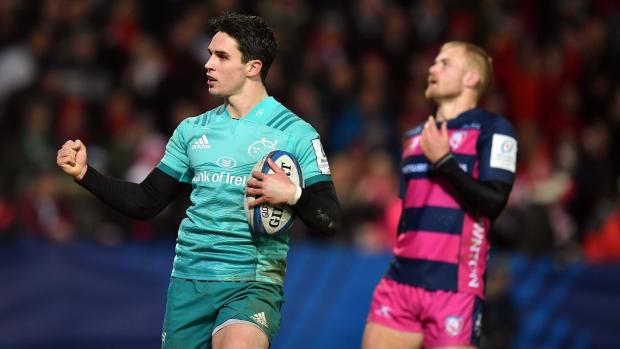 "When you're with one of the top clubs in the world like Munster you're always going to have competition, always going to have players coming in and out. Did I mind Joey coming down? No, not at all.
"I want the club to reach the highest level and Joey was only going to help that scenario. I thought me and Joey would fight it out and I was hoping I'd be able to show what I can do, but I knew early on it wasn't going to go that way.
"It wasn't like I was training poorly or anything like that. Even the matches I played, I thought I played well enough when I came on. It would have been nice to have had the chance to start a match and put my best case forward. I'd 180 caps for Munster, 77 for Connacht. I have been blessed with not getting injured, so to not play much at all this season was a bit of a shock.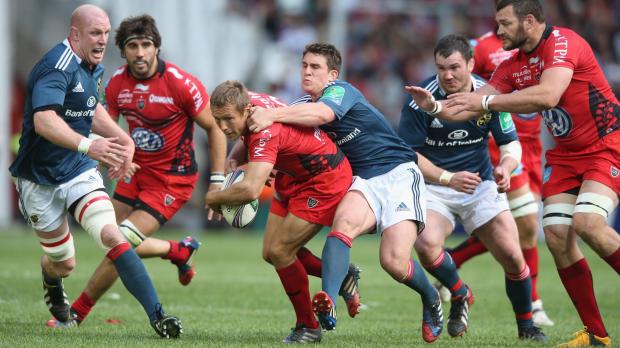 "Munster don't want to say you're down the pecking order because they want to keep you interested and keep you on your toes, but with the way the starts went I went from first to fifth choice. I knew from pre-season the way things were going. I knew it was going to be a difficult season.
"Although I knew wasn't playing I was getting money into my bank account to provide for my family and as tough as it was not playing, it was 'listen, Munster are paying me. I owe it to them to make sure I was training properly and preparing the lads as best I can for any opposition they were coming up against.'
"As frustrating as it was you were still employed by them to do a job. What you want to do is play matches. You don't want to be a professional trainer. But if they ask you to sit on the sidelines you have to. They are your boss, so you have to do what you are told which was my role towards the end. It was tough but I made sure I ticked all my boxes.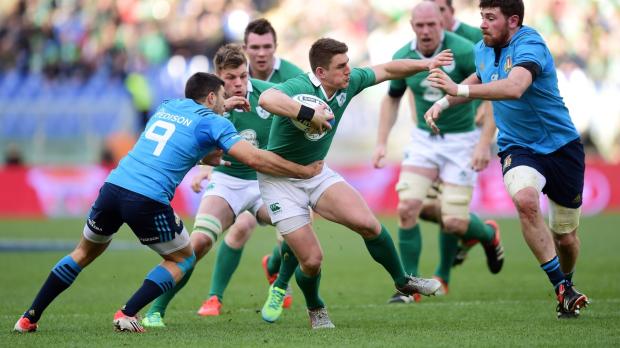 "I still wanted to play. I was there for nearly eight seasons, I loved the place. I met my partner there, we had a kid in Limerick. My whole life changed when I was in Limerick, so it would have been nice to get one final run-out.
"But that's another part of it, that job security. I have got a kid to look after, a partner, bills, a mortgage. Once I'd that signed in Treviso it was such a weight off my shoulders because you know you have that security for another two years.
"Players have to look after themselves as well and that's why we have to look at other places. Everyone would love to stay and play with their favourite club in this fantasy fairytale, but that has become a rarity today because of competition and squads getting bigger. You have to move around and back yourself a bit more."
22' TRRRRYYYYYYYY!!!!!! @iankeatley – two tries in two games! @JoshJMcNally charges a kick down, gathers and sprints 25 metres. The captains spreads it wide and Keatley glides over the line.

? 12-7 #LIRvSCO pic.twitter.com/BAiFsyGmnn

— London Irish (@LiRFC) March 2, 2019
As soon as he walked in the door at London Irish, Keatley knew it wasn't Munster. "The first thing I noticed is there is 12 different nationalities in the team. That's incredible. That's the most unique thing, players from all over the world unlike the provinces where the majority are Irish and then South Africa and New Zealand.
"To have 12 different nationalities is strange and they all have different ways of thinking and playing the game. How you get these players to gel is quite a task in itself and there is no better man for it than Declan (Kidney) who is highly known for his player management.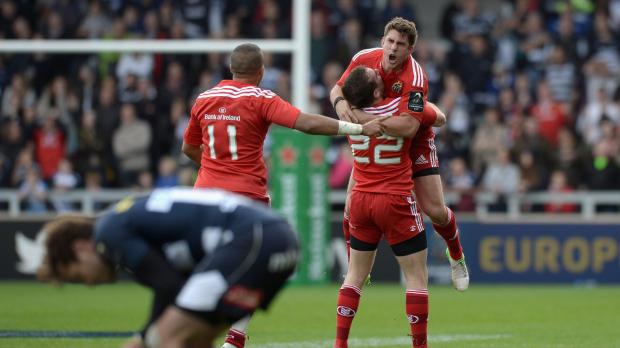 "It's not a bad old place to live. It's a nice little experience. I've never lived outside of Ireland before so it's nice to get a three-month stint. The only negative was leaving my family. That has been the hardest thing the last few weeks, but it's only for a short time and we'll be together in Italy.
"It's really sad to have left Munster. A lot of friends, a lot of great people. The fans, I know I have gotten stick but 99 per cent have been unbelievably nice and I couldn't thank them more. But leaving for Treviso is a new lease of life. It's exciting. A new language, my family moving over with me. I'm putting myself a bit out of my comfort zone, but that's what I need now in my career."
Comments
Join free and tell us what you really think!
Join Free