'Scotland punches above its weight... we do a lot better than people realise or understand'
The Scotstoun commentary desk shuddered as though struck by an earthquake, papers quivering, laptops threatening to slide from their perches, the murmur of supporters pierced by a deafening Australian rasp. Down on the pitch, you'd swear you could see the Glasgow players wince.
In over seven years as one of the most pivotal figures in Scottish rugby, Matt Taylor poured everything into his work, the impassioned pursuit of growing Glasgow into a European force and restoring Scotland's tattered credibility as a tier one nation.
His time as national defence coach is over now. The Scotstoun gantry is safe from the pounding of his fist and the swinging of his boot. The Wallabies came calling and Taylor could not resist the opportunity to fulfil a deep-rooted dream. 
All the more so with Scott Johnson, Scotland's recently departed director of rugby, running the Australian game and Dave Rennie, the current Glasgow head coach, soon to be taking over from Michael Cheika.
Taylor's Scottish journey was overwhelmingly positive, but it finished on a desperately sour note. Ravaged by injuries, Scotland flailed in the 2019 Six Nations, then flopped at the World Cup, a group-stage elimination sealed by losses to Ireland and Japan in which they shipped 55 points.
(Continue reading below…)
Matt Giteau's Eddie Jones drinking story from RWC 2003
He may talk like an Aussie, but Scottish blood runs in Taylor's veins. His parents are from here, he spent a great chunk of his playing days here, his middle name is McGregor and he was close to earning a full cap. Those campaigns hurt. Taylor was personally and publicly savaged for his role in them; so too was his great friend, colleague and head coach, Gregor Townsend.
"Of course, people are going to be disappointed. Of course, people who are nowhere near looking at the game in the same depth will make comments, but that's natural," he told RugbyPass. "I'm confident I've done as good a job as I could. The players and staff know I put everything into it.
"Scotland punches above its weight. Of course, there are certain times where we could and should have done better, but with the player base that we have, we do a lot better than people realise or understand. The reality is, particularly in the Six Nations, we're up against huge nations in terms of their personnel, money, and player numbers."
People are genuinely concerned at where Glasgow Warriors are going

– @JLyall93 looks are what needs to be done to arrest the sad decline of a club whose success has been earned the hard the wayhttps://t.co/tqdM5YW8mU

— RugbyPass (@RugbyPass) January 2, 2020
Endorsements of Taylor's work in Australia and Scotland are glowing. Eddie Jones tried to lure him to England two years ago, eventually hiring John Mitchell when Taylor made it clear he wanted to stay with Scotland and Townsend. 
James Horwill, the former Wallabies captain, rates him as the finest defence coach he has ever had. The great All Blacks rugby doyen, Wayne Smith, describes Taylor as "one of the best defence coaches in the world".
After arriving in Scotland in mid-2012 with a Super Rugby medal won at Ewen McKenzie's Reds, he and Townsend led Glasgow to the PRO12 semi-final that season, the 2014 final the next year, and then their glorious title triumph in 2015. They took them to their maiden Champions Cup quarter-final after hammering Leicester Tigers twice and beating Dan Carter's mighty Racing 92.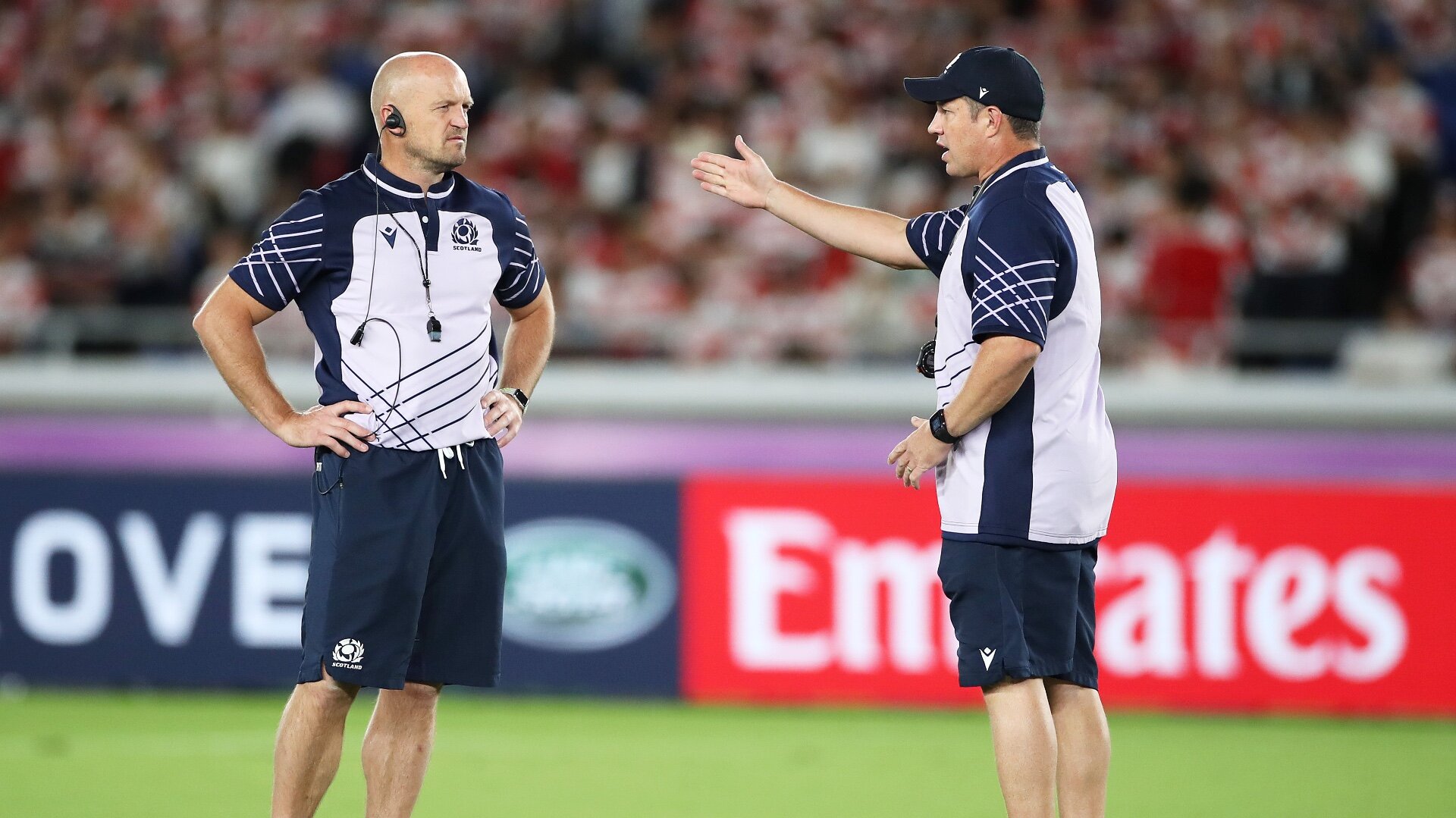 With the Test team, he was involved in wins over Ireland, Wales, Australia, England and Argentina – and Townsend's Scotland came within a whisker of scalping New Zealand for the first time in history. But neither Townsend nor Vern Cotter, his predecessor, could curb their bleak Six Nations record on the road.
Scotland last won at Twickenham in 1983, in Paris in 1999, in Cardiff 18 years ago and they will have the chance for a first Dublin victory in a decade next month. "The next step for me is that Scotland have got to win some away games in the Six Nations," Taylor said. "Until they do that, they're going to be sitting in that third/fourth position."
Of course, having spent all these years in the national set-up, Taylor shoulders some responsibility for these grim statistics. In 2018, Jason O'Halloran, the former All Black who has coached with both Glasgow and Scotland, spoke of how Scottish rugby was "20 years" behind New Zealand in its approach to sports psychology.
Taylor would like to see more invested in making players mentally tougher, better equipped to cope with the seething, cacophonous Six Nations venues where they have fallen short for so long. "An area which we can do as an organisation a little bit better is the sports psychology part of things, maybe getting in a couple of psychologists at the academy level and maybe a full-time person at the international level working with coaches.
"Damian Hughes, who is involved with the team, is excellent, but he is in the corporate world as well. Either bringing him on full-time or getting someone in to work with the coaches consistently will certainly help. Psychologically, we have got to be more resilient when things don't go well. When we are at home and things don't go so well, we have got the backing of the crowd and use that to drive us. 
"Away, we've got to be a lot more resilient than we have been. We have got to fight a little bit longer, we've got to keep to our structures, we've got to stay connected. We definitely have that resilience but we need to find it a little bit more." 
A number of clubs are currently pursuing the no-nonsense Glasgow centre.

– writes @JLyall93 https://t.co/zlmmCgSM0t

— RugbyPass (@RugbyPass) January 2, 2020
In running through the hundreds of players he has coached in Scotland, Taylor name-checks the fiery but cerebral hooker Fraser Brown, the little general Greig Laidlaw, grafter Pete Horne and outrageously brilliant Stuart Hogg. 
But his most effusive praise is reserved for Alex Dunbar, the barnstorming centre dogged by injuries and non-selection who left Glasgow for Brive in the summer. Little wonder – a turnover machine, belligerent yard-maker and thunderous tackler, Dunbar is a defence coach's dream.
"The way Alex played, he was so combative and aggressive and all of sudden he is not as quick as he was – that's a natural progression. Someone like Jamie Roberts is a good example of that," explained Taylor. "What I loved about Alex was that he was really good on both sides of the ball. As a defence coach, he was like another flanker in the backline. He would basically turn over opposition ball at least three times a game. 
"I remember one game, it was six. It wasn't just jackals, it was what we call reefs [ripping the ball from an opponent] – that's massive. We have really missed him, even though the other centres have brought other stuff. On both sides of the ball, at his peak, he was brilliant."
Taylor is not waltzing into a cushy job. Australian rugby is in dire straits. Three of its four Super Rugby franchises finished in the bottom five last season. The Wallabies endured their worst year in six decades in 2018, then their poorest World Cup on record in 2019, capped with their heaviest tournament defeat, a 40-16 quarter-final shellacking by England. During 2019, they conceded an average of over 29 points per Test against tier one opposition. The year before, they won four of 13 matches, one of them against a poor Italy side.
Interest in the Wallabies has waned dramatically since the days of George Gregan, Stephen Larkham and George Smith. In such a sporting hotbed, rugby union is well down the pecking order. Johnson, Rennie and his assistants have an almighty job on their hands to hoist the team off the canvass and push the sport back up in the national interest.
"Australia have got X-factor players, they can score tries out of nothing," enthused Taylor. "If you blend that with a real steely defence, then you are going to be a bloody hard team to beat. South Africa won the World Cup on the back of exceptional defence but also some X-factor players that can score from nothing – you saw that in the final. They went bang, bang, bang in defence, they turned England over and scored with those X-factor players. That's what we want to do with Australia. Dave Rennie is a very good attacking coach and if I can bring that steel in defence, then we are going to be in a good position.
"From the outside looking in, they were very much attack-driven during the World Cup. You have got to be good on both sides of the ball to win competitions. So what I will be doing is trying to instil the right mindset, provide them with the right skill-sets to be able to solve problems.
"If you look at their under-18s and under-20s, they have had some good results against New Zealand, which historically those teams haven't been able to do. I'd certainly hope that coming up to the next World Cup, we should be in a pretty good position to be challenging to win it. For me, that is really exciting."
In a few weeks, Taylor will fly out to Australia and begin working his way around the franchises, forging relationships, assessing what he sees. In time, his family will join him. Soon, the Wallabies will feel his passion, reverberating around the training paddock just like that poor Scotstoun gantry.
WATCH: Follow every game from the Gallagher Premiership and PRO14 LIVE in the RugbyPass Match Centre with live commentary, scores, stats and more including HD streaming in some countries

Comments
Join RugbyPass+ now and be apart of the conversation with all-new commenting!
Join Now