Sale Sharks are ripping off the 'Saffacens' model and it might just work
In the hours following Saracens' 20-10 victory over Leinster in the Heineken Champions Cup final, their third European title in four years, you could forgive the other 11 Gallagher Premiership directors of rugby a moment of despair.
The juggernaut just keeps on going. There have been slip ups, such as Premiership semi-final at Sandy Park two years ago that, in fairness, came right on the heels of their second Champions Cup title, or their loss to Leinster in the European quarter-finals last season, but they have only ever felt like momentary blips, rather than the start of a new trend.
Exeter Chiefs might have their number over the course of the regular season, where their smaller number of international call-ups aids their consistency over the 22-game format, but come the crunch knockout games at the season's end, there are few who would argue Exeter retain their spot as the dominant force in English rugby.
How does that old saying go? If you can't beat them, join them?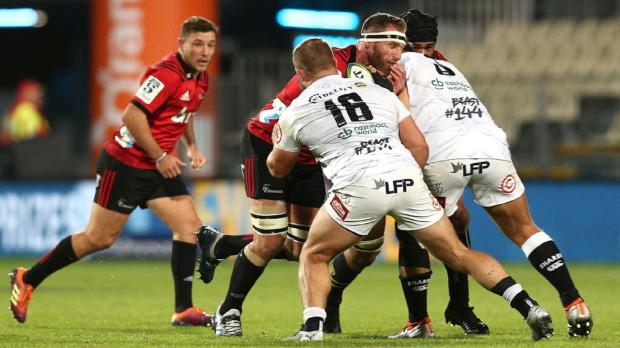 With Saracens' success fresh in the mind, it's hard to look at what's going on at Sale Sharks right now and not think that there's a sense of trying to emulate what the north Londoners have done.
Back in the late 2000's, Saracens notoriously loaded up their squad with established South African players, to the point where fans of rival clubs had even dubbed them 'Saffacens'.
In came Neil de Kock, Ernst Joubert, Mouritz Botha, Brad Barritt, Schalk Brits and Petrus du Plessis, whilst Namibian Jacques Burger was also among those recruited. To people on the outside, they were mercenaries. To those on the inside, they were professionals establishing a culture.
For a long time, Saracens had been a largely irrelevant force in English rugby, failing to challenge the dominance of London Wasps and Leicester Tigers, whilst the likes of Gloucester, Sale and London Irish had their own, brief moments in the sun, too. That group of players helped take Saracens out of that mid-table void and into a perennial hunt for the Premiership playoffs.
If you look at Sale's recruitment for this coming summer, it's hard not to see a parallel.
Robert du Preez, Akker van der Merwe and Coenie Oosthuizen are all set to arrive from the Sharks, whilst standout international second row Lood de Jager's move from the Bulls has also been confirmed. With a significant bolstering of the tight five and an improvement to the club's stock of fly-halves, all four signings tick important boxes for Sale which had, arguably, gone unticked in recent seasons.
They aren't the only South Africans in line to be representing Sale next season, either, with Faf de Klerk, Rohan Janse van Rensburg, Byron McGuigan, Jono Ross and Josh Strauss all already at the club. If Saracens were 'Saffacens', what does that make Sale? The 10th province of the Republic?
It wasn't just the arrival of established players from South Africa that turned Saracens into annual champions and a powerhouse of northern hemisphere rugby, though. Those players helped make Saracens more competitive in the short-term, but more importantly they established a culture and drove standards at the club, something which then rubbed off on all of the youngsters coming through in north London.
Saracens were competitive initially, yes, but they weren't lifting an abundance of silverware until Owen Farrell, Jamie George, Maro Itoje, George Kruis, Ben Spencer and Jackson Wray emerged, joining the likes of Alex Goode and many of those veteran South Africans in the senior squad. With that core in place – and still the centre of the club to this day – Saracens have enjoyed unmatched success over the last five years. There is still a South African flavour to the group, with Michael Rhodes and Schalk Burger having played important roles in recent seasons, but it's to the academy prospects, such as Nick Isiekwe and Ben Earl, that the club has been and is continuing to look.
Again, you can see a parallel with that and what Sale are doing up in the north-west.
The Curry twins, Tom and Ben, have been invested in and are leading the way for the club, whilst Cam Redpath, Luke James, Kieran Wilkinson, Bevan Rodd and Sam Dugdale are among those next players ready to step up and play similarly vital roles.
It's certainly a bold strategy from Sale, who will know that they will be measured by the yardstick that Saracens have already established.
No one will be expecting titles in the next season or two, but what they will be expecting is not easy to achieve and something which shows that what Saracens have been able to do is not solely about the money that has been invested into the club.
Sale will need to be consistently competitive in the top half of the table for a start, whilst also finding ways to bring through those young players, despite the influx of South African talent in the senior side. That means there will be a pressure on the coaching staff to keep developing these players beyond the age of 18 and have them ready to compete with experienced internationals for a spot in the matchday 23.
They will need to, just as Saracens did, take a relatively small fanbase and continue to make it grow. Saracens didn't even come close to selling out Allianz Park when they first moved in back in 2013, but now the club regularly pack out the stadium and are set to start expansion plans in the summer. Sale have the lowest average attendance in the Premiership this season and both Worcester Warriors and Newcastle Falcons have bypassed them in recent campaigns.
Perhaps most crucially, they will need to create a culture at the club that not only allows them retain players, but also makes them a desirable destination, such as the one Saracens have in St Albans. It's one of players and coaches enjoying turning up to work each day, player welfare being a priority, whether through injury rehabilitation or management of playing time, a willingness to sacrifice earnings in order to be part of something special and the club taking an active interest in the players' post-retirement well-being.
That permeates every level of Saracens, helps create connected thinking between the academy and the seniors and makes the players involved feel more like a member of a family, than simply an employee.
It's in that area where Sale may well end up being judged, as opening the chequebook and identifying the recruits is just the first step of building a club that can have consistent success.
The only trouble with Sale taking this similar approach is that the standard has been set and it's an unbelievably difficult one to live up to.
If the senior recruits don't bring a move up the table or they stymie the opportunities the club's academy players receive, Sale and Steve Diamond will be pilloried for it. It's a difficult balance to achieve, especially when attempting to bridge the gap that Saracens – and Exeter – have created at the top of the table, but one that will be expected of them nonetheless.
Watch: Jim Hamilton speaks to Brad Barritt following Saracens' Champions Cup triumph
Comments
Join free and tell us what you really think!
Join Free