Report: Rugby Australia threatens to go alone with Super Rugby as 'all bets are off'
On the eve of the All-Kiwi Super Rugby Pacific final between the Blues and Crusaders a 'bombshell' has been dropped by Rugby Australia to their New Zealand Rugby (NZR) counterparts, according to a report by Fox Sports Australia.
Christy Doran of Fox Sports Australia has reported that Rugby Australia will 'consider their options' after the current partnership agreement expires after 2023, including ditching Super Rugby Pacific in order to move towards a domestic-only model much like the AFL and NRL.
Rugby Australia's position on the matter has been shared by chairman Hamish McLennan to his NZR counterpart.
McLennan stated that they have to do 'what's best' for the game in Australia leading into the showpiece events they will hold, having secured the hosting rights to both the Women's and Men's Rugby World Cups in 2027 and 2029.
"We'll honour our commitments in '23 but we need to see what's best for rugby in Australia leading up to the RWC in Australia in '27," McLennan told Fox Sports.
"All bets are off from '24 onwards with NZ."
The report suggests there is still bitterness over the way NZR treated Rugby Australia in the wake of the pandemic which forced a major restructure of the competition.
South Africa's four franchises move to Europe to join the formerly named Pro14 competition and NZR put out an 'invitation to apply' for further inclusion in Super Rugby.
In previous Super Rugby seasons the gulf between the two country's teams was much wider, leading to doubt from NZR over the competitiveness of five Australian teams in the competition.
Domestic-only versions of Super Rugby were played over the 2020 and 2021 seasons which saw renewed crowd interest in Australia. The 2021 Super Rugby AU final between the Reds and Brumbies drew over 40,000 supporters at Suncorp Stadium.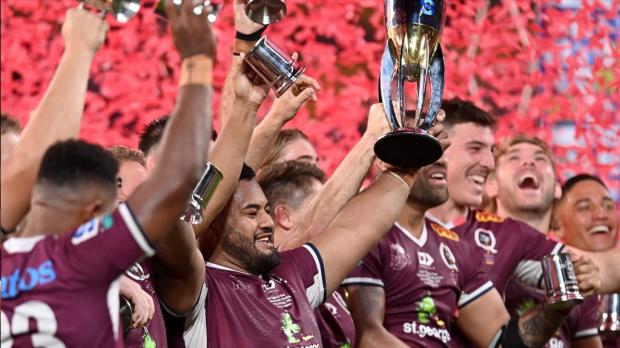 However, Australia's teams showed vast improvement in 2022 against New Zealand teams with the Brumbies, NSW Waratahs, and Queensland Reds all securing wins over Kiwi sides while the Melbourne Rebels came within a whisker of defeating the Chiefs.
McLennan revealed that there are thoughts that a domestic-only product could be financially more successful for Rugby Australia in the crowded Australian sports market.
"Some board members have strong opinions that a domestic only competition like the AFL and NRL would generate more money for the game and that is fair comment."
Losing the Australian teams would be a major blow for Super Rugby in New Zealand, who have just secured investment from Silver Lake to shore up their finances and improve the commercial viability of their product.
It is unclear whether a New Zealand-only competition would aid that goal with less fixtures to broadcast while the All Blacks could eventually suffer after seeing a lack of different playing styles.
Comments
Join free and tell us what you really think!
Join Free