Ref Watch: To man manage or march ten metres?
This weekend's action has sparked plenty of comment across the rugby world after two leading referees took totally different approaches to dealing with the same problem.
I can already hear cynics remarking 'nothing unusual about that' but for once rather than highlighting a difference in law interpretation these incidents reminded us there is plenty of truth in the phrase 'different strokes for different folks.'
It was the thorny and growing problem of player verbals which was front and centre in both the United Rugby Championship derby between the Bulls and the Sharks in Durban and English rugby's latest head-to-head between Exeter and Saracens.
Experienced South African referee Jaco Peyper was at the centre of the first incident where Springbok hookers Bismarck du Plessis and Bongi Mbonambi had an ongoing and increasingly hostile verbal battle with each other and the officials.
Then rising star Luke Pearce had to deal with dissent from Sarries' England no.8 Billy Vunipola who was frustrated by the award of a breakdown penalty against his team.
The Peyper Incident
The South African derby was just under 30 minutes old when Peyper tired of the endless verbal hostility coming from the two hookers.
He opted to stop the game and – as befits an official of his huge experience – deliver a very calm lecture in which he asked them to show some respect.
He also reminded them both of their responsibilities as role models within the sport in South Africa.
"I know you're both good players and Springboks, but please come back to your values," he said.
Laying down the law ?

Things are getting heated between Bongi and Bismarck and Jaco Peyper asks both hookers to 'come back to the values".

Stream Vodacom #URC live: https://t.co/0BMWdeEYT3 pic.twitter.com/bNJDOEAm0y

— SuperSport ? (@SuperSportTV) December 3, 2021
The Pearce Incident
Three minutes fewer had elapsed in the Gallagher Premiership clash when Pearce awarded a penalty to Exeter following their strong counter-ruck.
Vunipola was then marched back ten metres for making a comment to the referee, then when he continued to argue, the mark was advanced a further ten metres.
Pearce told Saracens' co-captain Alex Goode: "This player has an option, if he does that again he's gone" after which Jackson Wray and Maro Ijoje are both seen to speak to their no.8.
Luke Pearce is taking absolutely no prisoners this afternoon.

Behave yourselves, lads.#GallagherPrem pic.twitter.com/g3TVl7QqPF

— Rugby on BT Sport (@btsportrugby) December 4, 2021
Timing
The first point to make about these two incidents is around their timing. Both matches were in the second quarter when the referees intervened by which time the tone for the rest of the game is becoming set.
Both contests were distinctly feisty in nature with plenty of opinions being expressed towards the officials. As a referee, if you fail to deal with this and nip the problem in the bud it only gets worse which potentially leaves you dealing with a bigger problem later in the game.
By clearly putting down an acceptable-behaviour-level marker and transferring responsibility and pressure to the players and captains Pearce and Peyper therefore gave themselves room for manoeuvre later in the day.
Had they subsequently needed to escalate to a yellow card following further verbal, criticism would then have been directed at the guilty player, who had disregarded the earlier warning, rather than the ref being accused of producing a rabbit out of a hat at a crucial late stage in a close game.
Preparation
Social media often questions the extent to which players 'have their card marked' before they go on the field. The answer to this is in many ways obvious – prepare for the worst, hope for the best.
Match officials always take the field with an open mind hoping for a straightforward, controversy-free 80 miutes. Being unseen in a high-scoring match with very few penalties and no yellow or red cards is the perfect day.
However, when you are entering a game with history, or taking charge of players who are known to push the envelope by trying to swing a decision or two in their favour with a few well-placed words (or in some cases a running commentary!) it would be negligent not to prepare.
Officials will therefore run through a few scenarios in their minds, perhaps visualising what they will say or do to restore discipline or quieten players who on previous occasions have caused them problems. Without ruining too many after-dinner speeches, a few of the greatest off-the-cuff lines delivered by prominent former referees were probably not that spontaneous!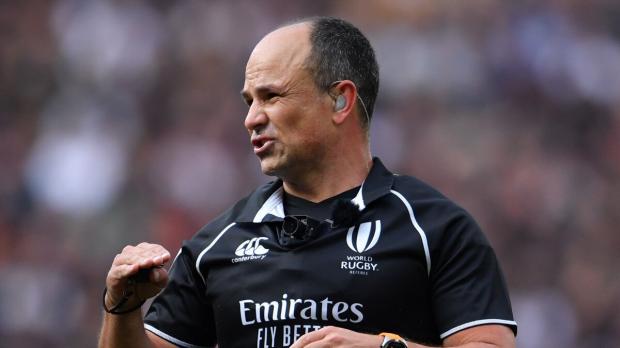 To manage or to march?
Critics and supporters of both the Peyper and Pearce approaches have emerged on social media where it is interesting to note how many yearn for a return to the days when only the captain spoke to the referee.
In truth a blanket ban on all interaction would not be that helpful since a few well-chosen words can really help the flow of the game.
The key to this dialogue is timing and the manner in which it is delivered. Pick a break in play and have an occasional quiet word and most refs will respond sympathetically – or at least listen to a player's point.
"Can you have a look at the offside line please ref," might seem ridiculously obvious, but it might also draw attention to something which would cause frustration and a bigger problem later in the game if unmanaged. This approach also gives the referee the opportunity to go back to the player a few minutes later with a response – maybe a simple "everything looks fine to me but I'll keep looking" – which sends a positive message about his/her willingness to engage when approached in the right way.
By contrast, screaming at the officials while play is going on really isn't going to get you far. Constant criticism or 'you must be joking' type truculence is also usually a quick route to the naughty step.
1?? 2?? live games this weekend include free-to-air ?#HeinekenChampionsCup ?https://t.co/5piiyr9Oot

— RugbyPass (@RugbyPass) December 6, 2021
Similarly – and think about three British & Irish Lions no.10's of recent vintage with this one – endless hostility accompanied by a running one-eyed commentary is irritating to everyone, and potentially also the cause of a flashpoint should opponents mistakenly think it is having some effect.
The Pearce approach and the Peyper method are therefore not mutually exclusive – rather than either/or for officials of their quality it is a bit of both starting with the management option.
Without being able to hear every word Pearce spoke to Saracens and Exeter before and during the opening half-hour it is impossible to trace the escalation process which ended with Vunipola twice being marched back ten metres.
But what we can be sure about is that a referee would normally ask for a behaviour change on more than one occasion, potentially involving the captain on a more formal basis, before resorting to blasting the whistle and marching back ten metres.
Since the next stage is a yellow card, by the time the double-penalty happened Saracens will almost certainly therefore already have missed an opportunity or three to bite their tongues.
From Mark McCall's post-match reaction it seems likely that French official Tual Trainini will enjoy a much quieter afternoon than Pearce managed when he takes charge of Sarries' encounter with Edinburgh next weekend.
And if learning from Peyper and Pearce and reading about this response from Sarries' boss helps a few lower-level officials have a more enjoyable experience with the whistle our sport is the winner.
Comments
Join free and tell us what you really think!
Join Free