Ref Watch: The verdict on the so-called 'unbelievable call'
When Paul Williams reviews his performance during South Africa's 23-18 win over Wales he should do so with a sense of satisfaction.
Across the 80 minutes the Kiwi whistler displayed a calm, unflustered manner which alongside his clear communication really helped a tense, tightly-fought test match in which neither side was ever more than seven points ahead.
Yellow Cards
Williams used the yellow card twice in the first half, and both calls were spot on.
The Springboks escalating penalty count – in particular at the breakdown and for back-foot offside – had already earned them a warning when Ox Nche illegally blocked a Nick Tompkins kick chase and rightly went to the sin bin.
And while Wales prop Rhys Carre's yellow card four minutes later was not on the end of a string of penalties, Williams clearly detected that the home side intended to stop South Africa's powerful driving maul at source and by doing so illegally were acting with a degree of cynicism.
By acting so promptly Williams stopped either team developing a sense of frustration and clearly drew a line in the sand which – to their credit – neither team crossed again.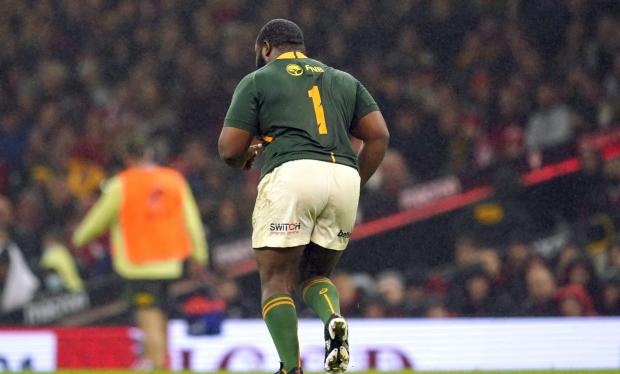 The Scrum
Incredibly only five scrums took place in the entire contest, four of which were in the second half.
Following a reset Wales won possession from their only feed while all four South African scrums led to penalty awards to the Springboks.
A clear trend was present here – with the visitors having much the stronger set-piece – but the scrums were so spaced out that Williams never got to the point where he felt a warning or card was required.
The Big Call
South Africa and Wales have a recent history of extremely tight games, and with rain pouring throughout this was always likely to be a one-score encounter.
This sharpens a referee's focus, since it is clear that one decision could be match defining, and (almost) every official wants the better rugby team to win rather than the outcome of the match being determined by a borderline or incorrect refereeing call.
This is why getting a penalty in the dying seconds to win a match can seem harder than at other points – the man in the middle will want to be 100 per cent certain before blowing.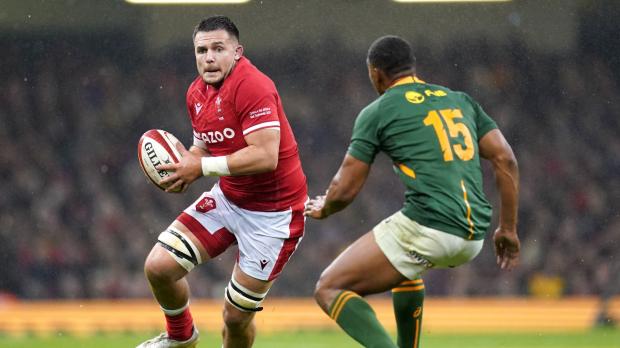 One try always seemed likely to win this encounter, and with Wales leading 18-15 and only 13 minutes remaining the visitors thought they had it.
However, after review by TMO Olly Hodges, Williams and his touch judges chose to strike off Makazole Mapimpi's score and instead award the hosts a penalty for offside.
What Happened:
Cobus Reinach box kicked high from the base of a midfield ruck but the kick was shorter than intended.
It travelled around ten metres and after Wales failed to reclaim the ball in the air the Boks scooped it up and sent Mapimpi racing 35 metres to the line.
What the Slo-Mo Showed:
Mapimpi and Siya Kolisi were between Reinach and the touchline while Eben Etzebeth was infield of the scrum half. With Reinach following, those three players came from behind their no.9 to chase his kick.
Four South African forwards were left in the breakdown, perhaps two metres in front of the point at which Reinach kicked the ball and around eight metres from the Welsh player who contested the kick in the air.
Replacement hooker Malcolm Marx was the only one of these fully on his feet, and he took two or three steps forward before checking himself and retreating back towards the point where Reinach had launched his kick.
Meawhile, in an incredibly smart piece of play, realising the remaining forwards were at risk of being offside, the nearby Lukhanyo Am pulled one back by the shirt to prevent him from chasing the kick.
The other forwards were on the ground and in the process of getting back to their feet.
What law states:
Kolisi, Mapimpi and Etzebeth were all behind Reinach when he kicked and were therefore onside under the various parts of law 10 which deal with offside in front of the kicker.
The law states that when you are in front of a kick you are offside and out of the game until either your own, an opponent's or a teammate's actions change this situation and put you back in play.
However, for safety reasons, if you are both in front of a kick AND within a ten-metre radius of where the kick lands (or is first played in the air) you must immediately retreat backwards out of that radius.
How South Africa rated against Wales in Cardiff. #WALvRSA https://t.co/42jzquUkRh

— RugbyPass (@RugbyPass) November 7, 2021
The South African forwards on the ground and Malcolm Marx were all in this situation and therefore could not be put onside by their four teammates.
Both Am and (belatedly) Marx recognised this and attempted to get these forwards to an onside position, but there is no doubt that they were still within the ten-metre radius when the kick was contested.
How Williams and an expert pundit saw it:
The ref told his team of colleagues then the two captains: "They were inside the ten and they weren't retiring."
He then added: "They can't just stay there they have to retire backwards."
In commentary, former Springbok great Bryan Habana disagreed.
"That's a massive moment," he said.
"We saw on the replay that Lukhanyo Am was pulling the players back and them all retreating.
"For me that's an unbelievable call from the referee to say the players are moving forward.
"South Africa will certainly feel hard done by here."
The Verdict
We firstly need to remember that World Rugby has asked its test match officials to crack down on offside in front of kicks – and we saw a couple of penalties awarded for this offence early in the summer Lions series.
However, those calls were made in very different situations to this, and while Williams acted to the precise letter of the law, for me this was not the correct call.
The players who were within ten metres of where the kick landed were either on the ground or making an effort to retreat.
Crucially therefore none of them had any material impact on what happened next.
There is a clear parallel with an outside centre who is maybe 35 metres from a breakdown stepping over the offside line before the ball emerges from a ruck, realising what he has done and retreating to an onside position. This player is almost never penalised since his actions are not material.
PLAYER RATINGS: Despite a huge effort from Wales in a titanic struggle, the Springboks' power game ultimately told in Cardiff.

Here's how we rated the Welsh players, from an 8.5 to a 4 #WALvRSA #AutumnNationsSeries https://t.co/uAxMqxiULS

— RugbyPass (@RugbyPass) November 6, 2021
Had South Africa not gone on to clinch the match through a superbly constructed driving lineout try – ironically touched down by Marx – this call would have come under huge scrutiny.
Refereeing rugby is often not black and white, instead the laws provide a framework within which some interpretation is required. For example, imagine if every player who went off their feet was penalised regardless of context or impact on the game?
This is one such situation, and it would be really interesting to be part of the post-match review and hear if Williams – who looks a fine prospect for the knock-out stages of the next World Cup – would with hindsight rather have done things differently.
Comments
Join free and tell us what you really think!
Join Free