Ref watch: 'How is that try awarded, that's ridiculous'
Refereeing is under the microscope as never before – and this weekend's action has thrown yet more fuel on the fire as three further officials have faced heavy post-match criticism from defeated coaches.
Against the extreme backdrop of the Rassie Erasmus case there is no doubt that the combination of social media and growing TV exposure is placing more pressure on match officials than ever before.
It is now possible to watch almost every Gallagher Premiership or United Rugby Championship match live, while the competitions' websites carry comprehensive highlights packages.
The quality of the coverage is also hugely enhanced from what we saw only a decade ago. Learning from football, outside broadcast units have more cameras and closer access than ever before while cricket's development of super slo-mo has also made the scrutiny of tight calls in rugby ever more detailed.
There is a wider philosophical question here about rugby union's traditional respect for and treatment of the match officials, which in the professional age is in imminent danger of being consigned to history.
With top officials now earning good salaries from being full-time referees it is understandable and entirely reasonable that they are held accountable for their decisions and required to learn from their mistakes.
What the sport needs to avoid at all costs is allowing this to overspill from the professional game into rugby's amateur grassroots – a challenge football has struggled to meet. This has again been highlighted on Twitter this weekend by RFU match official Clare Daniels.
WTF am I watching? Unacceptable means unacceptable… I hope the officials are OK and are supported as this looks a horrendous situation to endure. https://t.co/yoG2ZJunoM

— Clare Daniels (@ClareDaniels18) October 10, 2021
Glasgow v Lions – Jamie Bhatti try
A really tight URC contest which Glasgow edged 13-9 was decided by Jamie Bhatti's early try.
The Scotland loose head is held short of the line and then attempts – as law allows – to ground the ball on the try line.
Lions fly half EW Viljoen seeks to get a hand underneath the ball – with the split-second timing of this crucial intervention being unclear to the naked eye in real time.
When TV images slow down the incident it is apparent that the ball was not grounded on the whitewash with downward pressure.
The controversy is amplified by the referee appearing unsighted and the suggestion that his decision may have been influenced by the noisy celebrations of Warriors' players.
Former Dragons boss Bernard Jackman was not the only onlooker to question both the decision and the lack of process used in making it.
Hard to see how this try was awarded ???? https://t.co/JVnVREcE6f

— Bernard Jackman (@bernardjackman) October 10, 2021
Cardiff fly half Jason Tovey replied to Jackman's tweet with the withering assessment of: "That's actually embarrassing."
While South African journalist Brendan Nel wrote: "How was that try awarded? No way it reached the line? And what's with the lack of replays? Every game now.
"A try awarded without the ball touching the line. That is so ridiculous."
Verdict:
Looking at replays of the incident it is extremely difficult to see how referee Gianluca Gnecchi awarded the score without seeking assistance from TMO Matteo Lipperini.
Taking charge of only his tenth match, Gnecchi is a relative newcomer to the URC while language difficulties between an Italian referee, Scottish touch judges and a French TMO add a problematic dimension.
However, the lack of clear thinking here and his reluctance to use available resources creates a major issue where there should have been none.
Lipperini could also have intervened suggesting a review – but in his defence the speed with which the try was awarded and converted meant he would not have seen a replay quickly enough to have evidence on which to act.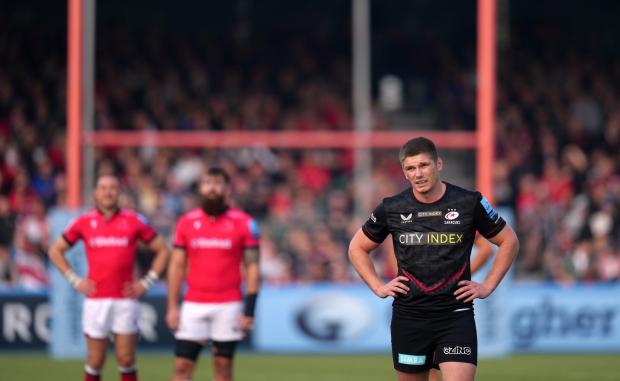 Saracens v Newcastle – Dean Richards on Owen Farrell
Newcastle's boss had plenty to say following last week's win over Wasps after his full back Tom Penny was sent off by Anthony Woodthorpe for 'making contact with' Jimmy Gopperth's eye area.
The match officials' decision was subsequently upheld by the disciplinary hearing at which Penny pleaded guilty and received a two-match ban.
Seven days later England skipper Owen Farrell and experienced top flight official Ian Tempest were in Richards' gunsights after his team's defeat in Barnet.
"When the momentum and the referee got on to our backs a little bit, it's about understanding that street-wiseness and how to change perception and we didn't do that," he said.
"Owen Farrell was in his ear the whole time and with him being in his ear the whole time it changed the momentum of the game.
"There was a passage of play where they went off their feet twice in a ruck. There were three offences they committed and then we committed a very minor one on the far side, but he penalised us.
"It's up to us how to learn to change the referee's perception of what's going on and the momentum of the game. You do that by being squeaky clean and highlighting what they're doing."
Verdict:
Farrell's demeanour towards the referee changed as the contest progressed and Saracens got on top.
In the first half he allowed his frustration at his team's performance to spill over into his communication with Tempest which at its worst was confrontational and aggressive.
However, once the official left England's captain in no doubt regarding the unacceptability of his behaviour Farrell was smart enough to back off.
The TV coverage picks up very little discussion between Sarries no.10 and Tempest during the second half.
Could Farrell have been shown a yellow card for his argumentative approach and refusal to accept Tempest's view of an alleged push on a Saracens player? On another day with another referee quite possibly, but thereafter his conduct was fine.
Richards is clutching at straws to suggest Tempest was swayed by Farrell's presence. Referees who are unable to tune out overly talkative captains don't make it to elite level – it is a basic part of the job.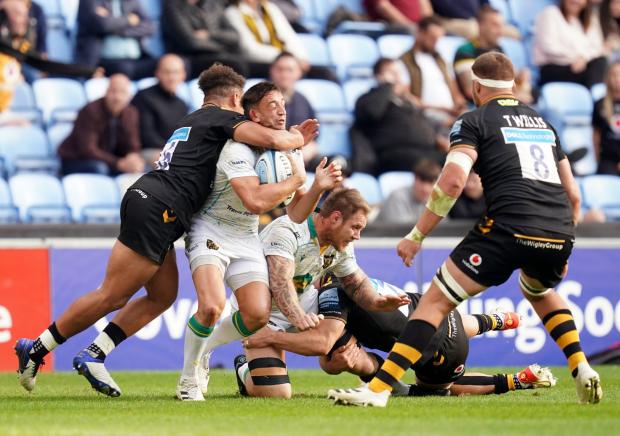 Wasps v Northampton – Gaby Oghre yellow card
Northampton boss Chris Boyd was also irked by a key decision during his club's defeat at Wasps.
The home side's replacement hooker Gaby Oghre received a yellow card for his second half swinging arm tackle on Saints scrum half Alex Mitchell.
"There's no doubt it's a red card," Boyd said.
"I don't think there was any malice to it and I think it was unfortunate, but if that's not a red card, there is no red card, I just don't get it.
"He hit him with a swinging arm directly to the head; you might say there was less intent but I don't get it.
"We hold no malice to him (Oghre) because I think it was an accident, but at the end of the day, a lot of those things are accidental, it is what it is."
Verdict:
Referee Craig Maxwell-Keys was making his 100th Premiership appearance and he had an equally experienced TMO in the shape of Rowan Kitt.
And it is impossible to fault the process they followed in establishing whether there was head contact, how much force was present then whether mitigating factors existed.
Interestingly, it was apparent from the exchange between Kitt and Maxwell-Keys that a difference of opinion existed on the question of force.
The referee believed the swinging arm first touched the ball which was tucked under Mitchell's arm and as a result the impact of the blow was lessened and "a lower level of danger" was present.
Kitt seemed more inclined towards a red card since no other mitigation existed, but Maxwell-Keys effectively pulled rank.
The citing commissioner Paul Hull has now got involved summoning Oghre to a hearing on Tuesday.
The 2007 World Cup winning coach is the latest to express this view of rugby on 4G… ???https://t.co/hw93gC8phz

— RugbyPass (@RugbyPass) October 11, 2021
Comments
Join free and tell us what you really think!
Join Free