Quins players too comfortable with each other, says Marler
Joe Marler has suggested some of the Harlequins players should carry the can for their dreadful season and says they have become too comfortable with one another.
Speaking on The Rugby Pod, the England international admitted that John Kingston remaining in charge for the final few weeks of the season, despite it having been announced last week that he will be leaving The Stoop, means there is a "bit of a weird situation" at the club at the moment.
Despite some of the infighting on display in the recent 35-5 defeat at home to London Irish, Marler says the Quins players are united but thinks that has contributed to their downfall rather than being a source of strength.
"The club made the decision to part ways with JK [John Kingston] but he's still here until the end of the season and we got pumped again at the weekend, so they've made a change there but maybe it's us [the players] that actually have to leave," he said.
"It's a bit of a weird situation as it stands. It hasn't been a great season but we've got to put some pride back in the shirt. It's an old cliché but we were ****ing dreadful against London Irish and we weren't just dreadful because we were dropping the ball or missing tackles and stuff like that. We were bitching and moaning at each other and things have really gone to shit.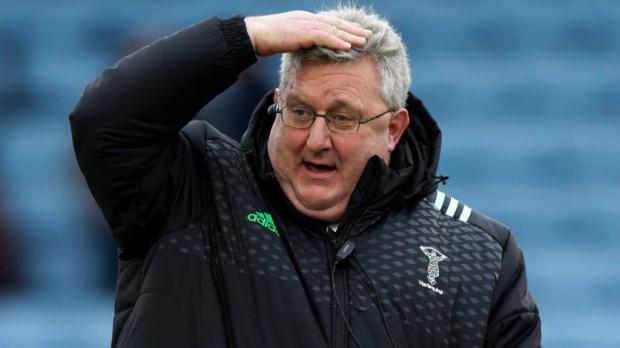 "We've addressed it to the point where we've got to give it all for the last few games and try our hardest to get the wins but it's just about the fight that we can put up for the rest of the season now.
"From a player's point of view we've discussed it and we're a tight group, believe it or not, and that's probably been part of our downfall. We haven't been pulling each other up on cutting corners and we'd probably rather cover our mate's arse rather than calling them out about bits and bobs.
"I can only speak from a player's point of view but maybe we need a shake up and to stop being so comfortable with each other and be a bit happier to have peer-to-peer calling out."
Marler also cleared up the rumour that he stormed up to see the chief executive in the aftermath of the London Irish defeat, telling Jim Hamilton and Andy Goode that he was simply heading up into the stands to say hello to an old friend.
"Do you think I have that sort of power mate? You've seen some of the barnets I've had over the years and you think I'd have any control over anyone at Harlequins," he told The Rugby Pod.
"The truth of the matter is that I used to live with a lady who works in the office at Quins and I popped up to see her because I hadn't seen her for a while but then it was made out that I'd gone up to shout abuse at the coaches."
Watch the full video below or listen to the full episode here on iTunes
Comments
Join free and tell us what you really think!
Join Free