The legend of Wyatt Crockett, Super Rugby's quiet record-breaker
Wyatt Crockett does not seem the most obvious man to set a new Super Rugby appearance record. But on Friday night, against the Sunwolves at AMI Stadium – his 176th game for the Crusaders – he will do just that. Scotty Stevenson has shared summer beers with Crockett through the lows and the highs. Here he reflects on rugby's reluctant record-breaker.*
Golden Bay is the kind of place that gives a compass a headache. It cradles the eastern side of the north-western edge of the South Island, a great arc of hill-ringed coastline that stretches from Separation Point to Farewell Spit. Separation to Farewell: it feels like one long goodbye.
It is here that we say hello to Wyatt William Vogels Crockett, the Canterbury, Crusaders and All Black prop who, on Friday night in front of a home crowd that will include his wife Jenna and his two sons Sonny and Emmett, becomes the most capped Super Rugby player in history. This is a man whose career has so neatly mirrored the unpredictable tides on these cellophane seas.
This is where Crockett is most at home; where he learned to run the hills and the beaches; where after every setback and disappointment in a career plagued by both he returned to bury his doubts and redouble his efforts. This is where he draws his inspiration from.
His is a story of perseverance, and there are plenty of those stories around these parts. Golden Bay is one of those end-of-the-line places – one road in and the same one out, over the mighty Takaka Hill into which was carved a nauseating and unforgiving thoroughfare of switchbacks and bends. The people of the Bay are used to getting on with the job no matter what the problem is. It's easier than driving back out.
Crockett was just eighteen months old when his father Peter and mother Johannah purchased the lease on the camping ground at Tukurua Beach, a few kilometres from the settlement of Collingwood with its three men, and two horses. He was educated at the local Area School until he was eleven, and then he was sent to boarding school at Nelson College. Summers were spent back at Tukurua, helping out in the camp.
About fifteen kilometres from Tukurua is Pohara Beach, where Crockett and his own family now holiday every year. Back in February of 2015 he and I sat on the grass in the camping ground, drinking cold beer and watching the tide march in across the sun-warmed sand below us.
It is a strange tide in Pohara, one that slowly gobbles up the vast expanse of stone-grey beach in noisy bites and nibbles. Once full, the water gnaws on the limestone boulders that line the scrubby banks before retreating once more into the depths of the Bay. It is a place for tidal enthusiasts, a reassuring reminder that what comes up must go down, and what goes out must come in.
"I leave here tomorrow," I remember him saying with a sigh that year as the last of the sun drained from the sky and a full moon came up behind Port Tarakohe and the old cement silos carved into the hills. Season by season those silos are being reclaimed by the very land that once filled them. Nature calling in the debt.
"Ah well, there'll be a lot of hard work if I want to be sitting here next year with a couple of titles, won't there?"
He was referring to the elusive Super Rugby title, the one the Crusaders haven't been able to win since 2008 despite reaching a couple of finals. He was also referring to the Rugby World Cup. I told him that I didn't think he was afraid of hard work, doing my best to answer his rhetorical question.
"Not when there's a fair bit riding on it," he said, draining the last of his summer indulgence with the countenance of a big old Labrador who has suddenly come to the realisation that nobody's throwing the stick.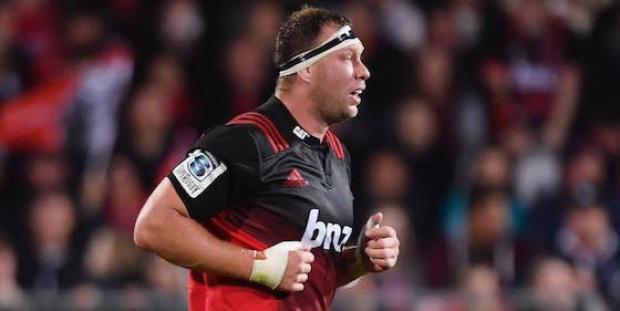 There was certainly a fair bit riding on that Super Rugby season for Crockett, who knew more than most that there were few guarantees in professional sport. The Super Player of the Year in 2011, he had been selected for the All Blacks' Tri-Nations squad that season and started the first two games against the Springboks and the Wallabies – each ending in victory for the New Zealanders.
He was rested for the third match, against the Springboks in Port Elizabeth, making way for the returning Tony Woodcock. He spent that night, like the rest of the squad, wondering if he had made the cut for the Rugby World Cup side.
"I remember it being a very tense time," he recalled. "We were told that if we hadn't received a phone call by 10 am the next morning then we were in the team. It was twenty past ten when my phone rang."
Of the team in South Africa, just three players – Liam Messam and Hosea Gear were the others – received that phone call. Crockett had been sucker-punched by selection decisions before but this was almost a knock-out blow. The team flew from Johannesburg to Sydney. The rest went on to Brisbane while Crockett, Messam and Gear boarded a flight for Auckland.
"I had no problem with them going with Woody, but I was gutted. I didn't really enjoy the tournament, although I was still very happy the boys won."
All Blacks Coach Steve Hansen was the Assistant to Sir Graham Henry in 2011. I asked him if after that he would have blamed Crockett for leaving, for giving up on his All Blacks aspirations and moving on.
"There would have been other players who would have done just that," he said. "It says plenty about the character of Wyatt Crockett that he went away, worked on the things he needed to, and returned a better player – a player fully ready for international duty."
Crockett would suck it up and get on with the job. He had endured tough times before. Remember that game in San Siro in 2009? Yeah, we'll get to that.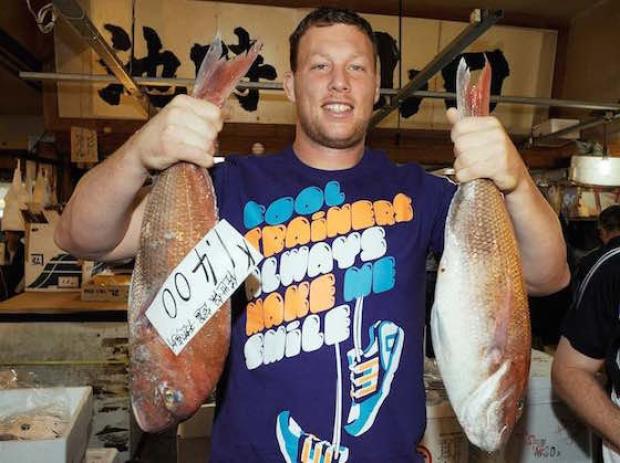 Crockett's earliest rugby memories were made at Collingwood Area School. Collingwood was once a town of such enormous potential that it was mooted as a possible New Zealand Capital. Today it is the gateway to the Farewell Spit, a tourist village that hunkers down for the winter and springs to life for the birdwatchers and the 4WD trekkers who descend in summer. This was the stamping ground of Crockett's former Crusaders coach Todd Blackadder.
"Every year Toddy would come by the camp selling raffle tickets for the local Collingwood rugby club and Mum would make me get a photo with him," Crockett remembers.
"I used to size up myself against him and think, 'fuck, he's not actually that much bigger than me!'
"What he represented was very important to me though. What he represented was the embodiment of a small town boy who had made it on the big stage."
Blackadder well remembers those days. He reckoned he would go to the camp ground on those raffle ticket trips looking for a free ice cream to cure the hangover from the prior evening's festivities. Crockett never gave him one.
"He's a good family man. He wouldn't have wanted to give away his mum and dad's stock," Blackadder said.
"He's a great story though, isn't he? I love thinking back to those days and thinking how much he has grown, how much inner drive he had, and how inspirational it is that a young lad from such a small place could go on to do very big things."
Who knows where a young man's drive comes from? Is it something that resides in the great and complex collection of chromosomes or does it coalesce inside the imagination – fuelled by dreams that are so big and so regular that the brain becomes fully engaged on the goal?
However it came to be, Crockett built his career on sheer determination. He had nothing but drive.
"I certainly wasn't marked for any kind of greatness," he said. "In fact I remember bawling my eyes out as mum and dad drove off after dropping me at boarding school."
He found the going tough in 'the big smoke'. It was a big step up from the Golden Bay-Motueka under 10s. He worked hard, channelling his passion for the game into practice. Some years later he was told the South Island under-16 team was interested in him as a prop. The coach took one look at him and said, "You're too tall for a prop." He put him in the trial as a flanker. Crockett was terrible and missed the cut.
He turned around and trained his ass off but in his seventh form year he ruptured his spleen and missed six months of school. He turned around and trained his ass off before venturing to Otago Boys High School to have another crack. He made the South Island Schools Team, then he missed out on the Otago under-18s. He returned home and trained his ass off.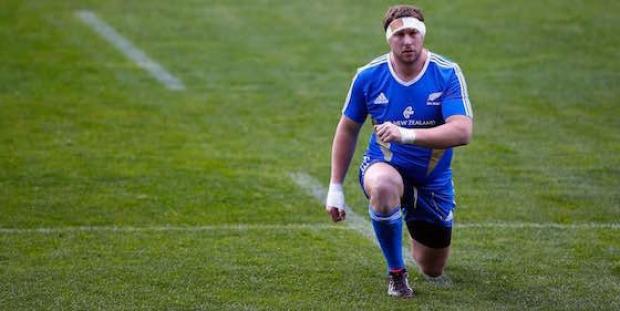 Counselled by his father, Crockett called the Canterbury Academy Coach, Rob Penney, who immediately offered him a place in Christchurch. He was about to return to Golden Bay for the summer when Penney told him he could trial for the New Zealand under-19 team. He turned around and trained his ass off. He made the team along with Piri Weepu, Jerome Kaino, Luke McAlister and John Afoa.
After that he was selected in the Canterbury Colts side. He had taken up a building apprenticeship, would train at six in the morning, work the day and return to train at night, five days a week. He also added a couple of scrummaging sessions a week with Mike Cron who would become an integral member of the All Blacks coaching staff and who remains his mentor to this day.
Even for Wyatt Crockett the workload was too much. The next year he missed out on the Colts so he did what he always did. He turned around and trained his ass off.
"I had the final trial of the year and I was adamant I was going to make it count," he said. "During the game I tore my medial ligament and I'll be honest, I thought that was the end of the world." It wasn't.
Instead, it was the beginning of Wyatt Crockett's professional career. The enforced layoff gave Crockett a chance to decompress, and Rob Penney a chance to think about where the front rower's next opportunity lay. In 2004, Penney called him and offered him a chance to join the Canterbury National Provincial Championship (NPC) team as a project player. A year later Robbie Deans picked him in the Crusaders Wider Training Group. A year after that, in 2006, he played his first game for the franchise, against the Highlanders, at AMI Stadium.
Crockett would become a fixture of the Crusaders, and higher honours would beckon. He made his Junior All Blacks debut a year later and was on the wrong side of the coin toss between him and Jamie Mackintosh for the 2008 All Blacks end of year tour.
"I wasn't ready to be an All Black," he said. "I wanted it badly enough but I wasn't big enough or strong enough and I was still identifying the weaknesses in my game. I had been invited to trainings on a couple of occasions but I felt like the waiter at the party – there, but not on the guest list."
His break came the following year with his selection for the 2009 June series against France and Italy. He debuted against the Italians in a scrappy win at AMI Stadium. Five months later he would face the Italians again, in San Siro. In that test
"It was a nightmare, really," he recalls. "I got penalised time and time again and was subbed off for Neemia Tialata. Then he got carded and I came back out, scrummaging without reprieve for reset after reset on our own goal line. The whistle finally blew, and I wouldn't play for the All Blacks again for two seasons."
Following that test Crockett became a beacon for the whistle. He would spend the next two years topping penalty counts in almost every competition he played. Worse, he would also have run-ins with critical fans in pubs and bars. He would cop a spray from strangers while walking around town.
It was a tough time, the toughest of his career.
"I though this could either finish me or I could go back to the drawing board and work harder and train harder. Just like I had done all those other times. I wasn't going to let that game or that axing or that criticism define me."
He wouldn't let the disappointment of 2011 define him either. He turned around and trained his ass off. In 2012 he was back in the All Blacks under new head coach Steve Hansen with a newfound sense of belonging. Since then the All Blacks have not lost a test in which Crockett has started. He has gone on to match up against the best tightheads in the world and rarely been beaten. Jannie du Plessis, the former Springbok tighthead prop, told me that he was the toughest opponent he had ever faced.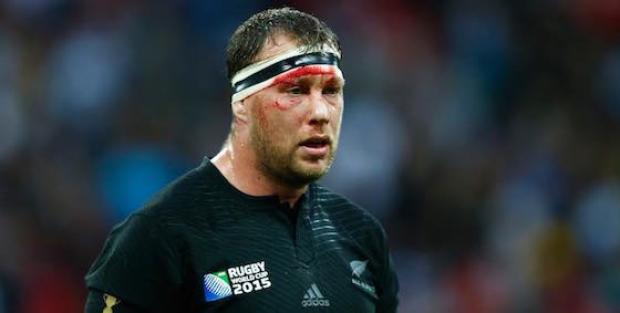 Crockett finished that beer on the bank at Pohara in 2015 and went back to work. He didn't win that Super Rugby title for his old mate Toddy that year, but he made the All Blacks Rugby World Cup team and returned to New Zealand with at least one of the titles he wanted, even if he had been injured and unable to take the field in the final. And yes, that pissed him off.
We shared another beer that following summer on the bank at Pohara and looked out at the water. We shared another one this summer, too. My boys played with his boys and they rode bikes around the camp ground while ice creams melted in their hands. On New Year's Day the beers stopped and the work began again. For Wyatt Crockett at least. He had a Super Rugby title to win for his new coach Scott Robertson.
And now here we are, in April, and we're standing on the beach at Pohara again. The day has dawned calm and grey and the mussel boats have their lights on as they chug across the Bay to load up at the marine farms. We're here to talk about this Friday and his record-setting 176th appearance for the Crusaders. He's already the most capped man in the history of the team he grew up idolising, now he will be the most capped man in the history of the competition.
"I think of the all the guys I have played with and against and I actually can't believe I am going to record this milestone," he said. "It doesn't sit very comfortably with me."
He talks about men like Nathan Sharpe and Stephen Moore, and his great friends Corey Flynn and Keven Mealamu, whose record he will surpass on Friday night. There is no false modesty. He speaks with admiration about all of them and many others, too. It really is as if he can't believe any of this ever happened to him.
It did happen to him, though, and it will likely keep happening. He's just built that way: determined, driven, focussed. Everyone says the same thing about him: he's the ultimate team man. His team is 6-0 to start the season. This whole business is probably a distraction he doesn't need. What he needs is to run down that tunnel on Friday and perform for his team.
"I want the young guys in the team to experience winning a title because when I was the young guy in the team it was expected that we go out there and do the business. That loss in the final in 2011 hurt so badly, for so many reasons outside rugby. So did the loss in the final in 2014. I don't want to be in the pack chasing."
Well, they're all chasing him now. Wyatt Crockett will make history of his own on Friday night in his 176th appearance for the Crusaders. Wyatt Crockett: the man who was raised in the land of one long goodbye, and whose tide has finally come in.
* Parts of this story first appeared in a feature titled "Wyatt Crockett Wants to be the One" written by Scotty Stevenson for the February 2015 issue of SKY Sport – The Magazine.
Watch every game of Super Rugby streaming live on rugbypass.com, home of the best online rugby coverage including news, highlights, previews & reviews, live scores, and more!
Comments
Join free and tell us what you really think!
Join Free