Jonathan Davies recalls a very different 'warm-up' to the 1987 Rugby World Cup
England and Wales arrive at Twickenham on Sunday for the opening Rugby World Cup warm-up game having followed intensive training programmes dictated by cutting edge sports science that has taken the squads to an altitude camp in Switzerland and debilitating heat sessions in Italy. It is all in stark contrast to the build-up to the inaugural Rugby World Cup in 1987 which saw Wales head to the Pembrokeshire seaside resort of Tenby and take part in a fun run.
Former league and union great Jonathan Davies was the Welsh outside half during that 1987 campaign in New Zealand and Australia that saw Wales beat England in the quarter-finals and finish third – still their best showing at the Rugby World Cup. The current Wales squad has been based at altitude in Switzerland and will head to Turkey for heat training while facing four warm-up international matches – two each against England and Ireland – to prepare for Japan.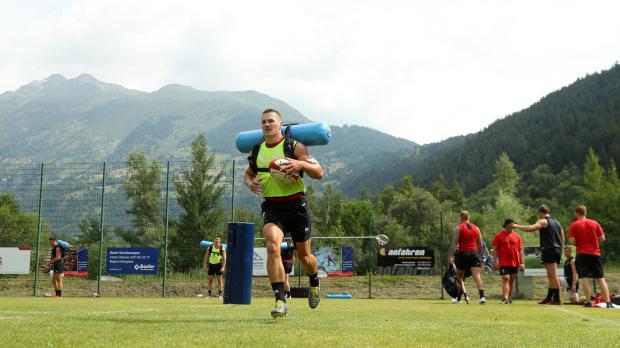 In 1987, the only match preparation for Davies and the Welsh squad was a controversial Five Nations tournament which featured the infamous Battle of Cardiff against England. The Welsh won 19-12 with the Rugby Football Union taking disciplinary action taken against captain Richard Hill, Gareth Chilcott, Graham Dawe and Wade Dooley, who had broken fellow policeman Phil Davies's cheekbone during the fighting.
Wales didn't play any warm up games before heading down under and Davies said: "Before the tournament we went to Tenby for a couple of nights and some training on the beach and that was about it.
"We started a two-mile fun run but there wasn't anything special in terms of training and just had a bit of fun before what we considered to be a bit of a mini-tour to New Zealand! We didn't have any warm-up games – we were amateurs!"
During the tournament the injury-ravaged Wales Cup squad called up two 19-year-olds who were playing for Northern Suburbs in Sydney – current Wasps director of rugby Dai Young and ex-Lions and Wales flanker Richard Webster. They had remarkable starts to their test careers with Young making his test debut in the quarter-final win over England while Webster's first Wales game was the third-place play-off victory against Australia.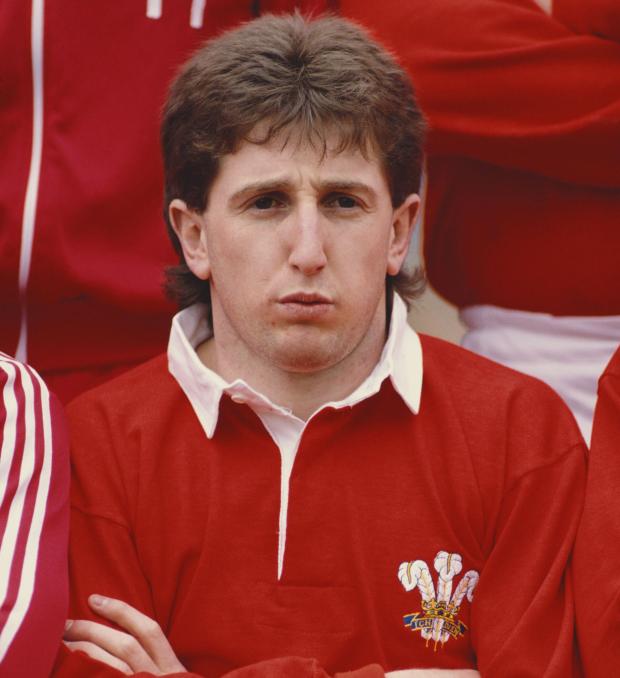 "We had injuries in the front row; Stuart Evans got injured, John Rawlins flew in and pulled his hamstring the first training session and flew back so Dai go the call along with Richard Webster because they were good players and already in Australia: " added Davies. "It was all very amateurish at the World Cup but we wanted to win it and to get to Brisbane we had to fly in from Invercargill."
Before the 1987 quarter-final in Brisbane, England, unlike the Welsh, headed to the Hamilton Island resort where they enjoyed swimming, sunbathing, para-gliding and water-skiing. The quarter-final contest was a damp squib compared to that violent 80 minutes in Cardiff and a key moment highlighted the difference between the amateur game played in 1987 and the current professional one.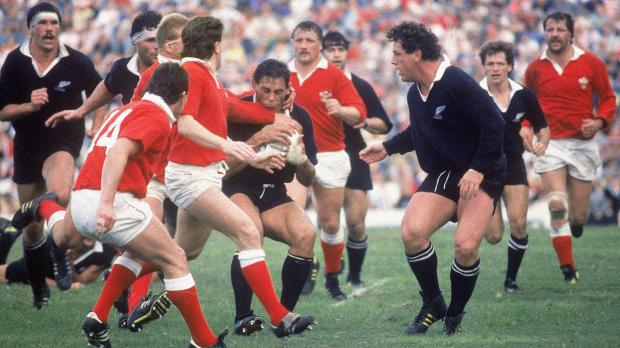 England lost prop Paul Rendall to injury and faced a scrum five metres from their line and second row Nigel Redman moved up to tighthead prop as England didn't have time to get replacement Chilcott onto the pitch. Gary Pearce switched from tighthead to loose where Rendall played. Not surprisingly, Redman was marched back in the scrum, the ball squirted out and flanker Gareth Roberts scored a crucial first of three Welsh tries as they won 16-3, earning the dubious reward of a semi-final against eventual champions New Zealand. "What happened with the injury to Rendall would never happen these days and it was their fault – the should have waited to have the scrum:" explained Davies. " We wanted to play open rugby but it was the worst game ever."
That win led to 46-9 beating, lock Huw Richards was sent off while All Black legend Buck Shelford stayed on the pitch despite knocking out the Welsh player. Wales would redeem themselves with a remarkable touchline Paul Thorburn conversion earning a third-place finish with a 22-21 win over 14 man Australia in Rotorua.
It remains one of Davies's favourite memories from his career and thanks to the calmer conditions, Wales were able to play their style of rugby. Does Davies envy the current players and their intensive preparations? "Back in 1987 you never envisaged what the World Cup would become with even warm-up games for the tournament selling out. The players are professionals on big salaries and the whole tournament has grown and I would love to experience that now. Yes, the preparation is different and good luck to all those lucky enough to be at the Cup."
Watch:
JR East offers the JR EAST PASS for international visitors to Japan which allows sightseers to travel around freely for 5 days on the JR East Japan network.
Comments
Join free and tell us what you really think!
Join Free