'In walks this really big guy... dude, that's Jerry Collins'
American Eagles winger Ryan Matyas has recalled how a chance meeting in a clubhouse in Wales lead to an unlikely friendship with the late All Blacks legend Jerry Collins.
Collins tragically died in a car crash in 2015 in France, but not before the back-rower left an indelible mark on the game. The Samoan-born Kiwi was known as a ferocious player on the pitch, but a gentleman off it, whose huge heart and lovable nature impacted even more people off the field than on it.
Speaking in an interview in a new RugbyPass documentary – Where Eagles Dream – Matyas tells how he bumped into the All Blacks superstar in Wales back in 2011, as a young man aspiring to play professional rugby.
"It's started back in 2011. I graduated high school and I moved to the UK and I was playing for the Tondu Rugby Club which is in Aberkenfig in Wales. I was sitting at the club and in walks this really big guy. He's wearing a beanie and you could just tell, this was a big dude.
"A guy who became a really good friend of mine was sitting next to me and goes 'Dude, that's Jerry Collins." I was like 'No way, I had a poster of that guy in my room when I was growing up as a kid.
"He comes back inside and my buddy goes 'Hey, JC. I want to introduce you to somebody.' He of course comes over, he's super nice, and [my friend] goes 'What up's, this is Ryan from the US.'
"I'm like 'Hey man, nice to meet you' and he's like 'whats up'.
Matyas explained to 48-cap New Zealand great that he was from the United States and playing rugby in Wales in the hope of one day returning to America to play for the Eagles.
"As the night goes on and shakes out, a bunch of guys are heading into town, and I was like 'See you guys later.
"He's like 'Hey, uso, you gonna come?' I was like 'Nah, I was just gonna stay' and he's like 'Nah. You're coming' and I'm like 'Ah, okay'. And that pretty much kicked it off.'
Collins, who was playing for the Ospreys in the then PRO12 at the time, took the young American under his wing.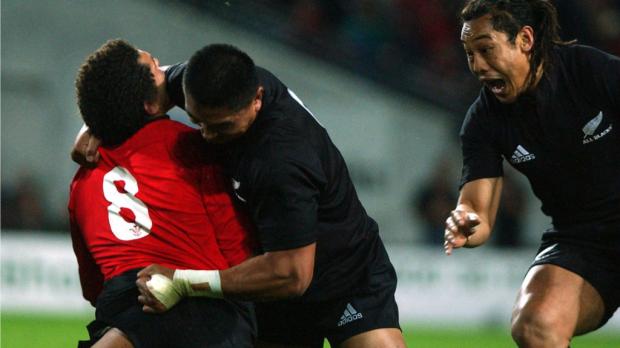 "I moved over to the UK just to play rugby and I had my only little training schedule. And this was a Sunday and he was 'What you up to?' and then said 'Be outside in 30 minutes'.
"I would like just hang out with him on Wednesdays and Sundays, because they were our off days."
Matyas would also bear witness to Collins' famous generosity.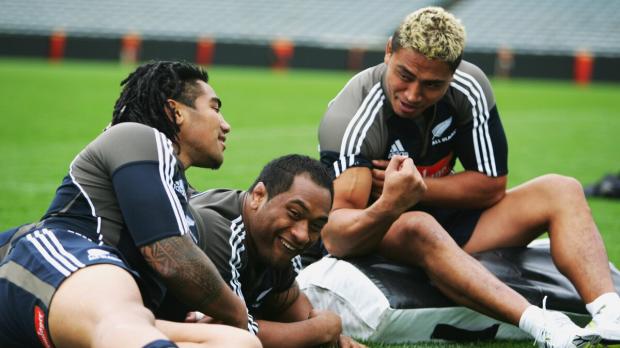 "One time we were leaving a restaurant and there was a homeless guy on the ground with no shoes and Jerry literally takes off his shirt, takes off his socks, takes off his shoes, takes off his beanie, opens up his wallet, hands him a wad of cash and his jacket and everything.
"I'd never seen that before. I'd seen someone gives a homeless person five bucks, I'd seen someone buy someone a meal, but not literally the shirt off their back."
Matyas ultimately travelled to New Zealand to play for North Harbour, and he was there when the news of Collins' untimely death hit the country in 2015.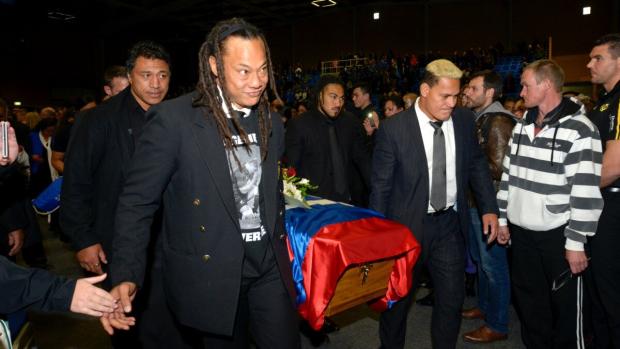 "It was tough. The day that he passed away, the country was pretty silent, it was pretty quiet because Jerry was such a larger-than-life figure for the people that knew about him and cared about him.
"There was a lot of people that he did a lot for in their lives."
Collins predicted that Matyas would one day play for the US Eagles and face the mighty All Blacks.
"He'd say, you'll get there man, you'll play for the Eagles, you'll get to play against the All Blacks."
And play against All Blacks for the Eagles was something Matyas would indeed achieve in 2021, even scoring a memorable try in their corner against the southern hemisphere heavyweights.
"It's a very special occasion. Even more so with my connection from living in New Zealand and with Jerry."
The documentary on America's recent game with the All Blacks – 'Where Eagles Dream' – is coming soon to RugbyPass…
Comments
Join free and tell us what you really think!
Join Free