'I have never seen a player like Nemani... he can do things that I have not seen before'
Leicester boss Steve Borthwick has paid tribute to the unique talent of Fijian giant Nemani Nadolo, who has powered over for six Premiership tries this season to prove he is far from a spent force.
Nadolo had a difficult time at Montpellier before Leicester offered him the chance to move to the Midlands and the 34-year-old remains one of the most destructive ball carriers in world rugby, using his 6ft 5ins, 22 stone frame to keep the Tigers clear at the top of the table. Nadolo delivered a try scoring double in the 35-20 win over Northampton to the delight of the home fans, having come back from a recent injury.
Nadolo has plenty of rugby miles on the clock having played for the Crusaders in New Zealand, Green Rockets in Japan, Exeter Chiefs, Bourgoin in France and the NSW Waratahs in Australia before his switch to Montpelier in a career that has produced more than 1,000 points in domestic and international rugby.
Far from winding down, Borthwick has revealed the extent of Nadolo's commitment to the Leicester cause since arriving in the summer of 2020 as they prepare to face Bath at the Recreation Ground, saying: "As I was finishing my own training in the gym this morning at around 7am, I sensed someone looming over me and who had walked in but Nemani who said " Hey coach" and climbed onto an exercise bike and got on with what he needs to do to be ready for the rest of the training day.
"It shows why he is able to perform the way he can and those are the things nobody sees him doing over and above the normal training. He trains really well and has his own gym in his house and takes his body incredibly seriously.
"I have never seen a player like Nemani and he can do things that I have not seen before like his ability to catch a ball one handed. He is 6ft 5ins but is brilliant at jackalling the ball on the floor and how someone of that height does that I just don't know. We are very privileged and grateful to work with him.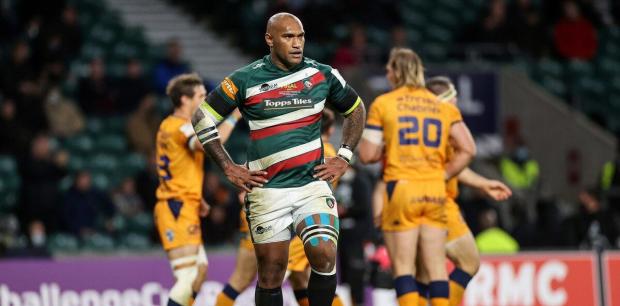 "When we spoke to Nemani there was incredible positivity about what he wanted to achieve. Players have different experiences playing in France and Aled Walters (Head of Physical Performance) has worked very closely with him along with our medical team and Nemani has shown great perseverance and discipline and has seen the rewards on the pitch."
A key to Nadolo's fitness is the work of Walters, who was an important member of the 2019 World Cup winning Springboks management as their Head of Athletic Performance and Borthwick said: " I have incredible trust in Aled to prepare the players physically. Aled is one of the best coaches I have ever seen with his ability to get more out of people. He is fantastic and has a different way of doing things and has opened my eyes. It is a great learning experience for me."
Comments
Join free and tell us what you really think!
Join Free