Exclusive: 'It just feels to me like I'm going up to the next step' - Ollie Lawrence
A cold Monday night at Sixways and a delightful inside ball from the 12 brought a cheer of appreciation from the fans who had come out to see Worcester Cavaliers take on Sale Jets in the Premiership Shield.
A couple of phases later and Matt Cox was barrelling his way over the try-line.
Later in the half, that same centre stepped to the outside of his man, beat him for pace and then an underarm offload found its way to Cox, who had a simple two-on-one to put Perry Humphreys away for another Worcester score.
It was an offensive spark plug of a performance, before being substituted at half-time, and it should come as no surprise to anyone who has been watching this particular centre play over the last couple of years.
At just 19 years of age, Ollie Lawrence has already achieved a fair amount for a player who has only been out of school for a few months.
Last season, in his final year at Bromsgrove, Lawrence played in the A League with the Cavaliers, made his senior debut in the Anglo-Welsh Cup, received an early call-up to play for the England U20s and even earned an opportunity to train with the senior England team, mirroring the achievement made by Marcus Smith a year earlier, as well as Lawrence's former England U18s teammate and friend, Cam Redpath.
"It was good. It gave me a taste of what it was going to be like this season. I feel like the experience I had with the 20s and with the England first team, it just opened things up a bit more for me. You kind of realise, going from playing with boys to men, it's a whole different ball-game."
"Even with Worcester, I played in the Anglo-Welsh Cup and it was one of the best experiences in my career. Them trusting me to go out there and play. I managed to get a try against Sale and it was a hell of a game and a memory that will stay with me for a long time."
Playing 2nd XV fixtures and age-grade rugby is one thing, but to make the leap to the England senior team, even if it was just for a training camp, capped a remarkable season for Lawrence.
"When I first got told by Chim [Gale], my academy manager, I was a bit shocked, to be fair. I didn't really expect it. Training with the England first team is something I've always dreamed of doing but to actually have it right there in front me, yeah, it was slightly daunting."
"At the same time, I looked at it as a positive. It showed and reflected that I'd come a long way in that season and clearly Eddie [Jones] wanted to see me, to see what I was like, and to give me that experience of being around top-class players."
"Training with the players that I have grown up watching as a kid was incredible and seeing the amount of work they do on and off the field was admirable. It just kind of made me want to push myself even further and take on as much as I could of what they told me in that camp, from Gussy [Paul Gustard] on my defensive work to Eddie on my overall game."
"It really was an eye-opener, but it also kind of put things into perspective that it's not too far away, I've just got to keep pushing and hopefully one day I'll get my chance."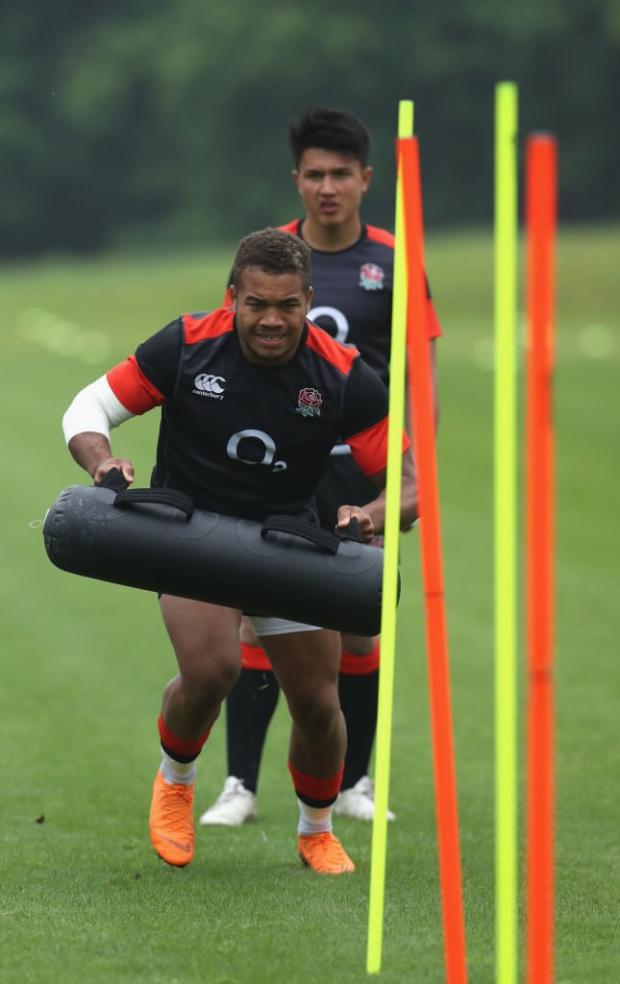 As anyone who has been following England in recent years knows, Jones loves the face-to-face time that these training camps afford him with players and they allow him the opportunity to clearly emphasise to players on the bubble of the England squad, what it is they need to do to get themselves involved in the squad on a consistent basis.
"There wasn't too much specifically. He wanted me to focus on my defensive work at 13, including my communication on the pitch, as well as being a connection between the inside and the outside players."
"I think he just wants me to make better reads at 13 and feel more comfortable, because it's alright being able to defend there, but being comfortable there is a completely different proposition. That was the main area of my game he wanted me to improve."
It would only be normal for a player at the age of 18 to have their head turned by the scale of what they were achieving, but it wasn't so for Lawrence. The media coverage, being talked up as a future England international and the numerous highlight reels doing the rounds, they were all just catalysts for the young centre to keep on pushing his game to the next level.
"When I was younger, when the first stuff came out, I did feel like there was a bit of pressure on my back. After playing 16s and having a good game, it kind of put pressure on me then, because people were seeing these videos and thinking "oh, he's going to be like this every single game" and at that age, I did feel the burden."
"But now, I just see it as a compliment. I think if people want to put up highlight reels and articles about me, then that's a hell of an achievement for me and the only way I can pay respect to that is to show people that I can consistently perform like that. It fuels me to keep playing to that standard and raising my standards as I improve. It's a massive compliment."
It wasn't all plain sailing last season, however, with Lawrence's omission from England's U20s squad this past summer one of the bigger talking points at the competition. Having played more senior club rugby than a number of the players selected and taken his chances well when part of the group during the U20 Six Nations, it was a definite bump in the road for the centre.
"It was hard to take at first. I didn't quite understand it, but after speaking to Steve [Bates] about it, he explained that they wanted to go with a specific 10-12 combination. They wanted two 10s on the pitch at 10 and 12 and then they were only going to carry a couple of centres."
"I understand the decision. It was hard to take, obviously, because I'd had a good season and wanted to finish it off with the 20s at the Championship, but it just made me want to improve even more and I've got to do a lot more this year to make sure I'm on that plane over to the next Championship."
That hunger to improve and prove himself has clearly worked out well for Lawrence, who has made the transition from the juniors, where rugby is a passion and part-time occupation, to the seniors, where it is a career and there is accountability each and every day, relatively seamlessly.
"It literally just feels to me like I'm going up to the next step. Preseason was difficult, it was tough and it was a real grind, but I don't feel like I'm out of place and I think that's the most important part for me."
"I was coming into the season thinking that it was going to be really hard pushing to play ahead of these boys, but I've spoken to the coach, I've spoken to Solly [Alan Solomons] and he respects where I'm coming from in terms of wanting to play, but I've just got to be patient and wait for the right time."
"Men's rugby is hard, but I think the physical side of it is not always just down to your size, you've got to have the mentality to put your head in places you don't really want to put it!"
"It's about a mindset, really, and I think, with the help of the coaches at the club, I'm not that far off."
Solomons is clearly not the only influence on Lawrence, though, and the former Bromsgrove pupil is quick to acknowledge his teammates, as well as his former coaches, for the roles they have played in getting him to where he is now.
"A lot of the senior players have really helped me. Ryan Mills, Ben Te'o, Francois Venter, Ashley Beck and Wynand [Olivier] have all helped me especially with the on and off the field stuff. Just sitting down after training and going through small defensive clips and them giving me little drills to do after."
"Also, coaches such as Gordon Ross, who worked with me through the academy, and my Bromsgrove coach, Tony Windo. I think Windo understood where I was going with my rugby and helped put me in the right direction. He didn't have to coach me too much, but he showed me how to be a better rugby player off the field, such as how to captain a team, how to lead and how to work with people who might not necessarily be as experienced as you are. I think all of those things helped me to get to where I am now."
Where he is now, is on the bench for Worcester in a senior Premiership match, potentially about to make his debut in the competition. Solomons has included Lawrence in his 23 to play Exeter Chiefs on Saturday, which is yet another milestone in a whirlwind 12 months for the 19-year-old.
So, what is it that Worcester and Premiership fans should expect from Lawrence moving forward? What, potentially, could he offer from the bench at Sandy Park?
"My ball-carrying is probably my strongest attribute, that's what I go to. Just carry the ball and try to use my feet and hands to separate from defenders and then put people through gaps."
"My biggest area to improve on is probably my decision-making with the ball. Just sitting a bit deeper in attack and giving myself a bit more time to look up and see what's going on. I think sometimes I'm a bit eager to get into the gaps and get on the ball, but if I'm a bit more patient, it'll come to me."
What strikes you watching Lawrence play is the versatility to his skill set and that he could do a more than adequate job at either inside or outside centre. It's something which will be talked about more in the years to come, especially if he continues to catch England's eye, but as of right now, he does have a preference.
"I like to play 13, it's where I feel most comfortable right now. It gives me a bit more freedom to attack, but then again, I played 12 on Monday night and I enjoyed it."
"They're two completely different positions, in my opinion. I think 12 is more of a distributor position, whereas 13 is more about finishing off and linking up with the outside backs, who get all the tries!"
Continue reading below…
Watch: Eddie Jones explains his reasons for omitting Danny Cipriani.
England U20s caps? Check.
Tries in the Premiership Shield and Cup competitions as a schoolboy? Check.
Senior England training camp call-up whilst still taking his A Levels? Check.
Premiership debut less than a week after celebrating his 19th birthday? Pending.
The achievements are being ticked off in short order, but what are the goals that Lawrence is setting himself for his debut season as a professional rugby player?
"My target is to play Premiership rugby this season, to play European rugby this season and to play all the Premiership Cup games this season. I also want to be involved with the 20s in the Six Nations and hopefully go to the Championship in the summer."
"I'm not too focused at the moment on the senior team [England]. If I do all those other targets that I've got, then that is something that will come along by itself, but in a Rugby World Cup year, I don't think it's realistic for me to use that as a target. Playing for the club and doing as well I can there, putting my foot down and showing that I'm capable of playing in that 13 position, that's the main thing for me."
He won't be alone, either, with a number of Worcester's other homegrown products pushing through.
Ted Hill made his Premiership debut last week with a noteworthy performance off the bench, grabbing two tries and helping Worcester to a memorable victory over Leicester at Welford Road, and it could well mark the beginning of a switch in focus from Worcester, whose academy has been churning away nicely in the last few years.
"Ted and Will Butler are two players who are so good. The three of us are hopefully going to push Worcester now and when they give us our chances to play, it'll really commend the academy set-up we have."
"Ted and Will have had to be so patient, as they weren't playing young players last season and the season before that, but this season I think they'll really kick on and do well."
After agonisingly close losses to Wasps and Sale Sharks, the win over Leicester has Worcester on a high. Raiding Fortress Sandy Park is an altogether different proposition, but win or lose, you feel the club has a clear direction now, something which has not always been true in the past.
With Lawrence, Hill and Butler, among others, emerging from the pathway, there is a brighter future in Worcester than many might have predicted a few years ago. Avoiding relegation may be the primary goal in the West Midlands, but foundations are being laid for future success and there could well be a glimpse of a player they hope can be a cornerstone piece on Saturday.
In other news: Todd Blackadder earns one-year extension at Bath.
Comments
Join free and tell us what you really think!
Join Free