What to do with the Southern Kings
It was a terribly long way for Southern Kings to come for a terrible Saturday night beating. There they were in Edinburgh, 6,500 miles from home in Port Elizabeth when they self-sabotaged their hopes of scalping a fifth PRO14 win in 50 attempts since admission to the five-nation, cross-hemisphere tournament in 2017. 
Bad enough having starting tighthead Pieter Scholtz red-carded for a reckless forearm smash to John Barclay's head after just 13 minutes. Forty-one minutes later, they were reduced to 13 players when an injury to replacement tighthead De-Jay Terblanche led to uncontested scrums and the forfeit of another man. 
This malaise was then further compounded limping down the finishing straight, a yellow card for Aston Fortuin reducing them to just a dozen players. They leaked like a sieve, four tries in ten minutes after the penalty try sin-binning. It left them hammered 61-13 and facing a grim trek back to South Africa after a forgettable one-game trip five weeks after they had last come flown north for another fruitless one-game trip.
It's an arduous business trying to eradicated bad habits long associated with the still-fledgeling franchise. Just eleven wins were registered in 48 Super Rugby outings before exclusion from that southern hemisphere competition, a 22.9 per cent win rate that has now fallen to a meagre eight per cent during three seasons mixing it with the Scots, the Irish, the Welsh and the Italians. 
You won't find interim boss Robbi Kempson getting too down with the gloomy situation, though. The former Springboks prop has fought his own demons over the years, coming through the other side after a lengthy battle with his mental health.
(Continue reading below…)
RugbyPass travelled to Brecon to see how life after rugby is treating Andy Powell
That trauma is ironically proving a useful experience in his current gig. Kings look condemned for another campaign ending with them once more propping up their PRO14 conference. But under Kempson's baton, they are taking background steps not usually associated with South African rugby – the use of psychologists in the hope a better state of mind can help eradicate their culture of losing.  
"It's very difficult to change that mindset," he told RugbyPass, reflecting on a season where the sole highlight was winning at Ospreys, the bottom team in league's other conference. "The only real way you can do it is by changing the culture and unfortunately a number of our older players have had difficulty changing their mindset as to what we want to achieve.
"Their mindsets towards the competition, the structure of the competition and how difficult it is, and also the conditions we are playing in. We are a South African side based in South Africa playing in a European competition. It's actually easier with the younger players because they haven't been in that situation (of always losing). Getting that first away win against the Ospreys was vital for us as regards to what we are trying to achieve.
A tough night and disappointing result in the end for our first outing of the year.
Well done to Edinburgh Rugby on the win. #EDIvKIN pic.twitter.com/cLhskATBdR

— Isuzu Southern Kings (@SouthernKingsSA) January 4, 2020
"We have done a lot with a variety of psychologists in South Africa which is not really a done thing from a culture perspective. We had numerous people come in, Olympic swimmer Dr Kirsten van Heerden was probably the best of them. 
"They came in and chatted about the processes you need to follow to get that winning culture and winning mindset. We have a covered those bases and done it a subtly different way to what most South African sides would be used to."
Becoming successful matters a great deal. Kempson honed his reputation as a no-nonsense late 1990s front row in Nick Mallett's Springboks and then at Alan Solomons' Ulster, but achieving something tangible from the sidelines with the Kings is dear to the 45-year-old's heart.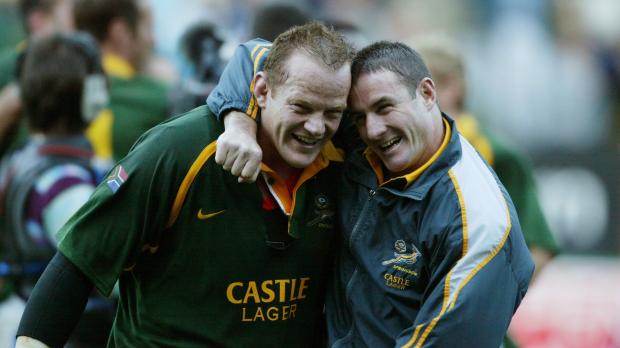 "I'm born and bred from the Eastern Cape region, so I know the culture and the different cultures very well. I grew up there. Also had a very successful academy that was run through SA Rugby and has produced two Springboks. 
"There always seemed to be a void in where the Kings could have gone. My experience with Ulster comes into this. The most amazing experience of my life was when I played for Ulster in this competition and I would like to see a South African side produce a similar sort of competitiveness. It's almost a personal thing. We can take Southern Kings forward."
Just now, the Eastern Cape region is riding the crest of a wave due to World Cup-winning skipper Siya Kolisi hailing from the impoverished Zwide township outside Port Elizabeth. Kempson hopes the feel-good, rags to riches narrative won't begin and end with the all-conquering Test skipper who was once part of the Eastern Province's youths set-up.
'After the Whistle': this piece of great journalism by @herebutnotreall on mental health in elite athletes just won her the SA Digital Sports Writer of the Year. Congratulations, and thank you again @RobbiKempson @phumz_24 @leepersse @ladysans for sharing your stories with us pic.twitter.com/fiv1jgMrcR

— kirsten van heerden (@kirstvanh) November 28, 2018
"The Eastern Cape is very large, probably the size of Wales. But socially and economically it's quite a poor province, so to get players like Siya Kolisi coming from rags to riches gives younger generations something that can inspire.
"A number of our (Kings) players have the same experience. Our captain (Howard Mnisi) doesn't come from an affluent background and a number of our other players don't either. Something brought up in our team before their win in Swansea was what would they like to be seen to do for the Eastern Cape and their youngsters? That was to inspire them to better themselves, get themselves into a better position. Better rugby, better whatever it might be.
"The love for the game is massive. Kids can see a Siya Kolisi lift the World Cup, can see a Howard Mnisi do very well in the PRO14. That makes a difference to them. Even if they might not aspire to be Springboks, it does help with social development in other areas because they are from such disadvantaged backgrounds. The main aim which these players are trying to do is to be Kings in the community and be inspiring that youth.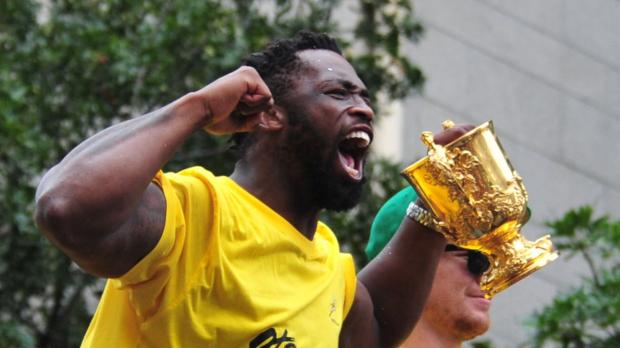 "Breyton Paulse came through about that time (when I was playing for South Africa) and he was also pretty much a rags to riches. The extent that Siya has done it and what he has done for the country, I don't think anyone would have foreseen something as big as what he has managed. 
"But I think there will be more. Lizo Gqoboka, who got his first Springbok cap just before the World Cup, he is from even more difficult circumstances, a little village in the middle of nowhere in the Eastern Cape. More and more of those stories will come out as these players are given opportunities."
It was March last year when a consortium of black Eastern Cape businessmen acquired a controlling interest in the Kings franchise. They go by the bizarre title of The Greatest Rugby Company in the Whole Wide World, but Kempson believes they have bought in for the right reasons and have ambitious long-term plans.
"The Greatest Rugby Company in the Whole Wide World? I can't explain the name," he shrugged. "They don't mention it often, to be honest. They mention more the fact they are very orientated around the Eastern Cape and want the entire region to benefit from what we are trying to achieve in rugby.
"Ultimately within a three-year situation we want to be getting into the playoffs, we want to be winning. At this present time, we are not expected to win but certainly the manner we play has to be reflective of what our general public would like to see. We don't have internationals in our team as yet but with the younger group we are building with, I can definitely see one or two guys who can pop up in future Springbok squads. 
"Without a question, the new owners have changed things completely. We brought in 29 new players, younger players, on long-term contracts so there is going to be more longevity across the squad… the new owners understand pre-season prep was behind this season, but they have brought in Swys de Bruin to assist that process. He has experience with the Springboks, has been with the Lions, so they are willing to give us the resources which can only hold us in good stead for a long-term venture as opposed to a short term."
'Behind the rugby player there is a person and they go through all the different challenges outside of rugby as well'
– Ruan Pienaar tells @heagneyl about how a family tragedy brought him home to Bloemfontein and into @CheetahsRugby https://t.co/nkh8W21WSN

— RugbyPass (@RugbyPass) December 4, 2019
Kempson even hopes the project will eventually mean participation in the European Challenge Cup, something to keep them busy at this time of year rather than kick their heels while their PRO14 rivals tackle the French and English teams. 
"The preference would be to get in the Challenge Cup and see if we are good enough to get into the Champions Cup from there. It's really up to PRO14 and I guess the organisers of the Champions Cup, but it is certainly something we would like to be involved in. Hopefully, we can bring performances up to such an extent that they are going yes, we are good enough to compete."
WATCH: The RugbyPass Rugby Explorer series meets local rugby communities in Port Elizabeth and Cape Town
Comments
Join free and tell us what you really think!
Join Free