Analysis: Anton Lienert-Brown vs Rob Thompson was an epic battle in Suva
The Chiefs against the Highlanders in Suva provided an intriguing individual contest even though the game was lopsided. The current All Blacks centre against a future All Blacks centre.
Both players carried an astounding 17 times in the game, getting plenty of quality ball. Thompson put in a phenomenal display of line running showing game-breaking talent while Lienert-Brown had exquisite touches that opened up the Highlanders with his passing game.
Thompson has had a breakout year this season, stepping into Fekitoa's vacant 13 jersey and making it his own. He can cover both midfield positions, has the best kicking game of any New Zealand centre and has been on a tear for the Highlanders in just about every game.
The Chiefs own centre, one well and truly in All Blacks fold, Anton Lienert-Brown has also quietly been going about business in an overachieving Chiefs side. He has put on an extra couple of kilograms this year and continues to elevate his game. The extra size is helping him deal with contact areas and his awareness and quick hands have always been special. Less is more, quality touches and decisions are staples in his game.
The Chiefs took the early advantage when Thompson's false read on the tip runner allowed Lienert-Brown to get free on the outside. Messam took the backdoor option leaving Thompson with the wrong assignment.
Faced with Tevita Li jamming in, Lienert-Brown drops a one-hand offload in the tackle to free up fullback Alaimalo for a swerving 45-metre try.
As he does so often, Lienert-Brown sums up the situation perfectly in a split second. He anticipates the defence closing in and plays with the situation, rather than fighting against it by trying to bump off defenders or break the tackle. He succumbs to the defence in the natural flow of movement but knows if he's getting sandwiched someone else is going to open.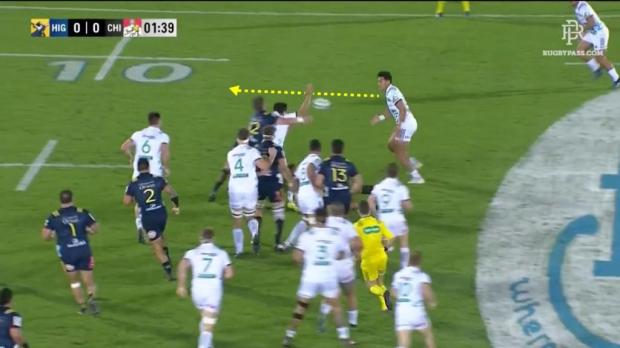 Thompson's slow start continued when he missed a golden opportunity to strike back with this overlap. He makes a great read identifying the space over the top as Chiefs winger Wainui (11) shows interest in Waisake Naholo (14). The long pass is difficult to execute against the cyclonic Fijian wind and hits the turf at Dixon's feet (6), resulting in a knock-on.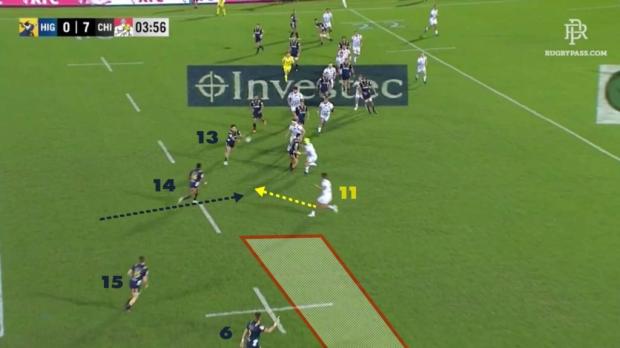 After a long period of Chiefs domination, this time it's Thompson's turn to expose Lienert-Brown by hitting a gap on a beautifully timed 'faceball' from Sopoaga.
The Chiefs fail to get their spacing right after losing their own lineout, with heavy numbers condensed close to the ruck. Lienert-Brown is in an isolated position marking both Highlanders midfielders. Sopoaga (10) has an inside runner but with the backline set he has an opportunity to move the ball quickly wide.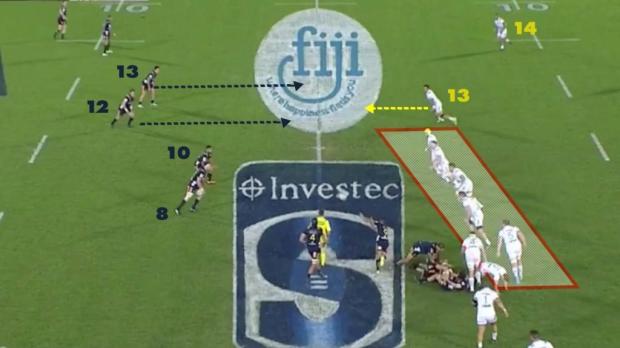 Lienert-Brown opts to shut down the closest threat in Walden (12), which opens up the lane for Thompson to slip through. Chiefs winger Pulu (14) doesn't stay connected, leaving a canyon-sized hole in the line. Sopoaga makes the right call and hits Thompson on the chest for a line break.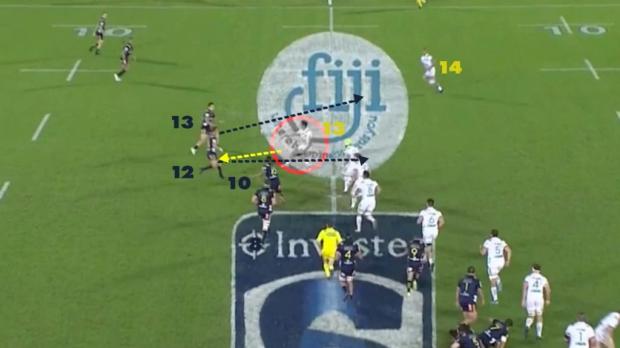 The scoring opportunity is missed as the link pass from Thompson goes astray, a bit high and behind Tevita Li into touch.
Lienert-Brown's excellent night continues, benefitting from McKenzie's play in the 32nd minute. He hits a gap created by the first five at the last second, before finding wing Sean Wainui on the outside. However, Rob Thompson is there to make a last-ditch copybook tackle to save the try.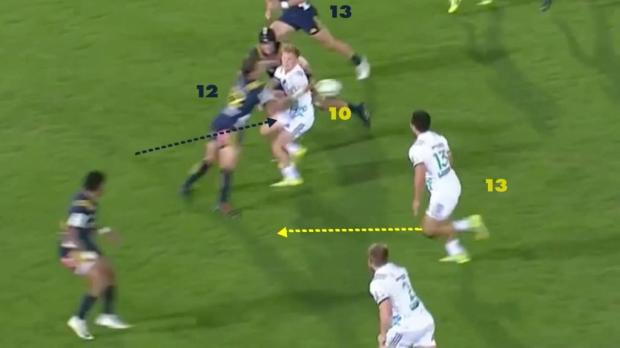 On the stroke of halftime, fullback Alaimalo breaks the line against the run of play and finds Lienert-Brown out wide. He makes the smart play by feeding Pulu early for his second try assist of the night, who runs unobstructed around beneath the posts.
Facing a 42-0 deficit in the second half, Thompson continues to probe and offer the Highlanders something despite the game being lost. Facing rush defence, he uses footwork to avoid head-on contact and offloads in the tackle of two defenders to keep the play alive. Two passes later Walden runs through a gaping hole to score their first try.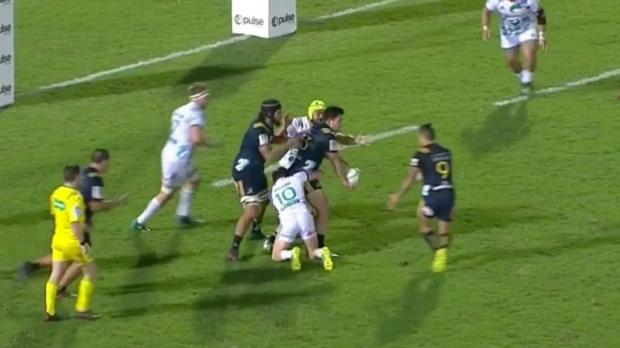 A trademark of both centres is the way they use elusive footwork, which makes up for a lack of size. They are just as effective in contact as 'crash and bash' power midfielders by finding space with agility, working to weak shoulders to avoid negative loss plays and compromising positions. In the face of pressure, they often salvage a bad situation.
As the Highlanders finally find some momentum, quick wide ball to Thompson out the back results in the centre breaking through and scoring a brilliant individual try. Unfortunately, it is called back for a knock-on on the previous phase, robbing him of the moment.
In this movement, we see the chemistry between Sopoaga and Thompson. Following a long break or momentum play down the sideline, Sopoaga often likes to shift wide to the opposite touchline immediately using his centre out the back, which is quite common in Highlanders play.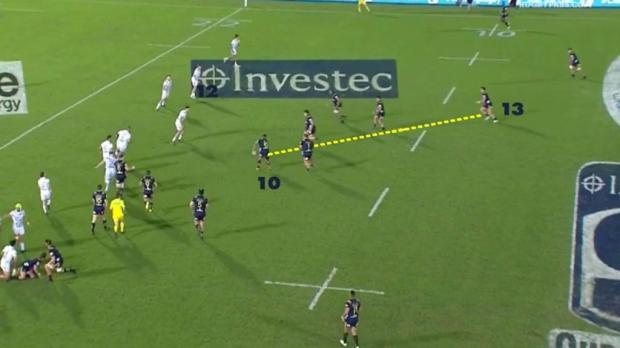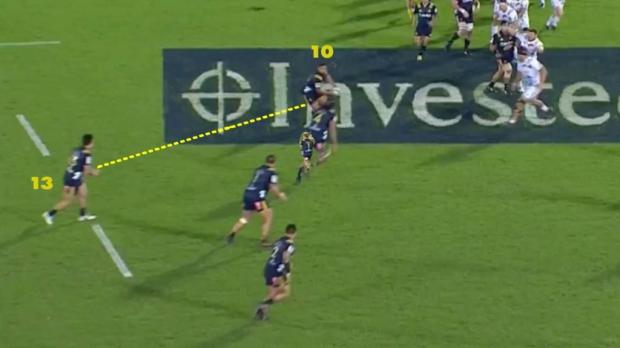 With the strength of Aaron Smith and Lima Sopoaga's passing, the Highlanders can cut through, or bypass their two pods to attack wide within two passes to go from touchline to touchline. Thompson is often presented with early ball to size up the situation on the edge.
The two also compliment each other in other ways, with Thompson's line-running a real asset off Sopoaga. There were a couple of probes by Sopoaga that almost paid off for the Highlanders.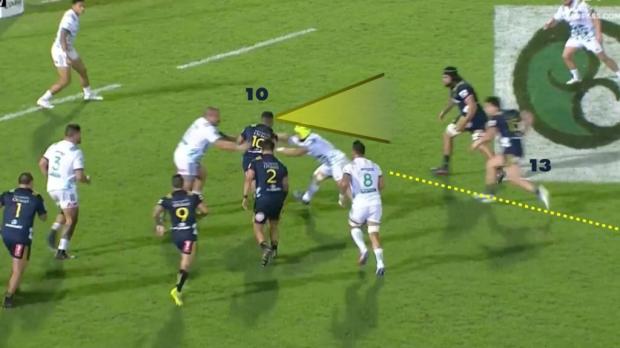 Thompson runs a delayed line off Sopoaga and hits the pop pass on the burst, only to be tackled by Alaimalo short of the line. Another opportunity presents shortly after but Sopoaga can't get the ball away.
Lienert-Brown made the most of his opportunities, executing his passes with precision whilst Thompson left a couple of tough long balls begging. He had the edge when comparing the running games of the two, clocking 124 running metres with six line breaks compared to Lienert-Brown's 61 run metres with four line breaks.
New Zealand's next generation centre stocks are full of quality, with Jack Goodhue, Anthon Lienert-Brown and Rob Thompson all prototype playmakers with excellent ball skills. Rieko Ioane and Vince Aso are power running options with Matt Proctor a defensive trump card. Goodhue and Lienert-Brown have the current blessings of the selectors but Thompson cannot be far behind if he continues to build on this breakout year. He is sure to feature in the black jersey post-2019 if the 26-year-old stays around.
Both players had a massive night out in Fiji, but Lienart-Brown took the ultimate prize with the team win. It was one of many more battles to come between the conference rivals that could have higher stakes in the future.
In other news:
Comments
Join free and tell us what you really think!
Join Free