Alex Shaw's team of the tournament from the 2019 Under-20 World Championship
The 2019 World Rugby Under-20s Championship promised pre-tournament to be one of the most competitive we have seen and it has duly delivered over the last three weeks.
From perennial powerhouses England and New Zealand duking it out in the fifth to eighth bracket and Fiji sensationally dumping tier one side Scotland into next season's Under-20 Trophy, to France lifting their second title and Australia playing some of the best rugby we have seen from them at this level, the tournament was compelling from beginning to end.
We have rounded up an XV of the tournament littered with stars of the future, as well as identifying a few potential bolters for the Rugby World Cup later this year.
Ignacio Mendy (Argentina)
Perhaps the strongest position on show at the Championship, the 15 jerseys were heavily filled with impressive performers. Fiji's Osea Waqa was superb throughout the tournament and finalists Isaac Lucas and Matthis Lebel both have extremely bright futures.
At their best, the Mendy-spearheaded Argentine back line had the high-octane ceiling of Fiji and Waqa, while they showed a variety in their play that was akin to Lucas and Australia.
Mendy was as incisive as any player in Argentina over the last month and should have the likes of Emiliano Boffelli and Bautista Delguy watching their backs over the next couple of years.
https://twitter.com/WorldRugby/status/1137393930251788289?s=20
Donovan Taofifenua (France)
We have shifted Taofifenua over from the left wing due to his showings for France, as well as a solid, albeit unspectacular, set of performances from a number of the right wings. The Fijian pair of Epeli Momo and Kaminieli Rasaku were particularly dangerous, although neither could match the impact Taofifenua brought to France.
He capitalised on the front-foot ball that the French pack delivered and he was repeatedly able to turn that into big gains in territory, not to mention his proclivity to keep possessions alive through his honed off-loading game.
Fraser Dingwall (England)
France's Arthur Vincent and Fiji's Ilaisa Droasese were also impactful, but the England captain stood out in a team that had its fair share of defensive lapses and moments lacking in cohesion, particularly earlier in the tournament.
Dingwall's defensive excellence will show up more positively in the senior game, too, rather than the much more open age-grade contests, although he was still the glue for England in Argentina this month. He deserves credit for turning around the opening loss and narrow win over Italy and leading England to fifth overall, with three much-improved performances.
https://twitter.com/WorldRugby/status/1142451623094116352?s=20
Rikus Pretorius (South Africa)
Pretorius looked like a man that had evolved his game this year. Last year, he was a raw brute of a carrier, excelling almost solely through the physicality he brought as a direct runner. In 2019, there was an added subtlety to his game. The inside centre was a more willing distributor at second receiver, as well as a player that looked comfortable finding support and playing with composure beyond the gain line.
Wales' Tiaan Thomas-Wheeler, New Zealand's Quinn Tupaea and Australia's Noah Lolesio also had good tournaments, as did Ireland's Stewart Moore, before injury ended his tournament in the pool stage.
https://twitter.com/WorldRugby/status/1142491527647768576?s=20
Mateo Carreras (Argentina)
It's impossible not to be impressed by the raft of silky smooth back three players that Argentina are currently producing, and Carreras lit up the tournament on home soil.
His low centre of gravity made his shifts in direction at full speed so seamless and there were very few situations in the Championship where a defender was able to stop him in a one-on-one situation. The footwork and the speed of Carreras will inevitably draw comparisons to Santiago Cordero.
Left wing wasn't short of stand-outs over the last few weeks, with Scotland's Jack Blain and England's Josh Hodge also among the players to put their hands up.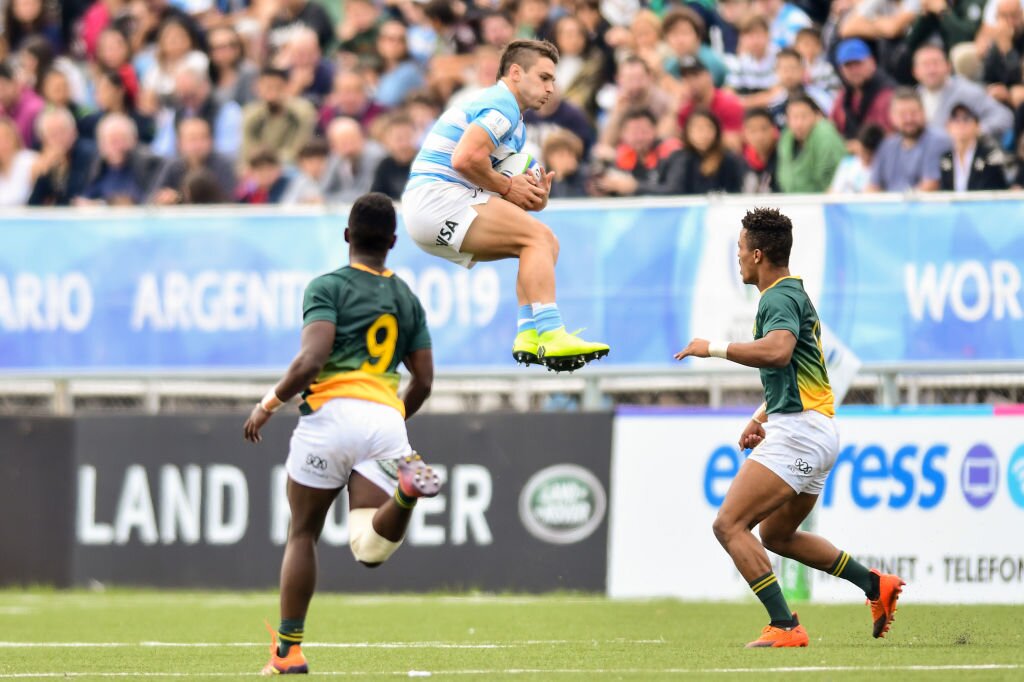 Louis Carbonel (France)
A case could be made for any one of Tedo Abzhandadze, Joaquin De La Vega Mendia or Will Harrison, but Carbonel's senior experience and maturity shone through in Argentina.
The Frenchman's composed and varied game was at the heart of France's campaign, with the fly-half regularly making those around him look better with his play. Les Bleus have a few young 10s pushing through at the moment and Carbonel could yet throw his hat into the mix in 2020.
Jaden Hendrikse (South Africa)
It was a tough call trying to separate Hendrikse and France's Leo Coly, as both had strong claims on this spot. Ultimately, it was Hendrikse's goal-kicking ability, a particularly French trait among nines, that swung it his way, with both players excelling with their delivery, carrying and game-management.
There are very few rough edges to Hendrikse's game, despite his tender age, and that bodes well for him as there is no shortage of talented scrum-halves available to the Springboks at present.
https://twitter.com/WorldRugby/status/1142185930448658437?s=20
Angus Bell (Australia)
There's more than a shade of Kyle Sinckler about the way Bell plays his rugby. Physically, they are built quite similarly, with a lumbering strength and power, although both can quickly move through the gears and eat up space with their acceleration.
He also shares Sinckler's comfort with the ball in hand and is a natural stepping in at first receiver, whether carrying or looking to pass. His soft hands allow him to shift the point of contact on the gain line, too.
There was no shortage of impressive looseheads this year, either, with the Georgian pair of Luka Azariashvili and Nika Gvaladze going well, as did Josh Wycherley, Thomas Gallo and Olly Adkins.
Lachlan Lonergan (Australia)
Lonergan joins his Australian team-mate in the front row, although there are very honourable mentions due for the Celtic trio of Ewan Ashman, Dewi Lake and Dylan Tierney-Martin, all of whom contributed significantly to their sides' efforts.
The Junior Wallaby gets the nod, though, due to his livewire impact in the loose where he excelled as a ball-carrier and a support-runner.
His speed and footwork set him apart in the position and providing he can become more consistent at the set-piece as his career moves forward, he could be a valuable addition for the Wallabies in the years to come.
https://twitter.com/WorldRugby/status/1135934400972173314?s=20
Asenathi Ntlabakanye (South Africa)
After looking susceptible to pressure in the warm-up games that South Africa played against England and Georgia, the Junior Springbok scrum, with Ntlabakanye anchoring it, was a much more formidable prospect in Argentina.
In addition to helping his side improve their set-piece fortunes, Ntlabakanye was also very effective as a carrier at the tournament, playing a key role in a South African pack that physically outmatched every opponent, bar France, that they met over the last few weeks.
JJ van der Mescht (South Africa)
The lock deserves inclusion based on his game against New Zealand, let alone his other impressive outings throughout the tournament.
He played with all the physicality we expect of South African second rows, while he mixed it up with mobility and comfort with the ball in hand that makes it unfair to simply label him an 'enforcer'.
Whether he was putting his head down as a one-out runner or helping launch Junior Springbok counter-attacks with his ball-handling, the lock was pivotal to his side.
https://twitter.com/WorldRugby/status/1138893390840520706?s=20
Joel Kpoku (England)
It was not a particularly successful tournament for England by their standards, although that didn't mean that individuals such as Kpoku didn't stand out. In his second year with the group, Kpoku built on a strong showing at the Under-20 Six Nations and was once again one of the most consistent players in his side.
His obvious physical attributes and strengths aside, Kpoku's ball-handling, as both a passer and an off-loader, was impressive, as was his ability to break the gain line and keep England moving forward.
Nods, too, for Fiji's Chris Minimbi and Italy's Thomas Parolo, both of whom were very effective for their sides.
Matthias Haddad (France)
Technically an openside, the French numbering quirk happily allows us to fit Haddad in alongside an indisputable pick at seven. The 18-year-old has two more seasons at this level if the seniors don't come calling for him sooner
Given how balanced and refined his game already is, that should be a worrying prospect for rival nations. From his mobility and ball-handling to his breakdown work and option as a lineout target, Haddad is just a very impressive rugby player.
Mentions also for the solid tournaments turned in by Ted Hill, Harry Wilson and Ryan Baird, with Hill in particular set to go on to bigger and better things next season.
Fraser McReight (Australia)
Other opensides had their moments, such as Connor Boyle and Aaron Hinkley, but there was only one man who was going to take this spot based on their performances over the last few weeks.
McReight was dominant throughout the Championship, tormenting all sides he faced at the breakdown.
Beyond his work at the contact area, McReight also stood out as a ball-carrier, support runner and captain in the kind of campaign that could help catapult him into senior contention at the Reds in 2020.
https://twitter.com/WorldRugby/status/1142536456575115267?s=20
Ioane Iashagashvili (Georgia)
Jordan Joseph, Bautista Pedemonte and Phendulani Buthelezi are not only promising players, they are all likely to become household names over the next few years.
They all had good tournaments, but for consistency throughout and his ability to lift his team around him, you would be hard-pressed to go for someone other than Iashagashvili.
His mobility will be highly valued in the senior team in a year or so's time and he could well be the heir apparent to Mamuka Gorgodze as a bullocking back row who can keep the Lelos moving forward.
THREE 2019 RUGBY WORLD CUP BOLTERS 
Tedo Abzhandadze (Georgia)
The Georgian fly-half is not really a 'bolter' in the truest sense of the word, as he already has a number of full senior caps to his name.
He has already established himself as one of Milton Haig's go-to men and to have done that at the age of 20 – which he only turned last week – is quite some achievement.
His performances out in Argentina will have only boosted his confidence ahead of Georgia's RWC warm-up games.
Jordan Joseph (France)
Joseph is still a long way off being the finished article, but he has a propensity for taking over games at this level.
He has already had a number of tastes of senior rugby and has done well in the opportunities he has been given, albeit understandably not dominating physically as easily as he does in the under-20s, where he is eligible for another year.
Given France's deep player pool, his call-up is unlikely, but injuries to either Gregory Alldritt or Louis Picamoles could prompt a surprise call despite Charles Ollivon being among the listed reserves.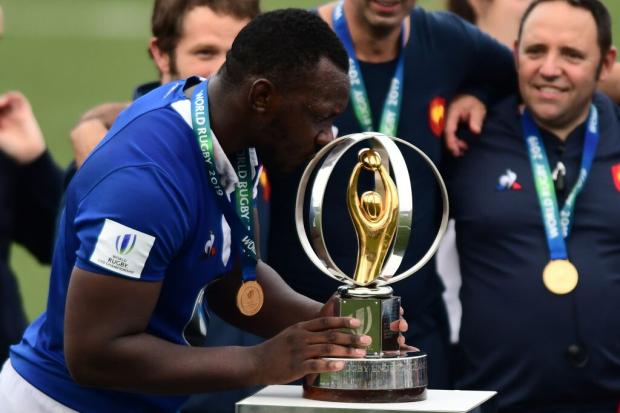 Josh Vuta (Fiji)
Fiji head coach John McKee recently stated that the door was open for on-island and age-grade players to play their way into his RWC plans and Vuta's work in the nine jersey could give him an outside chance of making the squad as the third scrum-half.
Droasese and Waqa have both impressed, too, although Fiji are not short of senior options in their back line. The tournament is also probably coming a year or two too early for Minimbi and Alivereti Loaloa.
WATCH: Part one of The Academy, the six-part RugbyPass documentary series on how Leicester Tigers develop their young players
Comments
Join free and tell us what you really think!
Join Free