New RPA appointment a great first step
News broke last week that England international Vickii Cornborough had been elected to the Rugby Players Association's players board (RPA) as the organisations first female Vice Chair.
Like usual, when any steps forward (no matter how small they are) are taken in women's rugby this news was widely celebrated on social media. My timeline was full of notable people congratulating both the RPA and Vickii for this.
Fantastic news! ????
Vickii's appointment will inspire others to follow in her footsteps. It will encourage more female players to want to be part of the board and eventually lead to increased representation. Great job RPA! https://t.co/aDrMvrzwMA

— Maggie Alphonsi MBE (@MaggieAlphonsi) November 16, 2021
Whilst I don't argue that this is an excellent appointment, and a notable step forward, its hard to celebrate something that should already have been in place a long time ago.
Some have come out to criticise the RPA, suggesting the appointment has manifested itself into a form of tokenism. Looking at the below image, its clear why this could have been interpreted as such.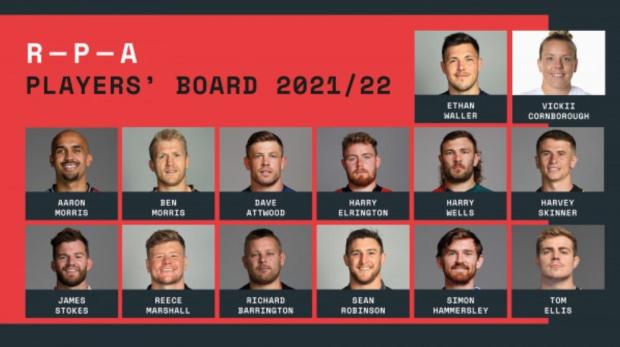 The RPA is the representative body and collective voice of professional rugby players in England. According to the organisation's website, it currently supports over 1200 past and present players. However, when asked how many of these are female a representative of the RPA said:
"The RPA have always represented fully professional players, so at this moment in time, we currently just represent the England EPS Squad of 35 players. However, it is an area we are actively looking to expand into and looking to represent those female players in the professional game."
I do understand that the men's professional playing pool is distinctively bigger than the women's, therefore representation wise it makes sense to have a smaller number of females on the player's board.
However, as the Premier 15's league is already well on its way to becoming professionalised, that's not to say that these players don't need support.
If we have learnt anything from players speaking out this year, it is that they have little to no support on this journey from clubs and are crying out for help from outside sources, so surely it would make sense to be providing support to these players on their journey to professionalism, instead of swooping in after the tough conversations have already been had.
I would also be interested to understand what sparked the decision to focus on the female game, and why only now this has been a core element of the RPA's strategy. The organisation has been around since 2004, which puts questions in my mind as to the motivations behind this move.
Perhaps I am being overly critical, and this is merely a reflection of the natural growth that we are currently experiencing in the game.
That being said, they do seem to have joined the party a little bit late. We are already in the depths of professionalism; the international games are getting millions of eyes on them, and stadiums are selling out. That kind of growth didn't happen overnight, it's been building in the background for years. Surely, we should be asking why only now this decision had come about, and why the focus wasn't there previously?
When asked if Cornborough felt pressure to represent the female game in its entirety, she said:
"It's not something that ever consciously goes through my mind, at the end of the day we are all rugby players, we all go through the same things and play the same game."
She continued to say: "From my perspective the RPA gives the players a collective voice, regardless of if it's a male or female"
I do agree with her comments to an extent, but it can't be easy for one person to have the whole of the women's game on her shoulders. Yes, she may feel supported, and yes it might be the same game, but the men's and women's games are both at very different stages of growth, with entirely different obstacles in their wake which will require completely different approaches towards them.
I genuinely hope that this is the first step towards more representation and isn't just a token gesture by the RPA as a result of mounting pressure in the women's game to provide more support.
Also, as the women's game is now on the cusp of being considered fully professional with the growth of the domestic league, surely attention should turn to its future. Specifically, to the future of the players who put their bodies on the line week in week out for a career that can end in a heartbeat. The RPA is well liked among male players, with the likes of James Haskell widely praising the organisation for support, wouldn't it be great if that same support could be extended to female players in the premier 15's who need it just as much, if not more?
We don't just want a seat at the table anymore, that's not enough. For an organisation to claim they are supporting the women's game, they must be supporting it at all levels. It isn't enough to just support the 35 women who have England contracts. What about the hundreds of players involved in the premier 15's who are literally attempting to balance full time jobs with a semi-professional contract?
Yet again, we are celebrating a small step forward in the game, when we should be looking at the bigger picture and asking for more.
Week in week out I feel like a broken record, constantly reminding people that women's rugby as a sport deserves far more than it is getting. However, we must remind ourselves that this is exactly how progress is made, by demanding more and not settling for anything less than is deserved.
The women's game is crying out for support, it always has been, and without it we won't move forward to gain sustained growth. So, I sincerely hope this article is taken as a challenge rather than in defence, and the pledge to support from the RPA is only just the start of something far greater to come.
Comments
Join free and tell us what you really think!
Join Free