Ryan Wilson revisits infamous 2018 Owen Farrell tunnel-gate row, which had consequences a year later at Twickenham
February 2018 is a month fondly remembered by Scotland fans as they defeated England in the Six Nations at Twickenham, but it has now emerged that the infamous pre-game argy-bargy in the players' tunnel had bizarre repercussions the following year when Ryan Wilson tried to get into Twickenham.
Wilson was the Scottish back row who riled up the English before the Calcutta Cup game at Murrayfield, his purposely timed word in the ear of George Ford being the incident that triggered Farrell and left the hosts nicely worked up to do a number on the visitors when the match eventually got going.  
Scotland went on to gloriously win 25-13, scoring three tries to beat England for the first time since 2008. However, the mischievous pre-game carry-on had London consequences for Wilson the following year.
Injured at the time of the rematch, he negotiated himself a corporate speaking gig at the ground only to learn in advance of the drawn 2019 fixture that he was banned from attending by the RFU who had taken exception to his behaviour the previous year in Edinburgh.  
Currently out of the Scotland picture having last played at the World Cup in Japan, Wilson hilariously revisited these incidents against England when appearing on the latest episode of RugbyPass Offload in the company of co-hosts Jamie Roberts and Simon Zebo. 
Just one of the sensational stories the Scottish rugby player gave this week ? #RugbyPassOffload@ryanwilson89 @ChristinaMahonx @Jamiehuwroberts pic.twitter.com/urZmD6939f

— RugbyPass (@RugbyPass) November 11, 2020
Wilson began by recalling the 2019 match, a game where Scotland were losing 31-0 at one stage before staging a remarkable comeback to go ahead before the fixture was eventually drawn 38-38. "It was ridiculous," he said about how the compelling match panned out. 
"I remember that game, I was actually injured and after tunnel-gate, after everything that happened in the tunnel against England (in 2018), I'd lined up a corporate gig at Twickenham.
"Had it all lined up, a little bit of cash, all excited, only to get a message back saying the RFU have banned you from Twickenham Stadium after everything that happened the year before. 
"It made me even more eager to get down there, sneak into the stadium and still get a couple of gigs. Genuinely the RFU said, 'Listen, we don't want him on the premises after some of the things that were said and done in the tunnel at Murrayfield.' 
"It's madness to think they would do that. But again another little win on my sheet just to know I had p***ed them off that much."
Wilson has long had a reputation for trying to wind opponents up and this was at the heart of the incident that sparked the 2018 tunnel-gate. "Listen, the psychological game is massive in rugby… with England they go everywhere expecting to win. 
"I was coming down the tunnel, probably looking for Farrell more than anything else, and I couldn't find him. It was just a word in George Ford's ear just to say… I won't tell you exactly what I said but it was more just 'we're coming for you, you'd want to watch yourself'. Might have spoken about breaking some bones somewhere. 
"Owen Farrell spotted it because he obviously knew what I was up to because he saw me talking to him [Ford] as we were walking in after the warm-up. Owen came steaming down behind and he shoved me in the back and that was it, I sort of rolled down into the tunnel.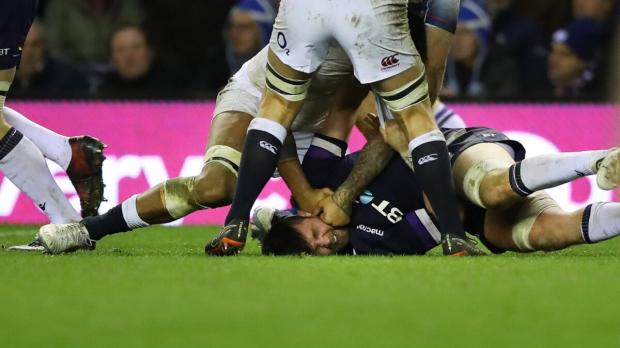 "The boys got a bit of a buzz. Us as the Scotland team, you get under their skin and you can see it. A lot of Scotland teams have gone out against England and think we have not got a massive chance here, so no one really goes at them before a game because it is ballsy. 
"I am not talking myself up here too much but you give a lot of s*** to another team and then you get pumped, you look like a bit of idiot then afterwards, whereas that one paid off.
"I remember we came to the huddle and it was, 'F*** that boys, let's get into them' and that was it. We went out and played so well. Finn (Russell) stole the show and Huw Jones had a stormer. That was one performance I always remember at Murrayfield against the English."
Zeebs will be watching on from Paris when the Kiwi makes his Ireland debut on Friday night https://t.co/uywc7ZPTjc

— RugbyPass (@RugbyPass) November 11, 2020
Comments
Join free and tell us what you really think!
Join Free