Ref Watch: Is it time to look at a Law phrase change?
Ireland's Andrew Brace who took charge of England's second test win in Australia is one of a fairly large group of referees hoping to clinch a spot alongside some more experienced and better-known names at next year's World Cup.
As someone with an understated approach, at times he appears to lack the management and communication skills which mark out the very best. However, neither Brace nor his support team – in which TMO Joy Neville was prominent – did much wrong during this high-profile contest and as a result they should look back on a quietly efficient display with some satisfaction.
Lucky Ellis
When Neville drew Brace's attention to Ellis Genge pushing his forearm into Nic White's face then throat on the ground, there was little doubt that Australia were getting a penalty.
However, given the totally unnecessary nature of this piece of 'roughing' and that it happened in the 15th minute and thus gave the referee a perfect opportunity to put down an early marker, the outgoing Leicester captain can count himself as extremely fortunate not to receive a yellow card.
Given that Brace then had to march Australia back ten metres for some backchat following the award of a scrum penalty to England just three minutes later it seems likely that a sense of injustice had also permeated their ranks.
| | | | | |
| --- | --- | --- | --- | --- |
| | Quarter 1 | Quarter 2 | Quarter 3 | Quarter 4 |
| Pens against Australia | 6 | 4 | 2 | 4 |
| Pens against England | 2 | 1 | 4 | 3 |
Time for a Law book phrase change?
While the term 'deliberate knock-on' has been in the law book forever, am I alone in thinking that it has become very misleading?
Like many others I struggle with the interpretation which insists that almost every one-handed knock-on is deemed deliberate and penalised. Plenty of good ball players are entirely capable of holding on to a rugby ball with one hand, albeit I accept that using one hand allows them to stretch further and by doing so they are sometimes beyond the point where they have adequate control of what is happening due to their lack of balance.
YELLOW CARD – AUSTRALIA! ?

Perese went for the interception but he's deemed to have deliberately knocked the ball on resulting in a 10 minute sin bin.

Farrell does the business off the tee again and punishes Australia! ? #AUSvENG pic.twitter.com/nnKezwUwq4

— Sky Sports Rugby Union (@SkySportsRugby) July 9, 2022
For me this is an area – like advantage – where the referee should be allowed to use his/her discretion. In trying to be consistent, and have a black-and-white guideline which is easy to understand, World Rugby has created a different problem.
Of course, once a penalty offence is committed, it can lead to a yellow card and sometimes a penalty try following depending on its context, position on the field etc. Thus, under law as written, while Jonny Hill's clumsy two-handed knock-on earned the non-offending team a scrum, Izana Perese's failed one-handed intercept earned him ten minutes in the bin since he was the last defender. A minute shift in fortune would have seen the Wallaby replacement race to England's posts since he was definitely attempting to pick the pass off. His knock-on was anything but deliberate.
YELLOW CARD ENGLAND!

Smith is the man to be handed the card after a deliberate knock-on in the line and both the referee and TMO penalise him for it.

Australia cut the deficit again! ? #AUSvENG pic.twitter.com/1b8qfkuZ10

— Sky Sports Rugby Union (@SkySportsRugby) July 9, 2022
Marcus Smith later also saw yellow for a reflex one-handed knock-down which he never had any chance of regaining and few would argue with this outcome.
I would therefore require the referee to assess the difference between a deliberate knock-down – such as Smith's – and a failed interception attempt such as that with which Perese almost stole possession, with one being penalised and the other reverting to being a scrum to the opposition. It's less black-and-white but much fairer than the current approach.
Management style
While the level at which the ref and TMO microphones were set made it difficult to pick up the detail of every conversation, Brace is certainly at the more passive, minimalist end of the refereeing scale when it comes to communication.
Of course, not everyone likes the Nigel Owens or Wayne Barnes approach which they deem as being too verbose. However, we are all left in no doubt about what is going on and why, and the players are clear about who is in charge.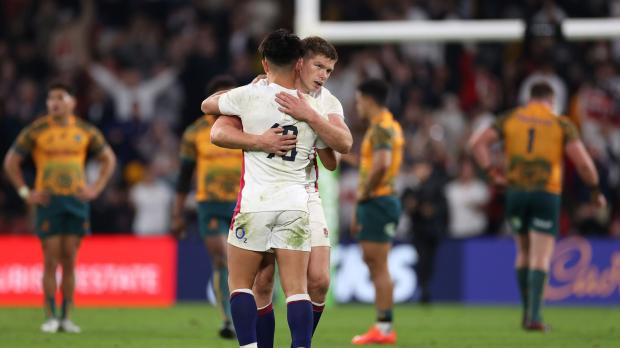 I will leave the debate about the narrow line between coaching and refereeing for another day, while I totally accept that the sport should be about the players not the officials.
When directly challenged with some verbals in the first half, Brace marched the Wallabies back ten metres – a measure from the past which too few referees now use. I also enjoyed the firm tone with which he admonished White: "I can't have players running at me, you're not the captain" when the home no.9 argued with a penalty call.
He's just a bit too reactive for my taste – but if it works for him and the players who am I to criticise?
Scrum penalties
In commentary, former England prop David Flatman disagreed with a key scrum penalty awarded against England tight head Will Stuart. From the subsequent kick Australia gained the field position from which they scored their opening try.
At professional level where players are very strong and well coached, and lots of effort goes into influencing the officials, the scrum is notoriously difficult to referee. As a result, I am increasingly coming round to the view taken by the French officials, who tend to reward the side going forward when the set-piece fails, almost regardless of how they have achieved this upper hand.
In this specific instance, it appeared that Brace received a call from touch judge Craig Evans, which puts him a doubly difficult position. When the referee is unsure of what has caused a scrum to fail, the easiest route out is to reset it. However, to do this is here meant disregarding advice given by his colleague, who according to protocol should be 100 per cent certain before intervening.
Often trends become obvious across a game, and sometimes that makes it possible for the officials to have a conversation at half-time or during a break in play and work out what is causing the scrum problems. Brace and his team had no such chance here since the first half contained only four scrums and Australia fed them all.
In all honesty, front row forwards involved sometimes have no idea why a scrum has collapsed. It is a minefield and the best you can say to both the referee and his touch judge – who was seemingly at fault here – is if you're not certain don't guess.
Comments
Join free and tell us what you really think!
Join Free