Rugby players shouldn't have to go public to elicit change
If we are to take anything away from this year, it's that the power of collective voices in women's rugby should not be taken for granted. From the 123 Welsh players that came together to demand action from the WRU, to the 62 prominent figures in Irish rugby who called in the government after losing trust in the IRFU, we have a lot to learn from these sportswomen.
Currently, as a direct result of the players' letter, the IRFU has backtracked on its decision to not publicly publish the two independent reviews being undertaken after government ministers suggested funding should be withheld from the IRFU.
SF's Imelda Munster is suggesting that the government funding be withheld from the IRFU until they "get their act together" on women's rugby

Min Jack Chambers saying he doesn't want to pre-empt discussions: "We want to see progress on the issues raised"

Will meet players first

— Rúaidhrí O'Connor (@RuaidhriOC) December 15, 2021
The fact that it took a threat of funding to be cut from the government for the IRFU to sit up and listen is appalling. Don't be mistaken, this isn't an issue that's exclusive to the IRFU. Time and time again this year we see the same thing play out, a union gets called out for its poor behaviour and then we see a PR battle play out over social media between unions and players, in which the PR teams attempt to put out the raging fire with little more than a dribble of water.
It's clear to see that collective voices work and have the potential to incite real change, but we should be asking why players have to resort to this to be taken seriously in the first place. It shouldn't have to take mass collective action for players to be listened to. They shouldn't have to be making noise on social media and pushing for these things when if the system was doing its job.
They would be in place already.
Looking to the future, although positive steps have been taken by the IRFU, the change that is needed runs far deeper than a hollow admission of guilt. Systematic change is necessary, starting with the top. It is clear to see there are inherent problems with the way that women's rugby is viewed and treated by those in charge of governing it.
So, as usual, the attention turns to the system that is in place within women's rugby, and the leadership that is involved in it. I have spoken previously about representation, and why it's imperative that we have women involved at the top level of decision-making processes. Considering their Board of Directors currently contains just three female representatives, the IRFU are a long way off this target.
Whilst a few have expressed cautious optimism at that the IRFU's new appointment of Kevin Poots is CEO as a nod to the possible change in the structure of the board of directors, it is slightly concerning that his statement contained no explicit mention of the women's game, which is odd all things considered.
Kevin Potts has been appointed as incoming Chief Executive of The Irish Rugby Football Union, following an extensive, international recruitment process.

More details ?#IrishRugby | #ShoulderToShoulder

— Irish Rugby (@IrishRugby) December 22, 2021
You only need to look to New Zealand to see a similar state of affairs, after an independent cultural review was commissioned following Black Ferns player Te Kura Ngata-Aerengamat speaking out on social media, admitting that Black Fern's head coach Glenn Moore had contributed to her mental breakdown.
Again, it takes a player to step out into the spotlight and risk her future playing career for something to be done. Don't get me wrong, I understand the change often requires bravery, but why have we arrived at this point? Why are the internal methods of communication so obviously flawed that players must turn to the public eye to push change?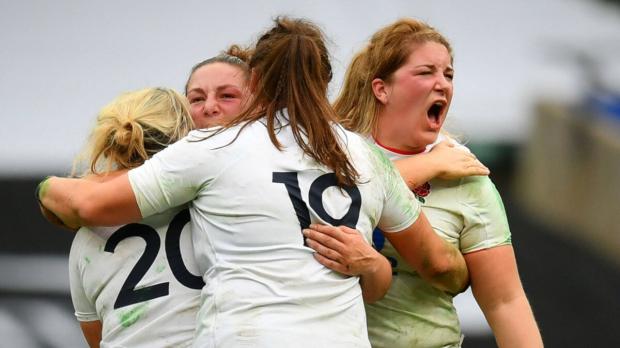 It's not just collective voices that have made a difference to the sport this year either, players like Jaz Joyce and Poppy Cleall have been instrumental to speaking out when something doesn't sit right with them. More often we are seeing players use their voice on social media to hold unions to account, which is great, but it shouldn't have to be a necessity in instrumenting change.
Moreover, to those who claim the issues can be put down to money and funding allocation, I would say the problems run deeper than that. It's not about money, it's about basic respect for the players and the sport they are giving their life too. The word culture is banded around a lot, and to change an engrained culture and system that was built for men, takes time.
We don't expect to see change overnight, but what we do expect to see is equal respect for both men and women involved in this game. The IRFU's original response to the letter, from getting the women's World Cup date wrong, to the undertones of berating the players for speaking out, certainly reflects the obvious lack of respect for the women's game.
Players: "The sky is blue"

IRFU: "No it's not"

All they had to do was apologise, hold hands up and work with the players to progress a broken system ??? https://t.co/2uJgeDtx7n

— Stella Mills ? (@stella_mills_) December 14, 2021
All they had to do was acknowledge the players' concerns publicly and say they were willing to meet and revise their review policy. But instead, the organisation chooses to make the situation a lot worse and polarise already negative views on the treatment of the women's programme. You have to wonder how exactly they assumed adding fuel to an already raging fire would make things more comfortable.
Women's rugby as a sport is going through huge changes at the moment and many of them have been pivotal to the future of this game. We are seeing a significant shift in power, away from the unions and into the players' hands, which might just lead to positive, sustainable changes for women's rugby.
Comments
Join free and tell us what you really think!
Join Free