O'Cuinneagain: 'CJ Stander made right decision returning to SA'
Former Ireland captain Dion O'Cuinneagain, who played 19 Test matches for his adopted nation from 1998 to 2000, believes that players such as CJ Stander shouldn't be rapped over the knuckles for choosing to head home after their professional playing career.
A year ago Daniel Leo, took a swipe at Stander after he announced his shock retirement in early 2021 and outlined plans to return to South Africa. At the time Leo said: 'Someone getting residency for three years, making a national team and then moving back home as a soon as they retire makes a mockery of the game.'
Eligibility is once again a talking point in international rugby, with World Rugby extending the residency rule to 5 years, while allowing Test players to opportunity to switch national allegiance after a 3-year break from the Test side that originally capped them.
O'Cuinneagain, who walked a similar path to Stander, has come out in defence of the former Munster and 51-Test capped Irish international. Having called time on his playing career, O'Cuinneagain returned to Cape Town where he continues to run his medical practice today.
"There will always be swipes like that with people moving around and, as a player, you know that you are never going to please everyone," O'Cuinneagain tells RugbyPass in reference to the criticism Stander received. "My understanding is Stander returned home for family reasons and also had an opportunity through his brother-in-law, Ryk Neethling, to get involved in property.
"I was last in Ireland for Christmas in 2019 but my family's life post-rugby was always going to be in South Africa as I'm a medical doctor qualified to work over here. In the same vein, I'm sure CJ also sees far more opportunities in South Africa working with his brother-in-law. I feel that he returned to the country at the right time ahead of the British & Irish Lions series against the Springboks and boosted his profile by appearing on SuperSport TV as an analyst."
O'Cuinneagain played for and captained the South African Sevens team but after seeking the advice of Alan Solomons, who was Springbok assistant coach at the time, he opted to further his playing career in Ireland through his paternal roots, with his father a dentist from Dublin.
"It was a very strong Springbok team at that stage. Gary Teichmann was captain with Andre Venter and Rassie Erasmus in the mix, as well as Tiaan Strauss and Andrew Aitken. It kind of put me at number six in the country and I had an opportunity to play international rugby for Ireland. At that stage, because I hadn't played a Test for South Africa it was easier to move.
"I suppose what helped was that I ended up playing against South Africa three times in my first five Tests," he notes. "I had good displays in those Tests and I think my teammates realised I had no lack of commitment and was fully focused and behind Ireland as a nation."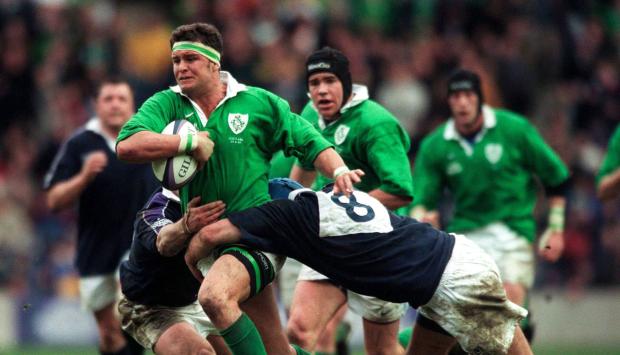 However, unlike Stander, O'Cuinneagain didn't enjoy as prolific an international playing career and always had his medical career calling. His final Test would be against Italy in the Six Nations in 2000. On the day, Ireland hammered the Italians 60-13. The current Irish side inflicted a similar score-line this past weekend at the Aviva Stadium as Italy registered their 35th consecutive defeat in the competition albeit having to play with 13 men for 60 minutes.
"In terms of Italy, it's a shame. They have had some great coaches over time. Conor O'Shea was there for a while and Brendan Venter was also briefly involved. I just don't think they quite have the depth to compete at that level. In contrast, a small nation like Ireland has over the years been able to get themselves into a strong position and create playing depth.
Ireland have put exceptionally good programmes in place for their provincial sides and ever since the 1999 World Cup have being building on it. I'm just amazed how many good young players they produce. I think a lot of it comes down to competition over contracts. There are a limited number of professional rugby contracts in Ireland in comparison to what we have in South Africa. While in the club scene in Ireland, you are certainly not paid to play rugby."
Ireland have been aided and abetted by an influx of foreign-born talent to prop up their programme but O'Cuinneagain doesn't have an issue with players qualifying on residency grounds if they show they are truly committed to the cause and want to bleed for the jersey.
"I regard the likes of Bundee Aki and Jamison Gibson-Park as truly Irish in spite of being born in New Zealand," he says. "Aki is probably going to be one of the people who will make a post-rugby career in Ireland and could certainly be involved within the coaching structures.
"Looking back, when I first went to Ireland there was an Australian player, Ryan Constable, who had played for the Reds for many years and then joined Ulster. Ryan is still based in Belfast these days working as a rugby agent but before then he was involved in setting up the Irish Sevens programme and replaced Denis McBride as national Sevens coach in 2004."
On 24 November 2021, the World Rugby council shook up the landscape of international rugby by amending its eligibility rules to allow players to change Test teams during their career after a three-year standdown period. Previously a Test player could only switch allegiance through an Olympic Sevens loophole. While O'Cuinneagain represented South Africa at Sevens and Ireland in the 15-man game, he is not sold on the new eligibility ruling.
"I have always felt that once you have nailed your name to a flag, you should play for that country and it's where you stay for the rest of your career," says the 49-year-old who succeeded Paddy Johns as Ireland captain. "In my case, I played Sevens for South Africa before turning out for Ireland but at that stage it wasn't regarded as a full international cap."
While many believe that the relaxed eligibility rules will benefit players and strengthen the international game, O'Cuinneagain has his reservations. "I don't think it's such a good idea to be able to swap allegiance and move between countries so easily," he says. "I believe the country that is going to miss out the most with the new ruling is South Africa. SA rugby will be tapping into less new markets than the Six Nations sides and even the opportunity Australia and New Zealand have always had getting Pacific Island players playing for them."
Comments
Join free and tell us what you really think!
Join Free