Louis Schreuder reveals secret behind Sharks' winning ways in New Zealand
The Sharks may have kept the Crusaders winless in front of their home fans for the first time in Super Rugby since July 2016, but skipper Louis Schreuder is still disappointed that his side didn't come away from Christchurch Stadium with a win.
"It's still a draw for us, it's not a win," the 29-year-old told RugbyPass en route to Hamilton ahead of their clash with the Chiefs this weekend.
"We still feel as though we should have closed that game and we should have won it in the end.
"I think we made some crucial errors at the end to let the Crusaders back into it."
His feelings are somewhat understandable.
The South African side led the match from the 36th minute onwards, but a converted try under the posts to Crusaders first-five Mitch Hunt after the full-time siren was enough to salvage a 21-all stalemate.
But to say it was a failure on the Sharks' part to not secure a victory would be a disservice to the magnitude of the effort it requires to walk away from Christchurch without conceding defeat.
Besides, it's not the first time in recent memory that the Sharks have enjoyed success over Kiwi opposition, a rare luxury in a competition where seven of the last eight champions have come from New Zealand.
Last year, the Durban-based franchise won three of their four matches against the New Zealand franchises during the regular season, with only an 86th minute Ihaia West conversion to a Ngani Laumape try denying the Sharks victory when they fell short to the Hurricanes in a 38-37 loss in Napier.
Outside of that result, they thrashed the Blues 63-40 in Auckland, and pumped both the Highlanders and Chiefs in front of their home crowd at Kings Park.
Last Friday's draw adds to their slender losing record against New Zealand teams, as did their 26-7 thumping of the Blues at home earlier this season.
In fact, the Sharks have the best win rate of any overseas side in New Zealand throughout the 24-year history of Super Rugby, having claimed victory on these shores 21 times.
So, what makes the Sharks tick against the Blues, Chiefs, Hurricanes, Crusaders and Highlanders when every other club from Australia, South Africa, Argentina and Japan appears to struggle against those sides?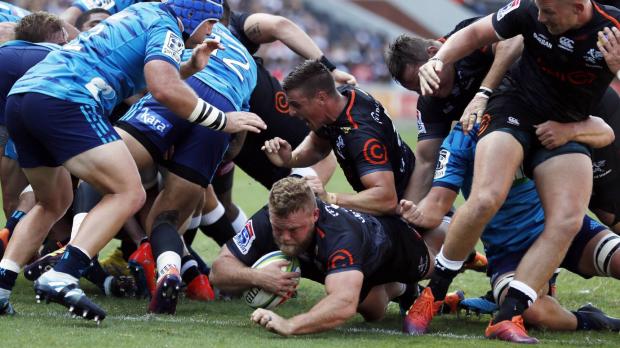 "For a young team, as we are, it's just the mental approach that we had all week," Schreuder said regarding his side's result last week.
"Against a quality outfit like the Crusaders – actually, any outfit in New Zealand – you have to up for it mentally.
"I think our preparation really went well, we knew we had to be up for it, so I think the boys' mental approach [prevented us from losing].
"That's one thing we'd been lacking and been inconsistent with this season, so I think we got it down last week."
The visitors will need to be at the top of their game mentally this week as well, as they are set to come up against a Chiefs side on the precipice of elimination from play-offs contention after an underwhelming campaign so far this season.
Chiefs midfielder Anton Lienert-Brown said last week that his side needed to win five of their remaining six games, and after drawing 31-all with the Highlanders in Dunedin on Saturday, their desperation for a win will not have diminished.
The consequence of that game's result isn't just restricted to the Chiefs, though.
Not only do the Sharks need to win to overtake the Bulls as the top-ranked South African side in an ultra-competitive conference where just four points separates first from fourth, but an unbeaten tour of Australasia is also on the line.
Prior to their draw with the Crusaders last week, the Sharks downed the lacklustre Waratahs 23-15 in Sydney, and should they beat the Chiefs at Waikato Stadium on Saturday, they will achieve the incredibly rare feat of leaving Australia and New Zealand without defeat.
No South African side has ever toured both Australia and New Zealand unbeaten, and the only team to do it from the African conference was the Jaguares when they overcame the Rebels, Brumbies, Blues and Chiefs last year.
In order to accomplish the unprecedented feat, Schreuder said he and his teammates need to stay consistent in their preparation.
"We can't have up and downs like we've been having this season, and I think it's been out downfall for the past two seasons," he said.
"We play one week, we play with a whole lot of intensity and aggression, and then the next week, we lack an intensity and aggression, among other things. You've got to be switched on and mentally up for it.
"You know as a player and as a team, you have to be up for it against the Kiwi teams, otherwise you've got a good chance.
"For everyone, all the South African boys, for the Sharks boys at least, it's just a mental thing about being up for the challenge, and obviously liking the physical side of it, matching yourselves against the best."
Vital to their chances of victory is young playmaker Curwin Bosch.
Capped twice by South Africa, 21-year-old Bosch has been an influential figure on-field so far on their tour after usurping previous incumbent pivot Robert du Preez.
Coming into the starting line-up at first-five for the first time this year against the Waratahs after being primarily deployed at fullback, Bosch tore apart the New South Welsh defence with ball in hand, before scoring all 21 points from the kicking tee against the Crusaders.
"A focus for us against the Crusaders last week was to play the ball in our half, or between the 10s at least, making them come from deep and not giving them soft exits, so I think he really did well," Schreuder said of his halves partner, who he believes is better utilised at first-five rather than fullback.
"When we went for points, most of the kicks he put over, so we kept eyes on their ill-discipline and got lots of points, so I think he's really grown in the last few weeks, he really knows his responsibility, and he's playing well."
No doubt Bosch's performances have brought him to the forefront of Springboks head coach Rassie Erasmus' World Cup plans for this year, but Schreuder insisted that despite his side's promising outings abroad, his mind is firmly entrenched on the ambitions of the Sharks.
"I just concentrate on the team now while I can contribute to the team," the one-test halfback said.
"Being captain, I need to lead by example. When a team plays well, the individual will get praised as well, so that's my main focus."
Comments
Join free and tell us what you really think!
Join Free