'It's an eye-opener...': The rebuilding of Leeds in National One
It will be a very different Leeds Tykes that takes the pitch on January 8 under new head coach Jon Callard for its first league match to be played at Headingley in 22 months. When the plug got pulled in March 2020 on Yorkshire Carnegie's death roll in the Championship, they were a professional outfit going down the tubes, paying an embarrassingly heavy price after years of rot and slippage.
The trail of destruction that season was jolting. Fourteen matches, fourteen defeats, a shocking points difference of -528, 436 points worse than the second-worst team in the division. A 73-26 hammering by London Scottish in front of a meagre home crowd of just 306 people was the pre-lockdown sign-off.
Tom Varndell was one of those swamped by the wounding collapse. As the Premiership's all-time record try-scorer, his career had mostly been about scoring and challenging for trophies at the elite end of the English game with Leicester and Wasps, not slumming it at the wrong end of the second-tier table.
"It's hard to feel any positivity with that," he told RugbyPass a couple of months after he had finished up at Carnegie. "It was hard and there were a lot of dark conversations. It was just tough. When you are getting flogged 60 points to nil and you are trying your hardest and it makes no difference, it's tough no matter who you are and what experience you had.
"It was tough but I have to give full credit to all the players and all the coaches. Martyn Wood was there before Phil Davies came in and they have done a fantastic job. They just weren't given the resources to do the job fully and that is no one's fault, it's circumstances."
ICYMI: "There were times when I was in the car with the coach and players would be phoning in saying they couldn't do anymore because it was affecting their actual work life."

– Ex-England wing Tom Varndell w/@heagneyl ??? last April after relegationhttps://t.co/7TNasKcRDZ

— RugbyPass (@RugbyPass) January 3, 2021
If ever a club needed the lockdown to reset and eventually go again, it was Yorkshire. They accepted the grim reality that they would now be a National One outfit, changed their title back to Leeds Tykes, their name when they were famously crowned Powergen Cup champions at Twickenham in 2005, and set about taking baby steps at The Sycamores, the Yorkshire Three northern division home ground of West Park which they are now using for matches – except for their one-off Headingley return in three weeks.
Ex-Wales international Davies, the Namibian boss at the two most recent World Cups, is still very much involved but with the early months of their maiden campaign at National One level recently proving a struggle after they had waited more than a year to get started due to the English third-tier league getting cancelled in 2020/21 (just two win in nine), additional help. has arrived by way of the November 17 appointment of Callard as head coach.
It's 16 years since the ex-England full-back coached with Davies in a Premiership level set-up that also had Stuart Lancaster and Simon Middleton, the recently voted World Rugby coach of the year, on board in a 2004/25 cup-winning campaign where Leeds finished eighth and twelfth-place Harlequins were relegated.
But the return of Callard, who originally left to take up an RFU academy position, has ignited a bounce in results, Leeds winning their two most recent matches to lift them to 14th in the 15-team division that has been affected by virus-enforced cancellations in recent weeks.
"It's an eye-opener, to say the least, but the game of rugby still fulfils its enjoyment at whatever level," explained Callard to RugbyPass when asked why an ex-England assistant under Brian Ashton and Martin Johnson has now decided to give back to the club located down the road from his Harrogate home.
"There is that emotion as I have been there before with the club and also it is on the doorstep as a local club as well. It hasn't gone too well. I have been very critical of it not going well and somebody said, 'Well put up or shut up'. I decided to try and give a hand and see where we can go with it.
"I had three years of good memories at Leeds in the Premiership and to see it just slip away… if it weren't for some very generous people it probably would have fallen as a club.
"There are some special clubs in Yorkshire but Leeds needs a rugby club. It has got a lot of young people who are playing the game in the local area and it just needs a rugby club, simple as that. That is why I was critical to see it nearly folded and luckily there were a few hard-working people who really saved the club and have given it a chance in National One.
"Phil hasn't changed, but there are different facilities, we are a different side, different players, a lot of young players and that is what I like to think is one of my strengths from being with the union in a developmental role for twelve years.
"I am very passionate about development and we have got one or two that can play Premiership and it is about giving the opportunity to those. In this moment of time, it is just about making the best of those players and giving them an experience that helps them better themselves.
"Rugby is a brutal results business but forget our aspirations, I am not going to say here, 'Oh, we are a Premiership club'. That would be delusional, I'd be run off to the funny farm if I said that.
"It's just about growing what we have got, trying to get a connection in the community, give an opportunity to players who have got aspirations. If we do well in the meantime, great, but if we can help those people on their journey to become Premiership players or even better, international players, then fantastic.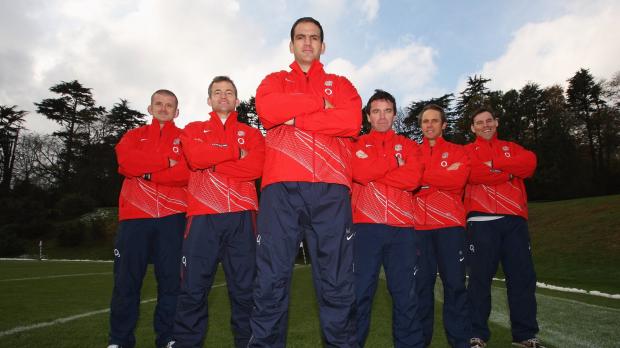 "We have got to be realistic about where we are and what we are doing, and also it has to be sustainable. We just can't rely on the goodwill and the generosity of certain individuals and spend money willy nilly.
"We have to be sustainable and rugby has to become accountable for sustainability as well because it is not about take, take, take and then just get rid of people and then they are lost from the sport altogether. We have to make it an inclusive sport that people can say, 'Yeah, I can still play rugby at a decent level but I can still have a career elsewhere'."
The first impression is that this current Leeds squad reminds Callard of his own late 1980s/early 1990s days experiences playing at Bath. "A lot of players have come out of university, a lot are university-educated which is fantastic. That means they have got the discipline to learn and develop themselves.
"We have got IT consultants, financial consultants, builders, a surveyor, a legal trainee, teachers, so we have got a mix and it's almost like the old days at Bath where you used to train two nights a week and there were people coming from all walks of life. Surgeons like Jon Webb, sparkies in Nigel Redman, farmers in Graham Dawe. It was unique. We don't have any farmers at the moment and I would like a few as they are tough guys."
Our supporters' evening has just started. @jakeybrady with Jon Callard and some of the squad pic.twitter.com/JZ6hHUFDMt

— Leeds Tykes (@LeedsTykes) November 30, 2021
Aside from the wins over Cambridge and Tonbridge Juddians, a lovely comment from one of the players and some useful feedback at a supporters Q&A night has Callard enthused about what 2022 might bring for Leeds. "We got 35 fans there which I thought was unique for a club like Leeds in its infancy regrowing. There was some great feedback," he said, adding, "It has been enjoyable.
"A lovely comment that I wholeheartedly support is we have won two games but we haven't put a performance together and I liked that comment coming from a player because they feel we are not just satisfied with a win, we want to keep building. That is certainly something that I would advocate.
"The club is very strong now in building a community club that is sustainable and hopefully puts a product on the field that attracts people to come and watch and get involved in.
"I certainly want to grow the links with universities around us and the other clubs. We have got to all work together, to be honest. We are not in competition, we have got to work together as clubs in Yorkshire because it is a very proud rugby county.
MATCH VIDEO | Here are our tries from yesterday's match v @tjrfu scored by @Harry_Robinson5
? ?
You can watch the full match ??https://t.co/WP1W4uYlFs
Subscribe and never miss any new Leeds Tykes' videos#Honesty#Team1st#NoExcuses#WorkHard pic.twitter.com/zrGaxbCDzL

— Leeds Tykes (@LeedsTykes) December 5, 2021
"If we don't, if we just fight each other and squabble and whatever it is, we will come up short. Otley is doing great stuff at the moment, Harrogate is a very proud club, Ilkley is a lovely club, you have got Hull Ionians doing very well. I would love to think that one day we can all support each other and grow to be as successful as we all possibly can."
There are limits regarding what can be done given the grassroots nature of this restyled Leeds operation but Callard, who has got other rugby projects going on and is doing kicking work in football, has vowed to give it his best.
"This is a part-time role, two nights a week plus Saturdays even though it is a bit more than that at the moment. You can certainly get clawed into it. It just consumes you at times like all things but there is a lot of hard work to be done. We are where we are in the league and it is a tough, physical league.
"My philosophy of the game is we should utilise all strengths and play right across the park and sometimes that is not possible because of the resources and the personnel that we have, but you still have to have your theories and principles of playing the game in order to get it across.
?The Gregory Property Group sponsors Leeds Tykes vs Rosslyn Park?
A special day awaits at Headingley Stadium on Saturday 8 January. All the details ?https://t.co/WW1jmOyUjo pic.twitter.com/kzkH5yA6rk

— Leeds Tykes (@LeedsTykes) December 13, 2021
"I have developed an app with a company in Wales and we have individual development plans rolling out to the players that will be interactive over the phone and will all be logged and stored. After a weekend, I'll go through the game as quickly as I can with all my comments chronologically through the game.
"It's not a question of saying, 'That was rubbish, this was rubbish and you were rubbish'. No, quite the opposite. It's what are we doing here, how do we get better, how do we improve on this? It is all interactive online because we only have two-and-a-half hours a week of training on the field.
"I don't want to come into the club and take that training up with video time. We do all that work online, we come ready to train and we are slowly growing that which is exciting."
Comments
Join free and tell us what you really think!
Join Free