'It's a disgrace' - ex-Ireland flanker sickened by southern hemisphere's reaction to controversial red cards
Former Ireland and Munster back row Alan Quinlan has lashed out at the negative reactions to the red cards handed over the weekend as New Zealand battled it out with Australia in Bledisloe IV.
Wallabies forward Lachie Swinton, who was making his debut, and All Blacks prop Ofa Tu'ungafasi both received first-half red cards for high tackles, yet instead of endorsing the referee's decision, the reaction on both sides of the Tasman has been for the most part highly critical.
Pundits in both Australia and New Zealand claimed the cards ruined the game, with many even suggesting that red cards should be done away with in their entirety.
"For me it should be a yellow card and put them on report and get on with the game," loudmouth Aussie pundit Phil Kearns said on Fox Sports. "It is ruining the game and ruining the spectacle."
Across the ditch in New Zealand, John Kirwan made similar comments on Sky Sports NZ. "I don't think we should have red cards in rugby. I think we should have a yellow card and [you go] on report and you suffer later."
"I'm with JK. I don't agree with red cards at all. Ten minutes off, put it on report, someone else can come in," said ex-All Black Christian Cullen. "It just ruins the game, seriously."
While the majority of the southern hemisphere reaction has been critical there have also been those that defended the punishment handed down by referee Nic Berry. Scotty Stevenson tweeted: ""The amount of people calling these cards 'soft' who would never have the ability to play pro rugby for a living…
"It's okay for referees to protect people's livelihoods/brains while still letting superior athletes entertain you, sitting on your ass, drinking beers."
Now Quinlan, who himself has turned his hand to media duties after a career as an abrasive forward, has said that he was left dumbfounded by the reaction to the red cards.
"What really bemuses me and frustrates me is the reaction of some of the legends of the game," said Quinlan on Off the Ball. "You have John Kirwan, Christian Cullen, two former All-Black greats, two great fellas as well, it has to be said. And then you have Tim Horan and Phil Kearns – two Australian legends.
"You have four stalwarts of the game who have achieved so much in the game, and the four of them were saying neither was a red card. And I'm just bemused looking at this. It's getting to the point where people are looking for mitigating factors, saying it's going to ruin the game…
"What's going to ruin the game for me is one of these injuries is going to really seriously hurt somebody, the force that they're putting into it.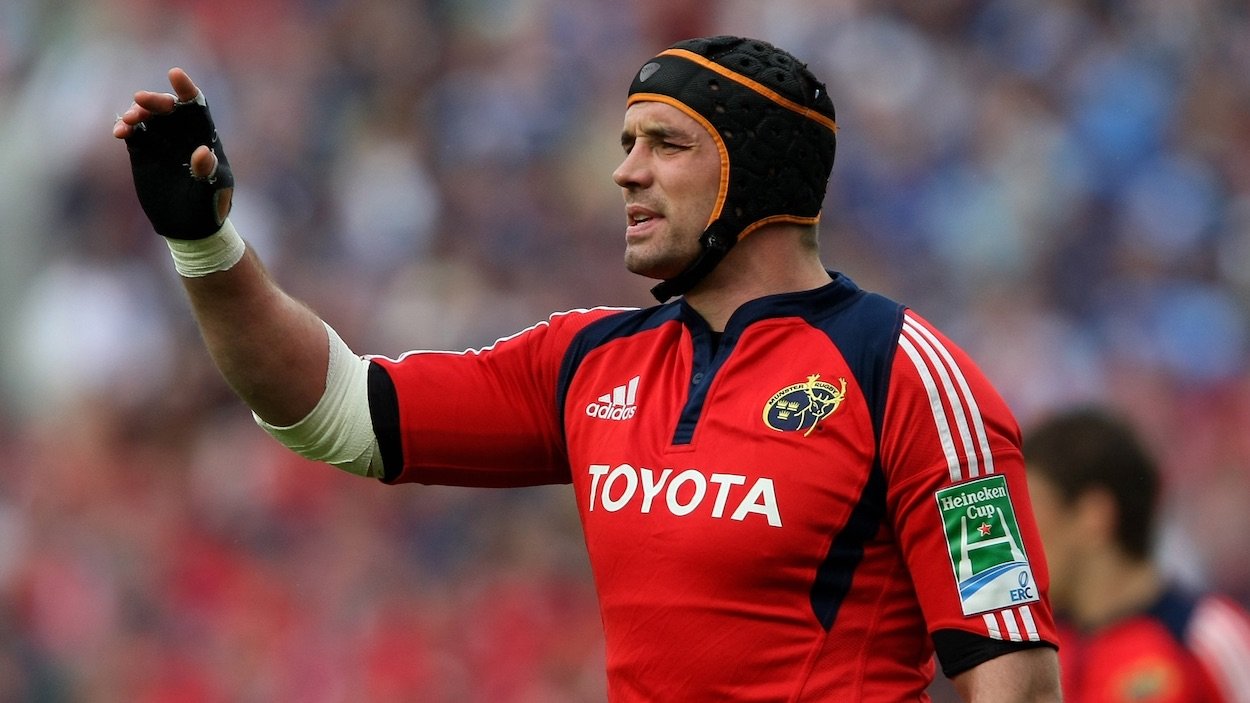 "Every time I watch a rugby game I think there's possibly going to be a red card for someone going high. Of course there's going to be accidental stuff. But I judge this stuff by the force the player puts into the tackle. You've got to reduce the level of force, to not put yourself in a position to potentially get a card and hurt your team."
"When John Kirwan, Christian Cullen, Phil Kearns, Tim Horan are talking about this stuff, it's not just in their own countries where people are looking at this. It's kids all over the world. This is on Sky Sports on Saturday morning. People can go onto YouTube and see it.
"I just think it's a disgrace, and I'm really sick of these type of tackles and people making excuses, saying it's going to ruin the game. What's going to ruin the game is someone getting seriously injures.
"I would say to any professional players throughout the world, take the force out of the tackle. Shoulders can slip up a chest, players can dip, all that stuff, but if the force is taken out of it, that will be looked at as a mitigating factor.
"I think they're two red cards, and the reaction afterwards is disgraceful from the four players (Horan, Kearns, Cullen, Kirwan) who I have great time for."
RugbyPass+ Membership
Join RugbyPass+ now and be a part of the conversation with all-new commenting!
JOIN NOW