'It has that wonderful air of unpredictability' - Dallaglio on RWC, England's revival and fighting for kids excluded from mainstream education
It's 16 years since Lawrence Dallaglio's England ruled the world, the talisman No8 fitting in perfectly as a piston driving his country on to glory behind their engine room skipper Martin Johnson. 
His retirement from playing hasn't been about pipe and slippers by the fireside, thinking of the good old days and all the battles that were won and celebrated. Far from it. "It's about keeping yourself active really and lucky enough I have carried on exercising," explained Dallaglio to RugbyPass. 
"I'm on the bike a lot and I'm in the gym. I dread to think what would happen if I stopped doing that. I'm okay for now and I'm still young pup, I'm only 47."
Currently, he has the adrenaline of a teenager. Rugby World Cup is on the horizon and the Land Rover ambassador, who is doubling up as an ITV pundit for the finals where he will be on the ground in Japan from the quarter-finals onwards, can't wait for the tournament to get started. 
World Cup hype has a habit of being manufactured, lame cliches repetetatively trotted out for the sake of something being said to offset the predicability of who will win. But there is very different dynamic surrounding these pioneering first finals in the Far East. 
(Continue reading below…)
No one is mortgaging their house on the outcome, a situation that is giving the 2003 winner goosebumps thinking about the many different ways the results might fall. "I'm as excited as I have been for a long time," he enthused. "It's getting the juices flowing like no other tournament. It's very exciting indeed."
Give Dallaglio an inch in conversation and he forcefully takes a mile to exhaustively explain how he feels it is all shaping up. "I'm not tired about talking about rugby. The beauty about this tournament, this particular World Cup, is that depending on which way you are coming at it, you can build a case in quite a few different directions and we haven't had that for quite a while, that is for sure. 
"There has been a slight air of predictability about international rugby, particularly with the strength of New Zealand in the southern hemisphere, but you can't quite say the same this time around. It's exciting, it's wide open. There is a little unpredictability about it and it could just be the opportunity for someone to write their name in history," he said, momentarily pausing before taking a depth breath and getting further into the meat and drink of his synopsis.
'You don't fully realise how much of a bubble professional sport is until that bubble actually bursts'
– @BryanHabana tells @heagneyl about his life after rugby retirement, the rejuvenation of the @Springboks and his excitement for the @rugbyworldcup ??https://t.co/gmoCmXcNve

— RugbyPass (@RugbyPass) August 25, 2019
"We have to pay homage to the double world champions [New Zealand] who have coaches who have won a World Cup and players who have been to a World Cup and won and have probably got more experience of playing in Japan than any other team. 
"Before we get too ahead of ourselves, let's make it very clear that they are the No1 side and the team to beat when they pick their players in their right positions, which I'm sure they will do come their opening game and they go out there with their best available team. They are going to take some beating. 
"They have a win ratio that is still above 90 per cent. That suggests that if you have only got to win seven games they are going go be the team to beat. But the good news is that they have been a little bit more vulnerable than in the past and there is a much stronger case that you can build for some of the other sides on their day.
View this post on Instagram

SBW is one of four current All Blacks from the 2011 team that have never tasted defeat at a World Cup. Will that experience be invaluable in Japan? ??#allblacks #rwc #rwcsquad #nzrugby #sbw #bluesrugby #counties #rugby #rugbyworldcup #rwcjapan
"If you're a guy who likes a flutter and you took South Africa last year at 12/1 you would be pretty happy with that bet now because they look like a team that has got momentum behind them with Rassie Erasmus coaching. They have certainly got the organisational skills and the belief to go and win the tournament. 
"Who knows? By playing New Zealand in the first game they might blow the tournament wide open if they were able to win. England are in a good place at the right time. They are fit, they look strong and they are playing some pretty good rugby. Equally you would say the same about the likes of Wales. 
"Australia, we can sit here and say are they good enough to win a World Cup but can they be consistently good enough go win seven games on the trot? There are question marks in the last couple of years as to whether they can do that, but are they good enough to beat any of the sides taking part in a one-off game? The Rugby Championship would suggest they are. 
'I remember as a kid having vague recollections of police checks and border controls, so the thought of going back there feels as though it's such a step back in time'
– @BrianODriscoll talks to @heagneyl about Brexit, @IrishRugby and @rugbyworldcuphttps://t.co/jHOw9x5HfE

— RugbyPass (@RugbyPass) September 1, 2019
"They are going to be a very dangerous side, particularly if they make it through to the knockout stages because they have shown in recent weeks with a full squad they are capable of beating anyone. So yeah, the tournament is set fare and that is why it makes it exciting to talk about because there is lots of different directions you can push it really."
A special word, though, for his own country England. Can they really emulate what Dallaglio and co memorably achieved in 2003 in Australia, especially after their last participation in the finals ended in pool stage ignominy in 2015?
"They have come a long way in four years is what I would say. Clearly, that was the low point of English World Cup history, the first team to not qualify out of the pool stages of a host World Cup. Eddie Jones took over and they have someone who has been to World Cup finals and won and lost. 
View this post on Instagram
"He has immense experience. He talked when he took England over about not having any world-class players but their journey and development in the last four years has seen that shift dramatically. They do have a number of players who are right up there among the best in the world in their position now and if they keep them fit and fresh then they have got as good a chance as any. 
"They have had a few defeats which raised question marks where they switched off for spells in games, 10, 15, 20 minutes which has cost them. But if they have learned some of the lessons from those games in Cardiff last season, the second half against New Zealand at Twickenham, they have got what it takes for sure. 
"I like the look of the squad that he has picked. He has got a core of players who have won trophies in domestic, European and international rugby over the last two or three years and that creates that real belief that they go to Japan and do something special."
Speaking generally, Dallaglio hopes that RWC 2019 can accelerate rugby's global appeal, a wish dependent on the minnows shining and the sport being easy to understand and consume for the non-rugby fans tuning in. "This is the ninth World Cup but the first time it is going to be in Asia, which is groundbreaking and historic as a sport. 
"Yes, we have got some of the usual favourites that we are discussing but there are some pretty special tier two nations and it will feel it is more of a global tournament than it has been in along time. 
"Rugby has really grown in the United States, there has been huge coverage the last few years. The appreciation of rugby is getting bigger and bigger and there is an opportunity as the playing schedule is a little bit fairer this time, not just slanted towards the tier one nations. 
"There is an opportunity. The fact that we can't call the winner gives it that wonderful air of unpredictability as we saw in the last tournament when they hosts didn't make it out of their pool and when Japan beat South Africa. Anything is possible. 
"It is a sport that is trying to de-complicate itself as much as possible to get the right outcomes and speed things up a little bit. We are in a much better place than some other sports in terms of the way that is refereed and the consistency we have across the board. 
"What we would love to see is some running rugby played and some exciting games but we have to also appreciate that in rugby it doesn't always mean tries being scored to make it exciting. It can be a great game where a team only scores one or two tries each. It is a game that is as much about the quality of defence as it is about the quality of the attack."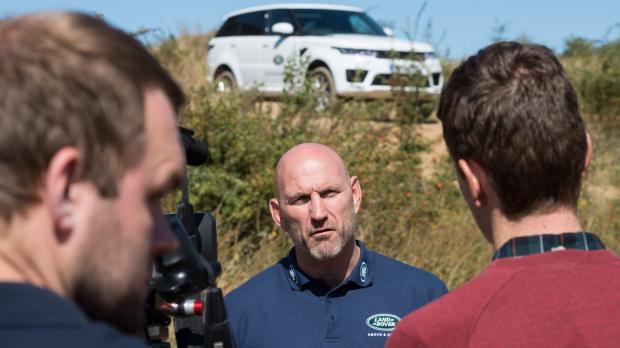 It's now 12 years since Dallaglio earned the last of his 85 England caps, coming off the bench in the 2007 World Cup final defeat to South Africa in Paris, but the Londoner has remained grateful for the opportunities the sport provided him, so much so that rugby's ethics are at the heart his RugbyWorks Foundation.
Its aim is simple – to tackle the issue of an average 2,720 young people between the ages of 14 and 16 being excluded on an annual basis from mainstream eduction in the UK. "Rugby has given me an awful lot in my life and I just felt when I retired that it was important that I find an opportunity to give something back to those who maybe aren't as fortunate as us. 
"Rugby has been good to me. It helped me at a difficult time in my life, it gave me a school system, a family and a set of values to build things around and that is where it came from really. It is just using the power of rugby to create positive outcomes for young people by giving them those opportunities. 
It's #InternationalDayOfCharity!

?? Find out more from @dallaglio8 and others about our vital work supporting the lives of young people in alternative provision through this fantastic film. pic.twitter.com/qL0XEusGiJ

— Dallaglio RugbyWorks (@DallaglioRW) September 5, 2019
"It's a very serious topic, a very serious problem in areas, not just in the UK but all over the world. The gap between the people that have and the people that don't have is getting bigger and there is an obligation on us. 
"If I was 14 and I didn't have someone looking after me or supporting me, would I want someone to come in and help me? The answer is yes, of course. You can use the values around rugby, around teamwork, respect, sportsmanship, enjoyment and discipline… and that is certainly what I have been trying to do through RugbyWorks. 
"I'm very proud of what we have achieved. We are working in over 80 schools around the country working with people who have been permanently excluded from mainstream. But people continue to be excluded every single day so it is certainly not going away."
WATCH: Lawrence Dallaglio and a number of other Land Rover ambassadors preview the 2019 World Cup
Land Rover is an official worldwide partner of Rugby World Cup 2019. With over 20 years of heritage supporting rugby at all levels, Land Rover is celebrating what makes rugby, rugby. #LandRoverRugby
Comments
Join free and tell us what you really think!
Join Free