How Wasps lost the battle for Coventry's hearts and minds
A recent statement issued by Wasps' Chief Executive Stephen Vaughan addressed the latest instalment of the Gallagher Premiership club's turbulent relationship with its ground-share tenant Coventry City.
However, his silence about the Black-and-Golds' precarious financial position has been deafening – and with the top-flight season only a month away rumours regarding Wasps' possible inability to plot a survival path are gathering momentum.
RugbyPass columnist Paul Smith is a born-and-bred Coventrian who spent three seasons covering the club for the Coventry Telegraph before hopping over the fence for a spell as Wasps' Media Manager. He is therefore ideally placed to provide local insight into what happens next for the Coventry Building Society Arena club.
"I am really struggling to see a long-term future for Wasps unless a new owner with very deep pockets is found," he says.
"The scale of the debt, their mounting losses and the ebbing away of local interest in the whole Wasps project all add up to a very problematic situation.
"Even if the club manages to get over the immediate hurdle and refinance £35 million of bond debt it is still losing the best part of £10 million most years.
"Professional rugby is almost 30 years old and no-one has yet found a way to make money from it, so there isn't a blueprint they can follow and it has a feel of throwing good money after bad.
"Owner Derek Richardson deserves huge credit for putting £20 million of his own money into a club which ten years ago meant nothing to him. Wasps were minutes from extinction when Derek bailed them out and since then he has certainly thrown everything at this famous old club but it does feel like he has almost run out of options.
"The CVC cash injection, revaluation of their Premiership shares and several upgrades of their stadium valuation have all helped keep Wasps afloat but it now seems they need a very rich Sugar Daddy – and soon – to survive much longer."
To those looking from the outside, Wasps' 2014 relocation from a dilapidated training base in Acton and ground-share arrangement with Wycombe Wanderers to purchase a modern stadium accompanied by a hotel, casino and other commercial outlets seemed a guaranteed road to future riches.
However, Smith says that the well-polished veneer presented to the rugby public hid some deep-rooted issues which have never disappeared and as a result while turnover has accelerated so have the losses.
"Football club Wimbledon's reinvention as MK Dons and the club's relocation to Milton Keynes left some very deep scars and the same issues have undoubtedly bedevilled Wasps," he says.
"In America no-one bats an eyelid when the Oakland Raiders become the LA Raiders but sport in England is much more tribal than across the pond. Not only were plenty of the club's Wycombe and London-based fans offended by the move to Coventry, but the wider sporting public also struggled to get on board with it. The label 'franchise' is inaccurate in Wasps' case but it is also a very emotive and it has never gone away.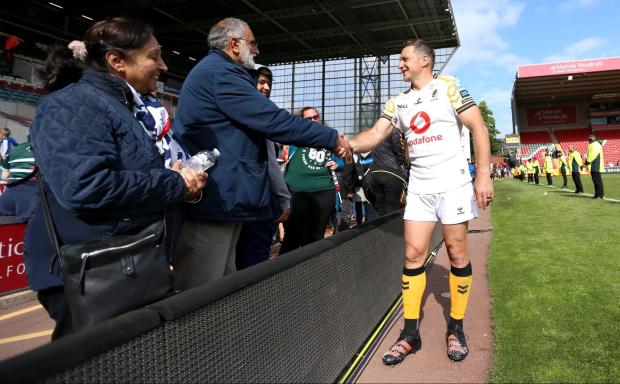 "A blaze of publicity, big marketing budget and loads of giveaway tickets to watch some of our sport's biggest names including George Smith, Charles Piutau and Danny Cipriani masked this for a while and there were some great days at the Ricoh when 30,000 were roaring the team to the Premiership and Europe's knock-out stages.
"But once the marketing hype subsided, the budget left room for fewer superstar names, Covid hit and fans had to pay for their tickets crowds dwindled fast and even given this passage of time locally the 'franchise' label has never gone away.
"MK Dons moved to a purpose-built stadium, but Wasps moved to a ground which historically was solely used by another club. This doubled their headache since as well as being viewed as a franchise that deserted its fan base, the majority of people in Coventry also believe Wasps ousted the city's football club from its rightful home.
"The club's hierarchy and its loyal supporters like to say it is only a vocal minority who oppose their presence, but eight years on that really isn't the case. I remember speaking to a 75-year-old neighbour of my late mother who knows nothing about sport and when I said I watched a lot of rugby at Wasps she asked: 'Is that the club that stole our stadium?'
"Facts state that that the Sky Blues chose to relocate to Northampton (then Birmingham) and had long since sold their stadium share to a company jointly owned by the city council and a charity. This left Wasps buying a vacant stadium from an organisation only too glad to rid itself (and the taxpayers) of a loss-making white elephant.
"But sport fans don't deal in facts and logic, it's about emotion, and if you ask the average uncommitted Coventrian about the Ricoh Arena (as it will probably always be known) you will hear it described as Coventry City's home ground.
"The football club has a big latent following as demonstrated by the rapid growth in spectator numbers since it returned to the Championship. Because Coventry City climbed from the old Fourth Division to the top flight under Jimmy Hill, then stayed there for 30-plus years while also winning the FA Cup in 1987, many multi-generation families have grown up with 'the City' as their team.
"Throw into the mix that Coventry Rugby Club has an outstanding heritage and a loyal supporter base and it is easy to see how the 'London Magpies' struggle to win over casual sports fans in their new city. Plenty were happy to pay a few quid to flirt with Christian Wade running in a hat-trick against Bath on Christmas Eve, but few went on to give their sporting hearts to a club whose very presence in the city challenged established football and rugby clubs.
"I remember being amazed on my first few days working at Wasps when I saw the size of the back-office which must have numbered close to 100 people. I called a friend who worked at Newcastle Falcons to find they had around 15!
"Wasps clearly threw massive amounts of cash at sales, marketing and development including lots of community initiatives and ticket giveaways. With hindsight they clearly realised that they had to make a massive initial impact – and perhaps with this in mind the squad Dai Young assembled was built to play expansive, entertaining rugby which drew fans in.
"However, it was also a big commercial gamble, built on massive levels of debt and eight years on unless a benevolent investor emerges soon it is hard to see how that gamble does anything other than fail."
Comments
Join free and tell us what you really think!
Join Free