'If you were carrying the ball, you always felt he was hunting you down, that he was coming'
Definition of a ringer: A person highly proficient at a skill or sport who is brought in to supplement a team. In amateur sports, they are typically a mate or a cousin who is drafted into the team at the last minute. They normally play for someone else or have extensive experience and tend to raise the standard of the team. In schools' rugby they would sometimes be accused of being older than they actually were – the lad with the beard playing U14s, for example. 
What they are typically not is a 26-year-old All Black, whose last game had been a World Cup quarter-final. And certainly not when appearing for South West 2 West division club Barnstaple RFC, who play in the fifth tier of English rugby. 
But then there was nothing typical about Jerry Collins, and the story of how he turned out in a Devonshire grudge match against Newton Abbot is just one of many that made the man so special. So how did he end up in Devon in the autumn of 2007?
Rewind a few weeks and Collins had been in the starting XV for New Zealand when they were knocked out of the World Cup in a shock defeat to France in Cardiff. It was the latest in a run of surprise World Cup defeats for the All Blacks dating back to 1991 and the response back home was a mix of incredulity and anger. 
To take time out of the glare, Collins went down to Croyde in Devon for some surfing and much-needed rest and recuperation. He was spotted in a cafe by the Barnstaple head coach, Kevin Squire, who went over to have a chat and invite him down to the club.
The true stories behind 20 of the toughest players to ever play the game, from pre-WW1 firebrands to modern-day YouTube sensations. They are shocking, gruesome, funny and sometimes tragic, but what unites these men is their total commitment to the sport.@Books_Wales #loverugby pic.twitter.com/lYjqCeFUrs

— Y Lolfa (@YLolfa) October 23, 2020
He didn't think too much more of it, so imagine his surprise when Collins pulled up at the ground. He spent the evening with the team and even coached a session for the U14s. As the evening wound down, Squire cheekily asked if he fancied a game. "I told him we had a match coming up and he was welcome to join us, but again I was gobsmacked when he showed up to catch the bus with the rest of the players."
The league's rules forbade him from registering for the first team, but the regulations around the second XV were more relaxed, so whilst still on the books of Wellington-based Super Rugby outfit Hurricanes, he was on for his Barnstaple RFC debut against Devon rivals Newton Abbot. 
"It was very surreal for the lads as they are all amateurs – most are builders, bricklayers, plumbers and so on," said Squire. "He had even been to a sports store to buy a new pair of boots."
Whilst getting changed pre-match, Collins called his New Zealand colleague Dan Carter, beginning the call by exclaiming, "You wouldn't believe where I am!" What Carter replied wasn't recorded, but he likely didn't say "north Devon".
Collins played barely at half speed but still managed to score a try and made three try-saving tackles, most notably when he scooped up an opposition winger who thought he was leaping through the air to score a try and carried him back down the pitch. Unsurprisingly Barnstaple won 21-7.
He'd retire from Barnstaple with a 100 per cent-win record, but the story wouldn't quite end there. Back in the clubhouse post-match, Collins asked his Barnstaple teammates if he could wear their club socks while playing for the Barbarians against South Africa at Twickenham a month later.
"There is Jerry Collins of New Zealand and Barnstaple," said commentator Stuart Barnes as the All Black smashed into one of his shuddering, trademark challenges in front of 58,000 fans, wearing his red and white Barnstaple socks.
His Devonshire cameo neatly summed up Jerry Collins: he was a hard-man enforcer dominating the back row but was also full of generosity and a rare colourful figure in the professional era. He played in some of the top leagues and biggest games, collecting 48 Test caps for New Zealand and captaining them three times but for him, rugby was always meant to be fun.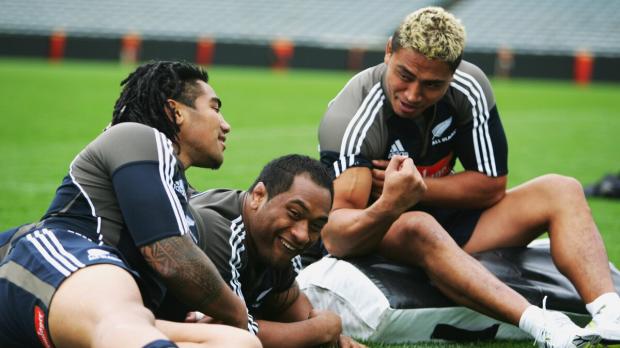 Collins was, like fellow hard man Brian Lima, born in Apia, Samoa, though he moved to the suburb of Porirua, north of Wellington, in New Zealand when he was young. Not only was he born and educated in two rugby heartlands, but among his cousins were Tana Umaga, who would be his captain in an All Blacks shirt, and Sinoti Sinoti, the Samoan international who played for Toulon and Newcastle, among others. 
With rugby in his blood and dominating physicality from a young age, he moved quickly through the New Zealand age grades. Aged 18, he led Northern United RFC, better known just as Norths, in Porirua, becoming the youngest captain of a senior club rugby team anywhere in the world. 
Collins was voted player of the tournament when the 'Baby Blacks' won the World Junior Championships in 1999. Within two years he was a regular for the Hurricanes in Wellington and became the first player from that U19 side to become a full All Black. 
New Zealand rugby is not short of giants, but the 6ft 3in, 17st 2lb Collins, regularly sporting bleached blond hair, cut an imposing figure. He had the biggest biceps in the All Blacks squad, with a 52cm circumference – the same size as Arnold Schwarzenegger at his peak of bodybuilding. So big were his 'pythons', he actually had to work to reduce their size when they began to interfere with his ability to tackle people properly.
His tackling was ferocious, and YouTube is full of clips of his 'greatest hits', with Colin Charvis, Sebastien Chabal, Thinus Delport and Nathan Sharpe among those starring in X-rated videos of their encounters with Collins.
Nigel's No1?? tough guy ?https://t.co/E9OOHaHvEr

— RugbyPass (@RugbyPass) October 27, 2020
In his autobiography, Tana Umaga explained the lengths to which opponents would go to avoid a close encounter with his cousin. "Players understand that when you're playing against Jerry Collins, you've always got to know where he is because you don't want to look up and find yourself carting the ball straight into his channel. Teams are good at making up plays that keep their ball-carriers away from him."
The hit on Colin Charvis of Wales, during a 2003 fixture in Hamilton, was a particularly brutal collision. This ferocious moment in an altogether grisly afternoon for Wales, who lost 55-3, happened when the visitors were still just about holding their own. On 22 minutes, with the ball in midfield and the score just 7-3, Charvis took a quick ball at an angle and powered forward, aiming to punch a hole in the Kiwi defensive line. 
But waiting for him was his opposing No8, Collins, who not only smashed into Charvis, stopping the Swansea man in his tracks, but then pushed him back and, leaning in on him, basically folded him into the floor. For those of you who can't recall, Charvis was 6ft 3ins and a stone heavier than Collins at 18st 2lbs, but his own physical attributes didn't stop him from being on the receiving end of a hard, but legal, Collins thunderbolt. 
Charvis lay crumpled and unconscious on the pitch, but play continued as the All Blacks broke away and his desperate teammates tried to stop the counter-attack. Fortunately for the Welshman, Tana Umaga was looking at Charvis rather than the holes in the Welsh defence and ran over to him, cleared his breathing passage and placed him in the recovery position as the doctors ran onto the pitch.
"When I got knocked out, Tana was brilliant – I was unconscious but he rolled me over and ensured I didn't swallow my gum shield," Charvis said, recalling the incident to a journalist a few years later. Charvis left the pitch and was later diagnosed as suffering from whiplash.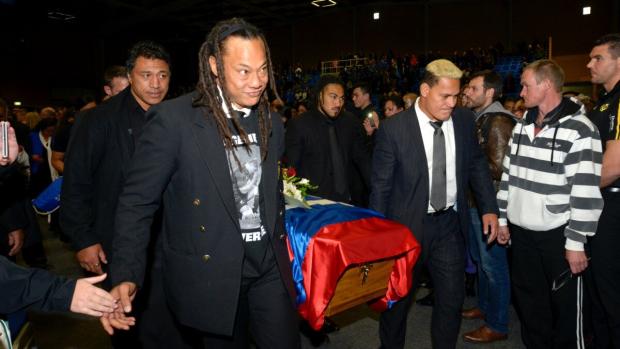 Soon his fragile Welsh teammates collapsed too, as a debutant Dan Carter pulled the strings for the All Blacks in midfield. But Umaga's act of concern following his cousin's smash resulted in him receiving an international fair play award, the Pierre de Coubertin medal, and an acknowledgement of thanks from the Welsh Rugby Union.
Another of the modern era hard men of the game who came up against Collins and had the rare experience of being bounced back was South African flanker Schalk Burger. He recalls facing off against Collins in that period. 
"So that was my job, back in the day – try to keep Jerry quiet, or try to intimidate him if you could. Look, this was a bloke who never backed down: he was one of those players who would grab a ball 50 yards back, look you in the face and basically say as he advanced, 'OK, let's see who is the bravest here'."
Burger recalls the 2005 Tri-Nations Test between the 'Boks and All Blacks at Newlands as a particularly physical match, with him and Collins going hammer and tongs at each other for the 80 minutes.
"I think Jerry had a few on me that day. But that was what it was like playing Jerry: there was just no backing down. If you were the type of opponent to back down, I think he would have lost respect for you. He wanted you to show your respect by taking him head-on. Jerry won most of those collisions throughout his career. He was a tough player but also an honest and true man."
 This is an extract of the chapter on All Blacks forward Jerry Collins in Hard Men of Rugby, the newly published Y Lolfa book written by Luke Upton (click here).
Twenty hard as nails icons of rugby such as Wayne Shelford, Collins, Bakkies Botha, Jacques Burger, Martin Johnson and Sebastien Chabal feature in the book along with other former players like Martin Johnson, Trevor Brennan, Weary Dunlop, Bobby Windsor, Tomas Lavanini, Brian Lima and Norm Hadley.
Comments
Join free and tell us what you really think!
Join Free