George North saw gremlins in 2015 pre-season running - now Paul Stridgeon aims to make Wales even fitter
Paul Stridgeon is confident of delivering the fittest ever Wales squad for the Rugby World Cup in Japan.
The reigning Six Nations Grand Slam champions, who are on a record 14-match winning run, are heading to Switzerland and Turkey in the build-up to the tournament that also features warm-up matches versus England and Ireland.
Stridgeon, the vastly experienced head of performance who has also worked for the Lions, told WRUTV: "We have had a good run in the last year with 14 wins from 14 games and it feels as if we have been planning for this World Cup as soon as the last one ended.
"We know that whenever we get the boys we see an improvement in fitness, intensity training, how they flow and decision making. The longer we have them the better and this is the longest time in the World Cup cycle which is perfect.
"A lot of focus is strength and conditioning and we get a lot of weights in there with four or five weights sessions a week. Currently, we are focussing on speed work keeping everything nice and powerful. 
Head of Performance Paul 'Bobby' Stridgeon explains how Wales are planning to arrive at #RWC2019 in optimal condition ?? Bydd Cymru'n cyfuno hyfforddi ar uchder (y Swistir) ac mewn gwres (Twrci) yn yr haf. pic.twitter.com/WGFwfBoDXK

— Welsh Rugby Union ? (@WelshRugbyUnion) June 14, 2019
"We are integrating this with skills sessions with the coaches, static skills and a lot of hand-eye coordination work. In 2105 we went to Switzerland and that was our high altitude camp so we live high and get all the benefits of living at altitude and then come back down to train.
"If you train at high altitude your training sensitivity is heightened, so we go back down the mountain, train hard and then go back up to sleep. We then come back and have two games with England and then a week without a match. That is when we go to Turkey for our heat stress camp. In 2015 we went to Doha."
Head coach Warren Gatland has previously explained why he has chosen Switzerland and Turkey to prepare the players. He said: "The Switzerland one is altitude training, the idea is that we sleep high and train low.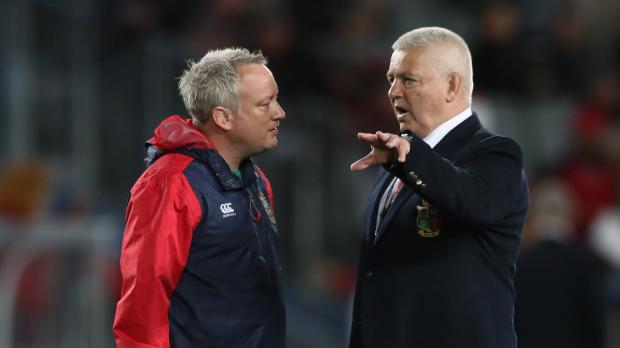 "The players will come down every day to train and it's about increasing the blood plasma and the red blood cells. We got some really good results from going to Fiesch in 2015, so we're returning back there. 
"As for the warm weather, we've looked at a really good camp in southern Turkey. It's a new camp, the facilities there are outstanding. That's where we'll look to get some of the heat stress in pretty humid and hot conditions."
??????? Here is Wales' 42-man training squad for the 2019 @rugbyworldcup, which includes two uncapped players in prop Rhys Carre and wing Owen Lane ? Mae'r pâr o Gaerdydd wedi cynrychioli @cardiff_blues, Cymru D20 a D18 gyda'i gilydd. #HWFN pic.twitter.com/Om9fUxVAPP

— Welsh Rugby Union ? (@WelshRugbyUnion) April 30, 2019
Lions wing George North remembers those Doha sessions. "It was pretty savage and it was horrendous to run in the heat for the bigger guys. It was the hardest pre-season I had to do. 
"I went to places no man should go to and I saw gremlins when I was running! That is pre-season and you are not there for long. We are doing skills while fatigued."
WATCH: Wales boss Warren Gatland's unveiling as Lions head coach for a third consecutive tour  
Comments
Join free and tell us what you really think!
Join Free