"I want to play when I'm ready, rather than being chucked in when I'm unprepared or undeserving."
Patience is a virtue that can be hard to find in young athletes, but it is something which is helping budding Saracens back-rower Andy Christie prepare for what he hopes will be a long career at Allianz Park and in professional rugby.
A product of Harrow School, Christie graduated from Saracens' junior academy to their senior set-up at the beginning of the 2017/18 season, before spending the majority of that campaign at Old Albanians, turning out 14 times in National League 1 and picking up two tries in the process.
With teammate Nick Isiekwe making an impact immediately out of school for Saracens' senior side, as well as similar stories for players such as Marcus Smith and Tom and Ben Curry, a feeling of frustration could be understandable, but when looking back on his debut season, there is a sense of contentment around Christie.
"I think it went pretty well. You have that first year to get used to the professional environment and, really, you're just trying to establish yourself with the rest of the squad."
"You're in the academy, obviously, but you're all part of the same squad in the bigger picture and you're just getting used to that lifestyle, because it's something that's so different to what you've been accustomed to. Ultimately, I made improvements where I wanted to, and I made progress on where I want to get to eventually, although I'm still a long way off."
One thing that certainly helped Christie acclimatise to that new challenge was the time he spent at Harrow, a school renowned for producing top Gallagher Premiership and international rugby players, not least so Christie's teammate, Billy Vunipola.
"I think Harrow helped me immensely. They constantly posed me challenges and I was thrown in with a lot of new people, like Sean [Reffell], Reuben [Bird-Tulloch] and Elliot [Obatoyinbo]. Getting to know them and being in with a lot of class players in that age-group was brilliant and now we have the likes of Manu Vunipola at Sarries, too.
"I think going to Harrow, for me, was a great move. It gave me the tools I needed to get a professional contract. I just think all the extra stuff Harrow offers and the opportunities I was blessed to have, I really just can't recommend it enough."
His time at the school certainly helped Christie make an impression in junior rugby and saw him represent England U18s after a switch from the Scottish Exiles program at the U16 level. It paved the way to a professional contract with Saracens and a rather unique opportunity this past summer.
"I got the call from Mike [Hynard, Saracens' academy manager] and as soon as he mentioned it, I jumped at it."
Instead of spending his summer lounging on a beach somewhere, Christie and his club teammate Obatoyinbo were making a concerted effort to improve as rugby players. They headed down to Wellington in New Zealand, to spend several weeks embedded in Mitre 10 Cup side's academy and play some first team rugby in the local club leagues, which Christie describes as being at "Championship or high National League 1 level".
"The club came with the offer to me and Elliot and they thought given the amount we'd developed in the past season – we obviously both still have a bit of a way to go – and the fact that we'd had a couple of injury issues, that it would be a great opportunity for us to have a bit of a freedom, play some rugby and develop over there. There's not really any place better in the world to do that than New Zealand."
During his stay, Christie turned out several times for Petone in the Wellington Premiership, a club that has produced a number of prominent players over the years, such as Tana Umaga, Andy Leslie, Neemia Tialata and even former England international Riki Flutey.
It's fair to say it was a valuable learning experience on the field.
"It's so unstructured. In the UK we have plans to dictate the first few phases but over there, they just don't. They're not going to give you detailed instructions as to what to do. They'll give you the basic structure, but then it's just, basically, play what you see. Having a taste of that was great. Whilst I was there, I played against a couple of the Super Rugby lads and they just came in and tore up playing like that. It's so ingrained at every level out there."
The learning wasn't just limited to his time on the pitch, either, as Christie experienced a whole new kind of rugby culture off of it, too.
"It's just so different. To start, we were in the gym at 6:30 in the morning, which is ridiculous [laughs]. Obviously, at Saracens you're in for a full day when you're training. You're doing gym, units and rugby training, but over at Wellington you get in and do the gym and that's kind of it. Elliot and I had skills sessions with Rodney So'oialo and Cory Jane but even that would finish at about 10:30am."
"The other lads would go straight from the gym to jobs or university. It's so different to over here, where you go from school to professional contracts. They tend to play for their local first team and then try and earn a place at Wellington, which will get them a contract."
"It definitely opened my eyes to how fortunate we are. I was waking up at 5:30, because I had a bit of a journey into the club, trying to squeeze in a bit of food, which isn't fun at that time of day, then as soon as we were done, we would walk into town and get a meal."
"At Saracens, there's always someone there to help you, but in New Zealand, it's more about taking control of yourself."
When pushed for one aspect of the experience that he found particularly beneficial during his time in New Zealand, Christie's answer was emphatic.
"Rodney So'oialo. He was unbelievable. For me personally, who better is there to learn from than someone who won 62 caps in the back-row for the All Blacks? He made the experience."
"He taught me so much, on all aspects of the game, but if I had to pick one area where I felt he made the most impact, it would have to be the work he did with me at the breakdown. He taught me how it's not always about playing the ball, but also playing the body position of the opposing player. He showed me that if I'm going to have to lean over to get the ball, I'm probably going to struggle to stay on my feet and in that instance it's better to control the body of the opposing player by turning him and slowing down their ball."
"It was things like that, that seem so obvious, but until it's said to you, it's not necessarily something you think about."
"He's done things like jiu-jitsu, too, and that's kind of opened my eyes in terms of thinking outside of rugby as to how to improve. In Wellington, they had us going down to the dojo for fitness and doing some karate."
"He blew my mind, he was unbelievable. If there was one thing I could have brought back from New Zealand, it would have been him!"
The time Christie spent in New Zealand meant that he missed a lot of Saracens' preseason, but that hasn't dampened his hopes for the coming season, especially with the extra experience he has picked up in the process.
"This season I need to get my contract renewed and I've got another year of U20s eligibility, so I want to keep improving and make those both realistic goals. Everyone at Saracens just wants to play for the club. It doesn't have to be for the first team, but I want to play with that Saracens shirt on, whether it's with the first team or in the Premiership Cup and Shield competitions."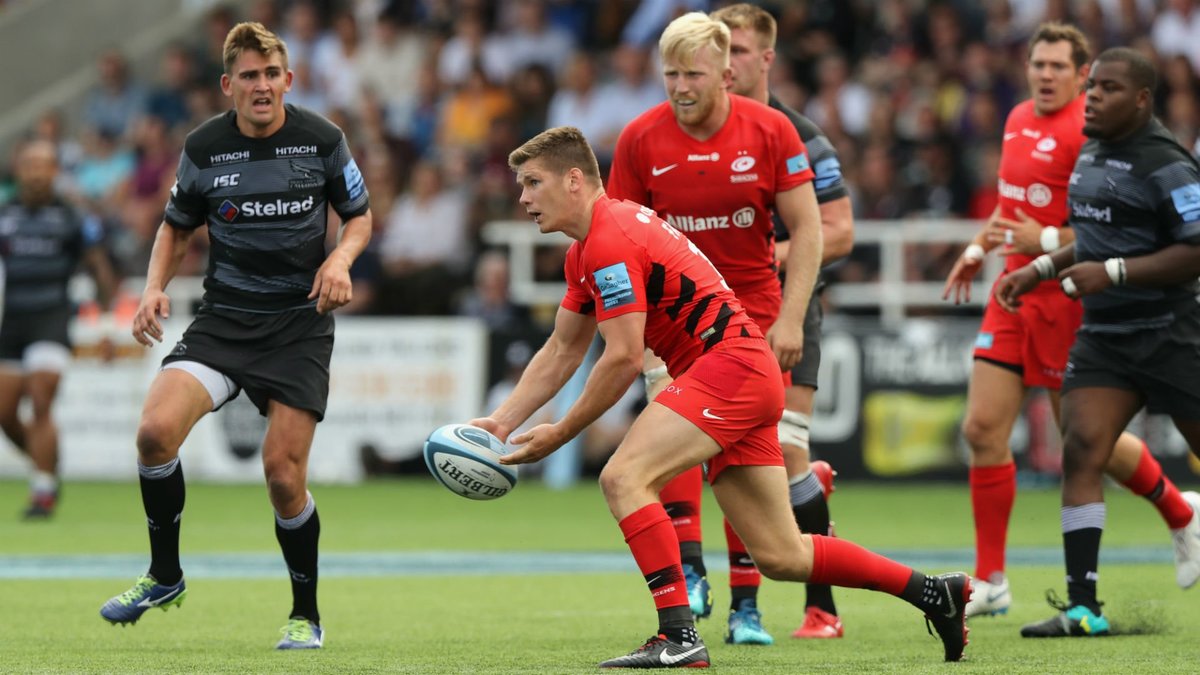 With such a star-studded array of players in the senior side, Saracens have an impressive ability to retain their academy talent and it's that belief in the pathway that keeps young players like Christie focused, determined and capable of achieving the goal of eventually forcing their way into senior contention.
That said, trying to dethrone the likes of Vunipola, Mike Rhodes and Jackson Wray would be a daunting task for any player, but Christie is insistent that you can't look at it in that way.
"You've just got to learn from them."
"For example, today I went over my Storm game [vs Richmond, preseason friendly] with Billy [Vunipola] and straightaway I was learning things. You can't look at them as being an obstacle."
"Another example today was Faz [Owen Farrell] helping me with how we run our plays off of 10 and things like that. There are so many people to learn from and there's so much knowledge in the club."
"Obviously, being a young player means you want to make that step up at some point, but it's about preparing for it and being ready to take it."
With Isiekwe, Rhodes and Vunipola all in the mix for England this season, Christie's patience and determination to be prepared for any opportunity that comes his way could be about to pay off.
"We have so many players that go away on international duty that it's just about being ready. We have great coaches and we know they're going to make the right decision about when we should step up, so it's just about having faith in them, too. Not everyone can be making an impact at 19 like Nick [Isiekwe] did, but if you look at Jamie George, he bided his time, broke through a little later and then went straight from Saracens to the British and Irish Lions."
"I think if you can make it at Saracens, you can make at it any club."
It's hard to disagree with that statement given the success the club have had in recent years, not only in terms of winning titles, but also producing homegrown talent from their own academy, many of whom not only go on to form an integral part of the senior Saracens side, but also take up key roles in the England squad.
If every player coming through at Saracens is tackling their development with the same level-headedness and commitment that Christie is, the signs are ominous for any club looking to knock Saracens off their perch at the summit of English rugby.
Mailing List
Sign up to our mailing list for a weekly digest from the wide world of rugby.
Sign Up Now