Beattie: Maybe Matt Williams should 'shut up'
In the well-worn cliché often misattributed to Albert Einstein, but favoured by one of my closest rugby friends, the definition of insanity is doing the same thing over and over and expecting a different result. This applies on the rugby pitch just as much as in the science lab. And it is precisely the mistake Scotland made on Saturday, again and again, running headlong into the fiercest defence on the planet.
The only way to conquer this France side – who blitz furiously between the 15m lines, who take away all your time and space in possession – is to play without the ball. You have to kick long and on the field. You have to put in smart cross-kicks. You have to be more cautious or you will simply be blitzed to oblivion by their posse of huge, ultra-aggressive, uber-organised athletes. It might sound negative or anti-rugby, but give these juggernauts easy targets to hit and you are finished.
What did Scotland do? Run, straight into the eye of the storm. Every time aerial ping-pong broke out, France would kick, and Scotland would run the ball back. They naively thought they could pass their way through this brutal, organised defence – and do it inside their own half. They got smashed, turned over, and gave up easy field position. In commentary, we had our heads in our hands, not really believing what we were seeing: Scotland were not merely shell-shocked by the blitz, but actively chose to run into it.
Gregor Townsend's side kicked 3.4 per cent of their possession. France kicked close to 14 per cent of theirs. Watching Scotland get things so completely wrong was startling given how well they had performed in this fixture of late, and how Townsend had outfoxed Fabien Galthie in a brilliant Scottish win two years ago.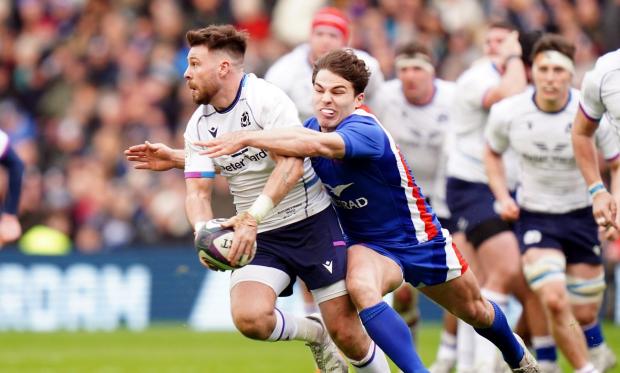 Townsend is a canny operator. He will have seen New Zealand and Ireland try to play through the French blitz in recent months and get utterly pulverised. His players are lighter and smaller by far but he chose to follow the same template. His team walked headlong into a trap. And sitting close by in their coaches' box, we could see and hear Galthie and Shaun Edwards roaring every time Scotland tried to run out of the middle third of the pitch. Watching it unfold live was extremely hard to stomach.
If you play against a blitz, and you don't break them in phases one-four, you're stuffed. You have to kick. France have a physical superiority with their raging bulls steaming up from out to in, and you almost have to refuse the collisions. Especially if you're Scotland – there's just no point otherwise. As phenomenal as Rory Darge was on his first Test start, he was feeding off scraps. Imagine if he'd been carrying in the right areas of the field.
It is not fair to ask a pack to attack between the tramlines, try and pass through a French blitz defence in its own third of the pitch. It is nigh-on impossible. For the life of me, I can't understand why Scotland thought that was a good idea, why messages didn't arrive from coaches to change strategy, or why the leaders on the pitch didn't problem-solve as things deteriorated.
I haven't seen Townsend or Scotland get things so tactically wrong since the World Cup. They were crucified.
The knives have come out for Finn Russell again this week after his kick to Antoine Dupont and ambling return as Paul Willemse crashed over. People have called him lazy and questioned his work rate. In its entirety, though, that try was an example of the panicked mayhem that peppered Scotland's play.
The kick-chase was so fragmented as Russell and Darcy Graham raced after the ball, leaving a straggly mess of team-mates trailing behind. Russell and Graham were detached from any defensive chain, just encouraging France to counter. And if you kick down the throat of the best player in the world, and offer him a fractured defensive line, you are inviting madness to your doorstep. There were so many similar brain-fart moments from Scotland.
I know how Russell will be feeling right now. When I was 18, playing for Glasgow against Cardiff at the Arms Park, I watched a kick from a Cardiff player sail over my head. Standing in their half, in my youthful naivete, I thought our full-back would punt it back long, and by staying where I was I'd be in a good position. So back I strolled. Come the Monday morning review session, up went the clip for all to see: me, lumbering slowly along without a care in the world.
'What are you thinking here?' asked the coaches. 'Why aren't you part of the team?'
It was humiliation, but humiliation I needed. It was also the last time I walked on a rugby pitch. And it taught me a valuable lesson about work rate, being there for your team-mates, being hard to break down as a defensive unit. One error in a kick-chase from Russell and Graham has been compounded by a lack of effort to get back and defend the try line.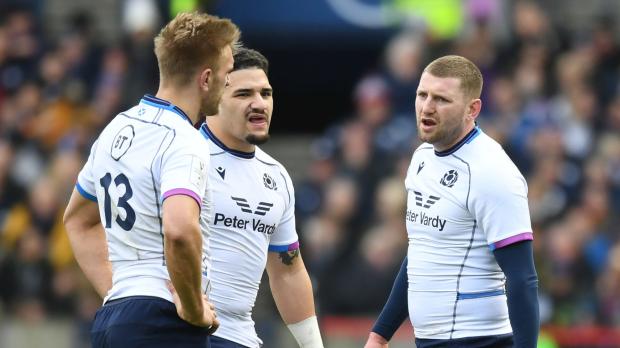 It's horrible, but for the man in question, it is multiplied 100 times over. I wanted the ground to swallow me up that Monday morning because of the shame I felt in front of my team-mates. There were only 40 of us in the room. Russell has had it all over social media, his performance savaged and his attitude doubted. I absolutely know what he is feeling and it's grim. Having played, trained and worked with him, this was a momentary blip that happened on the worst of occasions. I know he'll endeavour to right that wrong – he is constantly thinking about rugby and trying to get better.
Inevitably, there will be more questions asked about Scotland's mentality, and whether this group will ever seriously challenge for a title.
After Scotland lost in Cardiff, Matt Williams – who has the lowest win percentage of any Scotland coach – advised the Scots to "shut up" until they "action out their talk", referring to a hype and arrogance that doesn't actually exist among any of the players.
Most Scottish rugby folk will have ignored the notoriously bombastic Australian. Plenty will have laughed. I was only involved with one camp during his tenure, my first with the national team. As we gathered for the first meeting, he had us stand like registration at school. Then it went something like this:
'Who has taken their protein shake today? If you haven't, sit down.'
A few boys sheepishly took their seats.
'Who has brought their diary to this meeting? If you haven't, sit down.
'Who has had their ice bath? If you haven't, sit down.
'Who has done their video analysis? If you haven't, sit down.'
He wanted to stress how horribly unprofessional everybody was, without really offering any tactical or strategic help. It was just lambasting players. And if you're wondering, the only person left standing was Chris Paterson.
Now, I don't know Matt at all, but it is frustrating to hear, statistically, the worst Scottish coach of all time slamming Gregor Townsend, who is statistically the best.
Saturday was a more chastening experience for Scottish fans than any verbal broadsides Matt could launch. A reality check after the positivity of that Calcutta Cup win on the opening day, which already feels like a long time ago. The comprehensive French win was a back-to-Earth moment in terms of where Scotland really are.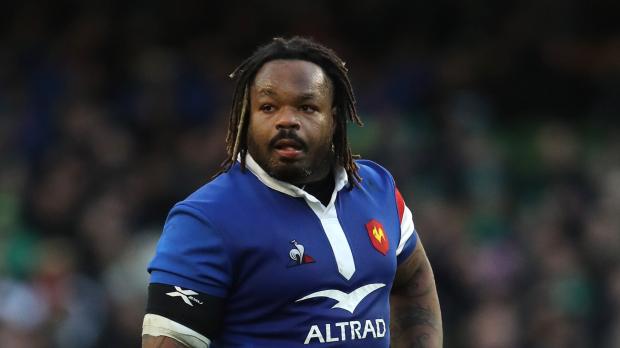 I worked alongside Mathieu Bastareaud, the great French rugby icon, at Murrayfield. Though I say 'worked alongside', in actual fact, I spent most of the day acting as Bata's unofficial photographer. I lost count of the number of fans who came up to us and asked me, 'here mate, can you take this picture?'. It's safe to say the big man's celebrity status far outshines my own, even in Scotland.
Bastareaud did not always enjoy his spells with the national side, and what struck him most was the delight the French boys took from the game. How well they've been prepared, how settled they are, and how they demolished Scotland. He couldn't believe how easy it was, away from home. It was evident among the partying away fans too, many of them combining kilts and berets, Irn Bru and beers in a uniquely compelling Gallic/Gaelic sartorial fusion. The French have fallen back in love with their team after an on-off relationship this past decade.
I caught up with Greg Alldritt, Julien Marchand and Anthony Jelonch for a few beers in town after the game. They wouldn't want to appear disrespectful, but while they said it was tiring when Scotland put the ball from side to side, it felt pretty comfortable defensively. They are very at ease out of possession, and they didn't look stretched at any point. For them it was almost like ticking a box. It couldn't be further form what you might associate with the shooting-star, Jekyll-and-Hyde French tendencies of old. This is machine-like.
Other teams will have watched Saturday's comprehensive victory and grimaced. They will learn to refuse the physical arm wrestle with the French because it's just not possible to win it. For Scotland, it's too late. Their goal to ball-play, mount multi-phase attack and manipulate France better than Ireland or New Zealand managed backfired spectacularly. It was virtually suicidal.
It's a very harsh lesson to learn, live, in front of 67,000 people and millions more on television, but that is exactly what happened to Scotland.
Comments
Join free and tell us what you really think!
Join Free