Beattie: Facing Galthie's total war 'was and is my worst nightmare'
For much of the past decade, some France players I count as good friends have treated international duty as a poisoned chalice. I've seen guys leaving their clubs for Marcoussis with a sheepish air about them, proud to represent their country but knowing the level of coaching, organisation and ultimately, results, were all below par. And if the players were mired in such apathy, imagine how the rugby-daft fans felt. The FFR routinely struggled to sell out Stade de France and since they don't actually own the stadium, could end up losing money if the attendance didn't rise beyond 65,000.
But boy, are France back. And how the mood of the nation has swung. The side many of us grew up watching – laden with panache, flair and x-factor – has returned, and with it, their bond with the public. Marketing folk talk about 'selling the sizzle' rather than the sausage itself, and while the sizzle on Saturday with pyrotechnics, deafening noise and anticipation was phenomenal, the sausage was juicier still.
When little Gabin Villiere stood up to collect his match jersey during the week, he made a vow: 'this game is going to be complete warfare and I will epitomise that'. He promised his team-mates he would be the snarling, relentless embodiment of conflict. He fairly delivered. This is a man who was rejected by Rouen as a ProD2 scrum-half and has reinvented himself as one of the most lethal wingers in the world. At Rouen, he was told, 'you're a scrum-half who can't pass, catch or kick, your ankles click together when you run, you're not a natural athlete and you're never going to make it'. Here he is, leading a raid, waging war in a Test match, against what was seen as the most mobile, dynamic pack in the world.
France pressured Ireland incessantly, robbed them of any time and space, and made them look very, very ponderous, like rabbits in headlights. Villiere led that defensive effort.
How do they put the Shaun Edwards blitz into practice? With the enormous athletes at his disposal, Fabien has his real heavyweights on the front foot and tells them not to worry about what happens outside them. Uini Atonio, Cyrille Baille, Paul Willemse and Julien Marchand are instructed to run at the outside shoulder of the attacker opposite them, and absolutely obliterate him. One job; that's it. You are a defensive javelin – go and skewer someone. Nobody is stepping back against the grain because you have inside blitzers.
You ask a pack of France's size and power to do that, and they dominate 80 per cent of the collisions. That's where Ireland knocked the ball on and made mistakes. It happened to Italy, and it happened to New Zealand in the autumn. The extraordinary were made to look very, very ordinary.
That was the forwards effort, but the backline was blitzing off first-phase launch plays too, which you just do not see nowadays. It's almost unheard of. They didn't care who was in the tramlines or on the edges. They leave the wingers – basically forgetting they exist.
When you cut a player down behind the gain line, Villiere and Gael Fickou have time to contest, on the front foot, and turn over the ball. If they don't succeed in stealing it, the opposition have a ruck that takes an interminable period of time to win and recycle, behind the gain line. Their forwards are asked to run backwards from the line-out and then go forwards again, all the while knowing they've got Marchand, Baille and Willemse ready to smash you again.
Having defended with this system under Fabien at Montpelier, it's a dream. It's exhilarating. He loves it because of how spectacularly it can reduce fabulous players to mistake-riven wrecks. You beat up your opposition physically and you make small mental gains every second or third phase. Having played against it as a forward, it was and is my worst nightmare. You have no time to think about footwork or a pass, you're essentially dodging bullets – but the bullets are the size of Paul Willemse.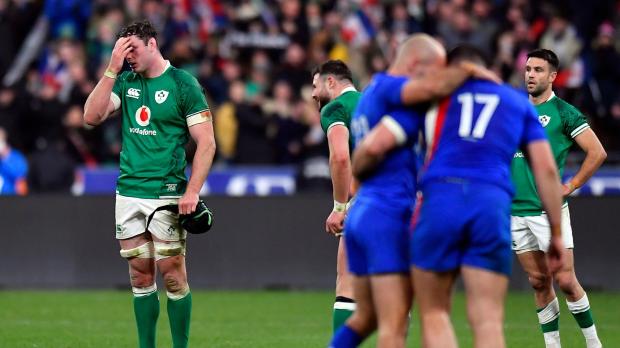 Ireland had been so comfortable in possession against Wales, but in Paris, errors spilled out of them like sweets from a pinata. They only half-broke France with their crafty wrap plays and multi-phase options three or four times. World-class players were hesitant and dumped on the deck. And the thing is, most don't play against the blitz these days. Some coaches haven't coached against it in a long time. Ireland's ability to problem-solve live on the field deserted them.
France kicked a lot of ball, essentially throwing down a gauntlet: 'Ireland, you're meant to be the best ball-carriers, best attackers, best at multi-phase, best at tipping the ball on, best handling forwards in the world, what can you do?' They battered them. And when they had their chances, they took them. They were dominant in pretty much every set of phases.
Undoing this immensely aggressive defence is, to say the least, challenging. To stand a chance of beating the blitz, you have to make the big boppers run. You cross-kick to the 15m channels and you make loads of low tracer kicks. When Villiere is racing up, he can't get back to cover them. You have to refuse the collisions, chip kick to slow the French line speed and keep them guessing. You want the defence turning over and over, so you are basically making the heaviest men on the field do shuttle runs.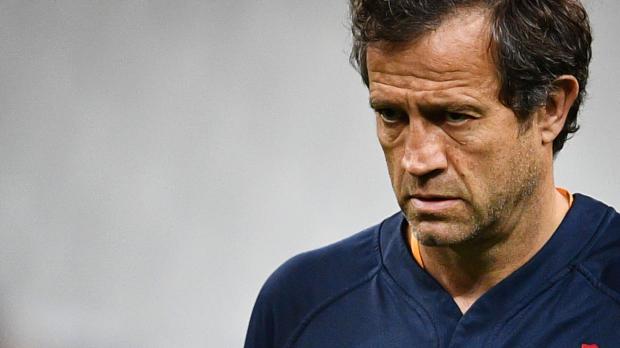 When you have a ruck near the touchline, it's really easy for France to blitz. If you can work your way into the centre of the field, even if it's not a dominant carry, you force them to blitz both sides of the field, which is much harder.
And if you are going to keep ball in hand, you need multi-phase options with depth and deception. You have to lure Villiere in towards your 12 and 13, catch and pass and get the ball to a 15m channel loaded with attackers. But in the Six Nations, the width from collision to collision plummets. Teams must shift France into the middle of the pitch, and then move then away very quickly, but that is desperately tough to execute. One mistake, and you're toast.
For all of France's dominance, though, there were two or three little moments where their systems fell apart, be that Mack Hansen's try from a restart or Jamison Gibson-Park sneaking in after Willemse made a bad decision to drift out instead of step in. There are chinks in their armour, but they are now the overwhelming title favourites.
Their difficulty will come when people pick apart the blitz with smart coaching, excellent decision-makers and very high rugby IQ on the field. I don't see anyone trying to run through and around them. They will refuse that fight, go to the air, and try and force France to play from deep under a kicking bombardment. That may seem negative to the viewer at home, but it is potentially the only way to unlock their defence. So far, nobody has managed it.
Ireland and New Zealand could not handle this French team. The question is, when France are this well organised, this fired up, and this well supported, who can?
Comments
Join free and tell us what you really think!
Join Free