With the four-year World Cup cycle inching closer to the showpiece event, the 2015 edition becomes further and further in the rear view mirror, and with it the style of rugby that conquered all in that era.
The rate of change in the modern game is rapid, so much so that watching footage from the All Blacks 2011 World Cup campaign is almost unrecognisable. The 2015 one is becoming just as outdated.
Tweaks to ruck laws and tackle interpretations have had a butterfly effect across the game, forcing teams to adjust and spurring innovation in the process. Modes of operation have evolved and refined as teams search for efficiency.
In 2015 the All Blacks were still dining off turnovers, scoring long-range dazzling tries on counter-attack and showing off world-class skills. So, what has changed for the All Blacks since they last held aloft the William Webb Ellis trophy?
Evolution of Phase Play
The one area of the game that has undergone the most transformation has been attacking phase play.
We have seen advancement in organised structure, further dissemination of backs and forwards as modern patterns have become multi-level systems of organised attack.
Phase play in 2015 now looks like the first version of the iPhone compared to the newest one we have today. To understand why rugby has become so complex, we need to also understand why this has happened.
The emergence of 'zero ruck' defensive strategies allowed teams to focus less on competing for the ball and more on setting their line effectively, utilising numbers better to offer less space to the opposition and generate line speed. After all, a man on the ground is a man missing from the line.
With far more effective defensive lines, attacking phase play needed a counter-balancing leap forward to be successful in this new world. It needed to become more organised, more thought-out. It couldn't rely totally on free-form movement anymore as this just led to inefficiency.
To illustrate what I mean by 'inefficiency', this is what an All Blacks ruck often looked like in 2015.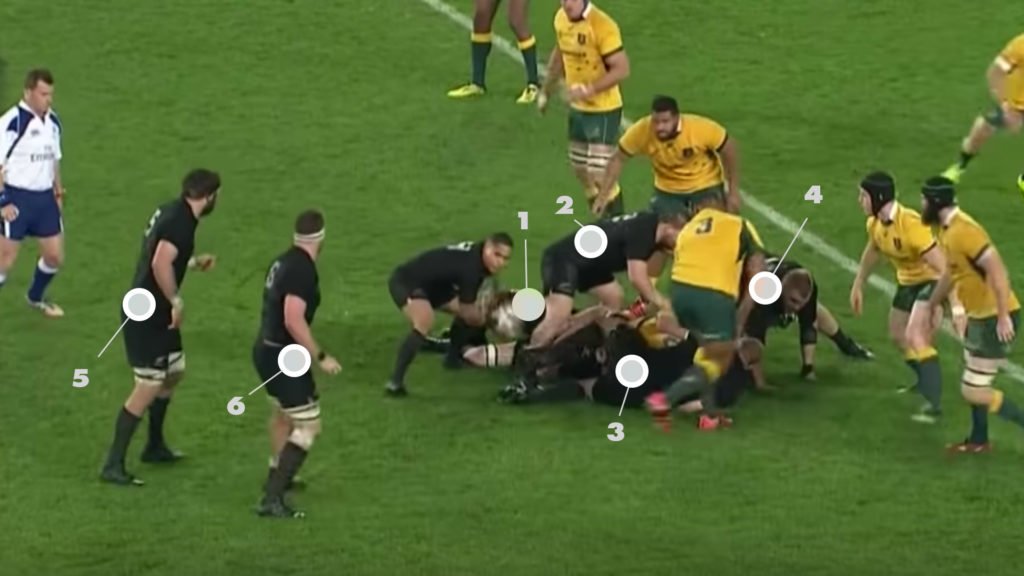 The All Blacks have seven players in this picture, two on the ground, two over the ball, two forwards caught in 'no mans land' arriving late to the ruck, and the halfback looking to deliver the ball.
That's nearly half of the team, 46%, spread over a little more than a square metre.
It's a gigantic waste of player resources and illustrates inefficiency. When the defence has up to 11 players in the front line, the remaining eight All Blacks available should struggle to find in-roads.
At least three of these players could be more effectively deployed elsewhere, running option lines to give the defence more to think about.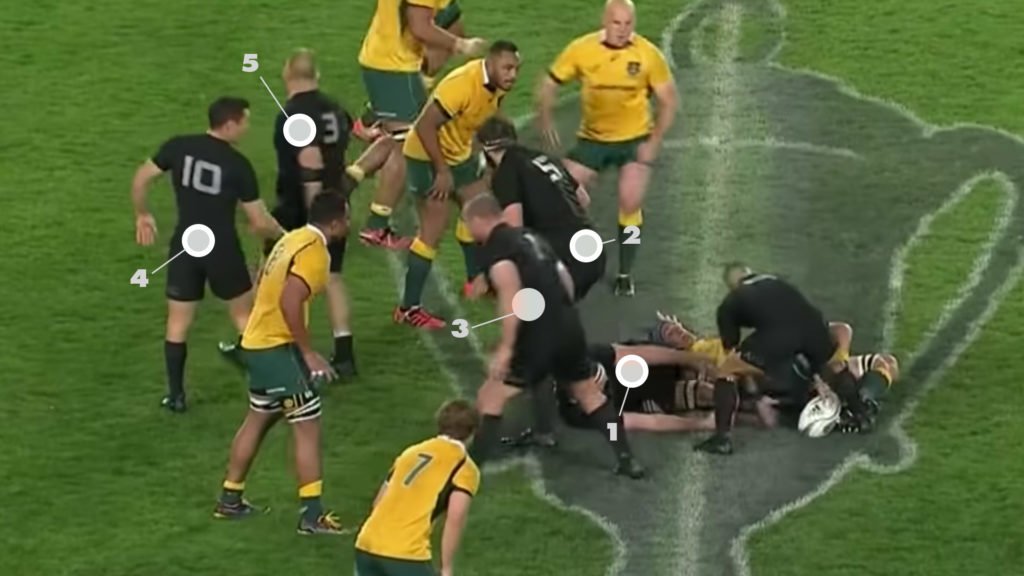 Again we have four players used to clean out, one of them the flyhalf Dan Carter who delivered the pass but now can't be involved in the next phase, one on the ground and one halfback for a total of six players but zero Wallabies competing for the ball.
This wasn't the case on every phase, but was always a risk. Two players could simultaneously identify a ruck needs support and join when only one is required. There would frequently be three bodies at a ruck, sometimes four, when you only needed two.
The need for more efficiency was clear, you needed to organise your players in a more effective manner limiting the 'wastage' that was to have players join rucks that they didn't need to.
With an organised system of attack, you could rectify this and start throwing more complexity at the opposition.
Linear to Multi-level
The first versions of modern patterns were already in use at this time with the dispersion of forwards throughout phase play – Dane Coles, Kieran Read, Jerome Kaino, Richie McCaw could be found frequently on the edges of the field.
However, this was all in a fairly linear fashion, often in one straight line across the park.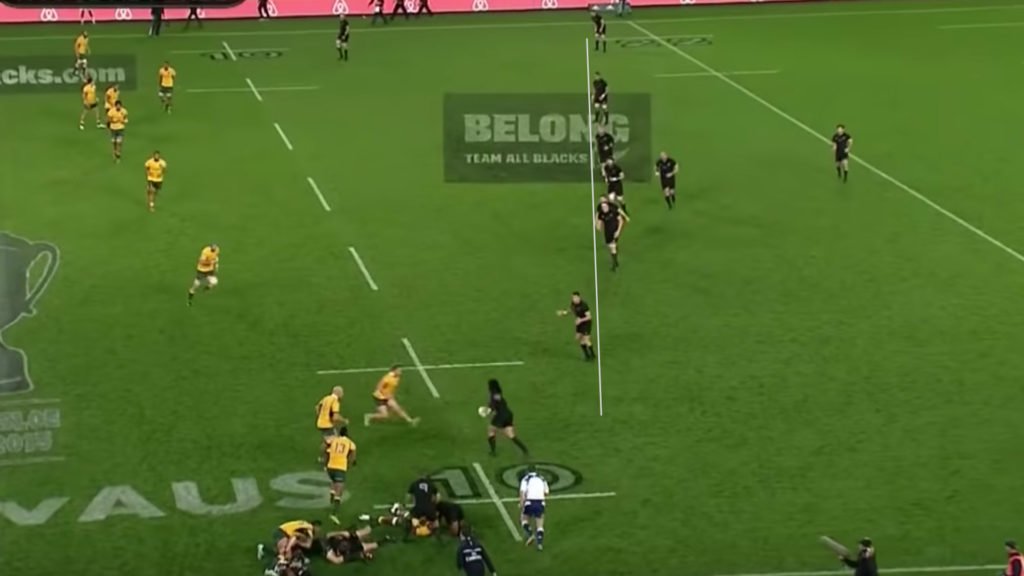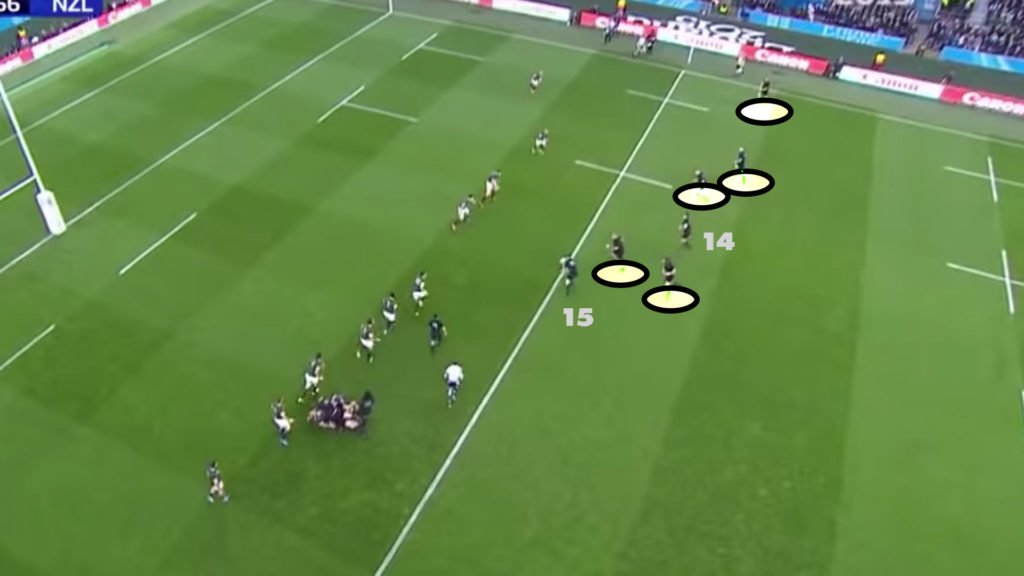 With a linear, flat, line your only real option is to pass to the next man. And that's what the All Blacks often did, using simple hands most of the time to find the edge where forwards like Kieran Read and Dane Coles resided.
The All Blacks had different splits that were either by design or by coincidence, floating between a variety of formations.
Below is a 2-2-2-2 split, with two forwards in the breakdown to the left and the three remaining pairs identified.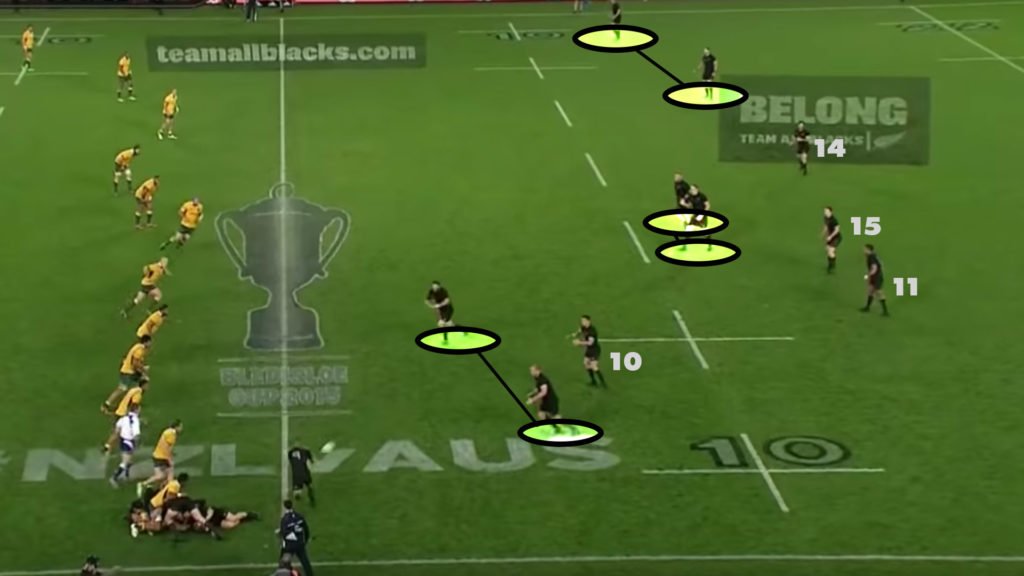 Here is a 1-3-1-1-1-1 split from a similar field position.
We have a defined pod with off the ruck, but the others are spread across the line with the last three men all forwards – McCaw, Vito and Coles.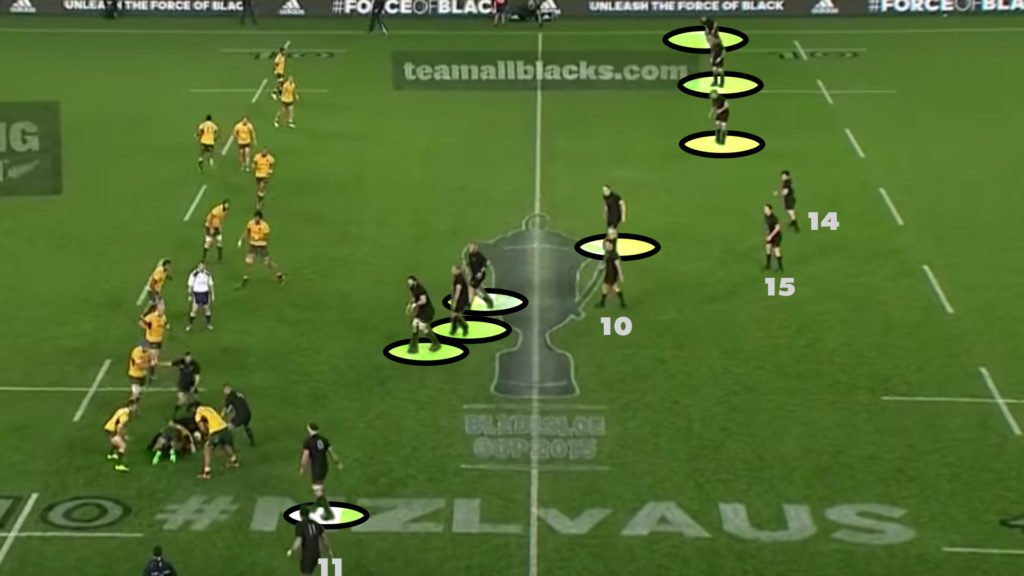 There are loose strategies – certain forwards stationing on the flanks – but there aren't systems that are designed to methodically break down a defensive line phase after phase.
Phase play was still largely free-form attack, being created on the run without thinking about it as a chess match. It is like the embryo of today's patterns, which have become far more complex with each possible move programmed in advance.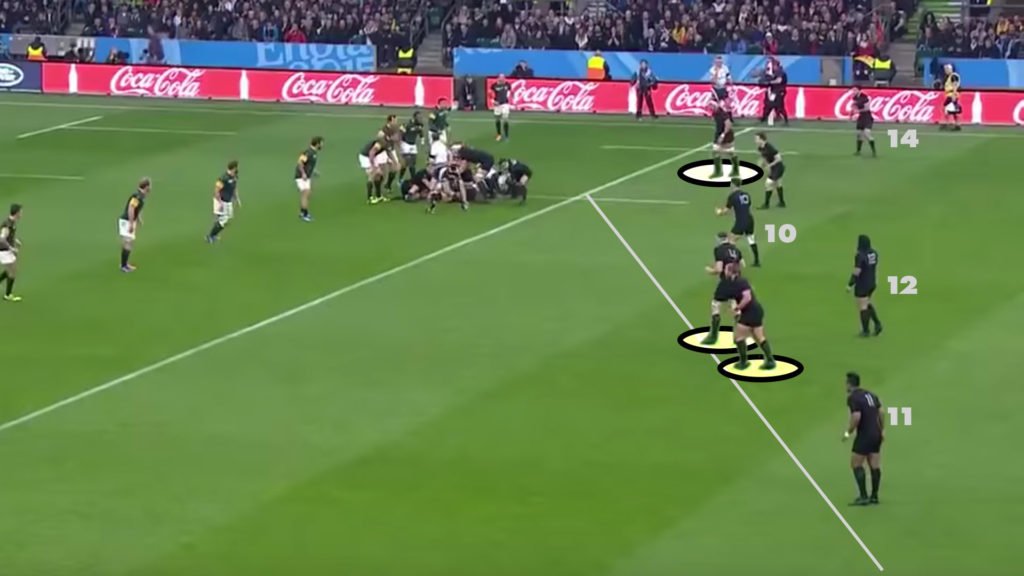 Although it looks like we have defined levels with backdoor receivers in some of these pictures, it really wasn't as clear as that. And it certainly wasn't as prevalent as it is now. Most of the play was catch-pass to the man outside you, with little deception.
This linear play has evolved into defined multi-level patterns, with backs filling the role of the backdoor receivers in the second level, behind first level pods moving from linear attack to multi-level.
In 2015, Dan Carter was almost exclusively receiving the ball from his halfback at first receiver. To illustrate the rise of the swivel pass and multi-level play, in the third test against France Damian McKenzie had 60% of his touches as a backdoor option.
The rise of screen passing
Playing with two-levels of depth has opened up possibilities during phase play, with screen passing exploding in use.
With a short and deep option available on nearly every pass, defenders have to make more reads. Line speed can now be turned against you. Against a linear attack, rushing out was rather easy, now if the ball pushes to the deeper man you can be caught out. With defenders coming forward at different speeds, a fragmented line is likely to eventuate.
Base patterns like 1-3-3-1 and 2-4-2 or hybrids like 2-3-2-1 or 1-3-2-2 are so fine-tuned now that whatever option is taken (pod carry from the first level, second level release) the team knows where the next phase will be in advance, either right or left they have a programmed option, and can run a multitude of screen passes.
When every player knows what role they have, the team can add more layers of complexity, which is what the best teams have done – Tasman Makos, Exeter Chiefs, Saracens, Leinster, Crusaders, all have taken their base patterns to another level with pet plays 'bolt-on' as options to run during phase play.
Each phase now has a purpose, every involvement organised, with wasteful actions minimised. Teams can now throw far more complexity at a defensive line during phase play with patterns that can operate infinitely until a defensive line breaks apart or they make an error.
A team that epitomises this is the Exeter Chiefs, who control games through phase play.
Has the game lost creative play?
With such detailed playbooks, the risk is that the game becomes robotic and rigid.
What separates the good teams from the bad is the level of autonomy provided to the players and the skill of the players in the system.
They have a pattern, a framework to operate within, but they live and die on the reads they make, playing what's in front of them with the plays they run. Sometimes the team falls out of organised pattern due to this, but then finds a way back.
The Wallabies have adopted many of the same ideas, but it is like they have seen the engine and have tried to build the same one without knowing any of the specifications.
Their spacing and depth is amiss, the timing is all out and in some cases, the players don't have the skills required. The autonomy to play what you see is also missing, trying to run set plays with pre-determined outcomes. The system must have the flexibility to use the best option available, allowing the player to determine what that is, and the team must have shared knowledge about what to do next.
The rise of complexity in rugby is creating more beautiful play than ever, but it is creating a chasm between the top teams and the bottom with those struggling to evolve their attacking play. You need new types of players – with different skills, fitness and levels of IQ.
The All Blacks have stayed on top of this and been leading this revolution, and is it any surprise that Ireland, who have adopted and also mastered this type of attacking play, is now the world's number two.
With another Rugby Championship in the bag, a meeting between the Six Nations champs and the All Blacks in November will be a demonstration of the two teams who have taken rugby to new frontiers in 2018.
Mailing List
Sign up to our mailing list for a weekly digest from the wide world of rugby.
Sign Up Now