Faf de Klerk's return to the international fold has been an influential part of the Springboks resurgence under Rassie Erasmus. His ability to make big plays on both sides of the ball gives the Springboks a unique player no other team has.
The ferocious defence of de Klerk is unusual for a halfback, a position generally reserved for those that are smallest in stature. Faf standing at 1.72m is no exception, but to write off his tackling ability based on size is a grave mistake. His aggressiveness is similar to a Honey Badger under threat, rushing at prey with unreserved fearlessness.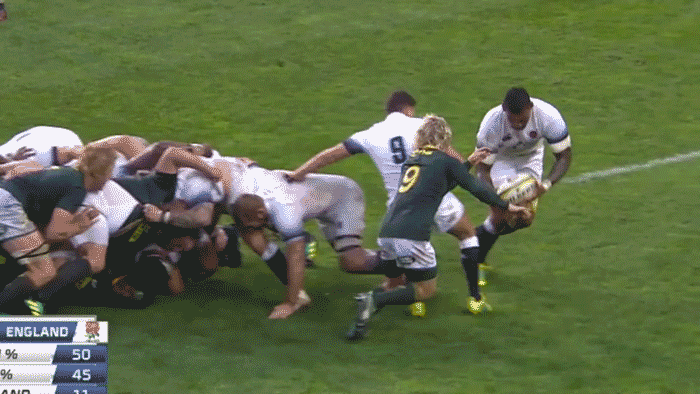 What Faf de Klerk does on the field is unlike any other halfback in World Rugby. It's not just the fact he can take down any player one-on-one, it's also how he is defending that is stunning.
He has the freedom to roam, deciding when to play sweeper and when to rush out of the line and as well as deciding where he wants to defend. He often switches roles on the fly, moving between the front line and the second line, between ruck channels and the edge, using concepts usually seen on an NFL field rather than in rugby.
De Klerk's defensive role is all about disguise, surprise, and pressure, similar to some of the NFL's best free safeties who play in innovative defensive schemes, roaming freely around the secondary or blitzing to cause disruption.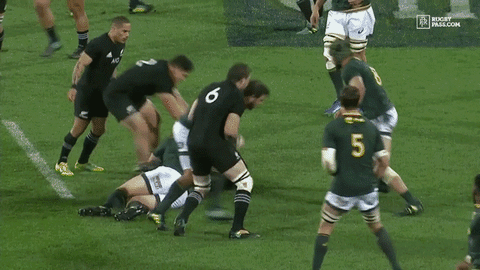 Like a safety or linebacker blitzing off the edge for a strip-sack on the quarterback, de Klerk rushes the A-gap way back from a sweeper position to strip All Blacks halfback Aaron Smith of the ball, forcing an error and winning a turnover in a play that caught Smith by surprise.
It is doubtful that Smith, with one of the quickest releases in the world, has ever been caught like this in his career.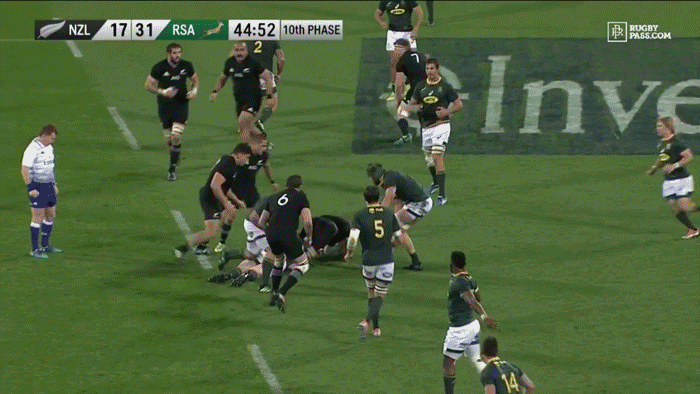 This high-risk high-reward nature of de Klerk's innovative defensive play is causing havoc for not just the All Blacks but was critical against England in the June series as well. He is coming up with steals in the pivotal moments, leading to huge swings in momentum.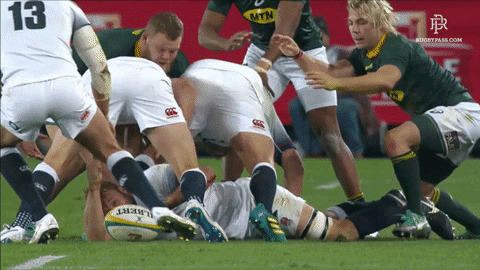 It's worth pointing out that this style of defence is foreign for New Zealand halfbacks, who probably more than any other country, have become passive organisers performing the 'sweeper' role.
They form the second line of defence by patrolling behind rucks, organising the A-B channel and directing personnel around, whilst tracking behind the line and following the ball ruck-to-ruck. This strip-tackle by de Klerk on Maro Itoje is more common example of the type of tackle you would expect by a halfback covering from the sweeper position.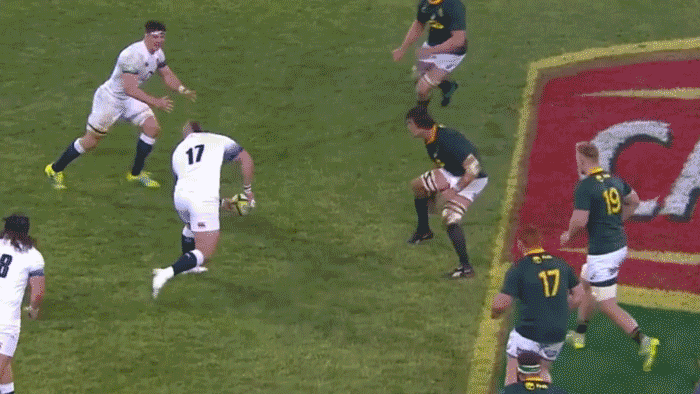 The sweeper's job is to read short attacking kicks, provide cover defence and a second line for any sneaky plays around the ruck. Very rarely, if at all, are they plugging into the front line to take on a ball-carrying forward.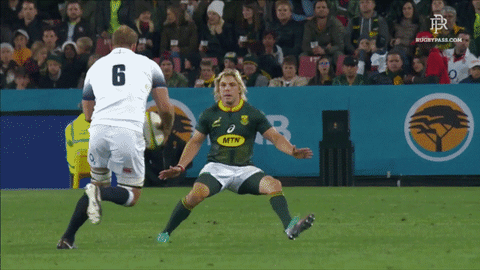 Faf performs this sweeper role (albeit part-time) and more.
He defends in the front line in ruck channels and wide channels, he drops back in-and-out of the role as he sees fit and is starting to pressure ball carriers by rushing out of the line and is even 'sacking' halfbacks. To illustrate the difference between the contrasting roles, just look at de Klerk's nine tackles to Smith's one on the weekend.
He is literally everywhere, playing an experimental rugby-version of a free safety.
This chaotic innovation is not without risk, however, as detailed yesterday the absence of a full-time sweeper leaves the Springboks vulnerable. Their wingers are dropping back to fill this role, but if they are not aware they can get caught out as Dyantyi was on the All Blacks second try.
When de Klerk is up in the line, a clinical short kicking game could also exploit the vast open space in behind the Springboks defensive line. For the most part, it seems to work and de Klerk is pulling off big plays to compensate for the risk of having a 'floating sweeper'.
The success of the strategy will thrive or die on the quality of his decisions, which have been brilliant so far. Because he is able to defend in the front line so well, he can also cover for any slow forwards by filling any missing gaps around the ruck.
Here he drops down from sweeper and plugs the 'B' gap when it remains unfilled.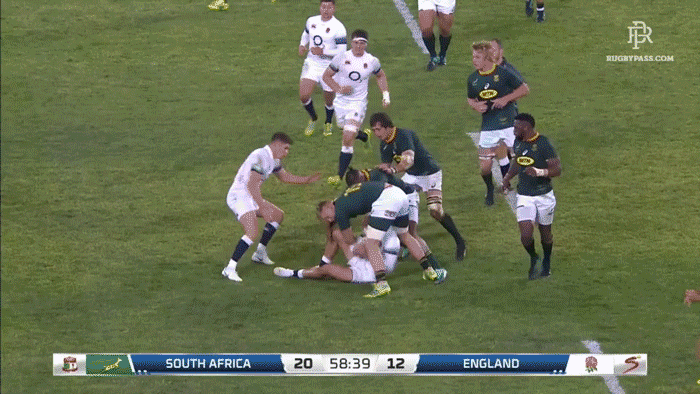 When he is out in wider channels he is not afraid to rush out and pressure the defence. His uncanny ability to make spot tackles on bigger players saved a certain try here, where his tackle restricted Squire's ability to get away a pass and almost forces him to drop it.
Whilst Aaron Smith and Conor Murray are generally considered the world's best two halfbacks, none of them have this kind of autonomy or impact on defence. The plays that he is pulling off are quite simply, astounding.
Given his ability on the other side of the ball, Faf de Klerk is currently the world's best defensive halfback, and deserves to be in the conversation when discussing who is number one.
Mailing List
Sign up to our mailing list for a weekly digest from the wide world of rugby.
Sign Up Now